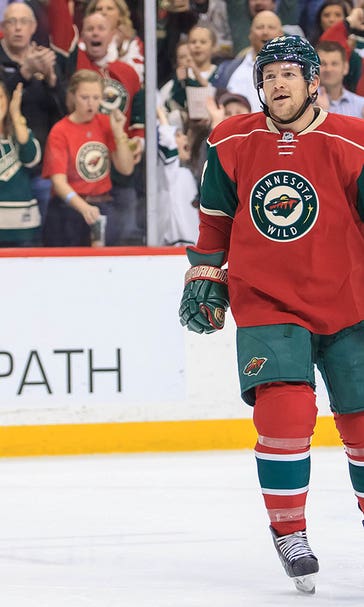 Wild notes: Cooke likely out for Game 1
April 15, 2015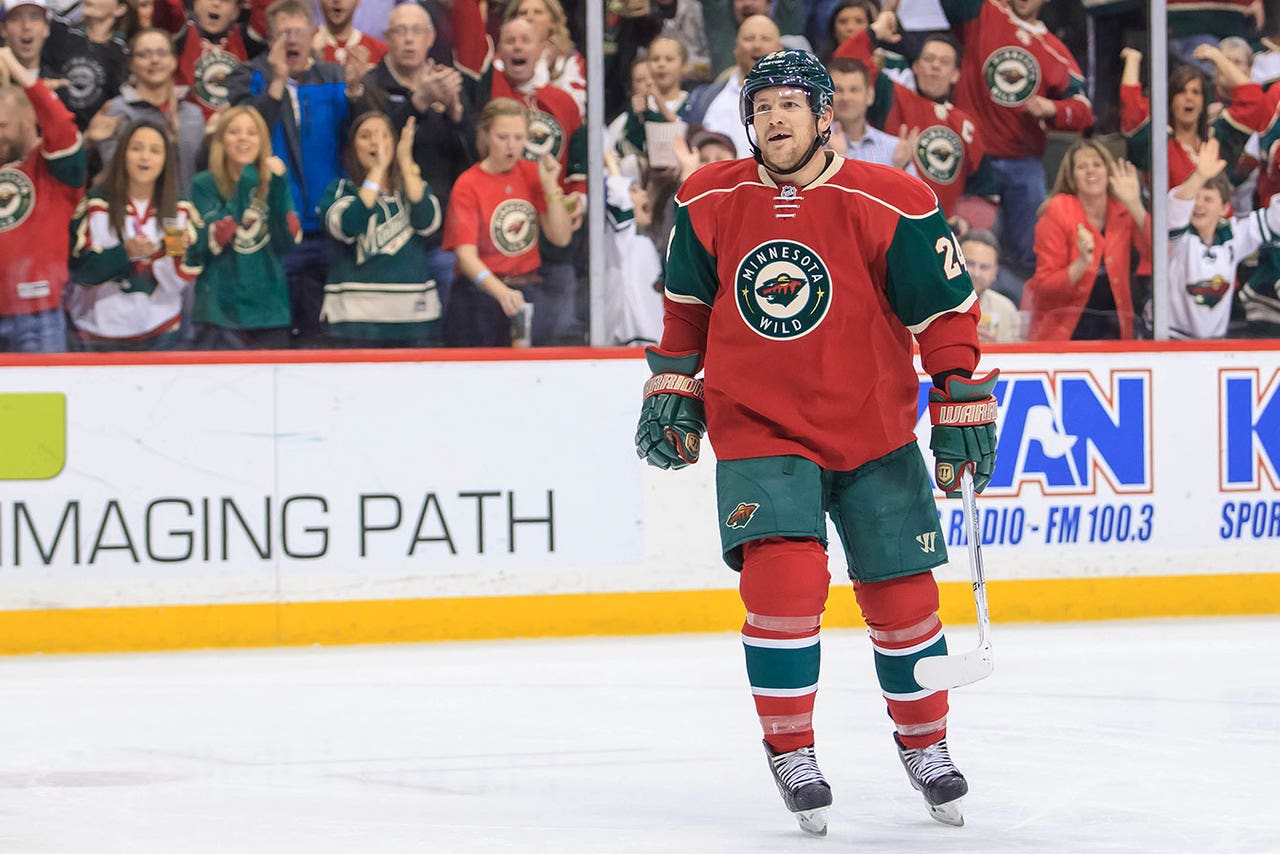 ST. PAUL, Minn. -- Coming down the stretch, Minnesota Wild head coach Mike Yeo was using the final few games to try and decide on his lineup for Game 1 of the playoffs. Essentially, Yeo came down to a decision of five players for one spot.
When Minnesota opened its postseason practices, playoff veteran Matt Cooke drew the first opportunity to play left wing on the fourth line. Cooke then felt discomfort and missed Tuesday's practice.
Ryan Carter took the spot on the fourth line. Cooke returned to practice Wednesday before the Wild flew to St. Louis, but was an extra skater. Sean Bergenheim practiced as the left wing next to Kyle Brodziak and Justin Fontaine.
"We'll leave that til tomorrow," Yeo said after practice. "Just a different look today and we'll see where that takes us tomorrow."
Yeo won't disclose who will play in Game 1 Thursday night against the Blues but intimated Cooke won't be able to play.
"I think he's OK," Yeo said. "I don't think he's ready for tomorrow. Certainly, I don't see why Game 2 would not be a real strong possibility."
Cooke, who has played 97 career playoff games, described the injury as "general soreness, tightness" and said his return from sports hernia surgery caused the recent discomfort. He said he's available if Yeo decides to put him in the lineup.
"I pushed it pretty hard to get back and get on the ice a lot and skate a lot to make sure my conditioning was where it was supposed to be," Cooke said. "It felt pretty good in the two games that I played. But it's still going to be, I'm still in a situation that throughout the playoffs, I'm going to have to gauge how it recovers."
Cooke played in the final two games of the season after missing 31 games with the sport hernia. He finished the regular season with four goals and five assists in 29 games. Playing in the playoffs would help Cooke overcome the difficult season.
"Success in the playoffs, for this organization and for this team, that would be a positive for me," Cooke said.
Bergenheim and Carter have playoff experience of their own. Carter has played in 43 playoff games with the Anaheim and New Jersey. Bergenheim has played in 23 playoff games for Tampa Bay and Florida, and has been particularly effective in the postseason.
He's scored 12 goals and passed out five assists in NHL playoffs.
"I think it's been the most fun I've had playing ice hockey," Bergenheim said. "It is the playoffs. I enjoy it, for sure. I think I've had success before and partly it is because of the style I play."
Carter had three goals and 10 assists in 53 games during the regular season. Bergenheim had one goal in 17 games after being acquired from Florida on Feb. 24. He was often a healthy scratch down the stretch. Minnesota also has Erik Haula and Jordan Schroeder as extra forwards.
"Obviously it's been tough that way, not being in the lineup some of the nights," Bergenheim said. "Now we're in the playoffs, we're a team, everybody, if you're in the lineup or not, you're going to do the best you can every day to help the team whatever the role is."
Yeo said he has an idea of the lineup he wants for Game 1 but the lineup could change depending on performance, adjustments and matchups.
"It's something different with every player," Yeo said of his decision on the fourth line. "It's kind of luxury for us. We have different players with different identities and one player can kind of change the dimension of the whole line. All those players have their strengths. With Bergie, he's had success when he's been in the playoffs in terms of how he goes to the net, how he gets in on the forecheck, he's created some offense; certainly an energy type player."
Kuemper misses practice: Goaltender Darcy Kuemper missed Wednesday's practice because of an illness. Yeo wasn't sure if he would join the team on the flight to St. Louis or take his own flight.
Yeo said Kuemper could still possibly back up Devan Dubnyk in Game 1, depending on his health. Niklas Backstrom would back up if Kuemper is out.
"Sent him doctors just to find out what's going on," Yeo said. "Most likely we'll keep him away from the group."
Blues go with Allen: St. Louis head coach Ken Hitchcock had kept the decision on his starting goaltender quiet, but the news broke Wednesday that Jake Allen will start Game 1 for the Blues.
Allen, 24, was 22-7-4 with a .913 save percentage and 2.28 goals-against average this season for St. Louis. The young netminder was chosen over Brian Elliott, who was 26-14-3 this season with a .917 save percentage and 2.26 goals-against average.
Elliott, 30, is the more experienced playoff goaltender for the Blues, who have lost in the first round the past two seasons. Elliott has played in 18 playoff games. Allen has played in one NHL playoff game in his career, coming in 2012.
"No different than any game this year," Allen told St. Louis reporters Wednesday. "It's been quite the year for me, a little bit up and down, but I found myself, I found my game. It's something that I've been working for since I first turned pro. I finally get an opportunity and I'm looking forward to the challenge. We're ready for a big effort tomorrow night."
Allen's one game of experience is actually more than Dubnyk holds. In his sixth season, Dubnyk will play in his first NHL playoff game.
Wild are ready: Minnesota had three days of practice at home between the final regular-season game and Thursday's playoff opener.
"We've been through this before," Yeo said. "Tomorrow will have a different feel to it for sure. You could tell there was a little more excitement today, the fact that we're leaving and maybe the fact that we only have one more practice before we start playing a game. Certainly come tomorrow there will be a whole different set of emotions and excitement."
Follow Brian Hall on Twitter
---