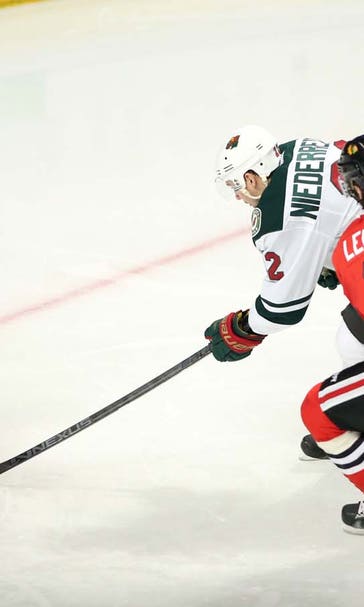 Wild continue to struggle against Blackhawks' Crawford
BY foxsports • May 4, 2014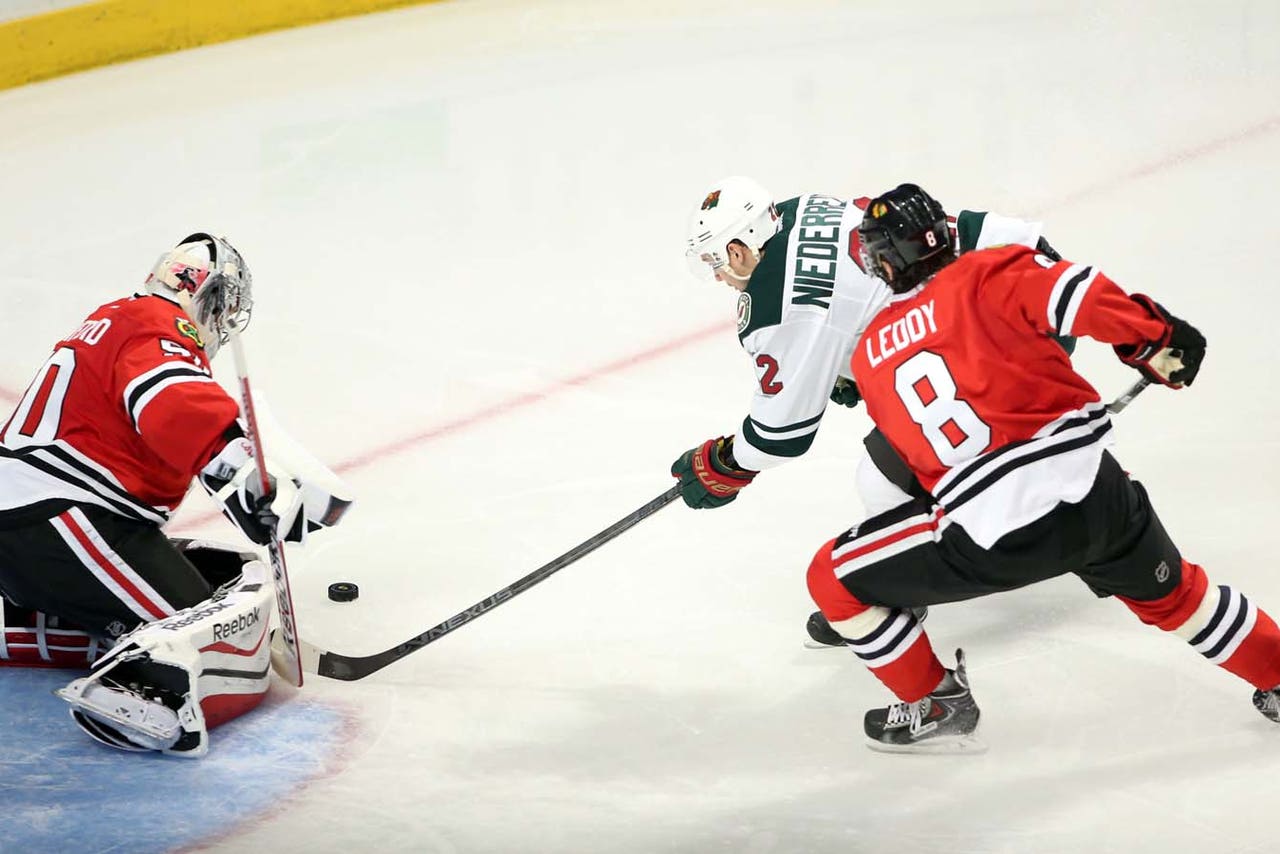 "Corey, Corey, Corey" has been a popular salute from the United Center fans through the first two games of the second-round playoff series between the Minnesota Wild and Chicago Blackhawks.
Heading home for Game 3, Minnesota will be thankful it won't have to hear Corey Crawford's name cheered.
Crawford helped the Blackhawks win the first two games in Chicago, frustrating the Wild again in the playoffs. Minnesota's top-six forwards haven't scored in the series as Crawford stopped 18 shots in Sunday's 4-1 loss in Game 2. Crawford stopped 25 of the 27 shots he faced in Game 1.
"One thing to me was clear right from the start and surprised we didn't see more of it last game, but I thought that we didn't have the legs tonight, and that was a big factor," Wild head coach Mike Yeo said. "You could see it in our puck support. You could see it when we get a puck and we weren't taking two or three strides before we made a play. We were making a lot of stationary plays, wide stance. Tomorrow we'll give the guys a day off. Playing the afternoon game today probably didn't help us. But the fact that we got a little extra time before Game 3, then hopefully that will give us a chance to put a little extra gas in the tank."
Minnesota will look to turn another series around at home. The Wild lost the first two games in Colorado in the first round before winning both games at home and eventually winning the series on the road in Game 7.
"Well, we're in a familiar spot," Yeo said.
The familiarity with Crawford is likely getting old for Minnesota.
Crawford has stymied the Wild in the playoffs before. Last year, Crawford helped Chicago to a five-game, first-round series win. In seven playoff games the past two years, Minnesota has scored 10 goals against Crawford.
After stopping 132 of the 139 shots he faced last year against the Wild in the playoffs, Crawford has stopped 43 of 46 shots in this series. On Sunday, Zach Parise, Mikko Koivu, Charlie Coyle, Matt Moulson, Mikael Granlund and Jason Pominville were a combined minus-11 and had eight shots on goal.
"The pressure's always there, for sure," Yeo said of pressure on his top two lines to score. "There's more pressure when you're trailing. So, obviously they get that first goal and now that's when the pressure starts to creep in. We're a play or two away. Pommer had a real good opportunity there in the third period to tie it up and just kind of rolled off his stick.
"What I want from our guys is to throw this in the garbage, to turn our sights towards getting excited about going back home. There are positives. And (I'm) not sitting here saying we're feeling good about the fact that we're down 2-nothing, but at the same time, I'm not saying that this feels like last year too. I do think that we've played better in these two games, and I feel more confident that if we can get completely on top of our game then we got a chance to get back in this thing."
Chicago blocked 25 shots in front of Crawford on Sunday.
"They are a really good team to block shots," Granlund said. "We know that. We just need to get them through. We need to maybe sometimes do a little bit quicker shot or maybe a little bit more patient. Whatever it is, we need to get more pucks through. That's one of the keys going on."
Minnesota's scoring in the series has come from defenseman Clayton Stoner and forwards Kyle Brodziak and Cody McCormick, who each are usually relegated to third- and fourth-line roles. McCormick scored his first of the playoffs on Sunday on a wrist shot in the slot.
Yeo was also mixing up the lines on Sunday to find a spark. The changes typically have involved Parise, Koivu, Coyle, Moulson, Granlund and Pominville combining in different manners. Coyle and Granlund were the only two of the six to score in the first three games against Colorado, but all ended up tallying goals in the seven-game series.
"We were mixing a lot of things up trying to get something going," Yeo said. "We're going back home and like I said, us as a staff we'll make sure that we do what we have to do as far as not just standing pat, but at the same time I think we do have to have a bit of a short memory here from these two games. This is a good team we played. You can't let them get in your head. They found a way to win two games and we have to go do our job now. We have to win our two games at home. We can't get caught in too big of a picture here because we're right where we were last series and I know that we're playing a different team, but the last team we played was pretty good too. So our next game's our only challenge, our only thought right now."
Follow Brian Hall on Twitter
---