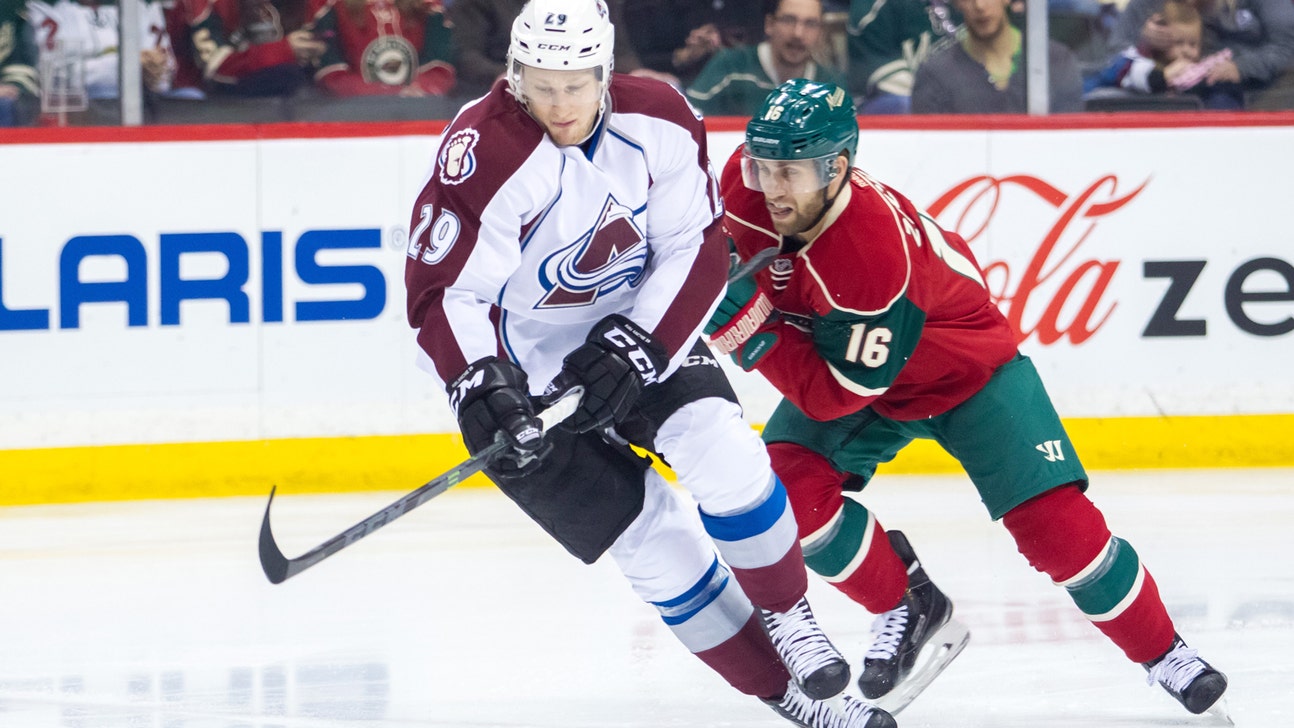 Wild blank Avalanche, 1-0
Published
Feb. 7, 2015 11:37 p.m. ET

ST. PAUL, Minn. -- Devan Dubnyk has been nearly unbeatable since joining the Minnesota Wild last month.
Charlie Coyle scored and Dubnyk stopped 18 shots for his fourth shutout in nine starts with the Wild, leading Minnesota to a 1-0 win over the Colorado Avalanche on Saturday night for their fifth straight win.
Since being acquired from Arizona on Jan. 14, Dubnyk is 7-1 with a 1.30 goals-against average to help the Wild climb back into the playoff race.
With just over 5 minutes left in the third period, Dubnyk turned away five Colorado shots on a power play to preserve the lead as Wild fans chanted "Dooooob" for their new goalie.
"You get that (penalty) kill and there's probably a pretty good chance we're going to hang on," Dubnyk said. "Our guys did the same thing they were doing all night. They just worked and worked and blocked a lot of shots and allowed me to make a couple on that power play and we shut them down from then on."
One of those five shots was a wrister by Matt Duchene that sneaked between Dubnyk's legs, causing Yeo and the largest crowd of the season at the Xcel Energy to hold its breath as it trickled toward the goal line. However, Wild defenseman Jonas Brodin swiped it out before it crossed the line.
"I just saw the puck where it was going in slowly, so I get pretty lucky there," Brodin said. "I think I got it through Dubnyk's legs or something. So, I got pretty lucky."
Minnesota outshot Colorado 17-4 in the first period and has won five straight in regulation for the first time since March 25, 2013.
"They had a really good start. Obviously we made some really bad decisions," Avalanche coach Patrick Roy said.
Colorado hasn't won in Minnesota since Jan. 11, 2014, and has been shut out in all three of the teams' meetings this season.
Avalanche goalie Semyon Varlamov, who was 9-5-2 over his previous 17 games, stopped 28 shots and made several great saves during Minnesota's early onslaught to keep his team in it.
But Varlamov wasn't able to stop Coyle from scoring his seventh goal at 11:21 of the first on a tip-in of Marco Scandella's slap shot.
"We're hammering away right now," Wild coach Mike Yeo said. "We have to keep getting better in front. It's an area of our game that we're stressing."
Colorado has now been shut out eight times season.
"We're not scoring right now. I'm sure we're going to score lots of goals and celebrate soon," Varlamov said. "The goalies playing against us have played very well. I think we played very well defensively."
Having Tyson Barrie in the lineup probably would have helped slow the Wild down. The Colorado defenseman and team assists leader missed his second straight game with a hip injury.
Minnesota's season is looking eerily similar to 2013-14. The Wild entered their 43rd game last season on a six-game losing streak before beating Buffalo, going on a roll and earning a playoff spot.
The Wild were winless in their last six entering their 43rd game this season, then Dubnyk shut out Buffalo and keyed the current streak.
It's obvious the Wild are a much more confident team with Dubnyk in net.
"It's part of it. There's a different feeling among the group when you're in a tight game like that and you know you can pull it out," Yeo said.
---