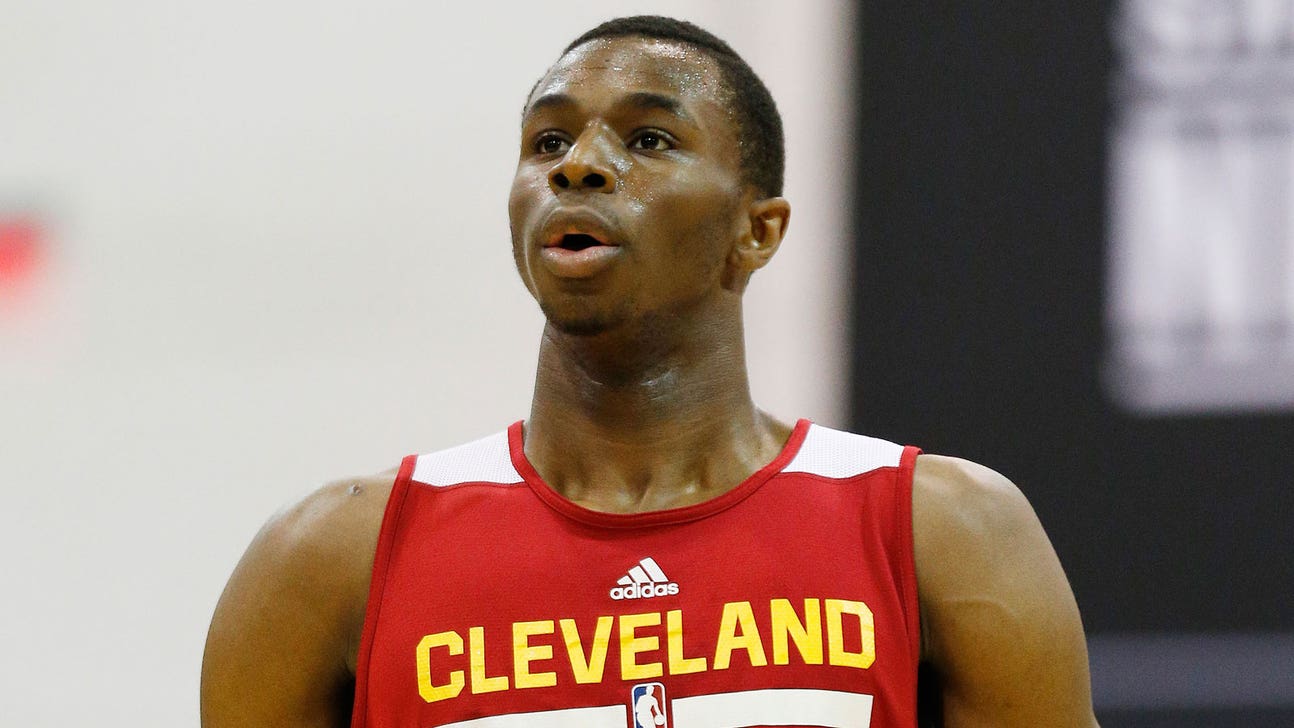 WIGGS SMASH! Make Wiggins angry, Minnesota -- you'll like him better when he's angry
Published
Aug. 10, 2014 5:15 p.m. ET

KANSAS CITY, Mo. -- It could be the best thing. Or the worst. That's the thing with Andrew Wiggins: Nine times out of 10, he'll be the most gifted basketball player on the floor. And six times out of 10, you won't know what the heck you're going to get out of him at that moment.
"Andrew told me, he said, 'I hope I get traded,'" Kansas hoops coach Bill Self said at a youth camp Sunday in Overland Park, Kan., when asked about the former Jayhawk one-and-done, off interacting with kids half his height just a few feet away.
"And I'm like going, 'No, you don't.'
"And he goes, 'No, Coach, I do. It's better for me, knowing my personality and what I need to do. I need to go somewhere where I'm kind of forced into being something, as opposed to going in there where they're going to be patient with me and I can be a piece.'"
In Minnesota -- Wiggins' presumed destination once a reported trade between the Cleveland Cavaliers, who took him No. 1 overall in June, and the Timberwolves is made official in a few weeks -- the Canadian-born wing guard will be expected to be much more than a piece.
He'll have to carry the weight. He'll have to win hearts and minds and, eventually, games. He'll have to weather Kevin Love, breathing down his neck from several Great Lakes away as The King's Chosen One. He'll have to live with the notion of being considered expendable by a potential dynasty instead of becoming a central cog in it.
"Everybody would love to play with LeBron (James), which guarantees winning," Self said. "But the whole thing is, for the longevity of his career, he needs to kind of develop a mindset to be the guy for him to be great. And I think being in Minnesota will help him do that."
The comic-book movie dossier says he's Superman, what with the 44-inch vertical leap, the 7-foot wingspan and the ability to shoot heat rays from his eyes. OK, we made that last one up.
But in actuality, the 6-foot-8 ex-Jayhawk is really more of an Incredible Hulk type. By nature, he's Bruce Banner, soft-spoken, introspective -- almost gentle. He's 19. The mind wanders.
Wolves fans are going to hate this side. A lot.
Because when Wiggins is motivated, uff da. A hungry Wiggins, a dissed Wiggins, is a dangerous Wiggins, insanely fun to watch, criminally hard to stop.
When Big No. 22 decides he wants to smash every rim in sight, when Air Canada decides he wants to prove a point, wants to undress somebody, it's over. At that point, the only thing that can really stand in Wiggins' way is gravity, and gravity's hitting about .410 from the charity stripe on that front.
"This will help develop that personality," Wiggins' former coach said of his one-season star. "He's just young. And I think he'll continue to grow in that way, and he'll be -- I don't know what he'll be: I'm guessing a 15-16-points-a-game scorer as a rookie, and then he'll go to 17-18 or 19. And it won't be long until he averages 20 a game in the league."
Wiggins returned to the metro this weekend, appearing as a guest instructor at a camp Self held this weekend at Shawnee Mission West High School. As you might expect, when the No. 1 overall pick returned to his (brief) stomping grounds, it drew a sizable media crowd. And, as you might expect after Wiggins' fingernails-on-blackboard interview with ESPN on Aug. 3, our man Andrew declined repeated requests to talk to the aforementioned scribes on hand.
But Self indulged the cameras, and Self was Self. Much as he likes Wiggins, he also had to get out the metaphorical cattle prod, time and again, to get the Incredible Hulk to come out of his blankety-blank shell.
"I think he's handled everything great -- he's excited," the coach said. "I think that the whole thing was kind of blown out of proportion a little bit, that he (was) in limbo.
"Because he's known, I think, since the end of the (NBA's) Summer League, that he was going to be traded. So it's OK, and he's looking forward to going to Minnesota."
Or he's insulted. Which might actually work out better for his game -- in the short-term, at least.
"And he's right," Self continued. "For his personality, and his mindset, after coaching him for a year, he needs to be at a place where people are really dependent on him."
Make him angry. Minnesota. You'll like him when he's angry.
You can follow Sean Keeler on Twitter at @SeanKeeler or email him at seanmkeeler@gmail.com.
---