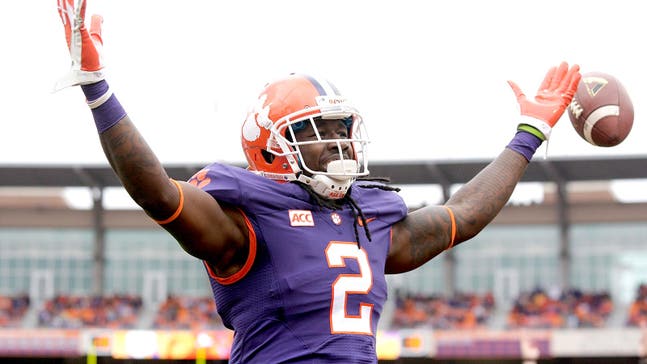 Why the Jags should draft Clemson WR Sammy Watkins
Published
May. 5, 2014 4:45 p.m. ET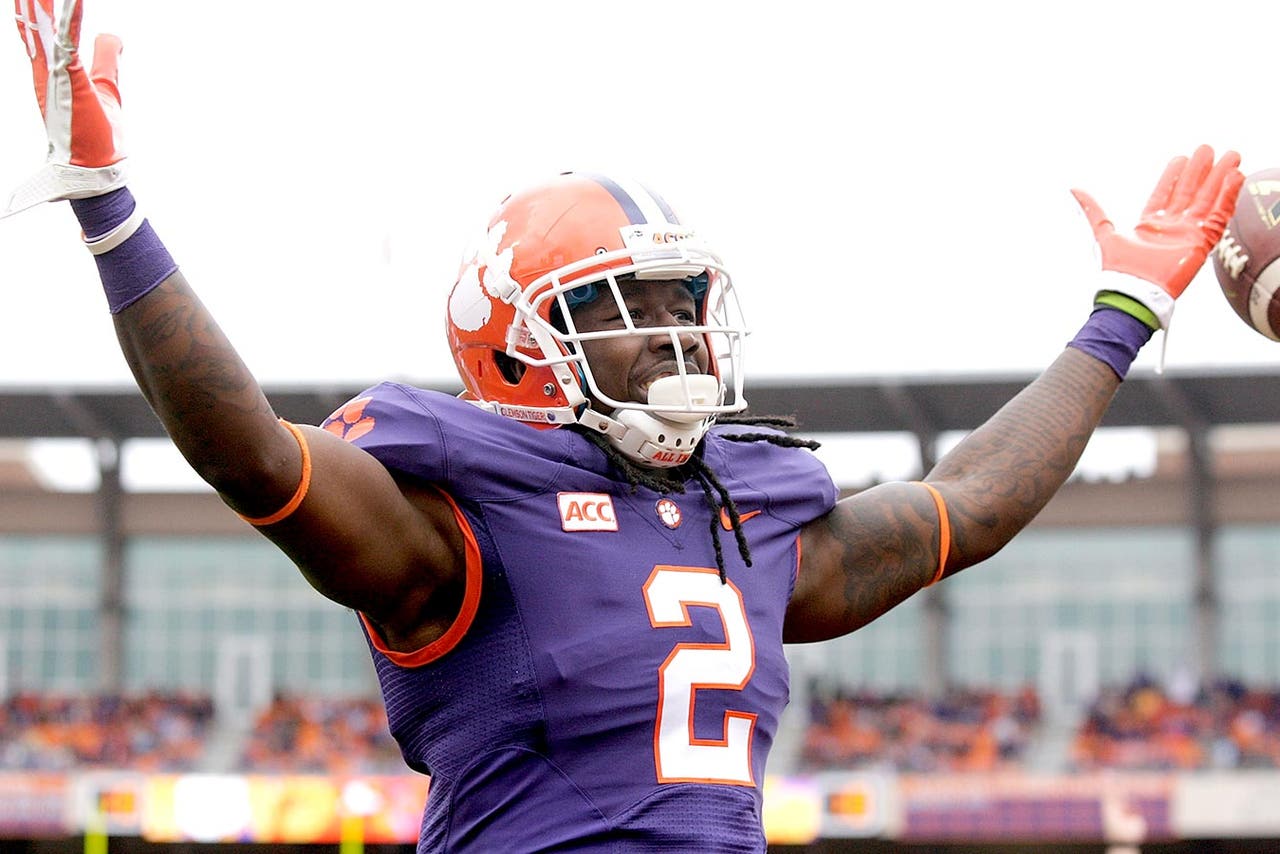 The Jacksonville Jaguars have the No. 3 pick in the first round of the NFL draft, which begins Thursday night, and could go a number of different routes depending on what happens with the first two picks.
They could draft a quarterback such as Texas A&M's Johnny Manziel, Louisville's Teddy Bridgewater or Central Florida's Blake Bortles. They could also draft South Carolina defensive end Jadeveon Clowney or Buffalo linebacker Khalil Mack. While Manziel, Bridgewater and Bortles would fill the obvious need at quarterback and Clowney and Mack are considered the two best players in the draft, one player they should consider taking is Clemson wide receiver Sammy Watkins.
The Jaguars have a long history of striking out on drafting wide receivers. Reggie Williams, Matt Jones and R. Jay Soward were all drafted in the first round and all failed to reach their potential. Given their history, why would the Jaguars draft another wide receiver in the top 10?
First, they need one, especially with Justin Blackmon's future up in the air. Blackmon, the No. 5 pick in 2012, has played well but has found it hard to stay out of trouble off the field. After a second suspension due to violating the league's substance abuse policy in 2013, he has yet to be reinstated. The Jaguars themselves believe that he may not play at all this season.
With Blackmon on the reserve/suspended list, it leaves an unheralded group of Cecil Shorts, Ace Sanders, Mike Brown and Tandon Doss. Shorts is the closest they have to a reliable receiver out of the bunch, and his best season came in 2012 when he caught 55 passes for 979 yards and seven touchdowns. Adding Watkins to the roster would give Chad Henne, or whoever winds up being the Jaguars' quarterback of the future, an immediate threat on the outside.
After a sensational freshman year, Watkins digressed in his sophomore season after being suspended the first two games of 2012. As a junior, however, he rebounded to catch 101 passes for 1,464 yards and 12 touchdowns. For his career, Watkins caught 240 passes for 3,391 yards and 27 touchdowns.
For those who say he went against subpar competition in the ACC, let's not forget about his 16-catch, 227-yard, two-touchdown performance against Ohio State in the Orange Bowl, where he matched up against cornerback Bradley Roby, who is projected to be picked in the first round.
Watkins is a different kind of impact receiver than we see in today's NFL. Wideouts such as Brandon Marshall, A.J. Green and Larry Fitzgerald are tall players who combine very good speed with their ability to out jump opposing defenders. Watkins, however, stands at 6-foot-1 and has a vertical jump of 34 inches.
If he isn't tall, then what makes him so special?
The difference is the type of build he has for his stature. Normally, guys who run a 4.43, 40-yard dash have slighter frames. Watkins runs that speed at 211 pounds. His unique blend of speed and strength for a wideout his size is rare. Furthermore, smaller wide receivers are starting to become some of the best in the game (Wes Welker, T.Y. Hilton, DeSean Jackson, Randall Cobb).
San Diego Chargers wide receiver Keenan Allen, who has a similar build to Watkins, had a strong rookie season, catching 71 passes for 1,046 yards and eight touchdowns.
The Jaguars have taken steps to rebuilding their defense in the offseason, and now it is time to start focusing on the offensive side of the ball. Watkins will give this offense a much-needed boost, and Jacksonville could see its first game-changer at wide receiver since Jimmy Smith and Keenan McCardell lined up on the outside.
---