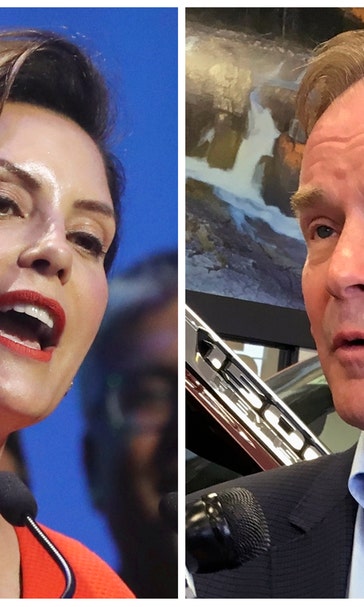 Whitmer denies GOP ad alleging refusal to prosecute Nassar
September 21, 2018
LANSING, Mich. (AP) — Democrat Gretchen Whitmer on Friday tearfully denied Republicans' allegation that she refused to prosecute disgraced former sports doctor Larry Nassar for sexual assaulting gymnasts and other victims before the charges were brought by Michigan Attorney General Bill Schuette, her GOP opponent in this year's race for governor.
Whitmer, who was Ingham County's interim prosecutor in 2016 and is a rape survivor herself, said Schuette's office appropriately took over the case because Nassar had committed crimes across county lines.
"I've had it with these guys who want to use this Nassar case as a political gimmick for their own sick political gain," she said from inside the Lansing courthouse where Nassar was sentenced. "I'm here because Bill Schuette and his party's weaponizing of the Nassar case is callous, it's craven and it's a complete lie when it comes to my record."
Whitmer was joined by Democratic county prosecutors and at least three Nassar victims who called for the state Republican Party to pull a digital ad that it launched on Thursday, days after Schuette began airing TV ads in which the parents of a victim praise his prosecution of the former physician at Michigan State University and USA Gymnastics.
The GOP's internet ad says Whitmer "says she wants to protect our families, but she doesn't tell you that she refused to prosecute Larry Nassar on sexual assault charges." Schuette also criticized Whitmer.
"She chose not to prosecute this case," he said at a news conference with Republican county prosecutors. "Now these are not easy decisions. Frankly, leadership is not easy. ... We had the capacity and we had the ability and we had the will to make sure that Larry Nassar is now behind bars for the rest of his life."
Last year, MSU Police Chief James Dunlap's made statements in The Detroit News suggesting that Whitmer wanted to proceed with a child pornography case against Nassar, but not sexual assault charges.
Whitmer has said that Dunlap never brought her the police reports she would have needed to assess whether to file assault charges. After an Oct. 4, 2016, meeting among Dunlap, Whitmer and investigators, the chief called Schuette and sent an email thanking him for quickly agreeing to dispatch a team to discuss the case, adding that he was hopeful that the victims would now "get an advocate."
On Oct. 6, Schuette announced that he had taken the case at Dunlap's request. Whitmer said Friday that she supported the move because Nassar's assaults against young female athletes and a family friend occurred in two counties and the attorney general's office had "considerably more resources" with which to prosecute. Schuette also has said his office was in the best position to prosecute because the case crossed into multiple jurisdictions and possibly across state lines.
"Here is the truth: My office, the Ingham County Prosecutor's Office, executed warrants that would produce the evidence that we needed to put Larry Nassar behind bars and stop his crimes," Whitmer said.
She said a search of Nassar's home resulted in the recovery of hard drives that were in a trash can, leading to his conviction on federal child porn possession charges and a 60-year sentence.
The Michigan Republican Party stood by its ad, while Schuette disputed Whitmer's assertion that she "referred" the case to him when it was Dunlap who contacted him.
"Our ad correctly stated that Gretchen Whitmer had the opportunity to prosecute Larry Nassar for sexual assault but failed to do so. This is a statement of fact," chief of staff Colleen Pero said in a statement. "Bill Schuette is a leader who took on this tough case and successfully prosecuted Nassar. Gretchen Whitmer did not. This is an important part of Gretchen Whitmer's record that voters deserve to know."
This is not the first time that Whitmer's handling of the Nassar investigation has come up in the governor's race. One of her Democratic primary opponents, Shri Thanedar, called for her to drop out for not charging Nassar.
Nassar victims at Whitmer's side expressed disappointment over the GOP ad.
"I am so, so hurt that people like myself — sister survivors — are being used for political gain," said former Michigan State University rower Jane Katzer, who called the ad "absolutely despicable" and said she and her parents should not have to see her abuser's face in ads.
Schuette sidestepped the criticism, saying the prosecution of Nassar was "all about the survivors" while this issue is about his and Whitmer's records.
Earlier this week, Schuette began running ads in which Mark and Lee Weick credit Schuette's prosecution of Nassar. Their daughter Helena Weick, now 19, was sexually abused under the guise of treatment by Nassar when she was a 12-year-old gymnast. She was among some 200 women and girls to give victim-impact statements in Ingham and Eaton county courtrooms before he was sentenced to at least 40 years in state prison, which he would serve after the federal term.
"Bill Schuette is a person who stood up for what's right," Lee Weick says in one ad.
Dunlap, the MSU chief, declined Friday to speak to The Associated Press about the early stages of the Nassar probes. He instead issued a statement: "Throughout the Nassar investigations, we worked with the Ingham County Prosecutor, the Michigan Attorney General, and the United States Attorney for the Western District of Michigan. Those efforts were meant to achieve the best possible outcome for the survivors of Larry Nassar and by all objective accounts those efforts were successful."
---