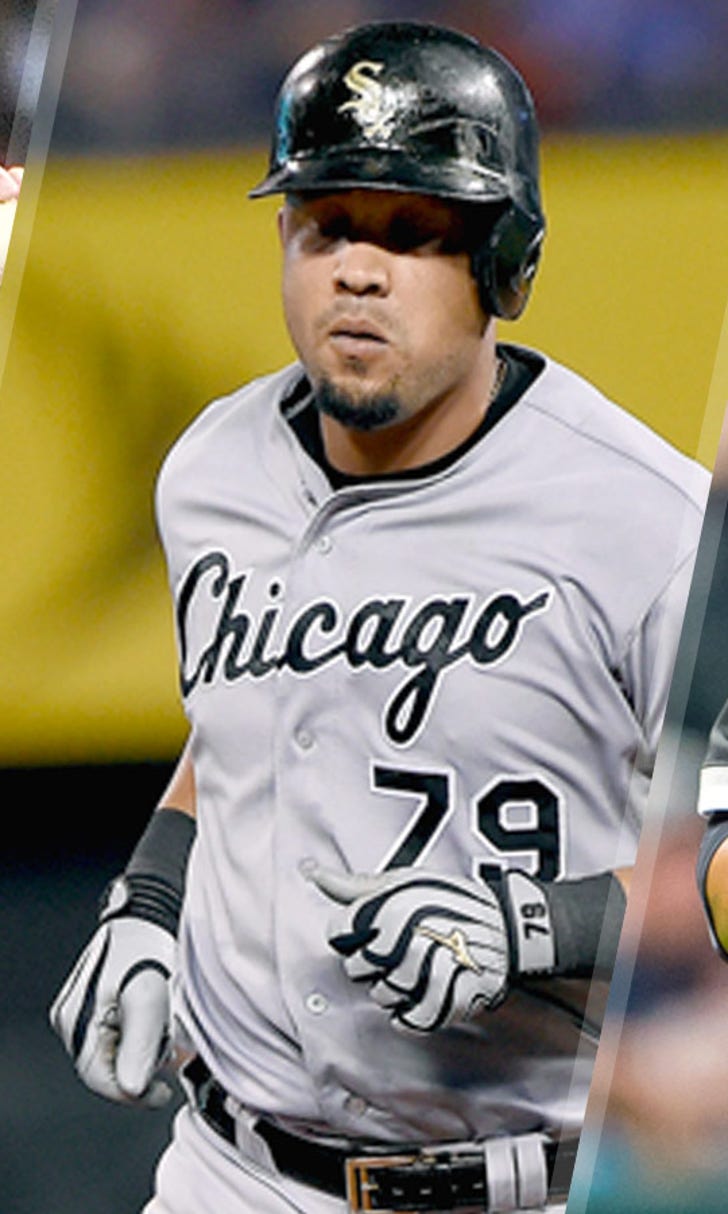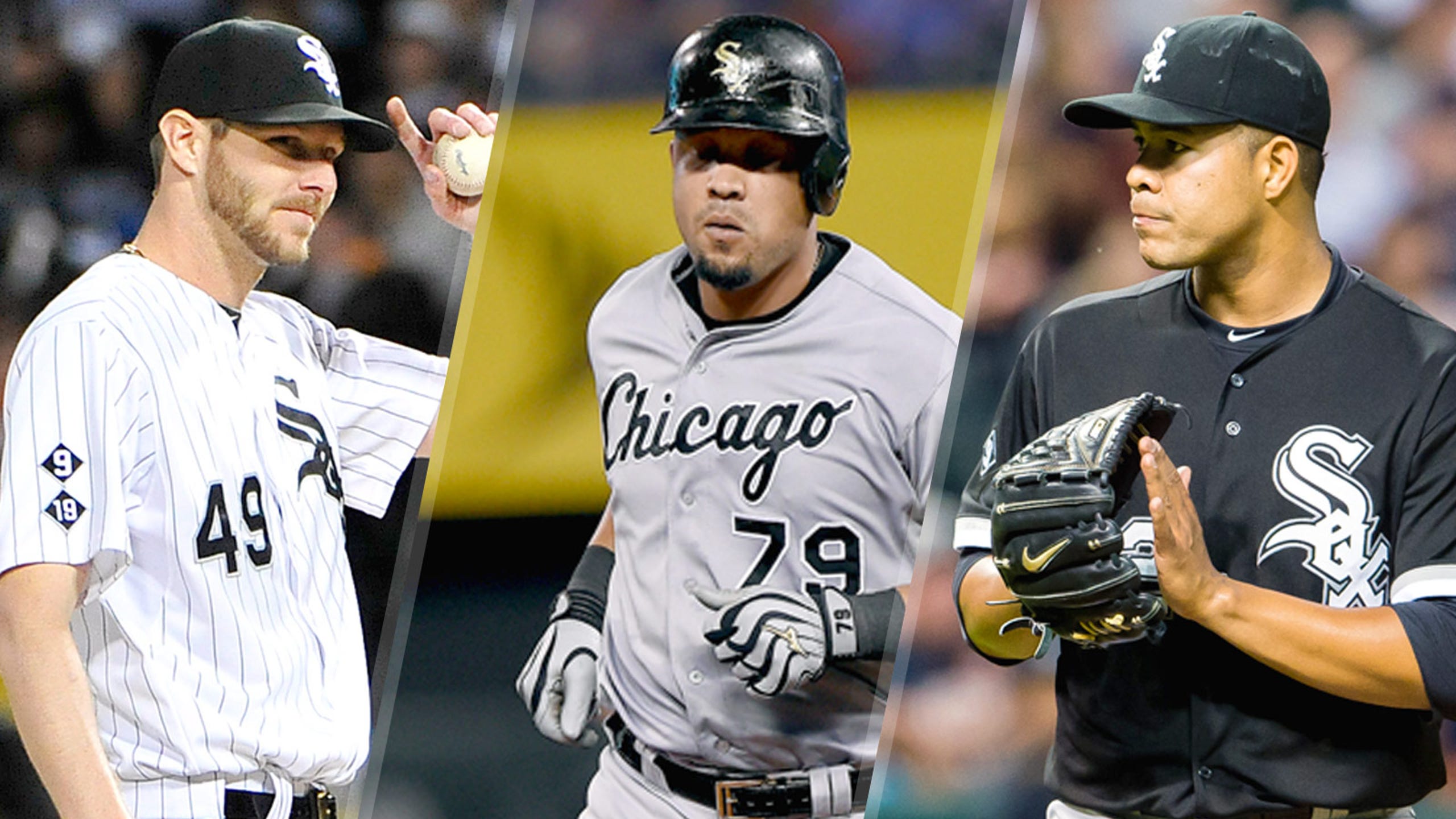 White Sox should consider dealing Chris Sale, Jose Abreu and Jose Quintana
BY foxsports • November 17, 2015
On Nov. 25 of last year, the White Sox finalized a deal with Adam LaRoche. It was, to the surprise of some, the second notable free-agent signing of the (young) winter for Chicago, a team coming off a 73-win season and seemingly overdue for a rebuild. During LaRoche'€™s introductory press conference, GM Rick Hahn talked about why the Sox had been able to lure LaRoche (and fellow free-agent signee Zach Duke) into such an uncertain situation. "They understand the time horizon presented by having certain special core players under control and what they want to hear is how they fit as part of it,"€ Hahn said of free agents the Sox approached.
The "special core players"€ to whom Hahn referred were Chris Sale, Jose Abreu and Jose Quintana. (In the spring, they would add Adam Eaton to that secured core list with a contract extension, and Eaton would play his way into the company of the original trio, but we'€™re getting ahead of ourselves.)
The article linked above moved on from Hahn'€™s discussions of what he had achieved to a look at what lay ahead of him. It listed, as it happened, three more obvious needs for the White Sox, if they hoped to become a serious contender: "€œa starting pitcher, another bullpen arm and a left fielder." Thus, we can safely assume that the author of that piece loved what Hahn did next. Over the next three weeks -- over one week, really, starting during the Winter Meetings -- €"the Sox would add Jeff Samardzija, David Robertson and Melky Cabrera to that controlled core, and of course, to LaRoche and Duke. The offseason saw Hahn and Co. address five of their seven or eight weakest roster spots with high-profile new names.
Of course, the team then went out and won 76 games, with Cabrera, LaRoche, Samardzija, Robertson and Duke providing an unhelpful 2.1 Wins Above Replacement Player (WARP). The season could hardly have gone worse. Now, the White Sox face a winter of tough decisions. They surprised many observers by declining a $9 million option on Alexei Ramirez. That doesn'€™t preclude him from returning as their shortstop, but leaves that position very much in flux for now. Samardzija'€™s season was a miserable step backward, and it seems unlikely he'll want to re-up. If he doesn'€™t re-sign, the Sox will have to replace him in their rotation. (They will, at least, get a draft pick as compensation if he signs elsewhere.) Avisail Garcia proved pretty clearly that he can'€™t be given a full-time job without someone on hand capable of taking over if he fully flames out. They'€™ll have to move Cabrera to DH, or else trade him and hope LaRoche recovers his form (unlikely).
There'€™s much work to be done, but the Sox aren'€™t necessarily in the business of doing that work. Rather, as Hahn indicated (in ambivalent, measured terms, to be fair) in a recent interview, the Sox might be embarking on what the rest of the league would recognize as a rebuild. Instead of a pedal-stomping acceleration, this winter could see the Sox checking their mirrors, changing lanes and simply finding the open spot in traffic.
The word Hahn used so often last winter, and still the buzzword around this team, is "€œcore."€ That'€™s the word we so often use for the center of a team, its backbone, its vital organs. Try this metaphor on for size, though: Maybe some clubs are apples. The White Sox were an apple in 2015. They had a great core, but everything around it was mush and bruises and worms. That apple was inedible, but it had the right stuff at its center to make the next apple, and maybe that apple was the one to try to eat. Executives tend to imagine (and frame, in public comments) a core as a nucleus, the center of their efforts to win in a given season. Sometimes, though, it'€™s either impractical or impossible to put enough good things around that core to make winning in a given season a reality. In those cases, maybe the highest use of the core is to pick out the seeds, plant them, water them, do whatever it is one does to help an apple tree grow. In other words: The White Sox should be exploring trading Sale, Abreu and Quintana.
Quintana is under Chicago's control through 2020, for a total of $42.25 million -- and that'€™s with team options for the last two of those seasons, making up roughly half that money. Sale is under control through 2019, for a total of $47.15 million -- €"again, counting two team options. Abreu has four years and $44 million left on his deal, with no options involved. That'€™s three high-value assets, three very good players, at something less than the market rate for the next four (and in Quintana'€™s case, five) years. They'€™re not dirt-cheap, though, which is a problem for the White Sox. They'€™ve tried what they tried last winter a few times in the past five years, and each has been a more disastrous business decision than the last. This time, in the wake of their spending spree and marketing push, the Sox posted the worst TV ratings of any MLB team, and drew fewer than 22,000 fans per game.
Any MLB owner could spend $150 million on his team if he pleased, and Jerry Reinsdorf is no exception, but if the Sox don'€™t feel like they'€™re throwing good money after bad by now, they'€™re simply slow learners. A rebuild would give the South Siders renewed flexibility, and the talent haul for any one of these three players has a chance to be astronomical. Trade two of them, and the Sox are three or four steps down the road the Cubs and Astros traveled to the playoffs in 2015. Sit on these three, as their salaries rise and they move slowly past their peaks, and the Sox could find themselves making another winter'€™s worth of LaRoche-Cabrera moves, getting older and more expensive and a little bit more respectable, but not better, until they end up where the Phillies and Twins have so recently been -- €"at rock bottom, but involuntarily, with three or four years up in smoke.
There are some who consider this a uniquely brilliant set of players, a group not to be wasted lest it prove impossible to duplicate. I don'€™t see them that way, but more importantly, that'€™s probably the wrong way to think about team-building. Cores matter, but it takes a well-built roster of 25 players to win anything, and no three players can so thoroughly dominate as to allow a team to succeed without filling out the rest of the roster well. It'€™s not at all clear that -- at least while these three players are still at their best and remain affordable -- the Sox will be able to support them with a good enough cast to contend.
Instead of a second (or third, or fourth) bite at the apple, the White Sox need to plant some apple trees, and that means listening hard on some players they recently considered untouchable.
---
---