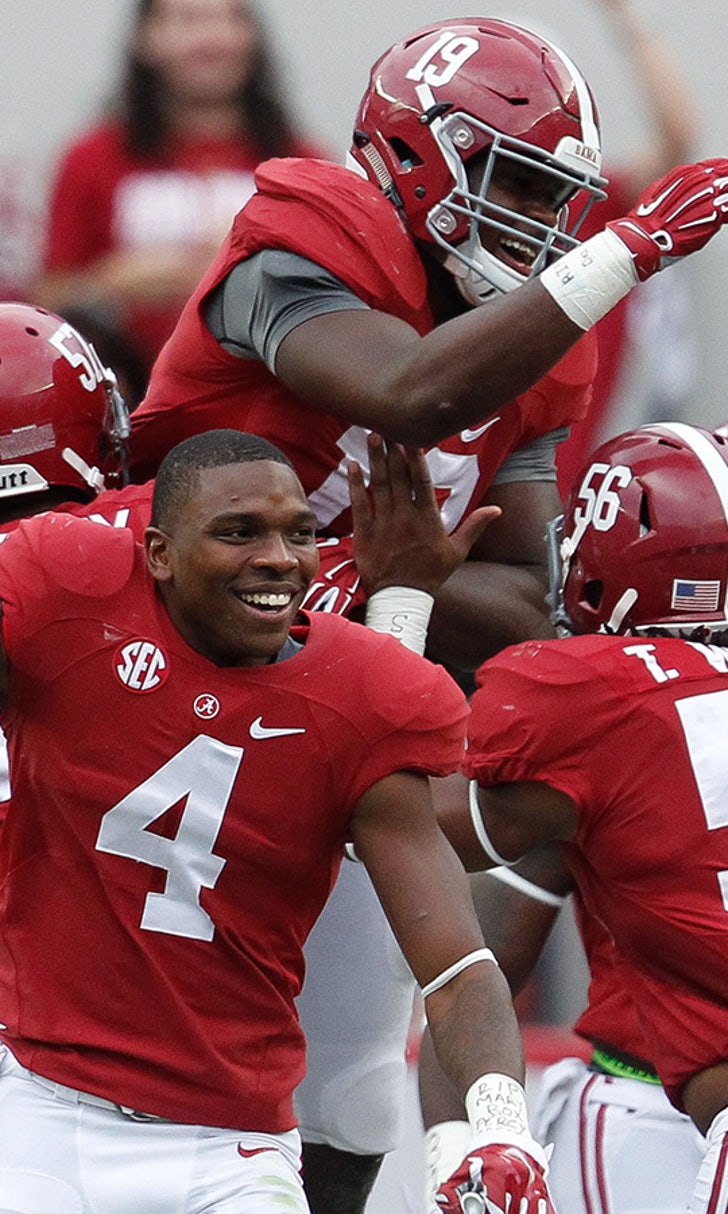 Which one-loss team has the best shot at claiming a playoff spot?
BY foxsports • October 23, 2014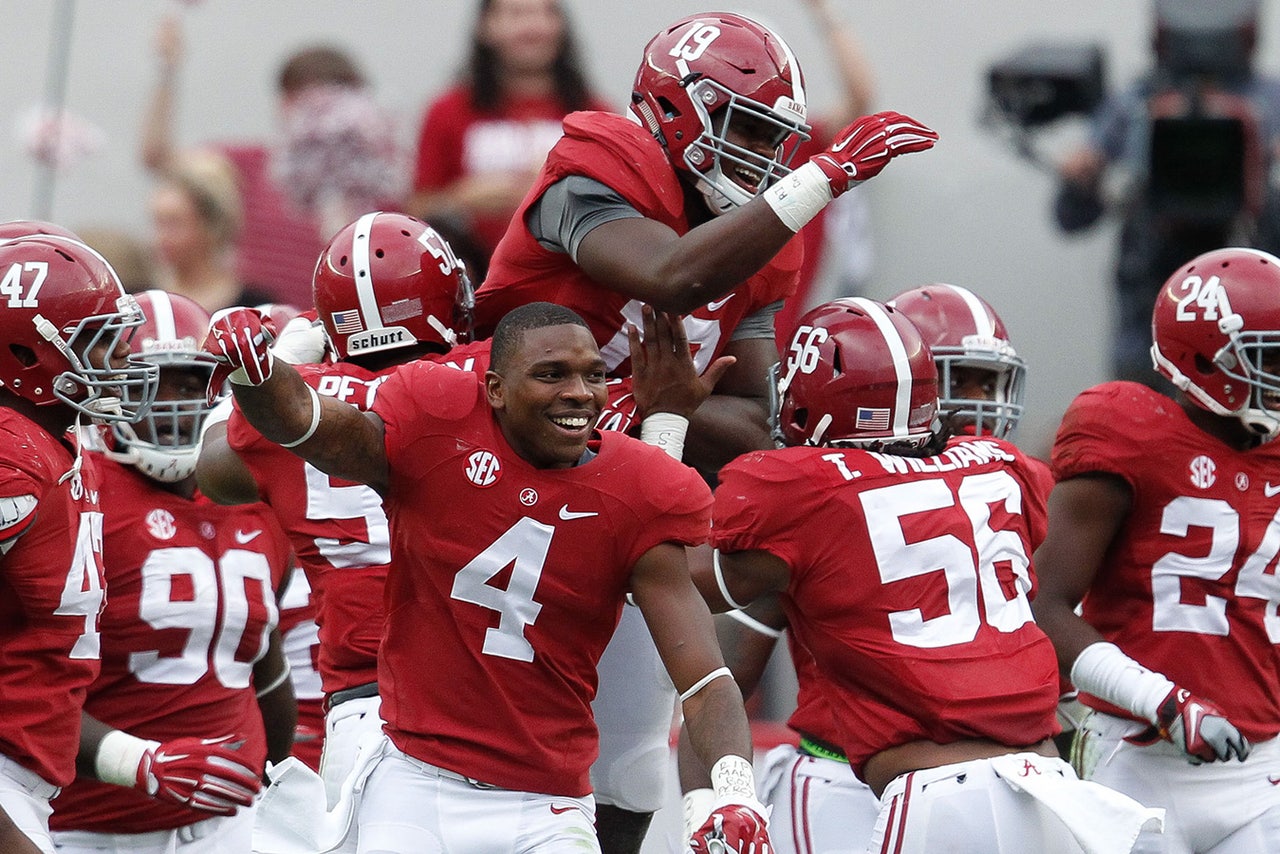 It's the only given in a jumble of complicated scenarios, three will eventually become two. But two isn't necessarily safe, either.
There are only three remaining Power-5 football teams with a perfect record: Mississippi State, Florida State and Ole Miss. While these three sit atop both the AP and Coaches polls, only two can remain unbeaten because the Egg Bowl will whittle either the Bulldogs or Rebels from a state of perfection.
That's not to say that these three teams will remain perfect outside the battle of Mississippi on Nov. 29. Mississippi State still has an extremely tough road trip to Tuscaloosa, Ala. to face fourth-ranked Alabama. Ole Miss still must tangle with 24th-ranked LSU and fifth-ranked Auburn.
Florida State has already completed their gauntlet run, beating a ranked Clemson team in September, and sliding past Notre Dame last week. It's relatively smooth sailing from here as the Seminoles wrap their ACC schedule, although peril can pop up just about anywhere.
Forget about the three unbeatens. Let them bask in the glory of their perfect resumes.
There are 14 one-loss teams among the Power-5. All of them want a spot in the College Football Playoff. But which team has the best shot?
The 2014 Egg Bowl is setting itself up as a finale of epic proportions. If the NCAA could find a way to make it a Pay-Per-View, there would be millions of buyers.
Outside of the Mississippi State-Ole Miss clash, there are other faceoffs that will help to clear the road of one-loss obstacles.
The Iron Bowl could feature two one-loss foes. Alabama still has to face two ranked teams (LSU and Mississippi State) before it faces Auburn, as does Auburn (Ole Miss and Georgia).
If both the Crimson Tide and Tigers -- who are currently ranked fourth and fifth in the country, respectively -- make it to the Egg Bowl as one-loss teams, that would mean everyone in the SEC would have a blemish. Both rivalry game would carry so much weight toward determining which team would play in the SEC title game. Brush up on tiebreaker scenarios.
Arizona State and Arizona also could play in a rivalry game of the utmost importance (side note -- the schedule makers did everyone a favor with a Friday, Nov. 28 kickoff for this clash, one day prior to both the Egg and Iron Bowls).
If both the Sun Devils and Wildcats make it to Nov. 28 with only one loss, they'd both likely be top 10 teams. In reality they'd both likely be knocking on the door of the top five teams. Both have two resume-building games against ranked teams prior to the rivalry game as well.
While the battles for the states of Alabama and Arizona are intrastate contests, Michigan State and Ohio State will help trim some o the one-loss fat.
The interesting aspect of this rivalry game (other than the fact that's it's two weeks away instead of at the end of November) is that it's the last remaining game against a ranked opponent for both teams. The Spartans are ranked eighth in the AP, and fifth in the Coaches Poll. Ohio State is 13th and 12th, respectively.
Michigan State is probably the only team here than can make a case for inclusion into the four-team College Football Playoff with a win in its rivalry game. Even if Ohio State wins, it's on the outside looking in.
Georgia and Utah have more power than anyone could have possibly imagined.
While Georgia only has one game left on its regular season schedule with a ranked opponent, it's a huge game against No. 5 Auburn on Nov. 15. If the 'Dawgs bite Auburn, even though they finish with a pretty easy final two games, they will then have that opportunity to mess up the playoff picture.
If Georgia goes to the SEC title game and beats the SEC West representative, it'll be hard for the selection committee to keep the 'Dawgs out of the playoff. Since they'd be somewhat of a party crasher (UGA is ranked ninth currently), another potentially higher-ranked SEC team could be shoved to the side.
Utah is ranked 19th right now, and way off the radar of the playoff conversation. That could change quickly.
The Utes have a win over UCLA on their resume, and starting this Saturday have three weeks worth of resume-building opponents on their schedule. If Utah beats USC, Arizona State and then Oregon in back-to-back weeks, and then two weeks later topples Arizona, how do you leave the Utes out of a four-team playoff?
As we approach the stretch run and teams begin jockeying for playoff spots, here's a snapshot of the best one-loss teams (Disclaimer: these rankings are not indicative of how the teams are ranked right now, it's a prediction of who has the best shot at claiming the two playoff spots for one-loss teams (remember there can only be two -- at the most -- unbeatens by the end of the season).
1. Loser of the Egg Bowl (only if both Mississippi State and Ole Miss are unbeaten prior to the game)
2. Alabama
3. Auburn
4. Notre Dame
5. Oregon
6. Georgia
7. Michigan State
8. TCU
9. Arizona State
10. Baylor
11. Kansas State
12. Arizona
13. Utah
14. Nebraska
15. Ohio State
1. Mississippi State
2. Florida State
3. Ole Miss
4. Alabama
---