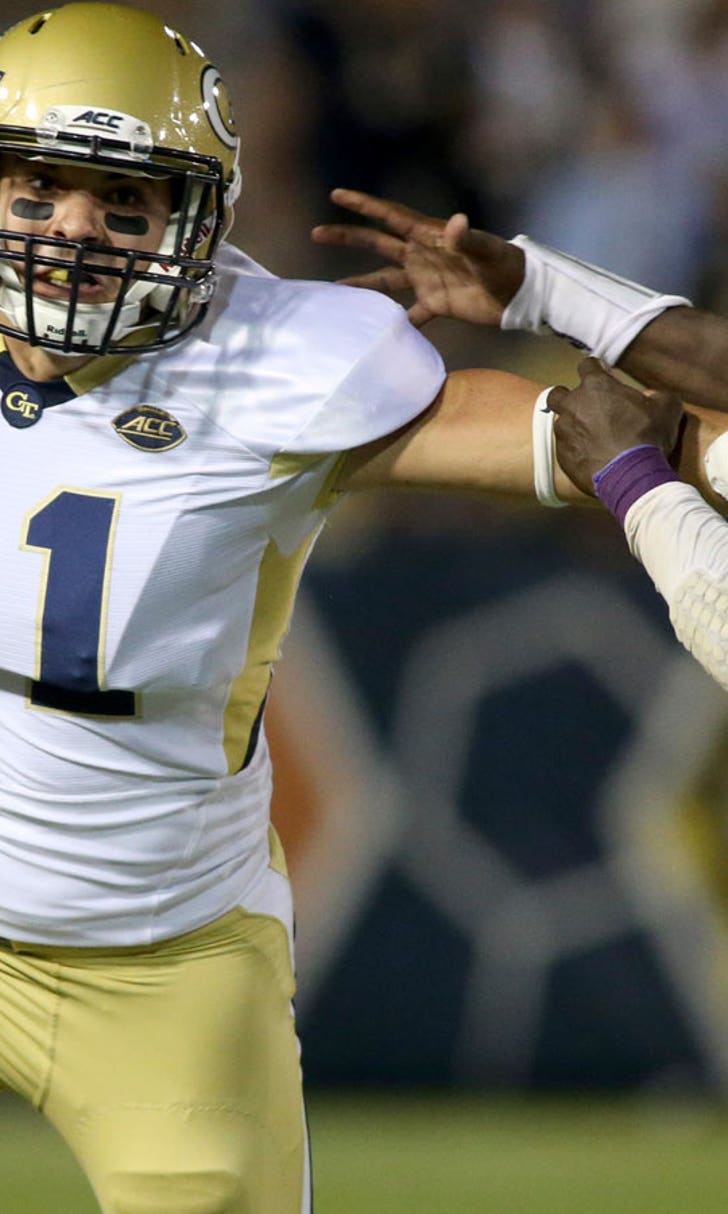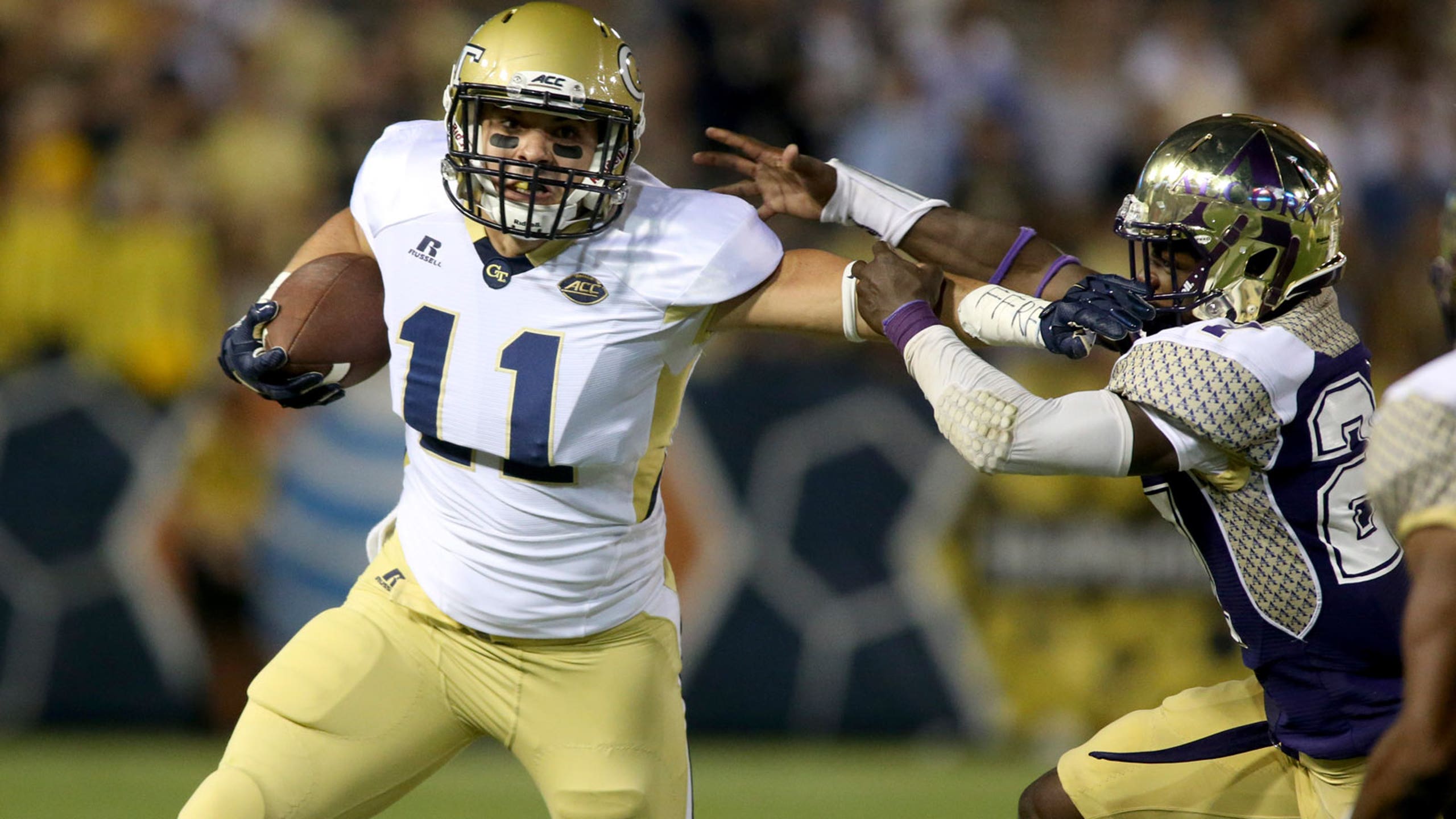 WhatIfSports college football Week 3 predictions: Georgia Tech wins at Notre Dame
BY Fox Sports • December 24, 2016
Each Monday, WhatIfSports.com's college football simulation engine generates predictions for every Division I FBS game for the coming week. Our highly sophisticated algorithms simulate every play of every game to produce each team's likelihood to win. Each matchup is simulated 101 times.
Week 2 in Review
Our college football simulation engine built on a strong opening week (85.9 percent accuracy) with another good showing in Week 2. We predicted the winner in 84.2 percent of all games involving an FBS team (64-12 record). In games featuring a Top 25 team, the simulation engine boasted an accuracy of 92.0 percent (23-2 record). The only Top 25 games we missed were Toledo over Arkansas and BYU over Boise State.
Track our 2015 performance or view our accuracy last season, when we correctly picked the winner in 77.6 percent of all games involving FBS teams.
Week 2 Highlight: Our Oklahoma over Tennessee prediction was looking precarious, with the Volunteers taking a 17-3 lead into the fourth quarter. But the Sooners managed two touchdowns in the final stanza to send the game to OT, where they outscored Tennessee 14-7. Final score: Oklahoma 31 – Tennessee 24. The WhatIfSports prediction: Oklahoma 28.7 – Tennessee 24.0.
Week 2 Lowlight: Eastern Michigan ranked 128th in our Week 2 power rankings. Paying a visit to Wyoming, our simulation engine felt comfortable picking against EMU, with Wyoming winning 64.4 percent of games simulated between the two teams. Vegas oddsmakers agreed with the pick, taking the Cowboys by 13. Naturally, Eastern Michigan steamrolled Wyoming, leading 38-14 at the half en route to a 48-29 victory.  If the Eagles can defeat Ball State this week, they'll match their win total from 2014.
Week 3 Top 25 vs. Top 25 Matchups
No. 19 BYU @ No. 10 UCLA: BYU has overcome the loss of star quarterback Taysom Hill with back-to-back game-winning heaves from new starter Tanner Mangum. With victories over Nebraska and No. 20 Boise State, BYU's ranking is well-deserved. But can the Cougars survive their toughest test yet? After 101 simulations, the computer gives the nod to UCLA, with the Bruins winning 55.6 percent of the time.
No. 15 Ole Miss @ No. 2 Alabama: Last year, Alabama's only regular-season loss was a 23-17 defeat at Ole Miss. Now the Rebels are tasked with traveling to Tuscaloosa to make it two in a row over 'Bama. We're not predicting a pleasant outcome for Ole Miss, however, with the Crimson Tide winning by an average score of 28.2-23.5.
No. 14 Georgia Tech @ No. 8 Notre Dame: Georgia Tech vs. Notre Dame is our featured Game of the Week. Check below for the full breakdown.
Week 3 Upset Picks
Colorado State (+3.5) over Colorado: The Buffaloes dropped their first game of the year to Hawaii and lost to in-state rival Colorado State in 2014. Yet the CSU Rams, coming off a 23-20 overtime defeat to Minnesota, are 3.5-point dogs in the matchup. We like Colorado State to pull the upset, with the Rams winning 57.4 percent of simulations.
Western Kentucky (+2.5) over Indiana: Western Kentucky is 2-0 with a two-point win at Vanderbilt and a three-point win over Louisiana Tech. Although Indiana may be a tougher opponent, we like the Hilltoppers to escape with another narrow win. Watch for a high-scoring affair in Bloomington.
Game of the Week: Georgia Tech at Notre Dame
This week's matchup between the Yellow Jackets and Fighting Irish was supposed to be a showdown of two athletic quarterbacks: Justin Thomas (GT) and Malik Zaire (ND).
However, Zaire broke his ankle and will miss the remainder of the 2015 season.
But, don't count Notre Dame out just yet. They will move from a Kettering, Ohio quarterback to a Toledo, OH player. DeShone Kizer took over for Zaire and the Irish offense didn't miss a beat. Kizer completed 8-of-12 passes for 92 yards including the 39-yard game-winning TD pass to Will Fuller.
Georgia Tech's offense has been impressive, too. The Yellow Jackets have scored the second-most points in FBS, thus far (134 points). They trail only Ole Miss by 15 points for the lead. Tech has an effective running attack. Freshman Marcus Marshall leads the team with 221 rushing yards on only 14 attempts (15.8 yards per carry).
While GT is producing points at an outstanding rate, they have yet to see the quality of opponent as ND. Tech's wins have been over Alcorn State and Tulane. Notre Dame has defeated Texas and Virginia.
Our computers simulated this game 101 times and are awarding Georgia Tech as the winner 55.4 percent of the time by an average score of 28.8-28.3.
The quarterback change had to influence this decision tremendously. If Notre Dame remains undefeated after Week 3, look for our simulations to lean more toward the luck of the Irish throughout 2015.
In addition, view our Week 3 power rankings or visit our college football archive for predictions from past weeks. For more statistics, view our weekly college football predictions.
College Football Week 3 Predictions

Matchup
Win %
Avg. Score
 
William & Mary Tribe
5.0
8.5
Box Score
@ Virginia Cavaliers
95.0
44.4
 
Illinois Fighting Illini
38.1
29.5
Box Score
@ North Carolina Tar Heels
61.9
33.0
 
Central Michigan Chippewas
39.6
23.5
Box Score
@ Syracuse Orange
60.4
26.2
 
Northwestern Wildcats
46.5
23.7
Box Score
@ Duke Blue Devils
53.5
26.0
 
Nebraska Cornhuskers
47.9
28.4
Box Score
@ Miami (FL) Hurricanes
52.1
28.9
 
Clemson Tigers
58.4
29.0
Box Score
@ Louisville Cardinals
41.6
25.5
 
Florida State Seminoles
69.3
29.6
Box Score
@ Boston College Eagles
30.7
23.8
 
Troy Trojans
14.9
22.4
Box Score
@ Wisconsin Badgers
85.1
34.7
 
Northern Illinois Huskies
16.8
22.8
Box Score
@ Ohio State Buckeyes
83.2
35.6
 
Air Force Falcons
19.8
21.6
Box Score
@ Michigan State Spartans
80.2
32.2
 
Kent State Golden Flashes
21.8
22.2
Box Score
@ Minnesota Golden Gophers
78.2
32.4
 
UNLV Rebels
26.7
22.4
Box Score
@ Michigan Wolverines
73.3
31.2
 
South Florida Bulls
40.6
24.9
Box Score
@ Maryland Terrapins
59.4
27.7
 
Rutgers Scarlet Knights
45.0
24.3
Box Score
@ Penn State Nittany Lions
55.0
26.0
 
Pittsburgh Panthers
49.4
28.1
Box Score
@ Iowa Hawkeyes
50.6
28.5
 
Western Kentucky Hilltoppers
57.4
32.6
Box Score
@ Indiana Hoosiers
42.6
30.5
 
Virginia Tech Hokies
63.4
26.6
Box Score
@ Purdue Boilermakers
36.6
21.8
 
Murray State Racers
5.0
7.4
Box Score
@ Western Michigan Broncos
95.0
47.6
 
Savannah State Tigers
5.0
8.1
Box Score
@ Akron Zips
95.0
46.6
 
Southeastern Louisiana Lions
5.0
7.7
Box Score
@ Ohio Bobcats
95.0
43.2
 
Iowa State Cyclones
48.2
29.5
Box Score
@ Toledo Rockets
51.8
29.9
 
Memphis Tigers
56.0
31.5
Box Score
@ Bowling Green Falcons
44.0
30.3
 
Ball State Cardinals
68.3
33.4
Box Score
@ Eastern Michigan Eagles
31.7
27.3
 
Temple Owls
68.3
32.4
Box Score
@ Massachusetts Minutemen
31.7
25.4
 
Cincinnati Bearcats
79.2
36.1
Box Score
@ Miami (OH) RedHawks
20.8
26.7
 
Northern Arizona Lumberjacks
5.0
6.1
Box Score
@ Arizona Wildcats
95.0
51.5
 
Georgia State Panthers
9.9
22.9
Box Score
@ Oregon Ducks
90.1
38.3
 
New Mexico Lobos
23.8
25.6
Box Score
@ Arizona State Sun Devils
76.2
34.9
 
Utah State Aggies
31.7
25.1
Box Score
@ Washington Huskies
68.3
28.8
 
Wyoming Cowboys
31.7
29.1
Box Score
@ Washington State Cougars
68.3
33.7
 
San Jose State Spartans
35.6
28.0
Box Score
@ Oregon State Beavers
64.4
32.2
 
Stanford Cardinal
41.6
27.4
Box Score
@ USC Trojans
58.4
30.6
 
BYU Cougars
44.4
27.4
Box Score
@ UCLA Bruins
55.6
29.1
 
Western Carolina Catamounts
5.0
9.2
Box Score
@ Tennessee Volunteers
95.0
51.1
 
Northwestern State Demons
5.0
8.3
Box Score
@ Mississippi State Bulldogs
95.0
49.1
 
Austin Peay Governors
5.0
6.3
Box Score
@ Vanderbilt Commodores
95.0
43.5
 
Connecticut Huskies
22.3
20.4
Box Score
@ Missouri Tigers
77.7
30.0
 
Nevada Wolf Pack
27.7
27.7
Box Score
@ Texas A&M Aggies
72.3
35.5
 
Ole Miss Rebels
33.2
23.5
Box Score
@ Alabama Crimson Tide
66.8
28.2
 
South Carolina Gamecocks
40.6
25.0
Box Score
@ Georgia Bulldogs
59.4
30.0
 
Texas Tech Red Raiders
43.6
28.2
Box Score
@ Arkansas Razorbacks
56.4
32.3
 
Auburn Tigers
44.6
26.0
Box Score
@ LSU Tigers
55.4
27.4
 
Florida Gators
69.3
28.3
Box Score
@ Kentucky Wildcats
30.7
23.5
 
Georgia Tech Yellow Jackets
55.4
28.8
Box Score
@ Notre Dame Fighting Irish
44.6
28.3
 
Wake Forest Demon Deacons
69.3
27.3
Box Score
@ Army West Point Black Knights
30.7
21.6
 
SMU Mustangs
11.9
22.2
Box Score
@ TCU Horned Frogs
88.1
35.8
 
UTSA Roadrunners
20.8
18.8
Box Score
@ Oklahoma State Cowboys
79.2
30.6
 
Tulsa Golden Hurricane
21.8
22.8
Box Score
@ Oklahoma Sooners
78.2
31.9
 
Louisiana Tech Bulldogs
32.7
27.7
Box Score
@ Kansas State Wildcats
67.3
33.1
 
California Golden Bears
57.4
30.2
Box Score
@ Texas Longhorns
42.6
28.5
 
Norfolk State Spartans
5.0
7.6
Box Score
@ Marshall Thundering Herd
95.0
46.9
 
North Carolina Central Eagles
5.0
6.4
Box Score
@ FIU Golden Panthers
95.0
41.3
 
Charlotte 49ers
29.7
27.3
Box Score
@ Middle Tennessee Blue Raiders
70.3
32.1
 
Buffalo Bulls
51.4
32.5
Box Score
@ Florida Atlantic Owls
48.6
31.8
 
Rice Owls
60.4
29.2
Box Score
@ North Texas Mean Green
39.6
24.2
 
North Carolina State Wolfpack
75.2
33.7
Box Score
@ Old Dominion Monarchs
24.8
25.3
 
UC Davis Aggies
5.0
6.7
Box Score
@ Hawaii Rainbow Warriors
95.0
46.5
 
Idaho State Bengals
5.0
6.2
Box Score
@ Boise State Broncos
95.0
46.9
 
South Alabama Jaguars
34.7
25.0
Box Score
@ San Diego State Aztecs
65.3
30.1
 
Colorado Buffaloes
42.6
30.7
Box Score
@ Colorado State Rams
57.4
32.9
 
Utah Utes
62.4
29.8
Box Score
@ Fresno State Bulldogs
37.6
25.9
 
Missouri State Bears
5.0
7.0
Box Score
@ Arkansas State Red Wolves
95.0
47.9
 
Citadel Bulldogs
5.0
7.5
Box Score
@ Georgia Southern Eagles
95.0
46.8
 
Wofford Terriers
5.0
8.5
Box Score
@ Idaho Vandals
95.0
41.7
 
Southern Miss Golden Eagles
42.1
31.2
Box Score
@ Texas State Bobcats
57.9
32.2
 
UTEP Miners
53.4
29.7
Box Score
@ New Mexico State Aggies
46.6
28.7
 
Furman Paladins
5.0
7.3
Box Score
@ UCF Knights
95.0
41.8
 
Maine Black Bears
5.0
7.6
Box Score
@ Tulane Green Wave
95.0
42.9
 
East Carolina Pirates
45.5
32.0
Box Score
@ Navy Midshipmen
54.5
32.4
 
---
---