Eastern Washington Eagles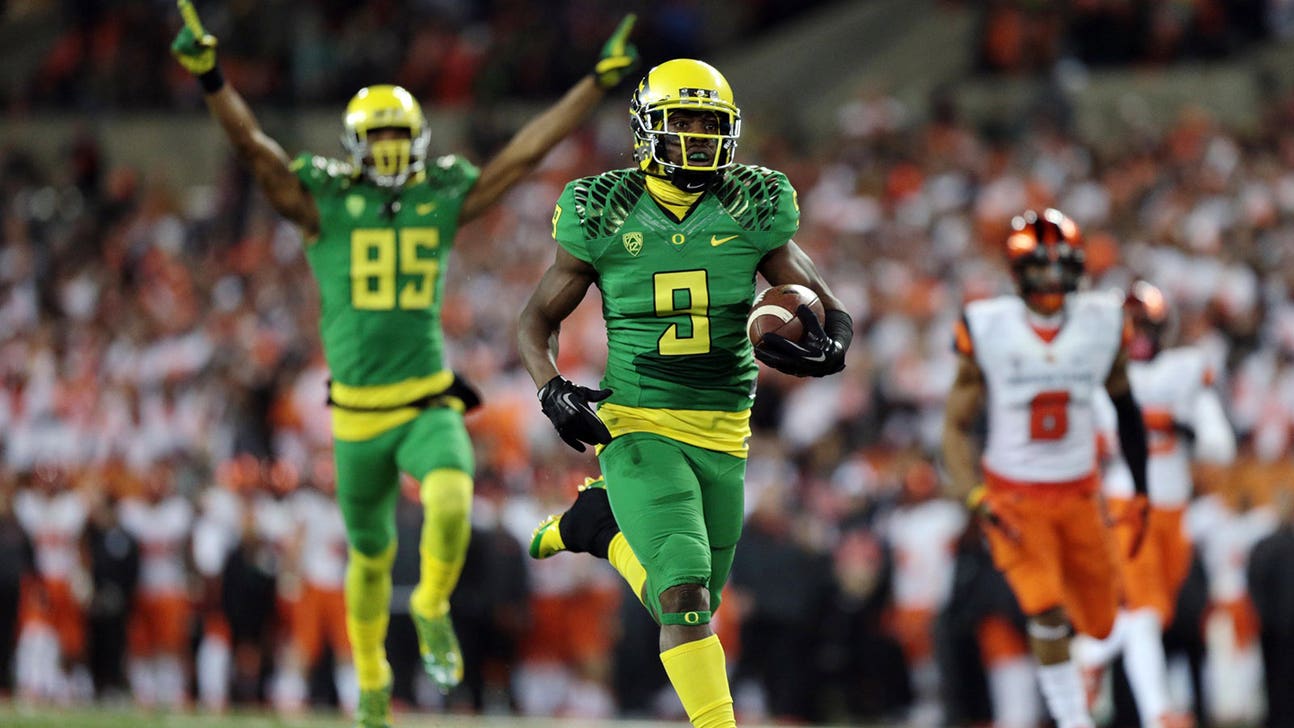 Eastern Washington Eagles
WhatIfSports 2015 Pac-12 Football Projected Standings
Published
Dec. 24, 2016 8:38 p.m. ET

Which team will emerge from the pack in the competitive Pac-12? WhatIfSports.com played every game of the 2015 season 101 times to generate game-by-game predictions for each Pac-12 team, as well as projected conference standings.
All games were played using WhatIfSports' college football simulation engine, which uses its highly sophisticated algorithms to simulate every play of the game. The conference standings table displays the most likely outcome for each team, whereas the team-by-team schedules display absolute records. 
2015 Pac-12 Projected Conference Standings
South
W
L
Overall Record
USC
7
2
9-3
Arizona State
7
2
9-3
UCLA
6
3
8-4
Arizona
5
4
8-4
Utah
4
5
6-6
Colorado
1
8
3-9
North
W
L
Overall Record
Oregon
8
1
10-2
Stanford
6
3
8-4
Washington
3
6
5-7
California
3
6
5-7
Washington State
2
7
4-8
Oregon State
2
7
4-8
Aside from the SEC, with its usual load of preseason Top 25 teams, no conference garnered more Associated Press love than the Pac-12. With six teams – Oregon (7), USC (8), UCLA (13), Arizona State (15), Stanford (21) and Arizona (22) – ranked to start the season, the Pac-12 is receiving national recognition for its depth. By comparison, the ACC, Big 12 and Big Ten each placed three teams in the Top 25, while the SEC tops them all with eight teams.
Such talent does not come without risk, however. If one school isn't able to separate itself from the pack, teams could easily beat up on each other in conference games and prevent the league from gaining representation in the College Football Playoff.  If Stewart Mandel's prediction plays out, that could spell trouble for the Pac-12:
"This could be a year where the Pac-12's brutal scheduling model could work against it. If ASU played North Texas instead of Texas A&M and Oregon played Central Michigan instead of Michigan State, I'd have them both with playoff-worthy records. As it is, I have ASU winning the first matchup, the 9-3 Ducks topping the 10-2 Sun Devils in the league title game."
Mandel's forecast isn't far from WhatIfSports.com's prediction, although we envision Arizona State in a heated race with USC for the South Division. Bruce Feldman could see UCLA and Arizona in the hunt as well:
"I think any one of four teams have a good shot to win the South. The hunch here is that it'll come down to the Nov. 28 game when UCLA visits USC. The Bruins have owned the Trojans of late, but I think the Trojans -- with the more experienced QB in Cody Kessler and the more dynamic collection of receivers -- are due."
In the North, Mandel, Feldman and WhatIfSports.com all agree that Oregon will be tough to dethrone. The Ducks need to replace Marcus Mariota at quarterback, a task that will fall to Jeff Lockie or Eastern Washington transfer Vernon Adams. The QB will be surrounded by some talented playmakers, including wide receiver Byron Marshall and running back Royce Freeman.
To view a team's game-by-game predictions, select the school below:
2015 Arizona Wildcats
Week
Opponent
Win%
Avg Score
1
UTSA Roadrunners
84.2
28.4-15.5
2
@Nevada Wolf Pack
65.3
26.3-20.8
3
Northern Arizona Lumberjacks
95.0
46.6-6.7
4
UCLA Bruins
33.7
24.1-29.1
5
@Stanford Cardinal
38.6
23.1-27.0
6
Oregon State Beavers
69.3
29.0-23.1
7
@Colorado Buffaloes
52.5
28.1-26.9
8
Washington State Cougars
63.4
28.5-24.6
9
@Washington Huskies
36.6
23.6-28.5
10
@USC Trojans
31.7
22.5-27.9
11
Utah Utes
44.6
24.4-26.8
12
@Arizona State Sun Devils
50.5
27.6-28.7
2015 Arizona State Sun Devils
Week
Opponent
Win%
Avg Score
1
@Texas A&M Aggies
46.5
30.9-31.0
2
Cal Poly Mustangs
95.0
49.4-8.8
3
New Mexico Lobos
60.4
30.7-24.3
4
USC Trojans
51.5
26.0-26.2
5
@UCLA Bruins
44.6
28.1-30.1
6
Colorado Buffaloes
67.3
30.5-24.9
7
@Utah Utes
48.5
27.5-28.6
9
Oregon Ducks
42.6
27.1-29.7
10
@Washington State Cougars
60.4
30.9-25.9
11
Washington Huskies
46.5
29.5-29.1
12
Arizona Wildcats
49.5
28.7-27.6
13
@California Golden Bears
43.6
28.5-28.0
2015 California Golden Bears
Week
Opponent
Win%
Avg Score
1
Grambling State Tigers
95.0
47.2-8.8
2
San Diego State Aztecs
65.3
27.9-22.4
3
@Texas Longhorns
40.6
26.7-29.7
4
@Washington Huskies
43.6
27.0-28.5
5
Washington State Cougars
53.5
28.4-25.9
6
@Utah Utes
51.5
28.0-27.6
8
@UCLA Bruins
42.6
25.9-29.5
9
USC Trojans
39.6
24.6-27.3
10
@Oregon Ducks
48.5
27.0-28.2
11
Oregon State Beavers
63.4
28.7-25.3
12
@Stanford Cardinal
45.5
24.7-27.9
13
Arizona State Sun Devils
56.4
28.0-28.5
2015 Colorado Buffaloes
Week
Opponent
Win%
Avg Score
1
@Hawaii Rainbow Warriors
65.3
29.0-23.6
2
Massachusetts Minutemen
62.4
27.3-25.0
3
@Colorado State Rams
47.5
27.2-28.2
4
Nicholls Colonels
95.0
48.0-7.2
5
Oregon Ducks
24.8
23.6-30.6
6
@Arizona State Sun Devils
31.7
24.9-30.5
7
Arizona Wildcats
47.5
26.9-28.1
8
@Oregon State Beavers
45.5
26.4-26.1
9
@UCLA Bruins
30.7
24.5-30.8
10
Stanford Cardinal
33.7
22.8-27.8
11
USC Trojans
26.7
22.9-30.0
12
@Washington State Cougars
48.5
27.2-28.1
13
@Utah Utes
32.7
23.4-29.2
2015 Oregon Ducks
Week
Opponent
Win%
Avg Score
1
Eastern Washington Eagles
95.0
48.8-6.0
2
@Michigan State Spartans
47.5
24.4-24.8
3
Georgia State Panthers
78.2
32.7-23.1
4
Utah Utes
56.4
27.5-25.5
5
@Colorado Buffaloes
75.2
30.6-23.6
6
Washington State Cougars
57.4
28.9-25.0
7
@Washington Huskies
38.6
25.0-27.1
9
@Arizona State Sun Devils
57.4
29.7-27.1
10
California Golden Bears
51.5
28.2-27.0
11
@Stanford Cardinal
44.6
25.1-25.7
12
USC Trojans
54.5
28.4-26.3
13
Oregon State Beavers
64.4
28.4-23.1
2015 Oregon State Beavers
Week
Opponent
Win%
Avg Score
1
Weber State Wildcats
95.0
43.8-6.3
2
@Michigan Wolverines
48.5
23.6-25.3
3
San Jose State Spartans
49.5
24.6-24.0
4
Stanford Cardinal
38.6
22.8-27.3
6
@Arizona Wildcats
30.7
23.1-29.0
7
@Washington State Cougars
55.4
26.8-24.9
8
Colorado Buffaloes
53.5
26.1-26.4
9
@Utah Utes
26.7
22.8-28.8
10
UCLA Bruins
30.7
21.9-30.7
11
@California Golden Bears
36.6
25.3-28.7
12
Washington Huskies
32.7
21.9-30.9
13
@Oregon Ducks
35.6
23.1-28.4
2015 Stanford Cardinal
Week
Opponent
Win%
Avg Score
1
@Northwestern Wildcats
64.4
22.7-18.5
2
UCF Knights
64.4
25.2-17.6
3
@USC Trojans
45.5
22.9-24.3
4
@Oregon State Beavers
60.4
27.3-22.8
5
Arizona Wildcats
61.4
27.0-23.1
7
UCLA Bruins
52.5
26.8-27.4
8
Washington Huskies
42.6
24.8-26.3
9
@Washington State Cougars
72.3
29.8-21.7
10
@Colorado Buffaloes
66.3
27.8-22.8
11
Oregon Ducks
53.5
25.7-25.1
12
California Golden Bears
54.5
27.9-24.7
13
Notre Dame Fighting Irish
49.5
26.3-26.0
2015 UCLA Bruins
Week
Opponent
Win%
Avg Score
1
Virginia Cavaliers
47.5
27.4-26.8
2
@UNLV Rebels
84.2
35.5-24.5
3
BYU Cougars
45.5
28.4-29.8
4
@Arizona Wildcats
66.3
29.1-24.1
5
Arizona State Sun Devils
55.4
30.1-28.1
7
@Stanford Cardinal
46.5
27.4-26.8
8
California Golden Bears
57.4
29.5-25.9
9
Colorado Buffaloes
69.3
30.8-24.5
10
@Oregon State Beavers
69.3
30.7-21.9
11
Washington State Cougars
59.4
30.5-25.7
12
@Utah Utes
57.4
28.5-27.0
13
@USC Trojans
51.5
27.4-26.4
2015 USC Trojans
Week
Opponent
Win%
Avg Score
1
Arkansas State Red Wolves
71.3
29.2-22.2
2
Idaho Vandals
86.1
31.5-17.0
3
Stanford Cardinal
54.5
24.3-22.9
4
@Arizona State Sun Devils
48.5
26.2-26.0
6
Washington Huskies
57.4
27.9-24.7
7
@Notre Dame Fighting Irish
54.5
26.8-26.8
8
Utah Utes
65.3
28.1-23.7
9
@California Golden Bears
60.4
27.3-24.6
10
Arizona Wildcats
68.3
27.9-22.5
11
@Colorado Buffaloes
73.3
30.0-22.9
12
@Oregon Ducks
43.6
26.3-28.4
13
UCLA Bruins
48.5
26.4-27.4
2015 Utah Utes
Week
Opponent
Win%
Avg Score
1
Michigan Wolverines
56.4
26.6-24.7
2
Utah State Aggies
59.4
27.9-25.6
3
@Fresno State Bulldogs
68.3
30.2-21.8
4
@Oregon Ducks
43.6
25.5-27.5
6
California Golden Bears
48.5
27.6-28.0
7
Arizona State Sun Devils
50.5
28.6-27.5
8
@USC Trojans
34.7
23.7-28.1
9
Oregon State Beavers
73.3
28.8-22.8
10
@Washington Huskies
44.6
27.1-28.9
11
@Arizona Wildcats
55.4
26.8-24.4
12
UCLA Bruins
42.6
27.0-28.5
13
Colorado Buffaloes
67.3
29.2-23.4
2015 Washington Huskies
Week
Opponent
Win%
Avg Score
1
@Boise State Broncos
51.5
28.7-28.0
2
Sacramento State Hornets
95.0
49.9-6.9
3
Utah State Aggies
53.5
25.2-24.5
4
California Golden Bears
56.4
28.5-27.0
6
@USC Trojans
42.6
24.7-27.9
7
Oregon Ducks
60.4
27.1-25.0
8
@Stanford Cardinal
56.4
26.3-24.8
9
Arizona Wildcats
62.4
28.5-23.6
10
Utah Utes
54.5
28.9-27.1
11
@Arizona State Sun Devils
53.5
29.1-29.5
12
@Oregon State Beavers
67.3
30.9-21.9
13
Washington State Cougars
68.3
29.6-24.7
2015 Washington State Cougars
Week
Opponent
Win%
Avg Score
1
Portland State Vikings
95.0
46.1-6.1
2
@Rutgers Scarlet Knights
55.4
25.2-23.9
3
Wyoming Cowboys
63.4
28.9-25.1
5
@California Golden Bears
46.5
25.9-28.4
6
@Oregon Ducks
42.6
25.0-28.9
7
Oregon State Beavers
43.6
24.9-26.8
8
@Arizona Wildcats
36.6
24.6-28.5
9
Stanford Cardinal
27.7
21.7-29.8
10
Arizona State Sun Devils
38.6
25.9-30.9
11
@UCLA Bruins
40.6
25.7-30.5
12
Colorado Buffaloes
51.5
28.1-27.2
13
@Washington Huskies
31.7
24.7-29.6
---
---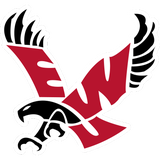 Get more from Eastern Washington Eagles
Follow your favorites to get information about games, news and more
---