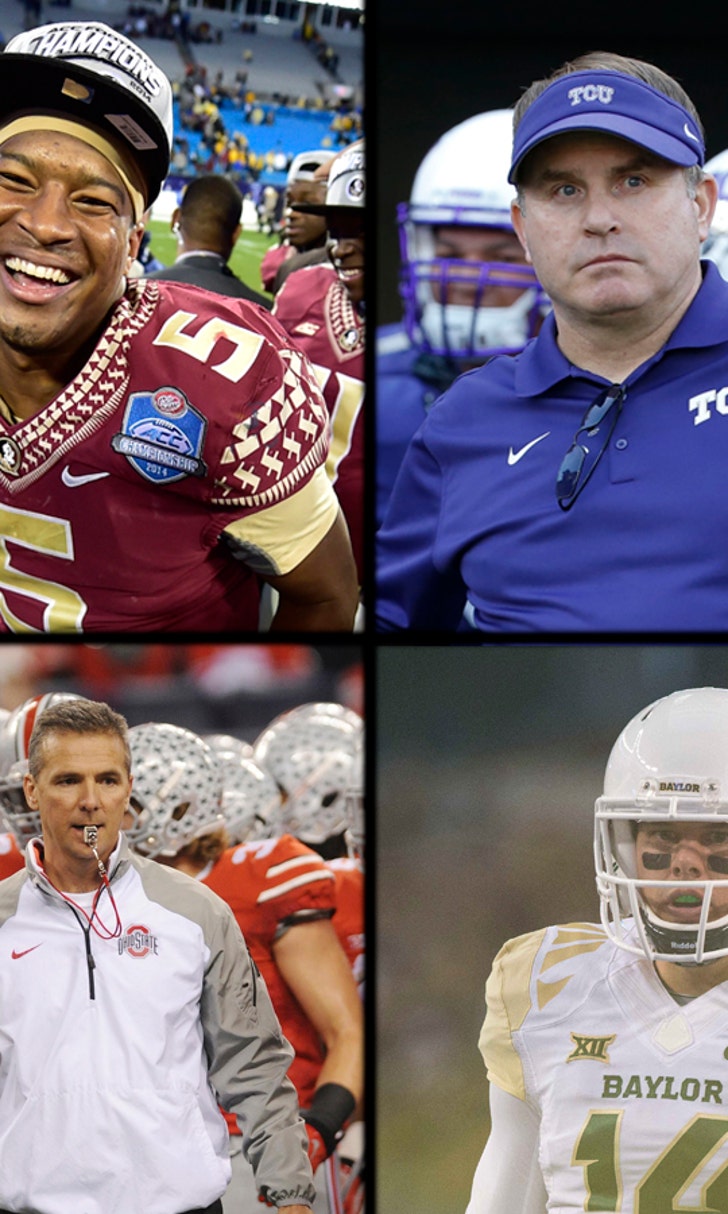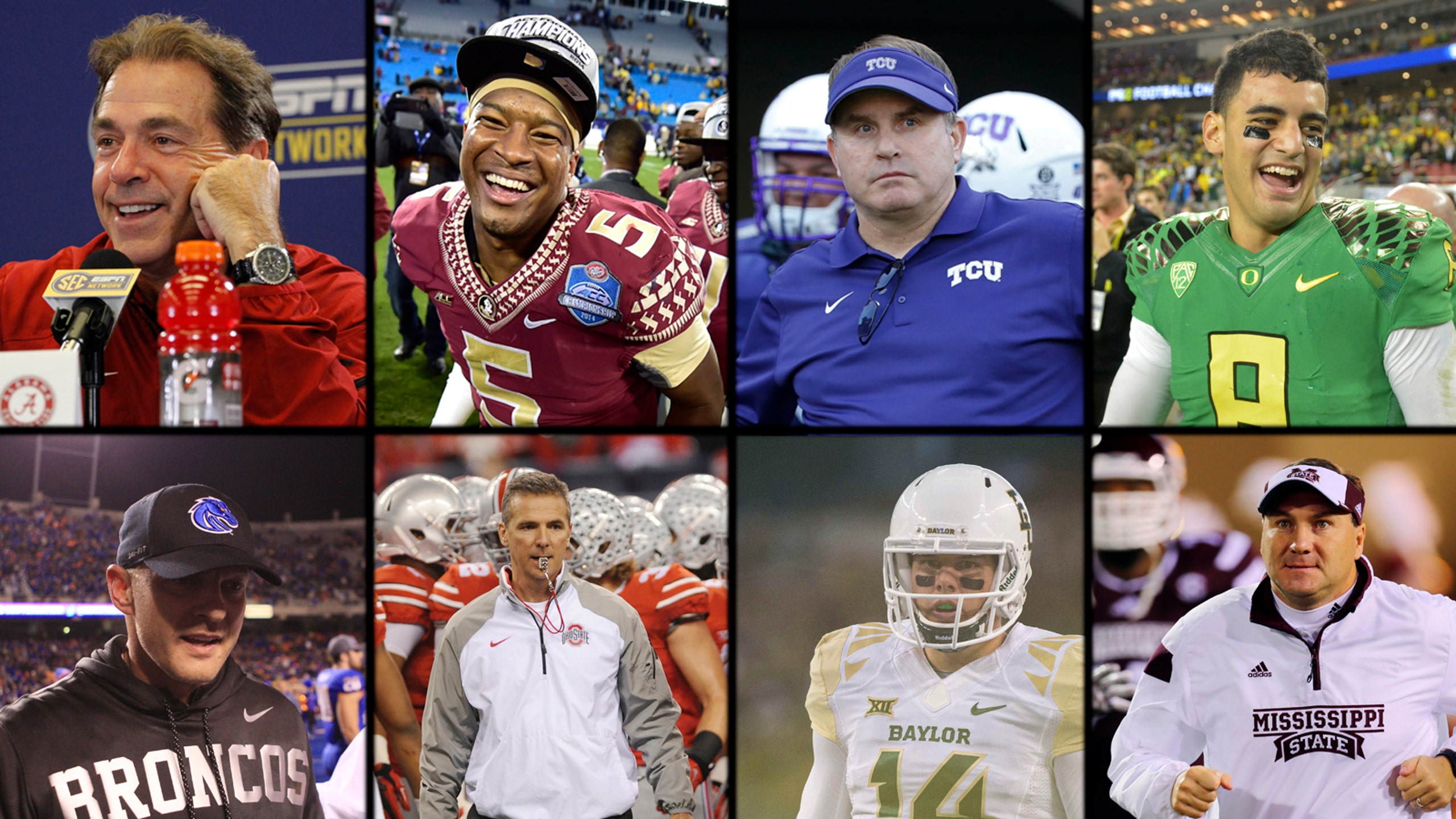 What would an eight-team playoff look like in 2014?
BY foxsports • December 7, 2014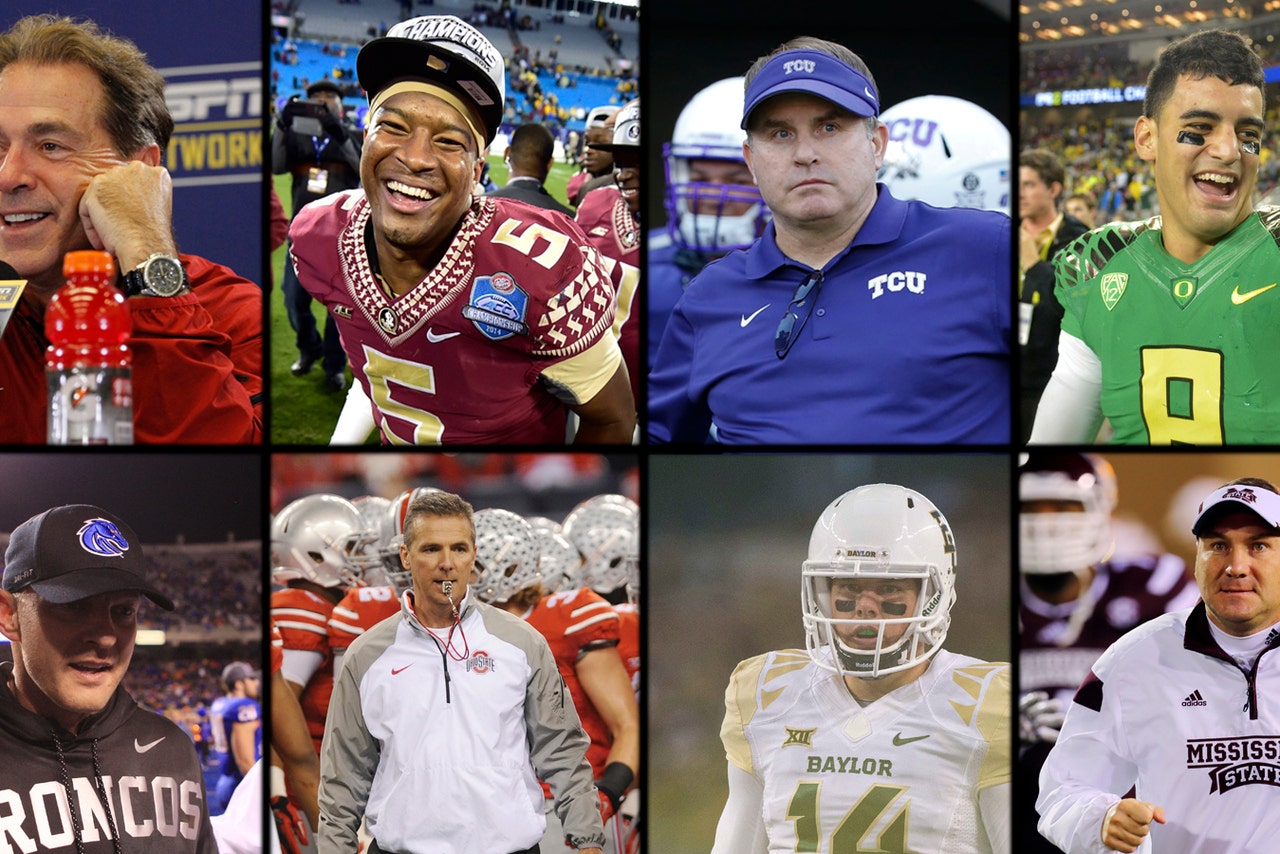 Before the first four playoff teams were even selected, the drumbeat of an expansion to eight began to build. 
Last month, ACC commissioner John Swofford called eight an "ideal" number for the playoff. 
"Whoever's fifth or sixth is not going to be happy," Swofford said. "There will be some conferences that won't have a team in the playoff." 
Sure enough, the committee saw Baylor and TCU's playoff-worthy resumes as inferior to Ohio State's, leaving the Big 12 as the only Power 5 conference without representation. 
Baylor athletic director Ian McCaw said in a statement on Sunday he "anticipates" the Big 12's athletic directors will "engage in discussions regarding and eight-team playoff model" when they meet in New York on Monday. 
Naturally, the exclusion of two teams with a strong argument for inclusion begs the question: What if there were an eight-team playoff this season? Here's what it would look like: 
No. 1 Alabama vs. No. 8 Boise State
Boise State? If the playoff ever expands to eight, it's a safe bet the highest-ranked Group of 5 team will have a seat reserved at the table. Some years, an upset would be a realistic possibility. This would not be one of those years. This is not your slightly older brother's Boise State. Ole Miss dominated the Broncos and Alabama does the same. 
Alabama 38, Boise State 14
No. 2 Oregon vs. No. 7 Mississippi State
Marcus Mariota hit 100 career touchdowns passes in the blowout win over Arizona, compared to just 12 career picks. Dak Prescott can throw and run. Mariota can throw and run better. The SEC West's strength gives Mississippi State one of the two at-large bids, but Oregon embarrasses the nation's No. 7 team just like it did against Arizona. 
Oregon 51, Mississippi State 17
No. 3 Florida State vs. No. 6 TCU
Florida State earned its best win of the season on Saturday by knocking off Georgia Tech, but TCU is a much more complete team with a strong defense and a balanced offense. The Frogs knows a thing or two about blowing gigantic fourth-quarter leads, but this time, Florida State's comeback comes up short and its 29-game winning streak comes to an end. 
TCU 31, Florida State 27
No. 4 Ohio State vs. No. 5 Baylor
Jay Kornegay, the vice president of the Westgate Las Vegas SuperBook, told the Washington Post on Sunday that Ohio State would be a touchdown underdog to both Baylor and TCU. Ohio State's inexplicable dominance over a strong Wisconsin team favored in the Big Ten title game might be reason to reconsider that idea. Ohio State leads the nation with just 31 plays longer than 20 yards surrendered, but the Buckeyes played just two teams in the top 20 in yards per play. With a chance to settle it on the field, Bryce Petty and the high-flying Bears get it done.
Baylor 41, Ohio State 37
SEMIFINALS
No. 1 Alabama vs. No. 5 Baylor
Alabama has the running game to control possession and the athletes in the secondary to keep Baylor from busting enough big plays to earn the win. Andrew Billings has been one of the Big 12's best defenders, but constant double teams give T.J. Yeldon and Derrick Henry plenty of holes to carry the Tide into the national title game. Alabama might have dodged a bullet by avoiding TCU in the bracket. Trevone Boykin's legs offer a more difficult challenge for a defense, especially Alabama, who has had issues slowing elite dual-threat quarterbacks. 
Alabama 34, Baylor 24
No. 2 Oregon vs. No. 6 TCU 
This has the potential to be a classic, but Marcus Mariota shows why he's the runaway Heisman winner. Boykin can equal his legs, but not his accuracy and decision making. Neither team is in the top 20 in defensive yards per play and America gets a viewer-friendly shootout. The Ducks just have more ammo. 
Oregon 51, TCU 44
CHAMPIONSHIP GAME 
No. 1 Alabama vs. No. 2 Oregon
Remember when we were talking about mobile quarterbacks and Alabama? The Crimson Tide hasn't faced a truly great one this season, but Nick Marshall helped Auburn rack up 44 points on Alabama. Marcus Mariota is more elusive and a better passer and Oregon's average defense is still in another stratosphere compared to Auburn, which ranks 73rd in yards per play and 60th in scoring defense. Oregon's defense is good enough to get the win, and Blake Sims, though he's come on strong late in the season, doesn't make as many plays as Mariota. 
Crown the Ducks. 
Oregon 44, Alabama 37
So what would be better? Four teams or eight? Both are better than two, which likely would have paired Alabama with Florida State and snubbed our eventual national champion. 
Without question, seven games for the national title is better than the one we've become accustomed to in the BCS era, but would eight legitimize concerns about a devalued regular season? 
Part of the fun of debating conference strength this season was the looming inevitability of one conference being left out of the fold. If every conference is guaranteed one bid, some of that would calm down. Additionally, in a league like the Big 12, what motivation would a team have in the final weekend if it was undefeated and ranked no. 1 and would be crowned the league champion regardless of result on the final weekend. The Big 12 champion only has to play 12 games compared to 13 for the other Power 5 conference victors. In that scenario, if you rest starters, it's now just 11 games, compared to 13. 
Additionally, for most teams who begin the season in the top 10, an initial loss would be little more than a speed bump, instead of a game that, in Baylor and TCU's case, could be the difference between playing in and watching the playoff. No one loss Power 5 team would ever be left out of an eight-team bracket. 
An eight-team playoff poses lots of questions about the regular season, but this year especially, the postseason would be the greatest spectacle the sport has ever seen. 
MORE FROM FOX SPORTS SOUTHWEST: 
- Ranking NFL quarterback salaries
- Wake up! Athletes caught sleeping
- College football teams that wish there was a playoff
- Oldest player on every NBA team
---