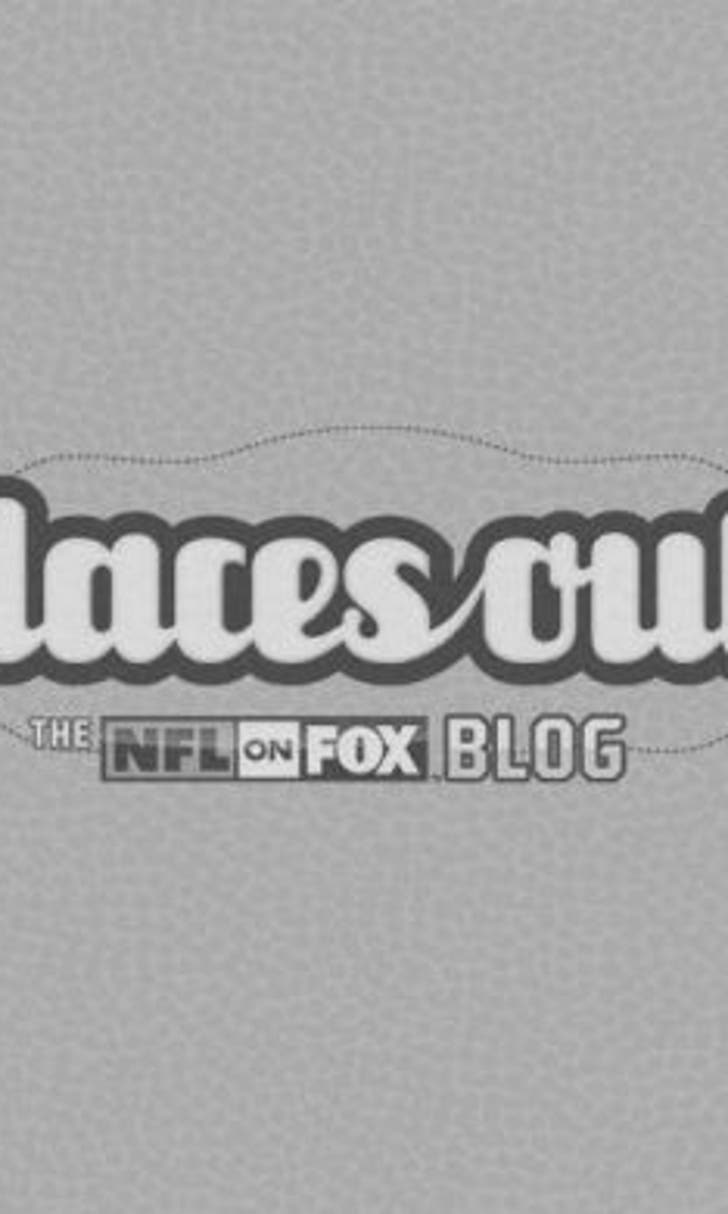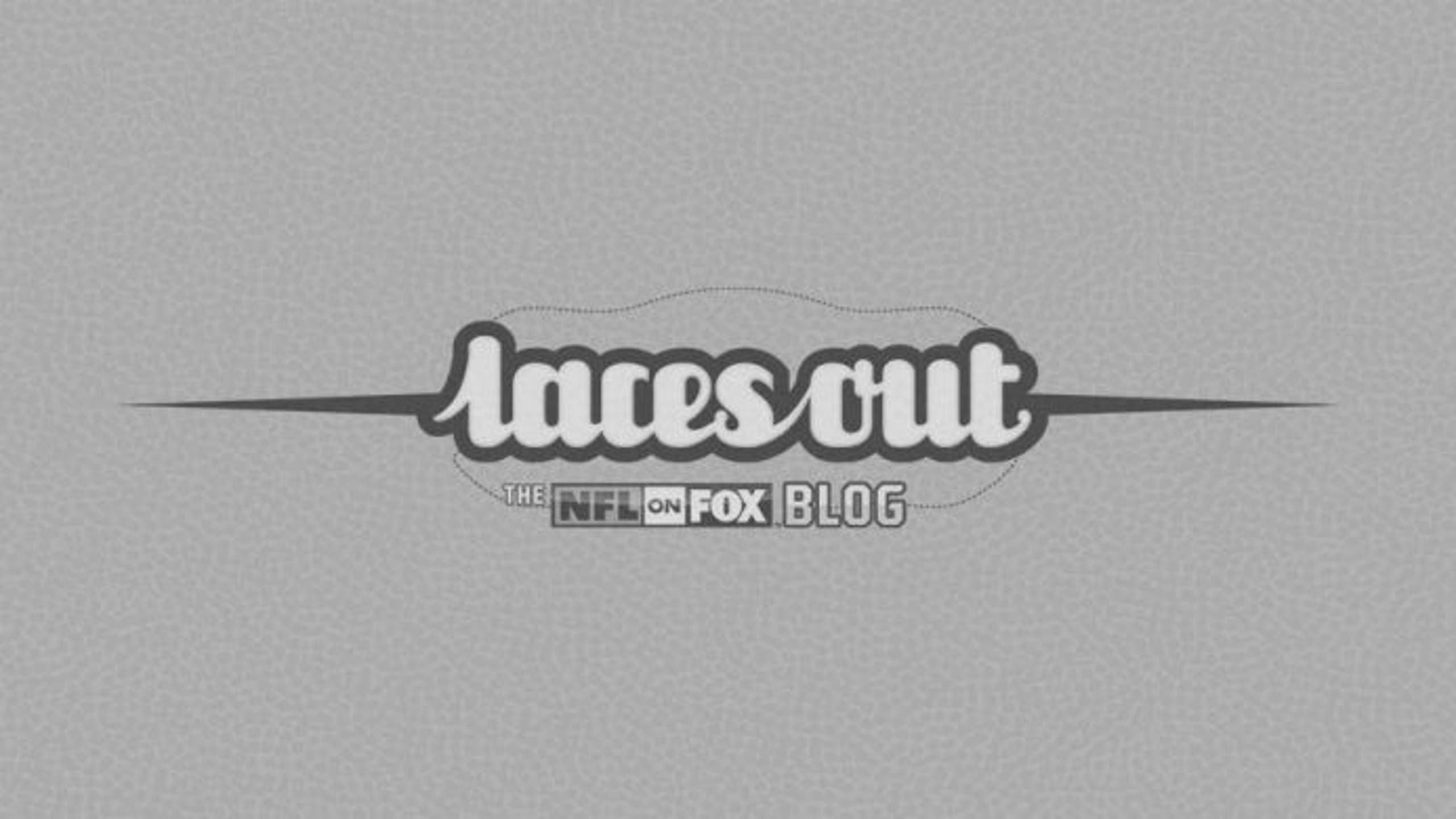 What we know after Week 3
BY foxsports • September 22, 2013
By Ross Jones and Sid Saraf, FOXSports.com Three teams won their games in the final minute of play on Sunday. Exciting would be an understatement. Quarterbacks continued to dazzle as six threw for more than 300 yards. Let's get into what we know after Week 3:Bears 40, Steelers 23– Chicago still standing after wild one in Pittsburgh It's going to be a long season for the Steelers. They found themselves in a 24-3 hole in the second quarter, but scratched and clawed their way back into the game. They just came up short. The Bears created five turnovers and were able to capitalize on almost every Pittsburgh mistake. While Chicago got the win, they also lost Pro Bowl defensive lineman Henry Melton, who was carted off the field in the fourth quarter with an injury. Melton is a big part of what Chicago does up front and it would be a big blow if he is lost for a significant amount of time. Jay Cutler hooked up with Earl Bennett in the fourth quarter on a nifty touchdown pass to lock up the game and the Bears defense finished the deal. Pittsburgh starts out 0-3 for the first time since 2000, but will play the Vikings in Week 4, who are also seeking their first win. Cowboys 31, Rams 7 – Cowboys are the class of the NFC East
Yes, you read that right. We're only three weeks into the season, but Big D (2-1) has easily been the most impressive team in that division. (Though, we're not yet sure what that means with the rest of the division carrying a combined one victory — and winless against non-division foes.) Maybe it was because DeMarco Murray torched the Rams yet again, this time for 175 rushing yards and a touchdown (the only game in which he ran for more yards was as a rookie in 2011, when he ran for a team-record 253 — against the Rams). Maybe it was Dallas' surprising new defense racking up six sacks on Sam Bradford — two of which were by DeMarcus Ware, who became the franchise's all-time leader with 115. Or maybe it was Tony Romo, who threw three TD passes without an interception. Whatever the reason, the Cowboys are clearly in control of an NFC East that has turned into a complete dumpster fire. Lions 27, Redskins 20 – Let's just call him RG 0-3
Disaster. After an encouraging 2012, Washington is 0-3 following a bad home loss to Detroit. The Lions, meanwhile, scored their first victory in our nation's capital in franchise history. That's one win in 22 tries. So, who gets the blame? Is it Robert Griffin III? His stats once again look decent on paper, as he went 32 of 50 for 326 yards passing. But he threw a bad interception while his team was driving in the first half and then lost the fumble shown above in the second half. "It's the rule. It can be a (bad) rule, but it's still one of the NFL rules, and they said it's a fumble," Griffin told The Associated Press. "So, it's unfortunate, and I've just got to make sure if I dive forward, hold onto the ball. ... It was really unfortunate that we lost the game on two calls, two judgment calls." After all that, Griffin did have a chance to tie the score in the fourth quarter, but wide receiver Aldrick Robinson couldn't hang on to a perfectly thrown pass in the end zone that was initially ruled a 57-yard TD. The bounces just aren't going D.C.'s way this season. If the 'Skins don't figure out a way to stop the bleeding soon, they'll be talking about draft picks instead of playoff positioning (unfortunately, they don't currently have a first-rounder in next year's draft). Colts 27, 49ers 7 – Indy shows fiber of a championship contender
The Colts got their tough-as-nails running back (Trent Richardson) Wednesday in a blockbuster trade. They showed the same type of tenacity Sunday by running the ball into the teeth of the 49ers' vaunted defense and coming out the other end on top. The three-headed monster of Richardson (who scored on his first carry as a Colt), Ahmad Bradshaw and Donald Brown combined for 155 yards on 35 carries. Even QB Andrew Luck got into the act, scoring one of the Colts' three rushing TDs. They converted critical third downs and were helped out by an undisciplined Niners' secondary, which was called for holding and pass interference penalties on game-deciding drives. What was most impressive was the way Indianapolis (2-1) game-planned for Colin Kaepernick and Co. without linebacker Pat Angerer and safety LaRon Landry. Although Kaepernick (13 of 27, 150 yards, 0 TD, 1 INT) will receive the criticism and pundits will say, "the coaches have the tape on him," the Colts deserve praise for their coverage downfield and ability to create pressure. The Niners (1-2) travel to St. Louis in Week 4 – the one team they couldn't beat in the NFC West in 2012. Bengals 34, Packers 30 – It's time for Cincinnati to go on a little roll
The Bengals scored 14 points in 12 seconds. Then gave up 30 unanswered. But in the final 18 minutes at Paul Brown Stadium, Andy Dalton piloted two drives that ended in touchdowns. It was a wild comeback, but the Bengals (2-1) needed help from the Packers to cap this one, the game decided on the play shown above. Johnathan Franklin, who was getting more carries than expected because James Starks left the game with a knee injury, fumbled the ball on a critical drive in the fourth quarter as the Packers were attempting to put the game on ice. Franklin was stripped by defensive end Michael Johnson, the ball was temporarily recovered by Reggie Nelson and then scooped up taken for a touchdown by Terence Newman. Confused by the ruling? Mike Pereira digs into it. Now down by 4, Aaron Rodgers attempted to lead the Packers into the end zone but came up 20 yards short, turning the ball over on downs with 1:21 to play. Rodgers had a sloppy day, but that's going to happen when you go against a defense as formidable as Cincinnati's. Rodgers completed 26 of 43 passes for 244 yards and a score, but was constantly under pressure, getting sacked 4 times and throwing 2 interceptions. Green Bay is now 1-2 heading into its bye week, and has 14 days to right the ship before they host the Lions in Week 5. Titans 20, Chargers 17 – Jake Locker has his breakout game
In one of the day's most thrilling finishes, Jake Locker connected with rookie Justin Hunter for a 34-yard touchdown with 15 seconds left and the Titans trailing by 4. The win lifted Tennessee to 2-1 and dropped the Chargers to 1-2. Now in his third season, Locker has had games with more yards and more TD passes, but it all finally came together for him on Sunday. Locker completed at least one pass to seven different receivers and threw for 299 yards and a score. He also flashed his athleticism, running five times for 68 yards and another touchdown. Chris Johnson pounded his way to 90 yards on 19 carries behind an offensive line that got a consistent push. San Diego was undermanned on offense, missing deep threat Malcom Floyd and rookie OT D.J. Fluker, a first-round pick, but Philip Rivers was sharp. The lack of a running game haunted the Chargers as they couldn't convert on critical third downs. But nothing was as spectacular as the way this game finished. Panthers 38, Giants 0 – Can Carolina's D get a little love? For as much as was made about the Giants' putrid offensive-line play, there was seemingly nothing said about the dominance displayed by the Panthers' dominant defense. Leading the way in the shutout was a fierce front seven, which sacked Eli Manning seven times. (A new franchise record!) Oh yeah, the Panthers offense played pretty well, too. And what the Carolina defense started, quarterback Cam Newton finished. With the Panthers up only 10-0, Newton capped a 13-play, 65-yard drive with a TD pass to Brandon LaFell touchdown pass sparked the offense and gave Carolina a 17-point lead going into half. The Panthers (1-2) would score touchdowns on their next three drives to put the game away. Manning leads the league in interceptions (8) after throwing two more Sunday, but he's not all to blame. The lack of a running game and mental mistakes such as penalties sabotaged the rhythm of the offense. According to STATS, only five of the 161 teams to start 0-3 since 1978 have made the playoffs. It's not going to get any easier for New York (0-3) as it travels to Arrowhead Stadium to take on a well-rested (and unbeaten) Kansas City team. Ravens 30, Texans 9 – Baltimore's defense, not the $20M QB, hands Texans loss
It was ironic that Ed Reed, now with the Texans, and Ray Lewis, who was being inducted into the Ravens' Ring of Honor, were in attendance. The performance of the defense they turned into a juggernaut lived up to the expectations. Baltimore racked up three sacks, seven hits on the quarterback and a defensive score by Lewis' replacement, Daryl Smith, on a 37-yard INT return. Smith picked off Matt Schaub in the second quarter and trotted into the end zone for the score. Missing his franchise running back Ray Rice because of an injury, QB Joe Flacco (he of the offseason mega-deal) didn't do much to wow his critics in the first half. To his credit, however, Flacco came out of the locker room and operated a nine-play drive which was capped by a Bernard Pierce TD to open the second half. Special teams was also a factor for the Ravens as Tandon Doss had an 82-yard punt return for a touchdown. It's a wake-up call for Houston. After needing overtime to beat the Titans in Week 2 and a 28-point second-half comeback against San Diego, the mistakes finally caught up to the Texans. They better clean it up in a hurry as they host a white-hot Seahawks team in Week 4. Jets 27, Bills – Gang Green is 2-1, so where are all the haters?
In a battle of two rookie quarterbacks, Geno Smith prevailed. The Jets' young QB challenged the Bills secondary and showed off why he was selected in the second round of April's NFL Draft. Smith completed 16 of 29 passes for 331 yards and two touchdowns, and added an 8-yard scamper into the end zone in the first quarter. For EJ Manuel, life wasn't as simple. The Jets defense sacked Manuel eight times and hit the quarterback on more than a third of his snaps. Trailing by 14 in the third quarter, Manuel led the Bills on a pair of scoring drives, but had to settle field goals both times before Manuel hooked up with tight end Scott Chandler for a 33-yard score to make it 20-20 with less than 11 minutes to play in the fourth quarter. But Smith took over and once again shined brightest. Seeing a one-on-one matchup between Santonio Holmes and cornerback Justin Rogers, Smith threw a perfect pass on a fade pattern for a 69-yard touchdown little more than a minute later. The Jets defense would do the rest and keep Buffalo out of the end zone the rest of the way. Saints 31, Cardinals 7 – Rob Ryan is making a huge difference
Don't believe that New Orleans' new defensive coordinator is tearing things up? Let's analyze Arizona's offense on Sunday. They opened the game with a touchdown on  their opening series. Then dis this on the rest of their drives: punt, punt, punt, punt, punt, punt, punt, punt, interception, interception. That's how you spell futility. The Saints defense racked up four sacks, picked off two passes and forced a fumble. All told, New Orleans limited Arizona to 247 net yards. That's a far cry from 2012, when New Orleans had the worst defense in NFL history. If things keep up like this, the Saints have to be the prohibitive favorite in the NFC South. Why, you ask? Because the Drew Brees train keeps on rolling. The star QB threw for more than 300 yards for the eighth consecutive game, which is one shy of the record. Oh, who owns that record? That would be Drew Brees. He can make completing 29 of 46 passes for 342 yards and three TDs look routine. Patriots 23, Buccaneers 3 –Tom Brady does have receivers to believe in!
After an ugly effort in Week 2, New England righted its passing-game ship on Sunday. Remember the tantrums Tom Brady threw against the Jets? Those are long gone. (Although clearly he still can get fired up.) Rookie receivers Kenbrell Thompkins (two TD catches) and Aaron Dobson (seven receptions) did enough to regain their quarterback's trust, Brady threw a TD pass for the 51st consecutive game and the Patriots moved to 3-0 with their most impressive win of the season. It's not just an important win to build confidence, but it matters in a suddenly competitive AFC East, where the Dolphins are also sitting unbeaten at 3-0. If Rob Gronkowski and Danny Amendola can get back on the field soon and these young receivers continue to develop, everything will be just fine in New England. Here's what's not fine: Buccaneers quarterback Josh Freeman stunk up the place yet again. He completed just 19 of 41 passes for 236 yards and threw an interception without a score. Is it time to call for rookie Mike Glennon? Nope, head coach Greg Schiano apparently still believes Freeman gives the team the best chance to win. We'll have to take his word for it. But at some point, a decision will have to be made. Browns 31, Vikings 27 – Who needs Trent Richardson when you have Jordan Cameron?
There was a lot of buzz about Cleveland's young tight end in training camp. He's living up to the hype. Cameron caught three touchdown passes on Sunday afternoon. The second one came on a fake field goal in the second quarter:
Then, he pulled in the game-winning pass from Brian Hoyer with less than a minute remaining:
Cameron finished with a spooky stat line: six catches for 66 yards (yes, 6-66), but his production was heavenly. And thankfully so for the Browns (1-2), who picked up their first win using a third-string quarterback just days after trading away their first-round pick from a season ago. Speaking of that QB, Hoyer overcame three interceptions and completed 30 of 54 passes for 321 along with the three scoring strikes to Cameron. Has Cleveland found its answer at the position? Let's not get carried away. But, Hoyer can be a serviceable stopgap until team management can pull off whatever it is planning in the 2014 NFL Draft. Dolphins 27, Falcons 23 – It's still too early to trust the Dolphins
We're not here to rain on Miami's parade. The Dolphins (3-0) scored a gutty victory, thanks to Ryan Tannehill leading a 75-yard drive that ended with this TD pass to Dion Sims with 38 seconds to play:
They also got an outstanding effort out of their special teams as Don Jones' spectacular hit on a punt return caused a fumble and set up a touchdown: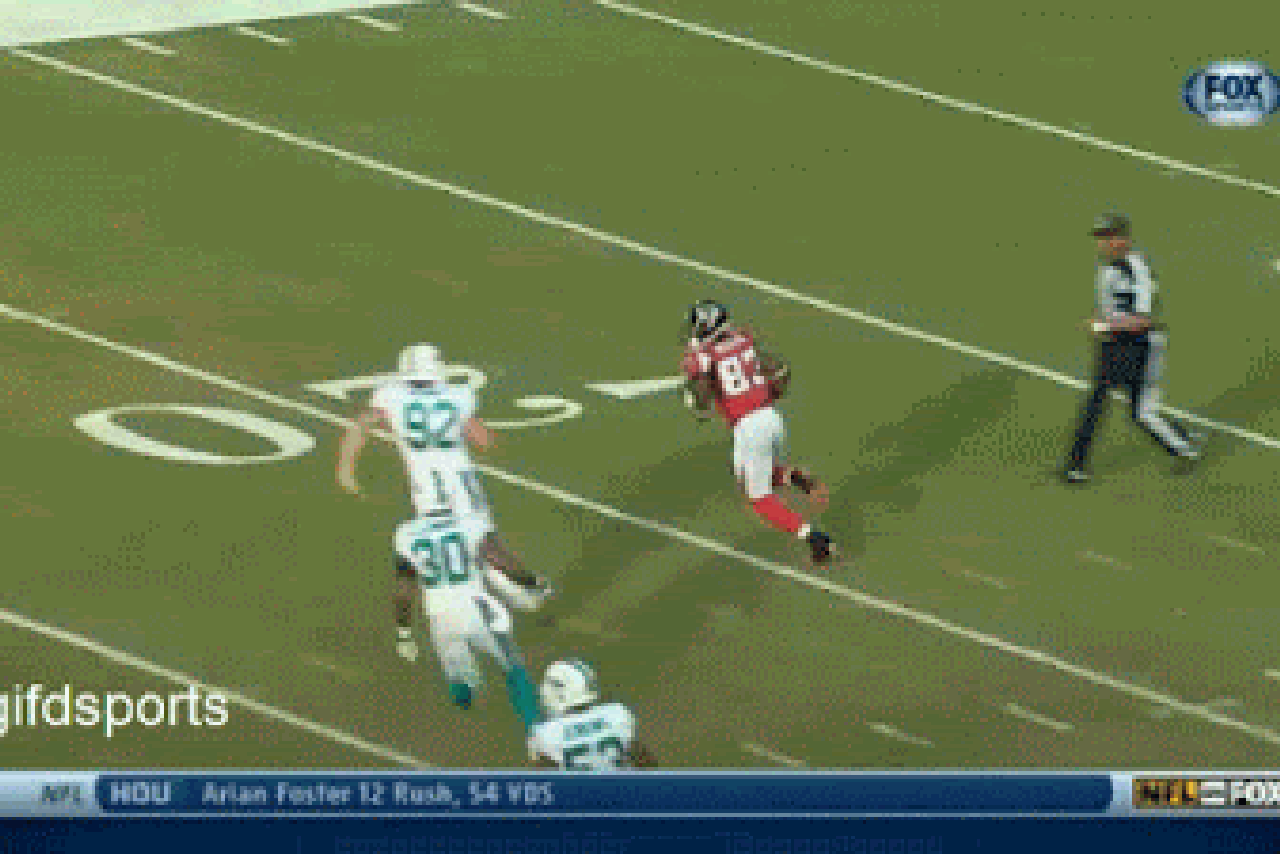 So, what's our deal? Simply this: Miami only grinded out 285 total yards of offense against a beat-up Atlanta defense. And Tannehill, for all his late-game brilliance, still threw an interception and fumbled twice, losing one. He might have escaped this game with a win, but the schedule gets tougher from here. The Dolphins' next five games include matchups against the Saints, Ravens, Patriots and Bengals. If they can win two or three of those matchups, then they can legitimately be called a contender. Seahawks 45, Jaguars 17 – Las Vegas had it all wrong
The Seahawks came into this game as 19-point favorites. The line should have been much higher. Russell Wilson threw four touchdowns before coming out of the game halfway through the third quarter and the Seattle defense looked as dominating as ever. Heck, even backup QB Tarvaris Jackson pulled off an impressive play:
Now, sitting pretty at 3-0, the Seahawks are facing back-to-back road challenges — at Houston and then at Indianapolis. If this team can somehow win both, there will be no question they are the NFC favorite to reach the Super Bowl, if not win the whole thing. Period.
---