Brett Hundley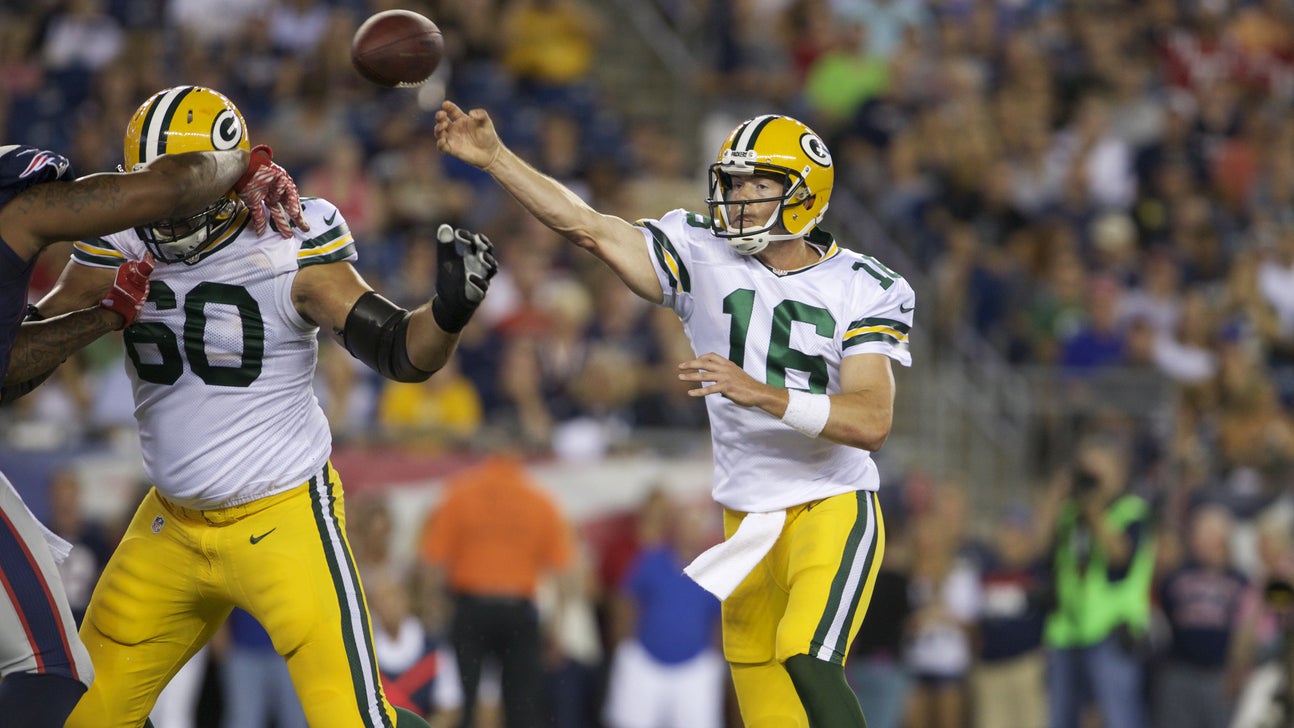 Brett Hundley
What did it mean? Packers' preseason opener recap
Published
Aug. 14, 2015 1:25 p.m. ET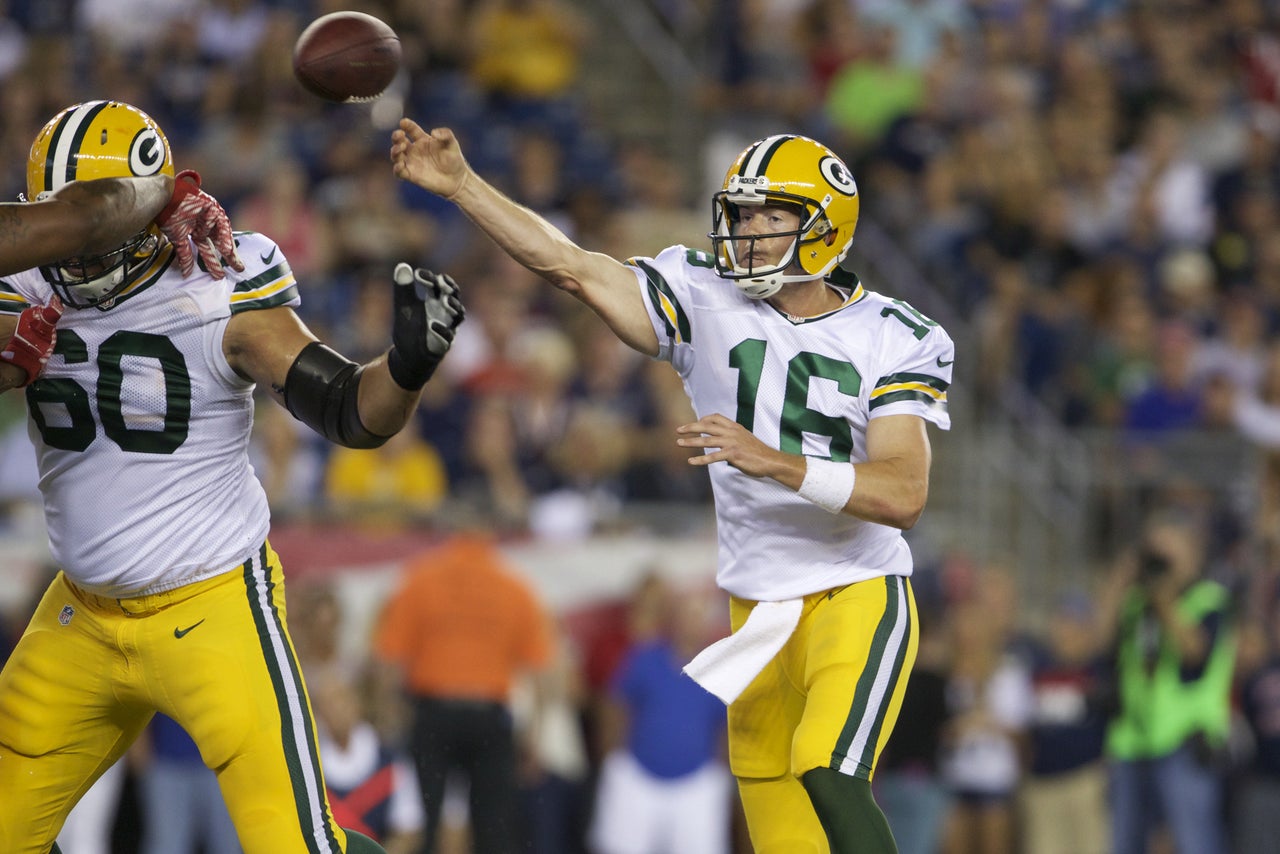 After all the pregame ado surrounding the starting quarterbacks -- would Tom Brady, entangled in a league-legal imbroglio, sit out in protest? Would Aaron Rodgers play more than a series? -- the Green Bay Packers beat the New England Patriots, 22-11, in both teams' preseason opener at Gillette Stadium on Thursday.
Some questions were answered -- both superstars played, Brady for two drives and Rodgers, surprisingly, the entire first quarter -- but others were not. It may have just been an inconsequential exhibition between two teams with Super Bowl ambitions, and jobs were likely not won or lost, but who cares? It was a real football game.
Players put on pads and uniforms, coaches called plays and tried to figure out what to do with their hands, and fans watched and formed opinions. So, even if it didn't matter much in terms of the actual season, let's deconstruct the game and find out what we might have found out about the Packers.
5 things we learned:
-- Scott Tolzien, who completed 10 of 16 passes for a 107 yards and a touchdown (emphasis on the touch), has improved immensely in two years and fortified Green Bay's backup quarterback spot.
-- Second-year wide receiver Jeff Janis, who caught 33- and 34-yard touchdown passes last preseason and hauled in Tolzien's 26-yard score on Thursday, is definitely able to run a vertical route and catch a deep pass in August.
-- Rookie second-rounder Quinten Rollins, who played just one season of football at Miami (Ohio) but had four tackles and three pass breakups Sunday, including one particularly impressive disruption, can play cornerback in the NFL.
-- The Packers' run defense, which ranked among the league's worst early on last season and finished 23rd, still needs work, as it allowed the Patriots a 5.2-yard rushing average and a 55-yard touchdown for Jonas Gray that came with several defensive starters still on the field.
-- Clay Matthews, who despite practicing this week and exuding an unconcerned ambivalence about his injury, didn't even make the trip to New England and could be more hurt than he's letting on.
4 things we still don't know:
-- Was it just an aberration when dependable left tackle David Bakhtiari, who only gave up seven sacks last year, totally missed his block on Patriots rookie defensive end Trey Flowers and allowed an 8-yard sack of Rodgers in the first quarter?
-- Is rookie Ty Montgomery, a wide receiver and returner that came into the game with a lot of buzz but didn't get much action (two catches for 28 yards, two punt returns for 14 yards and no kick returns), a playmaker worthy of the hype?
-- Among the running backs behind starter Eddie Lacy and backup James Starks -- namely Alonzo Harris, John Crockett and Rajion Neal, who combined for a 3.9-yard average -- is there a clear-cut third-stringer?
-- Is the play-calling transition from Mike McCarthy, who joked afterward that he didn't know what to do with his hands, to coordinator Tom Clements, who guided Green Bay to a 406-yard offensive performance but had some struggles with the starters, going to be a successful one?
3 key stats:
-- The Packers' backup quarterbacks -- Tolzien, rookie fifth-rounder Brett Hundley and second-year Wisconsin-Whitewater product Matt Blanchard -- combined to complete 16 of 24 passes for 178 yards and two touchdowns (passer rating of 110.5).
-- Green Bay finished with seven sacks, including two by third-year defensive end Datone Jones, who's suspended for the first regular-season game and entering a prove-himself season.
-- The Packers were just 1 of 4 in the red zone, including two drives for the No. 1 offense that got inside the Patriots' 10-yard line but resulted in only one field goal.
2 top performances:
-- The rookie cornerbacks, Rollins and LaDarius Gunter, an undrafted free agent, who combined for eight tackles, four pass breakups and an interception, which Gunter made and returned 28 yards.
-- The backup linebackers -- Jayrone Elliott, Jake Ryan, Adrian Hubbard, Andy Mulumba, Carl Bradford and Jermauria Rasco -- who showed they can rush the passer and combined for five sacks.
1 big moment:
-- None was bigger than, with 5:11 remaining in the second quarter, the 26-yard touchdown pass from Tolzien to Janis, which was the result of a perfect throw, a perfect route and a perfect catch.
Next: Sunday, Aug. 23 at Pittsburgh Steelers
Follow James Carlton on Twitter
---
---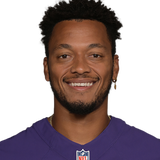 Get more from Brett Hundley
Follow your favorites to get information about games, news and more
---