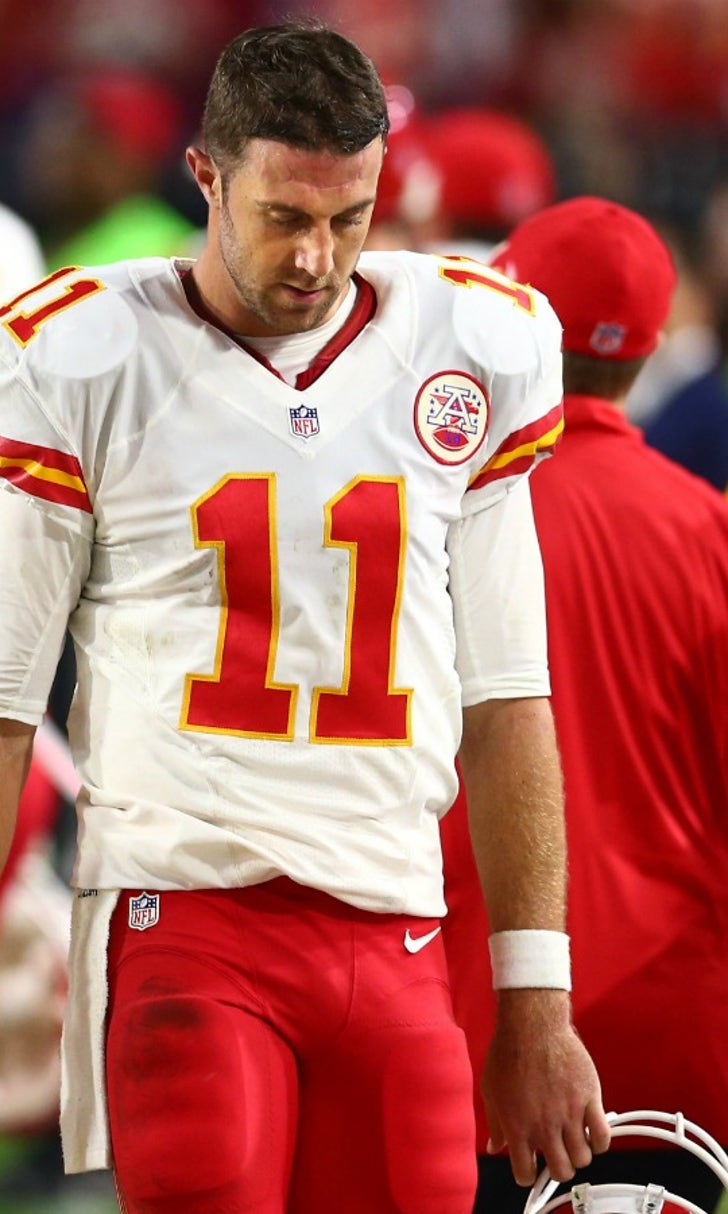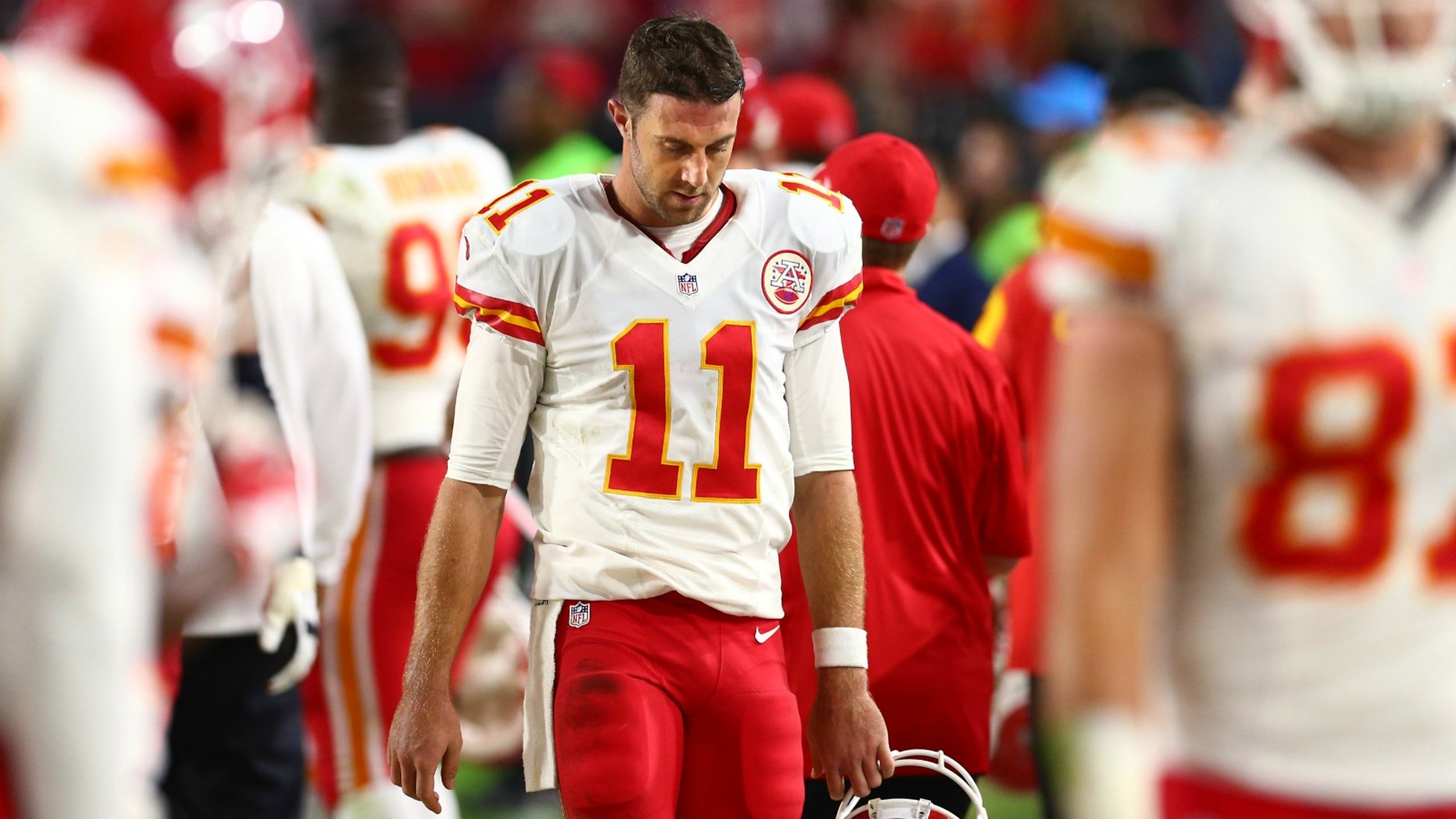 What Chiefs needed was better officiating and better quarterbacking, period
BY foxsports • December 7, 2014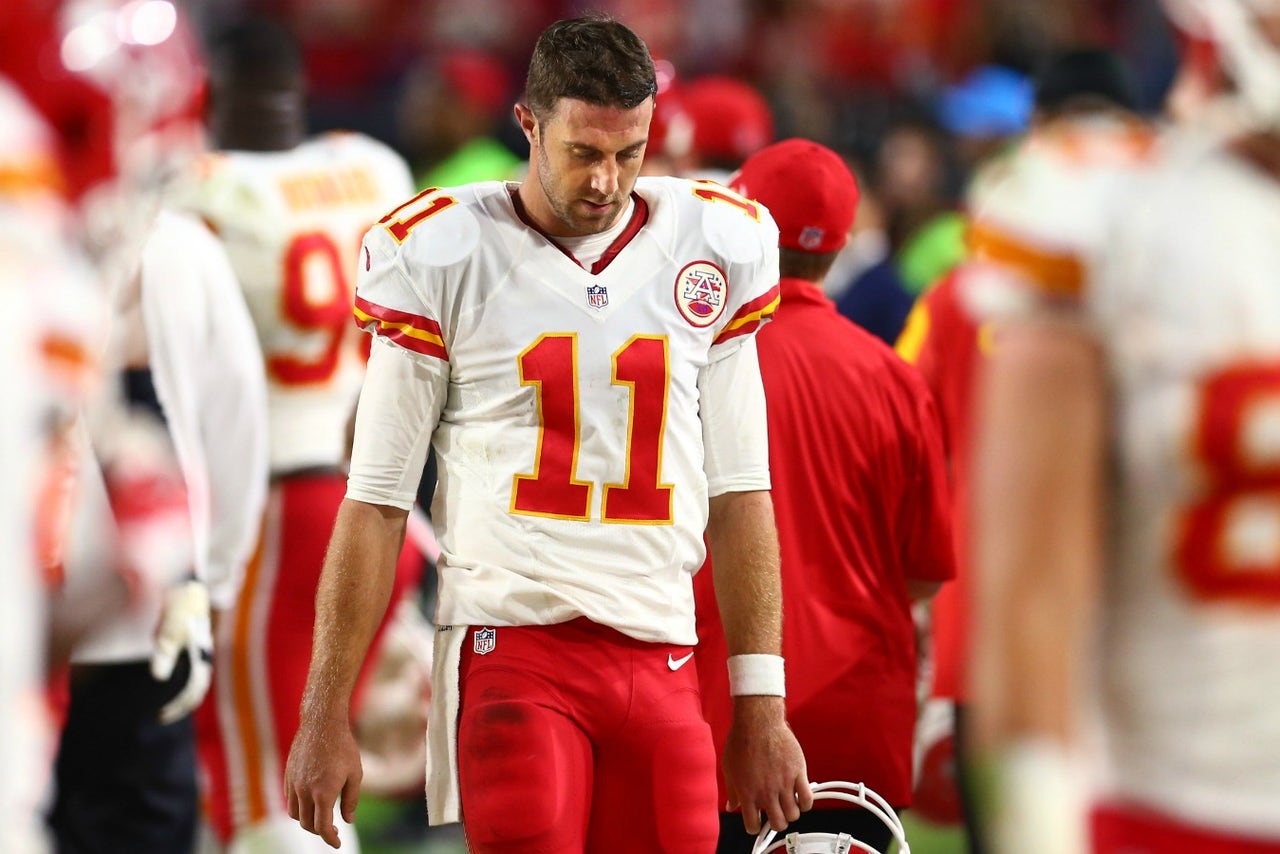 This is, without a doubt, the one that got away, and the one that could very well prevent the Chiefs from earning a postseason appearance.
And for a team that plays it so close to the vest, a team that would rather punt than force a throw, it was two critical turnovers in the second half on passing plays that ultimately doomed the Chiefs and perhaps their playoff hopes after a disheartening 17-14 loss to Arizona.
The Chiefs dropped to 7-6, behind the 8-5 Steelers and Ravens, behind the 8-4 Chargers and tied with four other 7-6 teams in the race for a wild-card playoff spot.
Not good.
How did the Chiefs get to this discerning stage? Check it out:
FIRST DOWN: Alex, what were you thinking?
Look, we all know Alex Smith isn't Aaron Rodgers or Tom Brady or Peyton Manning. But Sunday, he looked as lost at times as Brodie Croyle.
Seriously, did any Chiefs fans feel confidence even after Arizon missed yet another field goal to give the Chiefs a chance to tie it in the final 1:09?
All Smith had to do was drive the Chiefs about 38 yards from their own 24 to about the Arizona 38 to give kicker Cairo Santos a reasonable chance to tie the game. Smith had no timeouts but he had 69 seconds -- hardly impossible, and really, somewhat probable for most of the better NFL quarterbacks in today's game.
But in reality, Smith had no shot, especially when his philosophy consisted of throwing swing passes, 4-yards out, and check-downs. The longest throw Smith attempted on that final sequence was about a 10-yard out to Albert Wilson. Everything else was underneath.
By the time Smith got his initial first down and was able to snap another play, 47 seconds already had ticked off and the Chiefs were still stuck at their 36-yard line with 22 seconds left.
Totally bizarre.
Then Smith, needing about 29 more yards, instead threw three straight short passes that all fell incomplete.
I'm not making this up.
Then, needing a miracle on fourth down from the 36, Smith, under pressure, actually threw yet another check-down pass with 11 seconds left. Dwayne Bowe, by the way, was streaking down the middle of the field on that last play, representing what little hope the Chiefs had for that aforementioned miracle.
It reminded me of a game several years ago when Trent Green, who was doing the commentary for CBS on the game Sunday, actually threw a check-down on the final play of the game with the Chiefs losing and needing a miracle in the end zone. Maybe that's why Green didn't jump on Smith for his decision on the final offensive play.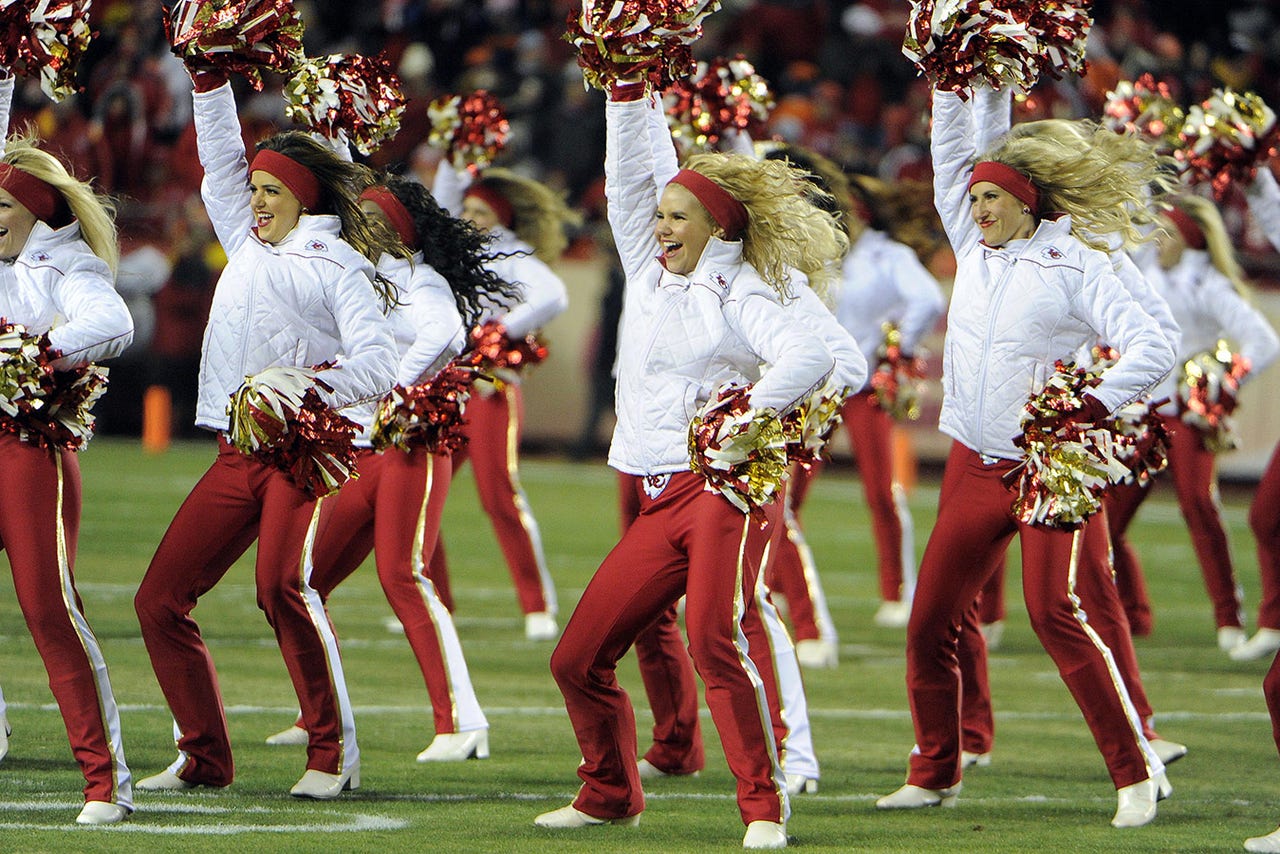 Flip through our photo album of Chiefs cheerleaders.
Incredible.
Smith essentially ran out the clock, a favor to the Cardinals.
SECOND DOWN: Key play No. 1
Much attention will be paid to the Travis Kelce fumble in the fourth quarter, and we'll get to that in a second.
But long before that, the Chiefs appeared to have gained complete control of the game when Smith fired a touchdown pass to tight end Anthony Fasano that put the Chiefs up 21-9.
Then a very, very, very late flag was thrown. How late? It was thrown after Fasano caught the touchdown pass and about five or six seconds after the alleged push-off from Fasano on a linebacker.
As the play started, Fasano released from the line of scrimmage and then bumped into a middle linebacker as he made his way downfield -- contact that happens on just about every NFL play and almost always uncalled -- and then proceeded to the end zone, where he was left free. I repeat: No flag was thrown on Fasano when the alleged foul occurred.
Smith subsequently scrambled to his right, bought time, looked around and then finally located Fasano alone in the end zone. Smith tossed a strike and Fasano caught it for a touchdown.
And as the Chiefs began to celebrate, then the flag was thrown.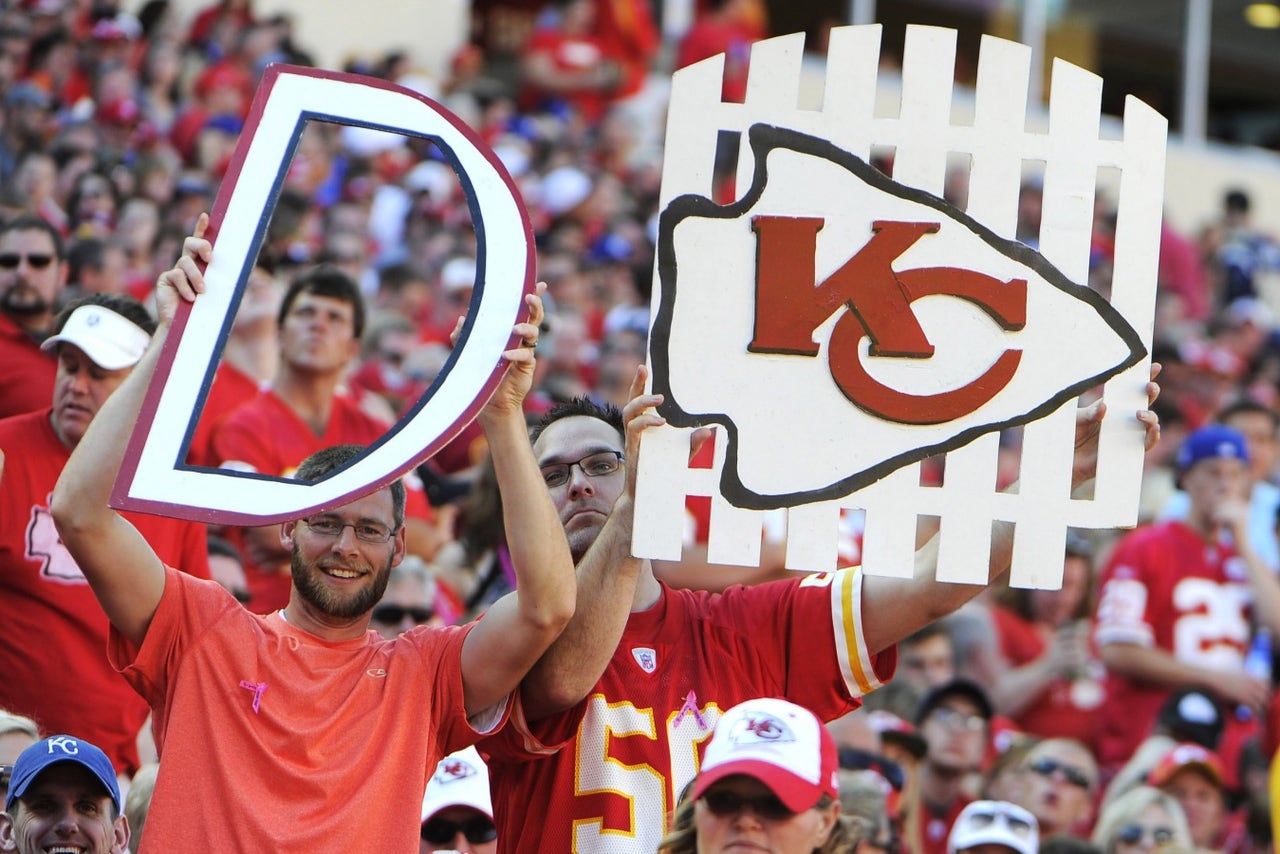 LET'S GO CHIEFS: Check out these photos of fans and the excitement around Chiefs football.
Absolutely ridiculous.
So, the only thing that made the initial contact a penalty was that Fasano eventually scored the touchdown? Puh-leeze.
THIRD DOWN: Oh, Alex, be smarter
Look, we get the fact the Chiefs aren't a big-play passing offense. They haven't thrown a touchdown to their wide receivers in 16 straight games, the longest stretch in the NFL since 1940, well before D-Day.
That's fine, to a degree, if you stay true to this ultra-conservative approach and don't commit stupid mistakes as you are trying to be that conservative.
But Smith did the one thing he absolutely can't after the Fasano-penalty debacle.
On third-and-long, but with the Chiefs still in field-goal range -- and trust me, those three points would have been huge -- Smith did the unthinkable: He checked down, as usual, and then threw an interception to linebacker Alex Okafor, costing the Chiefs their chance at three points.
Those are the type of mental mistakes a conservative offense and a conservative quarterback simply can't make. If Smith simply had thrown the ball away or taken a knee, for Pete's sake, the Chiefs would have likely gotten a field goal and a 17-9 lead.
FOURTH DOWN: The Kelce fumble overturn
What is most puzzling about this is that the NFL always goes cautionary on any replay overturns. There has to be clear and convincing evidence to overturn a call on the field, and there simply aren't that many overturns.
And even CBS' NFL officiating commentator, Mike Carey, said after the Kelce fumble replay was overturned: "They jumped to a conclusion I wouldn't have."
Carey was spot-on.
Carey, a former head official and a very good one, said before the call was reversed that there was absolutely nothing definitive that could justify an overturn.
Granted, there was one final replay that "appeared" to show the ball being juggled loose from Kelce's grip. But the problem was, it kind of appeared that Kelce regained a grip as he was rolling on the back of the defender.
It didn't seem possible that there was anything conclusive to overturn. Yet the officials did, and for the second time in the second half, an official's call essentially took points off the board for the Chiefs. With the Kelce fumble, at the Arizona 22, the officials took at least three points away from the Chiefs.
You can follow Jeffrey Flanagan on Twitter at @jflanagankc or email him at jeffreyflanagan6@gmail.com.
---