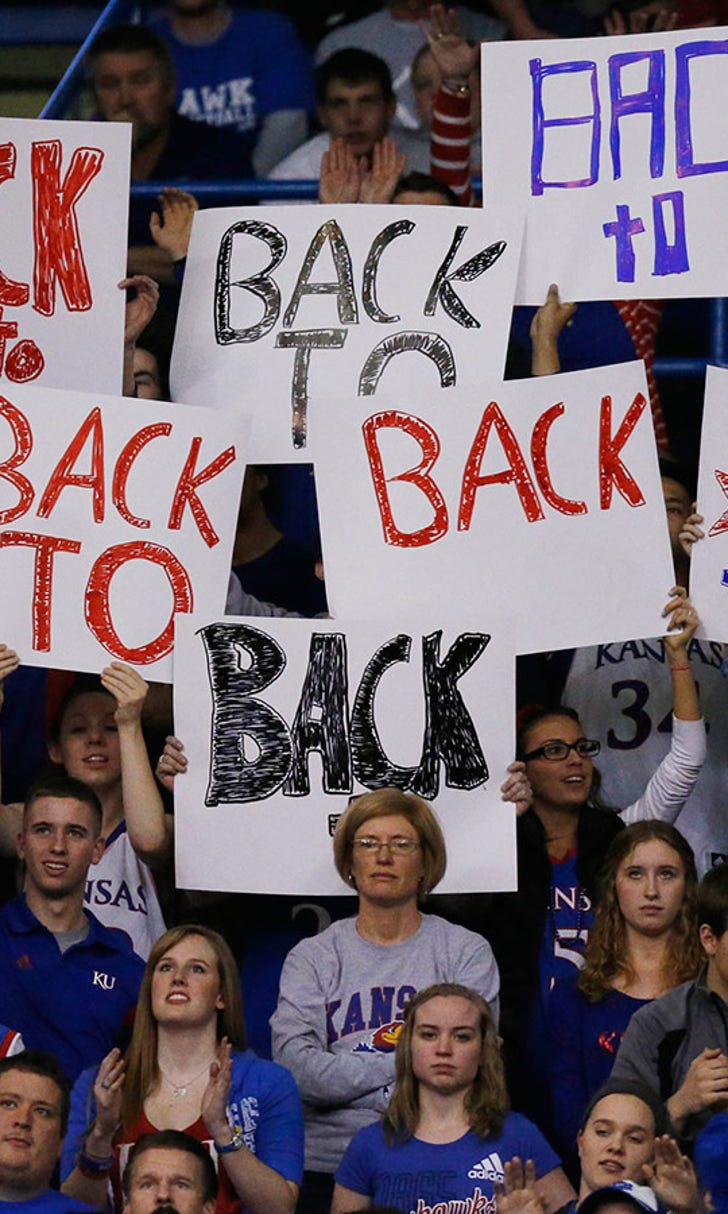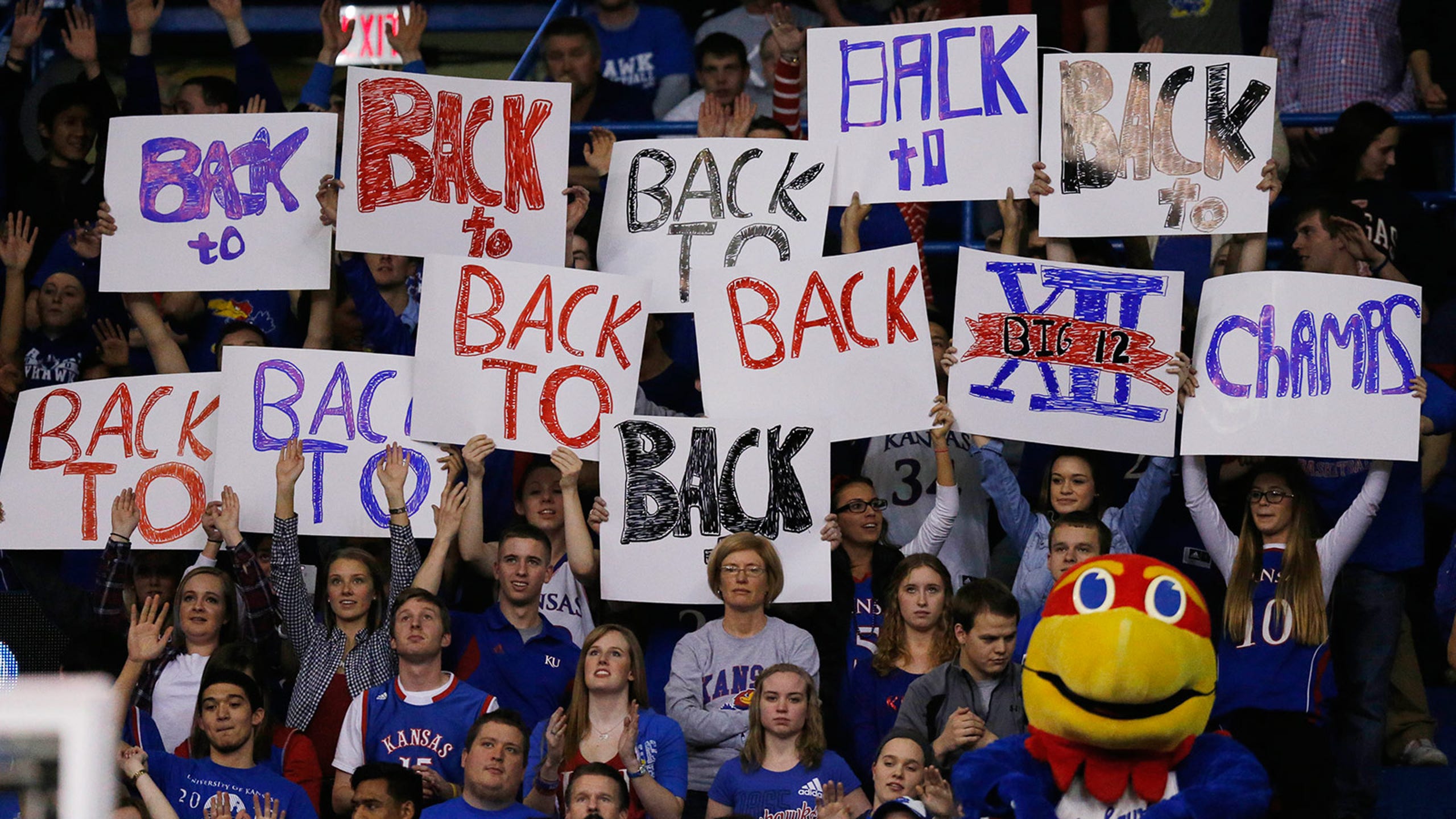 What can you count on? Death, taxes and a Big 12 title for KU
BY foxsports • February 25, 2014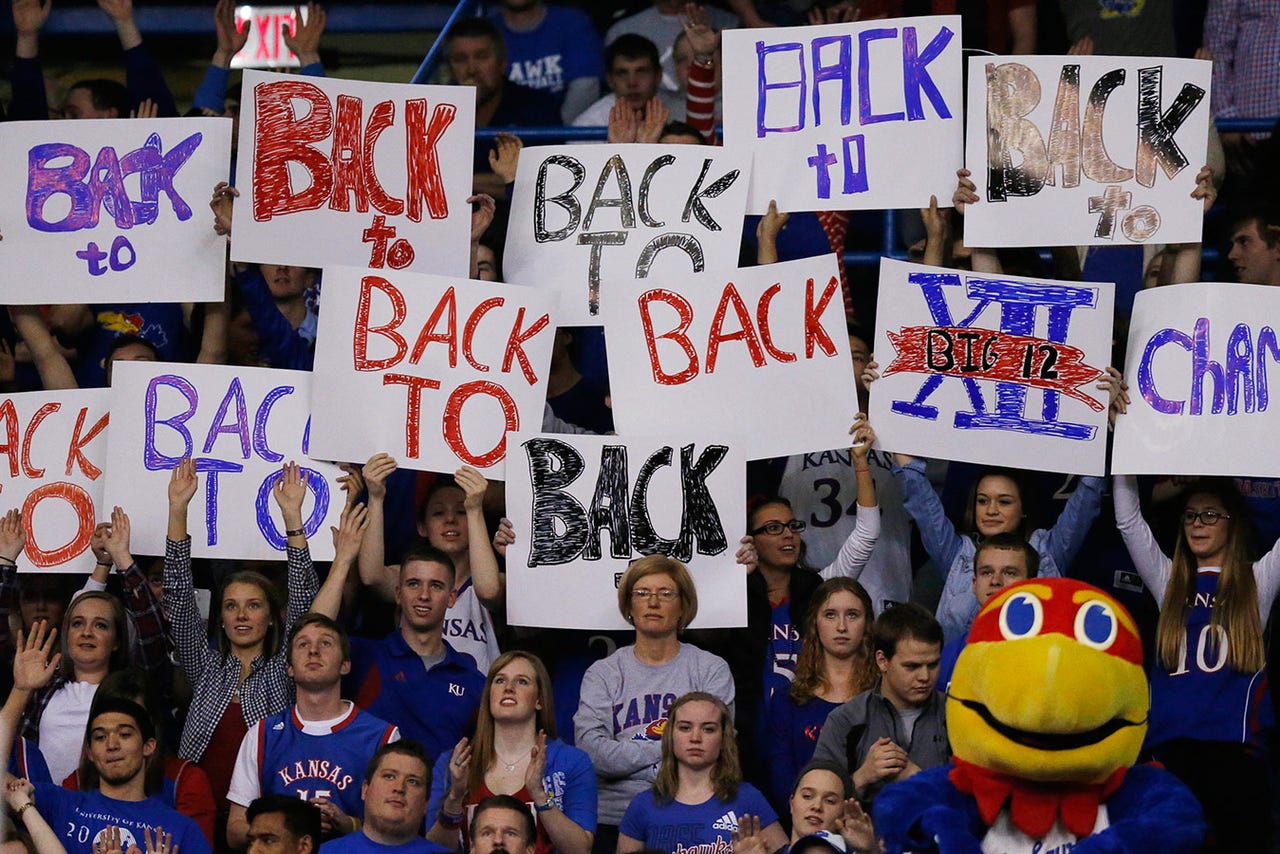 LAWRENCE, Kan. -- Since The Streak first emerged from its cave to ravage the Plains -- the winter of 2004-05 -- the 13 Big 12 men's basketball programs not named Kansas have changed coaches an average of 1.46 times per school.
Throw out Rick Barnes at Texas and Scott Drew at Baylor, it's 1.73 coaching changes over the past decade. Throw out Texas, Baylor and newbies TCU and West Virginia, and it's 2.1 changes.
Think about that.
Players come, players go. Coaches come, coaches go.
There's KU, at the top, year after year after year after year after year after year after year after year after year after year.
"To be the deepest league in the country," KU coach Bill Self said after his No. 8 Jayhawks outlasted Oklahoma late Monday night, 83-75, to clinch at least a share of a 10th straight Big 12 regular-season crown, "(and) to have a three-game lead with three up (next) is pretty special."
This part is, too: Self refused to party, at least publicly.
No trophy presentation. No court-storming. No net-cutting.
The players -- point guard Naadir Tharpe especially -- went bonkers, but the restraint was remarkable, all things considered.
Also, designed.
"I told them we'd do (the presentation) if we won it outright," the coach said. "So, we'll hopefully celebrate in Stillwater on Saturday."
Oh, Bill.
One more carrot, dangled out there, to give his kids something to chase. One more chance to tweak Oklahoma State, his alma mater and the preseason Big 12 co-championship pick. One more shot to twist the knife that Travis Ford has been trying desperately to pull out of his back.
Ten in a row.
"That's the standard here," freshman shooting guard Wayne Selden said after dropping 15 points, three rebounds and three treys on the Sooners.
Lookin' good! CLICK HERE to check out our gallery of cheerleaders from around the Big 12.
KU's "standard" is the third-longest league-title streak in Division I, and tied for the second longest among the NCAA's bluebloods, behind only UCLA's run of 13 conference crowns in a row under John Wooden from 1967-79. The others:
-- UConn: 10 (Yankee Conference, though, not Big East)
-- Kansas: 10
-- Kentucky: 9
-- North Carolina: 5
-- Duke: 5
-- Indiana: 4
"That's a really good group," said Big 12 television analyst Reid Gettys, "and I would add into that maybe (that) the Big 12, certainly, over (the last) 10 years, hasn't had the level of depth that it has this year. But it's been a really good conference during that (stretch).
"And some of those other conferences, historically, you look at some of those runs, and those conferences back in those days may have been top-heavy. They really didn't have the (same) depth and the top-to-bottom quality that the Big 12 has."
"It's just a phenomenal accomplishment," offered Oklahoma coach and Kansas native Lon Kruger, who would know. "It's not like you're doing that in a bad league."
Take Monday. The script said this one was supposed to play out like Saturday's laugher over Texas, but the Sooners either didn't get the memo or said, "What the hell," and threw it out altogether.
A Wayne Selden trey put the hosts up 11-4 four minutes into the contest, and Oklahoma was encouraged to take the hint. Instead, the visitors went on a 13-6 run, tied it at 17-17 over the next four minutes and kept hanging around.
And around.
And around.
Halftime was buttressed by two runs -- KU closed the first period with a 10-0 spurt, then saw a nine-point lead at intermission pretty well wiped out by a 10-2 Oklahoma run to open the second period.
"This is a game we would have lost in November or early January," said Self, whose Jayhawks (22-6, 13-2 Big 12) have, in actuality, lost only twice since Jan. 6. "Oklahoma played really well, and I thought our guys just kind of figured out a way to do it."
With 3:20 to go, it was a three-point game, and the locals wondered if there would be any celebration at all. But Tharpe stole the ball and glided in for a layup on the break to push the lead up to five; the junior from Massachusetts scored 10 of his 19 points over the final 3:15 of the contest.
"That's as good as Naadir has played since he's been at KU," Self said.
Ten in a row.
Context? Anyone?
"Really, the only comparable run you can look at is John Wooden at UCLA," Gettys said. "Now, he took it a step further, as far as a run of national championships. As far as dominance, I'm not a historian of college basketball, but it's the most remarkable streak of domination that I could ever imagine."
When Self started this run at Kansas, it was the beginning of the end for Quin Snyder at Mizzou, Jim Wooldridge was treading water at K-State, and Colorado and Baylor were the league walkovers.
Over that span, The Streak has endured 20 coaching changes, four Big 12 defections and two league additions.
That's staying power.
That's a dynasty.
"It's a remarkable run of domination," Gettys said.
"And to think about how many (players) they turned over in 10 years. You're not talking about three groups of four-year players. You're talking about an enormous amount of guys coming in and going out early and replacing three and four at a time. I mean, two years ago, he replaces his top six.
"It's just unreal to have a run like that."
Monday was real. Scary at times. Sloppy, at times. But real enough.
"To be at home and hear the crowd," Tharpe said with a grin, "is a beautiful feeling."
A familiar one, too.
You can follow Sean Keeler on Twitter at @seankeeler or email him at seanmkeeler@gmail.com.
---