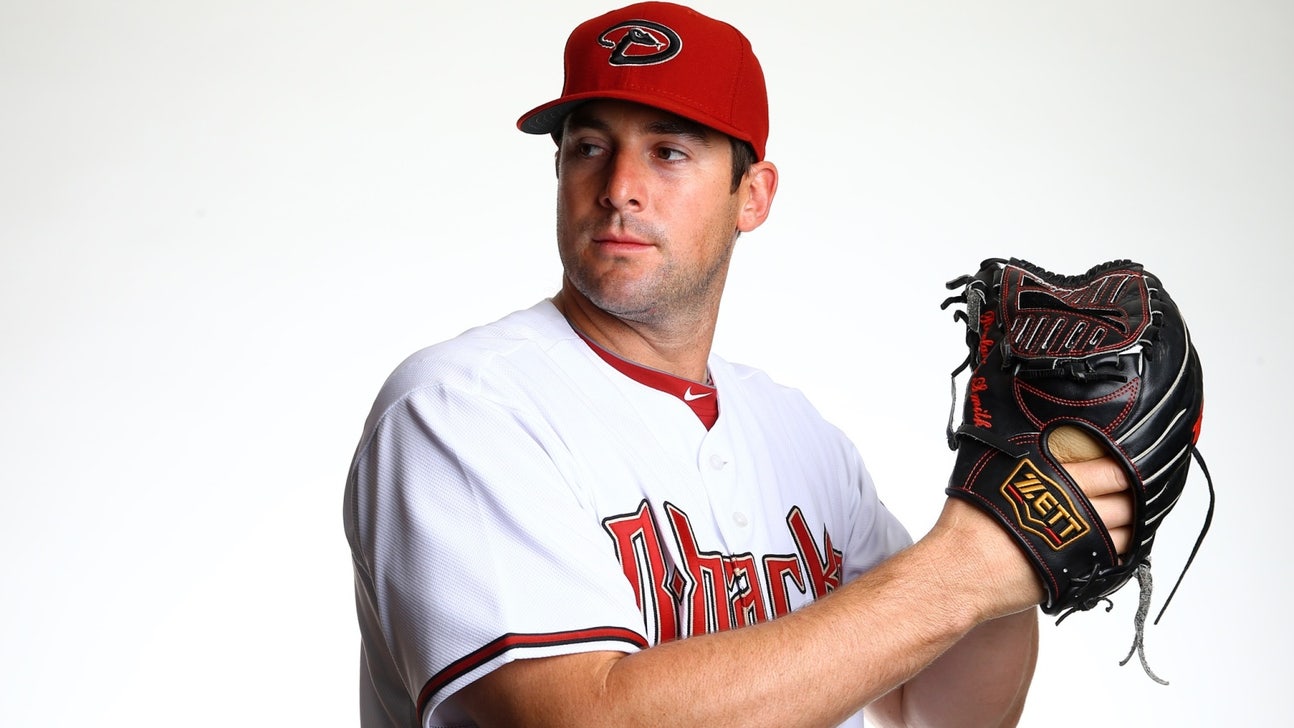 Welcome home, mate: MLB arm living dream with Aussie series
Updated
Mar. 4, 2020 5:42 p.m. ET

SCOTTSDALE, Ariz. -- You remember the 1993 World Series for Joe Carter's jump for joy after his clinching home run for Toronto in Game 6. Ryan Rowland-Smith remembers that Terry Mulholland started for Philadelphia, Ed Sprague played third base for Toronto and John Olerud held his hands just so in the left-handed batter's box.
Diamondbacks left-hander Rowland-Smith became hooked on baseball after watching borrowed VHS tapes of the 1993 World Series, and the fact that the sport that spurred his passion will play meaningful games in his native country of Australia is as satisfying to him as a sunrise off Bondi Beach.
"It's huge. A little bit overwhelming, too," Rowland-Smith said.
Rowland-Smith is one of 28 native Australians to have played in the major leagues, a list that includes two All-Stars, Grant Balfour and Dave Nilsson, who was Rowland-Smith's idol growing up.
This week Rowland-Smith could do something none of his countrymen had. A non-roster candidate to make the D-backs, he is scheduled to pitch for the Australian national team in an exhibition game against the Los Angeles Dodgers on Thursday. He is expected to rejoin the D-backs for their exhibition game against the Aussies on Friday. Games will be played at the hallowed Sydney Cricket Ground, the Yankee Stadium or Fenway Park of Australia.
"As an athlete, to play baseball there, it's very special," Rowland-Smith said.
Rowland-Smith, 31, has walked a unique path. To be a baseball player in Australia is something special in itself. Rugby, cricket and Australian Rules football are the sporting staples, and Rowland-Smith was no exception, starting in rugby at age 5.
It was in the genes. His grandfather was Australia's minister for sport and recreation and his father, Rob, is a celebrity trainer in Australia. His mother is a retired physical education teacher, and a sister was a professional surfer. In his Twitter picture, Rowland-Smith appears to be doing a push-up while his dog, clad in what looks like a weighted vest, is providing resistance from above.
He could catch the occasional ballgame at 3 a.m. in Newcastle, and there was always This Week in Baseball. It was the World Series tapes that turned him, however.
FOX Sports Arizona's Jody Jackson and FOX Sports West's Alanna Rizzo in front of the Sydney skyline.
ALMOST LIVE FROM SYDNEY: IT'S JODY JACKSON >>
"The games captivated me," Rowland-Smith said. "I watched them obsessively. I know all the lineups of every game. I can go through inning by inning. I just thought, 'wow.' Just the whole atmosphere, I could see through the TV screen, was like something I had never seen before. The hype and the sound, everything I was getting from those games, I absolutely loved it. I was infatuated."
He sought out a local Little League at 13, and when in doubt, he mimicked the moves he remembered from the tapes. As he grew bigger and stronger, he got better and better. Seattle, one of the few teams to seriously scout Australia back in those days, offered him a free-agent contract just before he turned 18. He signed immediately.
"When I came to camp, all the other kids were talking about the agents and the draft," Rowland-Smith said. "I just stepped in and said where's the paper. I signed it before the ink dried. It was the only opportunity I was going to get."
He rode a will to succeed through six minor-league levels before being promoted to the major leagues on June 22, 2007. He made 115 appearances, 47 starts with the Mariners from 2007-2010, and is 12-17 with a 4.57 ERA.
Rowland-Smith will never forget his first game in Seattle, and neither will many Mariner fans. It came on the day Ken Griffey Jr. made his return to Safeco Field with Cincinnati, Junior's first game there since 1999.
Griffey was greeted with a thunderous ovation in a pregame ceremony, and the Mariners even printed signs that said "Welcome Back, Junior!" The Reds won 16-1.
However, Rowland-Smith struck out Griffey on four pitches.
"I started warming up and I was trying to figure out who I was going to face," said Rowland-Smith, who was told he would face a left-handed hitter. "They had Josh Hamilton and a couple of other lefties. I was trying to figure ... do the math. They said, 'you're in,' and I said, 'who do I have?'
It was Junior. I was like, 'are you kidding me?'
And the thing was, I struck him out and I got booed by the crowd, because they wanted to see him hit a home run. I put my head down and it was like, 'whoops, sorry there.' The thing was, do not walk him, because if I walked him they were going to hate me."
Rowland-Smith narrowed his list to 12 people to give tickets this week in Sydney, family and childhood friends. The woman who asked for tickets after hearing "the Razorbacks" were coming to town did not make the final cut.
Major League Baseball is making inroads in Australia with its winter league, and fans no longer have to set the VCR for 3 a.m. to watch the games. The Diamondbacks-Dodgers series is another step in exposing the game Down Under.
"Growing up in Australia playing baseball, and now having baseball at this level where the games count here, is a huge deal," Rowland-Smith said. "I really hope that not only will baseball fans love it, but I'm hoping it cracks the surface for non-baseball fans to really understand the magnitude of the game in the US."
Follow Jack Magruder on Twitter
---