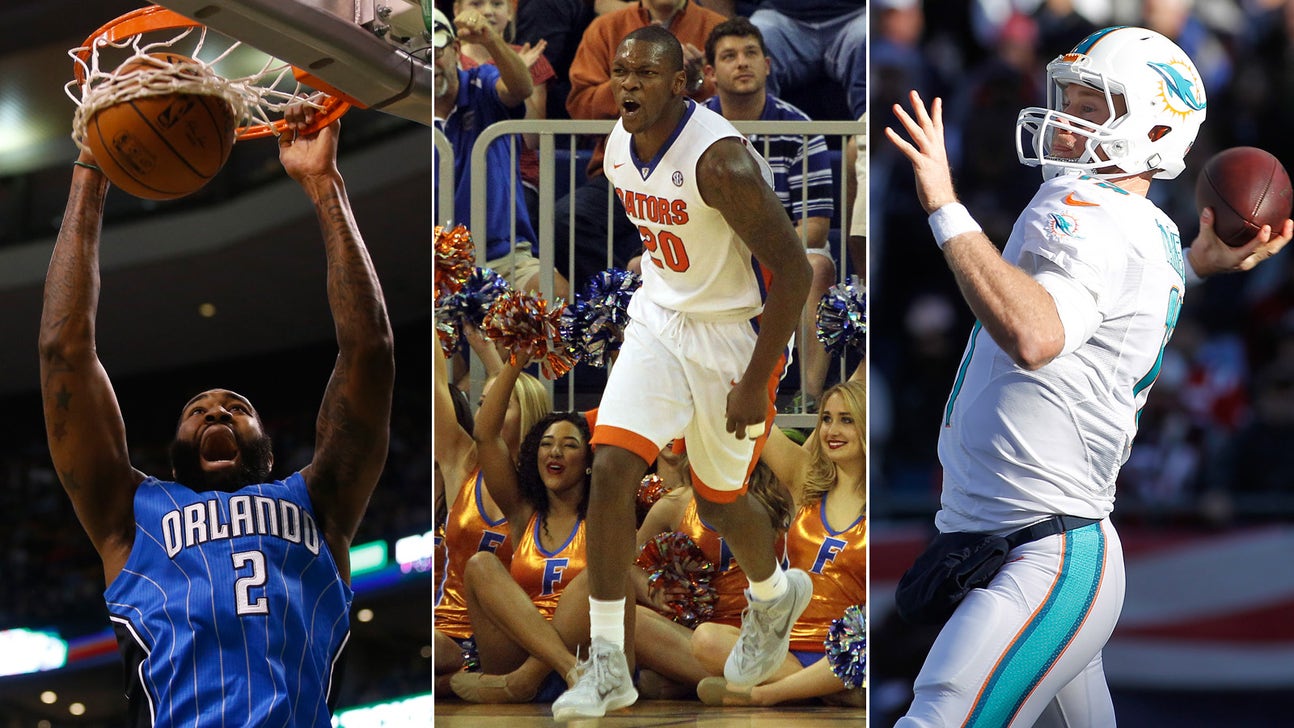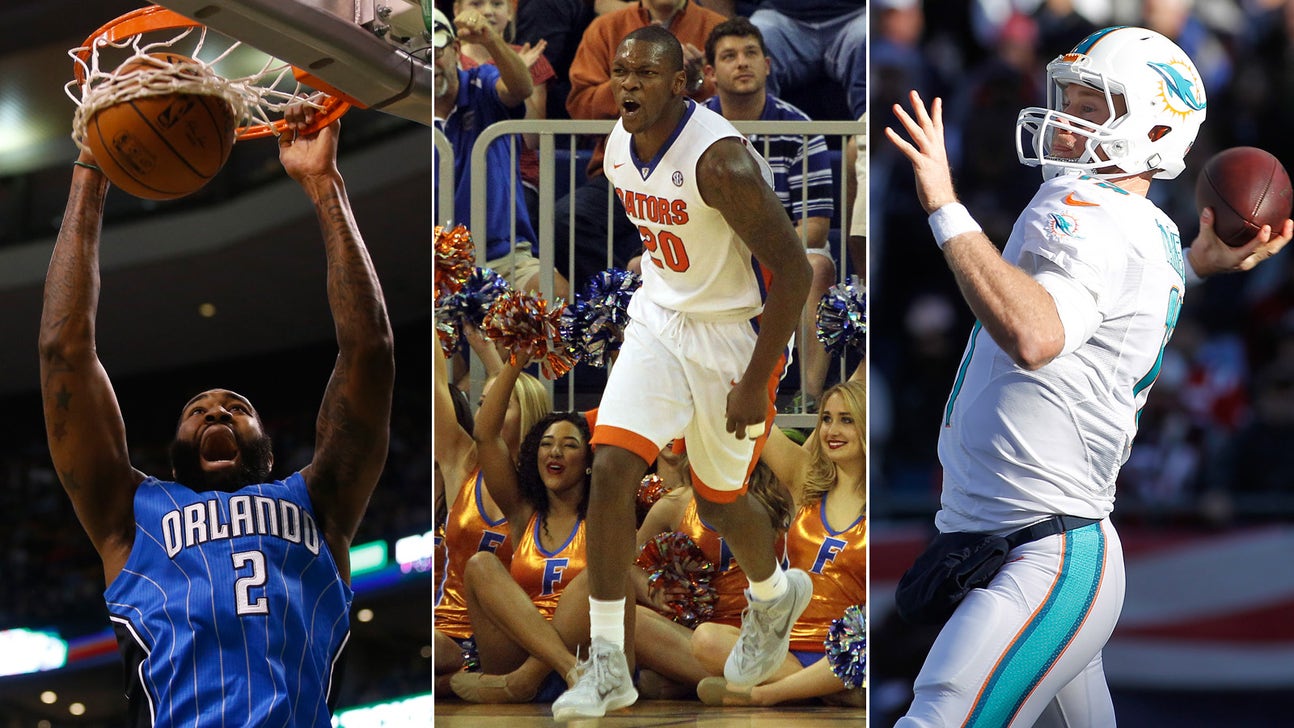 Weekend Watch List: Basketball takes center stage
Published
Dec. 18, 2014 4:00 p.m. ET

As 2014 comes to a close, attention begins to turn away from football, especially in Florida, where the Tampa Bay Buccaneers and Jacksonville Jaguars have four wins between them and the Miami Dolphins cling to slim playoff hopes.
With college football on the back-burner until next week, hockey and basketball stand front and center around the Sunshine State this weekend.
FRIDAY
NBA -- Jazz at Magic, 7 p.m. (FOX Sports Florida)
NBA -- Wizards at Heat, 7:30 p.m. (Sun Sports)
CBK -- Eastern Kentucky at Miami, 7 p.m.
Spotlight: The Magic begin a four-game homestand on Friday night against the Utah Jazz. It's only the second time this season the Magic will have played consecutive home games. On Dec. 5, Victor Oladipo scored 20 points to help lift the Magic to 98-93 victory over Jazz in Utah. Heading into Friday's matchup, the Magic are coming off of two road losses this week against the Raptors and Celtics. The Jazz broke a three-game losing streak Wednesday with 105-87 victory over the Miami Heat.
SATURDAY
NHL -- Lightning at Islanders, 7 p.m. ET (Sun Sports)
NHL -- Panthers at Penguins, 7 p.m. ET (FOX Sports Florida)
CBK -€"- Florida State vs. South Florida, 2 p.m. ET (Sun Sports)
CBK -- Florida vs. Wake Forest, 5 p.m. ET (Sun Sports/FOX Sports Florida)
Spotlight: The Florida Gators and the Florida State Seminoles are back for the Orange Bowl Basketball Classic at the BB&T Center. The Seminoles (5-5), whose leading scorer Aaron Thomas was declared ineligible two games ago, will be making their seventh appearance in the Classic. They'll take on a South Florida squad that is 5-4 under first-year coach Orlando Antigua. The Gators, who started the season No. 7 in the preseason AP poll, are currently unranked following a disappointing 6-4 start. Making their 16th appearance in the south Florida tournament, Florida faces a 5-5 Wake Forest team making their first appearance in the Classic.
SUNDAY
NFL -- Vikings at Dolphins, 1 p.m. ET (FOX)
Spotlight: The Miami Dolphins still have slim playoff hopes, but a loss mathematically will eliminate them. Miami will look to redeem itself after last Sunday's blowout loss to the Patriots, although it won't necessarily come easy against the 6-8 Vikings and rookie quarterback Teddy Bridgewater. Minnesota lost 16-14 last week in Detroit. If the Dolphins fail to turn things around in the final two weeks of the season, head coach Joe Philbin may be on the way out.
NEWS OF NOTES
-- The Florida Panthers defeated the Washington Capitals 2-1 on Wednesday after a 20-round shootout, breaking the old NHL record by five rounds. Nick Bjugstad scored the game-winning goal, but Jussi Jokinen, Dave Bolland, Derek MacKenzie and Sean Bergenheim all helped keep the shootout alive.
-- The Miami Marlins officially announced the signing of free-agent first baseman Michael Morse on Wednesday. The Nova high school graduate and former San Francisco Giant signed a two-year deal worth $16 million.
-- The Florida Gators hired Mississippi State assistant Geoff Collins as defensive coordinator on Tuesday. Collins has been Mississippi State's defensive coordinator/linebackers coach for the past four seasons. On another note, former Florida head coach Will Muschamp was hired as Auburn University's next defensive coordinator over the weekend, and he kick-started his new work by observing Tiger practices throughout the week.
-- On Tuesday, the Associated Press All-American first team selected players and three of them were Florida State Seminoles. Tight end Nick O'Leary, guard Tre Jackson and kicker Roberto Aguayo were all selected for the first team. Florida Gators corner Vernon Hargreaves III was named to the second team, as well as UCF corner Jacoby Glenn, FSU receiver Rashad Greene and FSU corner Jalen Ramsey.
-- Tampa Bay Lightning owner Jeff Vinik announced his new vision for downtown Tampa on Wednesday, calling it a 'game changer.' His $1.07 billion visualization for the city will take up an estimated 3 million square feet of space, plus anywhere from five to 10 years to be fully completed. Vinik plans to blend more than 40 acres of land around the Amalie Arena.
TWEET(S) OF THE WEEK
When the Panthers ended their marathon shooutout against the Capitals on Wednesday, analysts and fans took to social media to express their enthusiasm. Viewers had a fair amount of time to resort to Twitter in the midst of the 20 rounds, and their reactions didn't disappoint.
Afterwards, the game-winning scorer Nick Bjugstad talked about the game in his point of view.
You can follow Hana Ostapchuk on Twitter @HanaOstapchuk or email her at HANAMARIE13@AOL.COM.
---