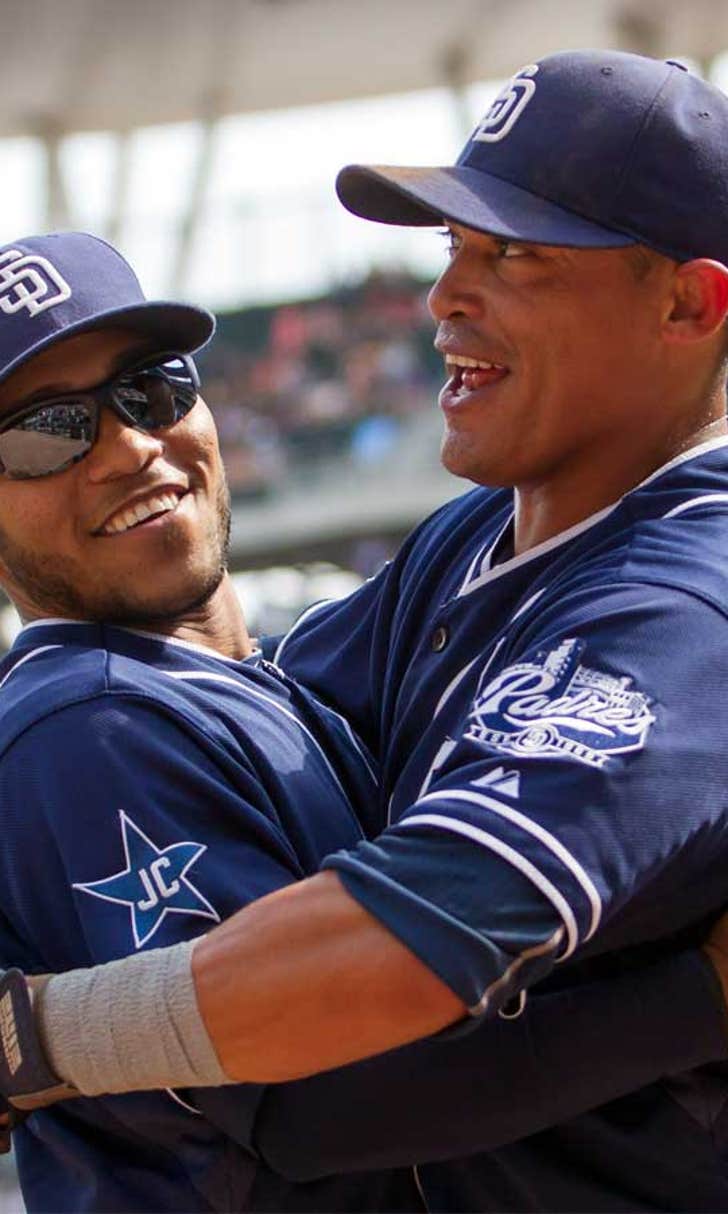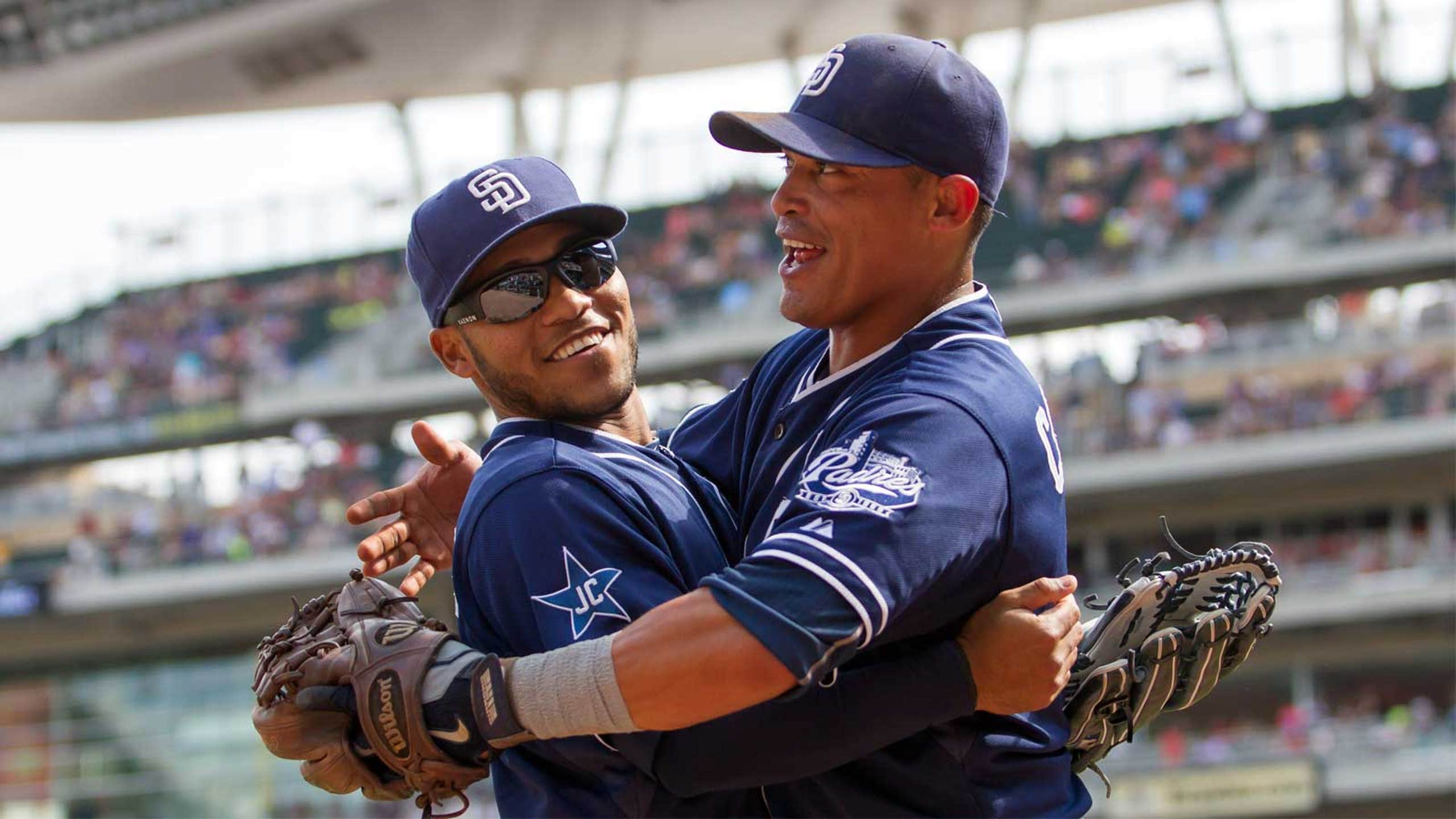 Week 19 Recap: Padres get production from variety of sources
BY foxsports • August 7, 2014
Thursday vs Cardinals: 2-6 Loss
St. Louis Recap
The Padres bookended last week with offensive outbursts, but a sweep was not in the Cards against St. Louis as San Diego fell victim to "the good" Shelby Miller.
The Cardinals' promising young arm was demoted in mid-July to the bullpen, but he looked every bit the star he's been hyped as, holding the Padres to a mere three hits in six innings of work. On the plus side, San Diego's hitters continue to swing hard, as all three of those hits went for extra bases. Swinging for the fences is not a game plan that works for most teams, but given the struggles of the Padres in producing runs, it is a reasonable approach. Jedd Gyorko connected for his second homer in as many days and appears to be regaining his form from a season ago. But if you're going to live by the homer, you're also going to die by it on occasion, and that was the case as just one of the final 23 batters reached base after Gyorko and Will Venable connected for back-to-back jacks in the second inning.
Odrisamer Despaigne was very average for the second consecutive outing, potentially indicating that the league has made adjustments after his red-hot start. A limited Cardinal offense hammered out nine hits against OD in 5.2 innings, chasing six runs across home plate in the process. He has the makings of a good contact pitcher in the big leagues, but success in that style does not come overnight. Learning how to have major league hitters retire themselves is an art, one that takes time to master and often requires learning from many a difficult outing. The bullpen stymied the storm with 3.1 shutout innings that saw only two Cardinals reach base, but the six runs were simply too much to overcome.
Friday vs. Braves: 10-1 Win
Saturday vs. Braves: 3-2 Win in 12 innings
Sunday vs. Braves: 4-3 Win in 10 innings
Atlanta Series Recap
We are a shade over two weeks into the second half of the season and the Padres have already had not one, but two six game stretches in which they won five times. I could wax poetic about how the trades at the deadline improved the morale of this team and has them playing inspired baseball, but that'd be underselling what I believe is actually happening. Given the success of the pitching staff (their 3.12 ERA ranks third in all of baseball), San Diego simply was playing better than their record and were limiting opponents at an elite level. Sure, the offense isn't great, but with a top notch pitching staff and a ton of close games, the wins were going to come at some point. Now the trick is how do they maintain the momentum?
The starters dominated the very same inconsistent Braves offense that gave them fits a week ago, recording a 1.56 ERA and striking out nearly a batter per inning. Platoon batters has long been a trend in baseball, as teams prefer to play specialists only when they are comfortable and in the ideal spot to succeed. The question begs to be asked: why can't the Padres break new ground and do that for Eric Stults? On Friday, he recorded his second consecutive home victory (and shut out), but is 0-9 on the road with an ERA that jumps 45 percent. His performance was the highlight of the series and played a big role in the Padres' starters giving up just nine hits in 17.1 innings, whereas the Braves allowed 20 knocks in 17.2 innings of work.
Former starter Tim Stauffer doubled his season win total in this series (he hadn't won since May 23rd), as he was the beneficiary of back-to-back walk-off victories. The bullpen as a whole gave up more base runners than normal (18 in 13.2 innings), but they buckled down when the chips were on the table and allowed just one earned run.
The pitching, to no one's surprise, kept the Padres competitive and the bats finally took advantage. Atlanta may be the team with the "bigger" names or the more established "stars," but Tommy Medica was the best player on the field this weekend and it wasn't even close. The 26-year-old first baseman blasted three homers on his way to an 8 for 12 series that saw him drive in five, score five times, steal a base, and even work two free passes (he walked twice in all of July). Everth Cabrera also looked like his old self by recording six hits in 14 at-bats and swiping three bags, production that this offense needs at the top. While those two stood out above the rest, that's not to say that the Padres relied exclusively on their two hot hitters. As a team, San Diego hits .339 against Atlanta. Let me say that another way: they hit 116 points above their current team average. Heck, they even did the small things in this one. On Friday, the top seven members of the starting lineup reached base multiple times. On Saturday, three players (Jedd Gyorko, Yangervis Solarte and Chris Nelson) saw a total of 18 pitches from the best closer in baseball, and despite 14 of them being thrown at at least 97 miles per hour, they displayed great patience and earned three walks. In the series finale, two-thirds of the starting lineup reached base at least twice as they totaled twice as many walks as strike outs. It may only be a three-game sample size, but it might as well be the best series the Pads have played all season long.
Tuesday @ Twins: 1-3 Loss
Wednesday @ Twins: 5-4 Win in 10 innings
Minnesota Series Recap
The starting rotation wasn't as dominate as you might have expected against a below average Twins offense, but the bullpen kept things close enough for the visitors to salvage a split of this short series with an extra innings victory last night.
Hahn and Despaigne combined to allow 19 base runners in 11.1 innings of work, resulting in an underwhelming 5.56 ERA. They were outperformed by Phil Hughes and Kevin Correia (14 base runners and a 3.00 ERA in 12 innings of work), a rarity for what has proven to be an elite starting rotation for San Diego. Hahn's outing was a bit more encouraging, as a Kennys Vargas home run (the first of his career) accounted for all of the damage, but both starters needed to be picked up by the bullpen.
Three extra inning victories this week speaks volumes to the depth of quality relievers that the Padres trot out there, a commonality on most successful teams in the big leagues these days. They recorded 20 outs while surrendering just two hits and no runs in the process, allowing the Padres to remain competitive on Tuesday and eventually pull out the victory yesterday. There are a variety of pitching styles in the Padres 'pen, but they all attack the opponent and force the issue. San Diego isn't ready to compete in postseason play right this minute, but this roster of relievers would be ready for such a challenge.
The bats were quiet, but not silent. They pounded out 21 hits (eight for extra bases), but once again struggled to capitalize (1/15 with runners in scoring position). With six hits, one of which was his fifth homer of the season, totaling 12 total bases, it was Yonder Alonso's turn to guide the offense. During this stretch of winning baseball, the Padres have been consistently getting strong production from an inconsistent source. That is, no one player is separating himself as the best hitter in the lineup, but a handful of players have stepped up. While Alonso was constantly putting himself in scoring position, the Tommy Medica/Jedd Gyorko tandem went 1/8 with six strikeouts on Tuesday and Will Venable went 0/5 (0/3 with RISP) with three punch outs on Wednesday. The fact that multiple players can contribute in a big way is key, but consistent production is just as important (if not more) if the goal is to sustain success over the course of a 162 game season. Baby steps.
Weekly Grade: B
It's been a long and painful journey for the 2014 Padres, but they continue to show glimpses of a team/franchise headed in the right direction. In addition to boasting a statistically elite crew of pitchers and the occasional offensive stud, San Diego brought in the forward thinking A.J. Preller to serve as the general manager of the future. His background as a player development extraordinaire is encouraging, as he should have every opportunity to build a team full of "his guys." It's just noise at this point, but he seems honored to take the lead and accepting of the challenge that lies ahead as he looks to bring a winner to San Diego.
The Padres will travel to beautiful PNC Park for a three-game set with the Pirates before hosting the surprisingly bad Rockies for a three-game series.
----
Follow Kyle Soppe on Twitter @UnSOPable23.  
---