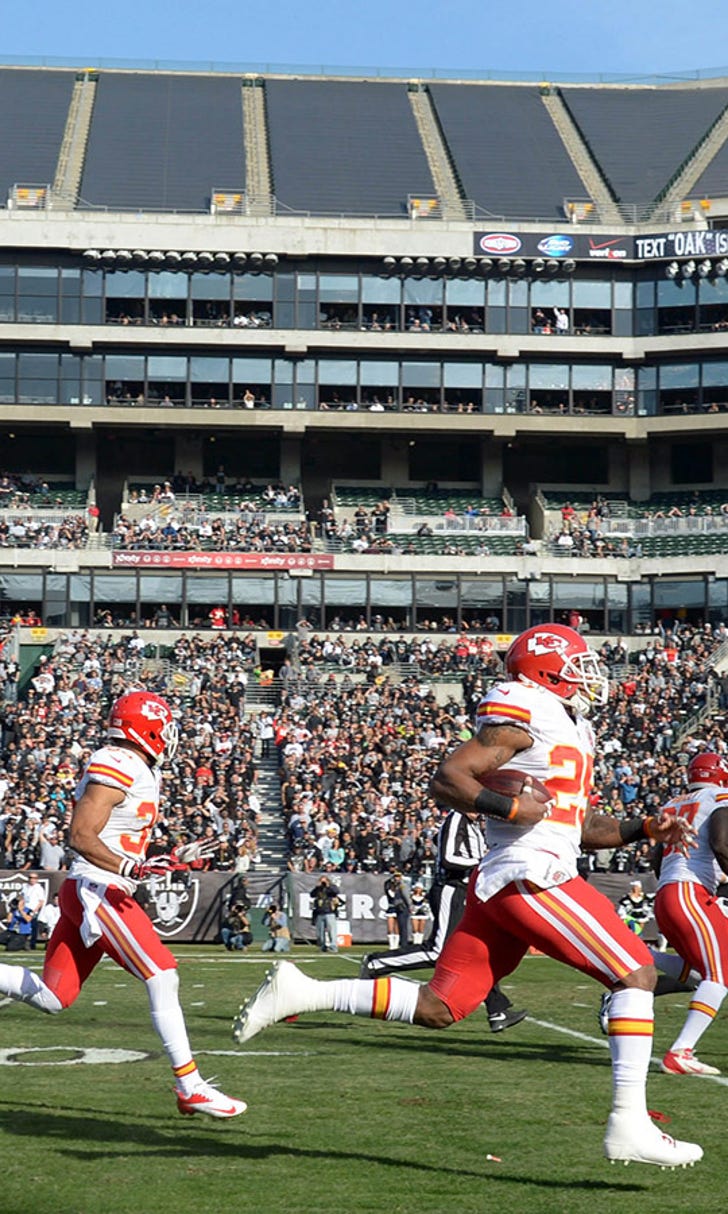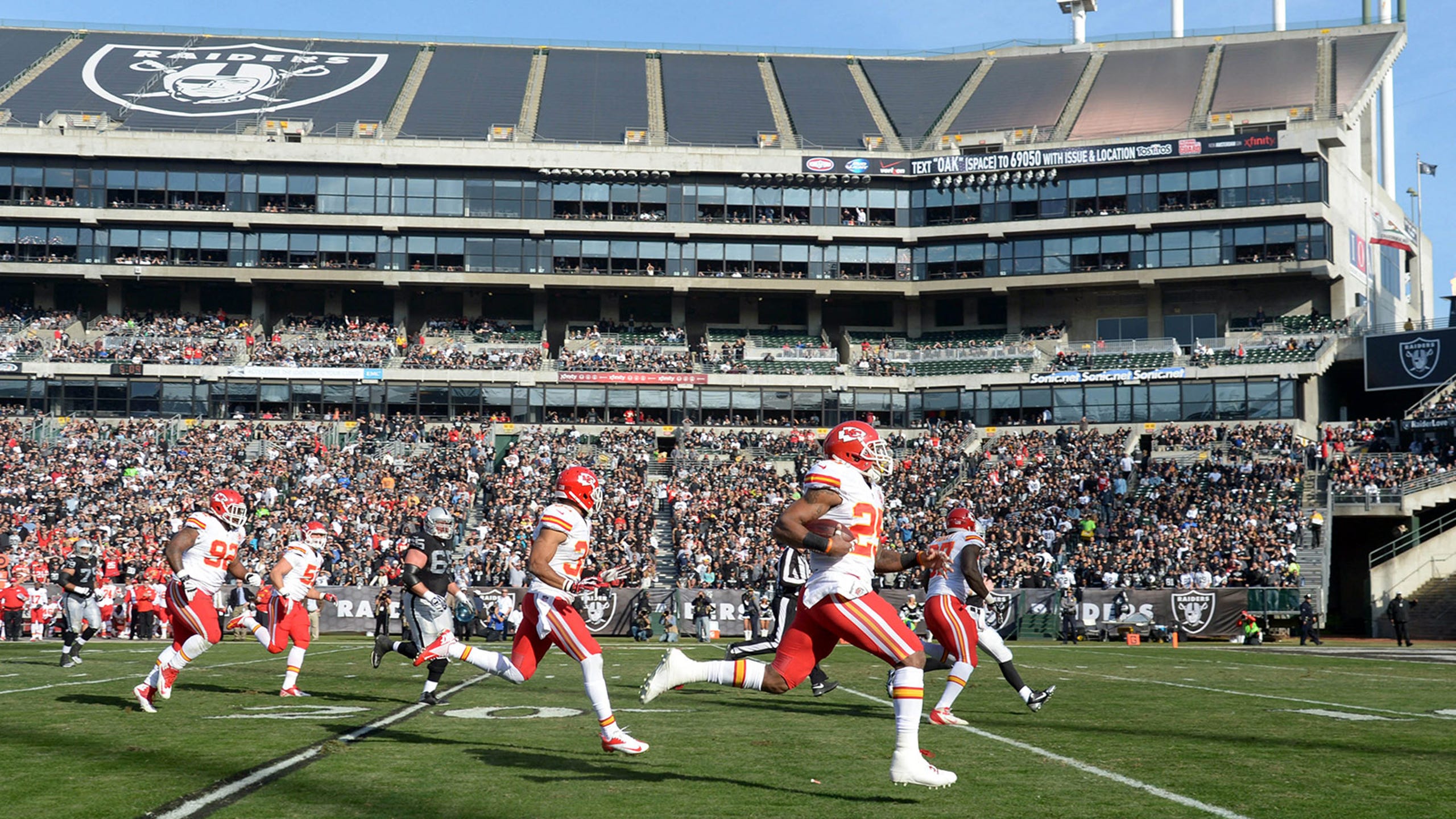 We almost don't have room for all the history the Chiefs made Sunday in Oakland
BY foxsports • December 16, 2013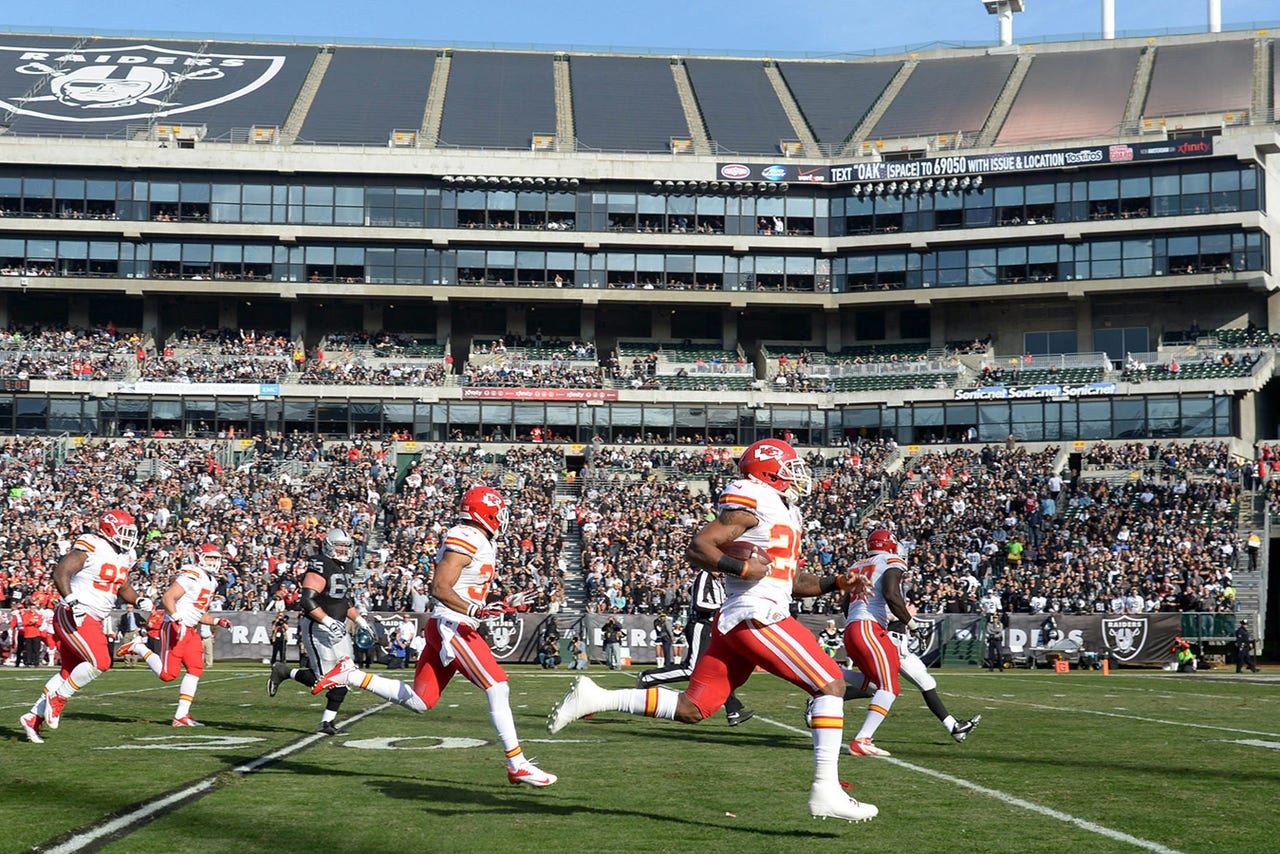 KANSAS CITY, Mo. -- So much history, so little time. Where do you want to start?
** You like turnarounds? After stomping Oakland, the Kansas City Chiefs have tied the NFL mark for most wins (11) by a team that won two or fewer games the season before. One more victory out of two would set a new mark, as well as a plus-10 victory differential from that 2-14 disaster of 2012.
** You like 35s? The Chiefs are just the second team in NFL history to score 35 or more points by halftime in consecutive games. (The last team to do it: Your Chiefs, in 2002.) Running back Jamaal Charles is the first player in the NFL this year to record three touchdowns of 35 yards or more. And while I spent a lot of keystrokes defending Alex Smith's five-touchdown game late last night on FOXSportsKansasCity.com, I failed to mention this stat: According to ESPN's research department, Smith is the only quarterback in the NFL this season to toss three touchdown passes of at least 35 yards.
** You like scoring? There's this one from NFL stats guru Russell Baxter: The Chiefs have posted 84 points over their last seven quarters. They'd scored 211 points in 16 games the previous fall.
The right quarterback can make all the difference. And when you pair the right quarterback with the right coach, that's when we start talking about No. 1 seeds. That's when we start talking about magic...
CHIEFS 56, RAIDERS 31: THREE (MOSTLY GIDDY) MONDAY QUESTIONS TO PONDER
:03 ... Happy Pick-Six Day! So that's a new franchise record for non-offensive touchdowns in the season, right?
No, but the 11 non-offensive return scores -- the latest an Eric Berry pick-six -- now TIE the Chiefs' single-season mark, set in 1992 and matched in 1999. The next special teams or defensive touchdown would set a new bar. And two more would tie the NFL record for "miscellaneous touchdowns" in a campaign; Seattle holds the mark with 13, set in 1998.
It's a longer climb to the franchise's single-year record for defensive touchdowns, which is nine (1999). The Chiefs have six, which is third-best in club annals behind that '99 bunch and the eight scored in 1992.
The Andy Gang is just the eighth team in NFL history to rack up 11 non-offensive scores in a season. The Power of (Dave) Toub is real, kids. It's real, and it's spectacular.
:02 ... Is it me? Why doesn't the possibility of losing tackle Eric Fisher from the lineup bother me as much as it should?
The Chiefs' No. 1 pick and starting right tackle reportedly left the Raiders win with a left shoulder problem. We'll know a bit more about his status today after Reid does his usual Monday mid-day quickie.
We haven't seen his grades from the Raider game yet, but the big lug out of Central Michigan has been trending better in recent weeks, recording back-to-back positive grades from the website ProFootballFocus.com versus Denver (+0.1) and at Washington (+3.2, including a +1.6 on run blocking).
While some wouldn't mind seeing Fisher shut down if he's not healthy enough to roll at at least half-speed, the Chiefs are pushing their offensive line depth right now without left tackle Branden Albert in the lineup. Donald Stephenson has done a more-than-solid job in a relief role at either left tackle or right tackle, and guard/swingman Geoff Schwartz has actually improved the line since his insertion into the starting lineup four weeks ago. But being down two starting tackles is not the kind of trend you want to end the year with.
:01 ... Well, what ARE the odds of getting at least one home playoff game at Arrowhead next month, then?
Short answer: Still dicey, at best.
The No. 1 seed is still in play, but the Chiefs need serious help from some weak sisters. And they still don't really control their postseason travel plans because of that sweep at the hands of the Denver Broncos.
The Andy Gang pretty much has to win out and get a ton of help from a couple of unlikely sources. Of the AFC's top three teams, the Broncos still, on paper, have the easiest schedule (opposition record: 6-22 -- at Houston, at Oakland) to close out the regular-season slate. Kansas City, meanwhile, has the toughest (16-12 -- vs. Colts, at Chargers). And unless the Chiefs lay an egg at home against Indianapolis on Sunday -- and it's hard to see that transpiring -- forget resting your stars in Week 17 and getting ready for January; it'll likely be all hands on deck at Qualcomm Stadium, pulling on the same rope.
You can follow Sean Keeler on Twitter @seankeeler or email him at seanmkeeler@gmail.com.
---