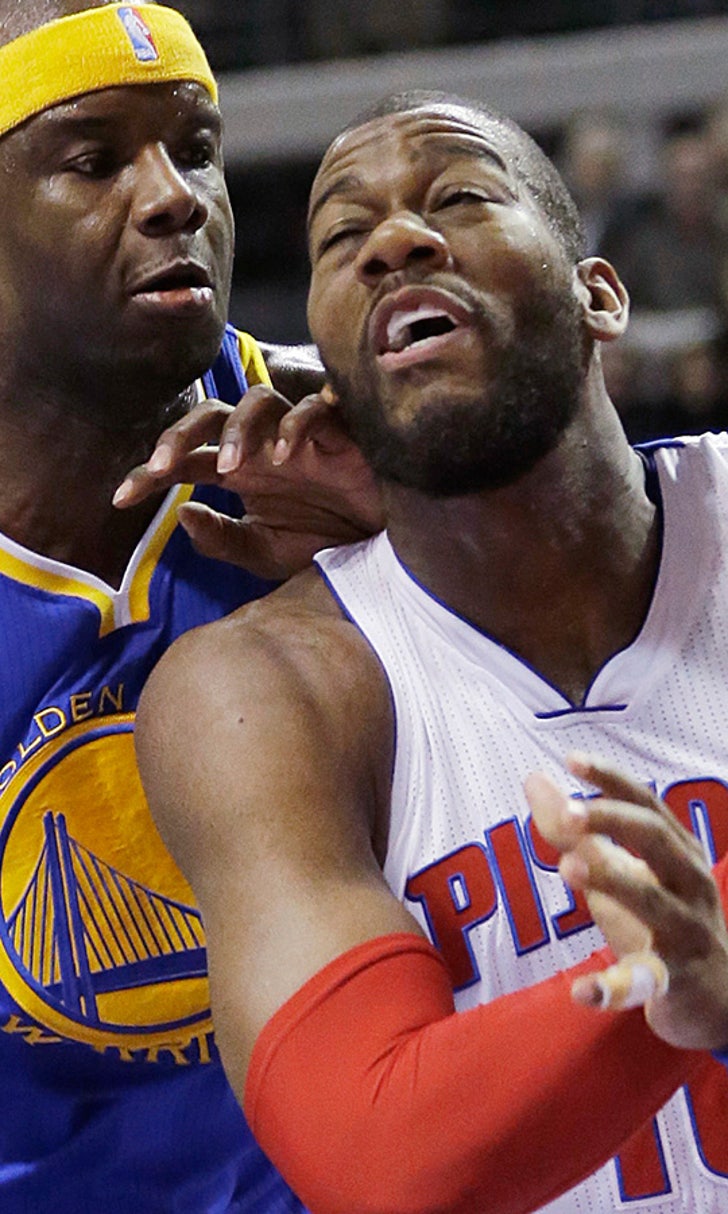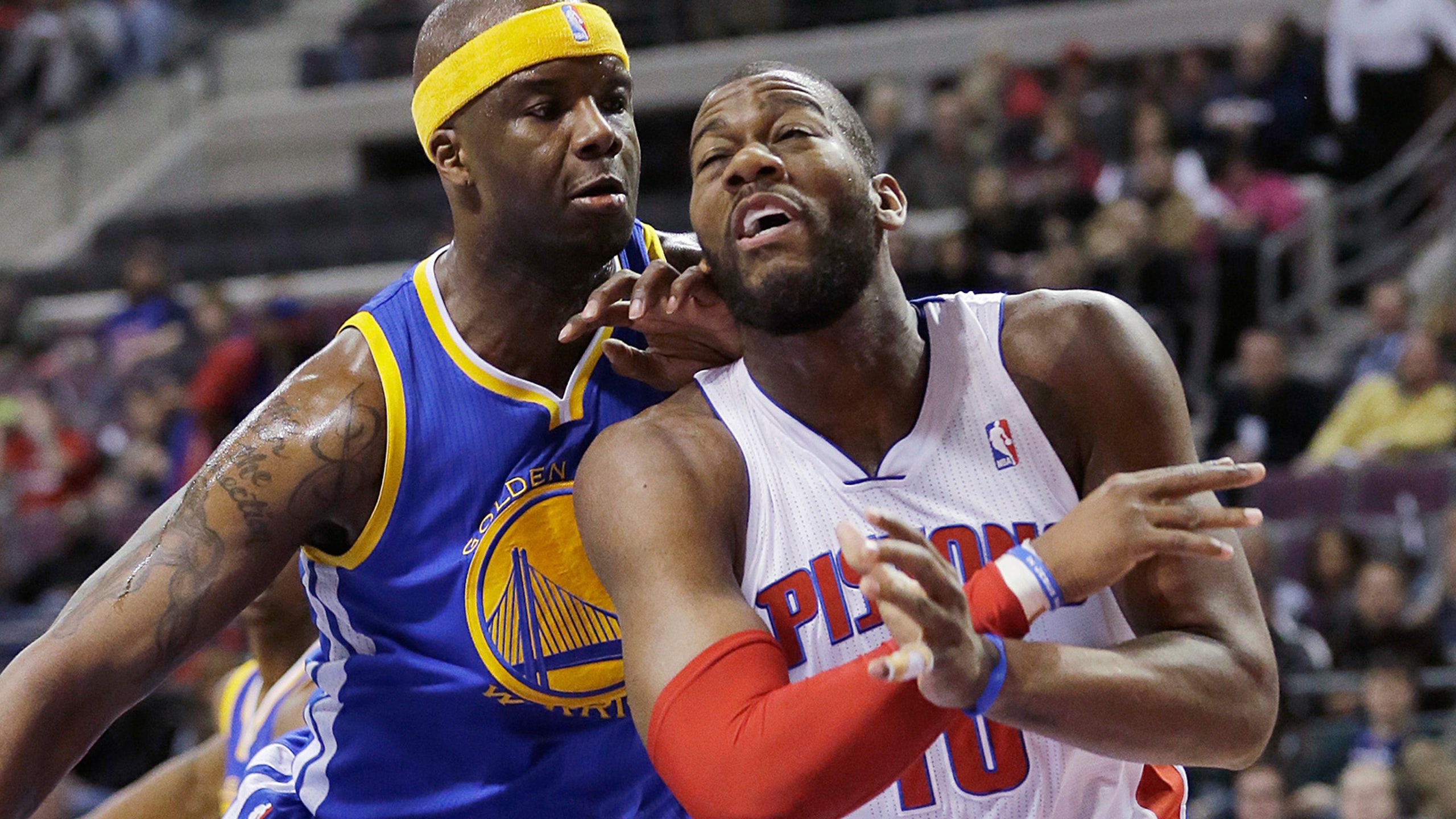 Warriors clamp down on Pistons
BY foxsports • February 24, 2014
AUBURN HILLS, Mich. (AP) -- Stephen Curry didn't shoot all that well -- and Golden State won anyway.
The Warriors figure that's a good sign at the start of a lengthy road trip.
"It's not necessarily going to be flash and fun every night," Golden State's Jermaine O'Neal said. "If we're going to have a chance to really compete for a championship, these are the types of games you're going to have to win in the playoffs. We have a fairly young team and these games like this build the character and the image of the team."
Curry had 19 points, nine assists and eight rebounds, and the Warriors clamped down on the Detroit Pistons in the second half of a 104-96 victory Monday night. Klay Thompson scored 19 points for Golden State, which has won four in a row. The Pistons have lost five of seven since firing Maurice Cheeks and replacing him with interim coach John Loyer.
Curry went 6 of 15 from the field and was only 3 of 9 from 3-point range, but he repeatedly found teammates for open shots on the perimeter.
"I tried to press a little in the third quarter," Curry said. "It didn't work out my way, so I tried to stay positive. Other guys were making plays, so it was kind of a team effort."
The Warriors were still without David Lee, who has been dealing with a stomach flu. Andrew Bogut returned from a left shoulder injury and played 29 minutes before fouling out.
It was the opener of a six-game road trip for Golden State.
Greg Monroe had 23 points for the Pistons, who scored only 13 points in the fourth quarter. The Pistons were only down 63-62 at halftime but couldn't replicate that offensive success.
"We took it to the finish line. We just didn't cross it," Loyer said. "You get to the last 2 or 3 minutes, that's what you are trying to get to in the NBA game. We have to get to the point where we can finish them."
The Warriors have won six straight over the Pistons for the first time since a seven-game streak from 1975-76.
Detroit trailed 95-94 after Monroe's layup with 4:11 to play, but the Pistons didn't score again until the final minute. Golden State was progressively stingier in each quarter, allowing 37 points in the first before holding Detroit to 25, 21 and 13 in the remaining three.
"We were trying to work the ball inside, but they were giving us a lot of tough angles and we couldn't get the offensive rebounds," Detroit's Kyle Singler said. "You can't play one-and-done offense against a team that can put up points like Golden State. They've got shooters no matter where you look."
The Warriors' bench outscored Detroit's 42-15. Golden State (35-22) is a season-high 13 games over .500.
Detroit (23-34) is fading from the playoff race in the Eastern Conference. The Pistons are now four games behind eighth-place Atlanta.
Josh Smith had 18 points, 11 rebounds and seven assists for Detroit but shot 9 of 24 from the field.
The first half was an entertaining one. Curry had a four-point play in the first quarter -- just 40 seconds after Brandon Jennings had one for Detroit. There was also a dunk by Thompson on Singler that left the Detroit forward so off balance he fell into a row of cameramen near the basket.
NOTES: Michigan State coach Tom Izzo was seated courtside, and Spartans standout Adreian Payne was nearby. Draymond Green, a former star at Michigan State, had six points and five rebounds for Golden State. "Adreian will be here on this level in a few months, so it was good for him to get to see a game up close and be able to see me play," Green said. "It was also good to see Coach Izzo. Four years with him, it hasn't changed. He'll still call me and tell me what I'm doing wrong, and I'll call him and tell him what he's doing wrong." ... O'Neal and Detroit's Andre Drummond were hit with a double technical foul in the first quarter when they both went spilling into the same area for cameramen that Singler fell into. Green and Smith received technical fouls in the third, apparently for jawing at each other.
---