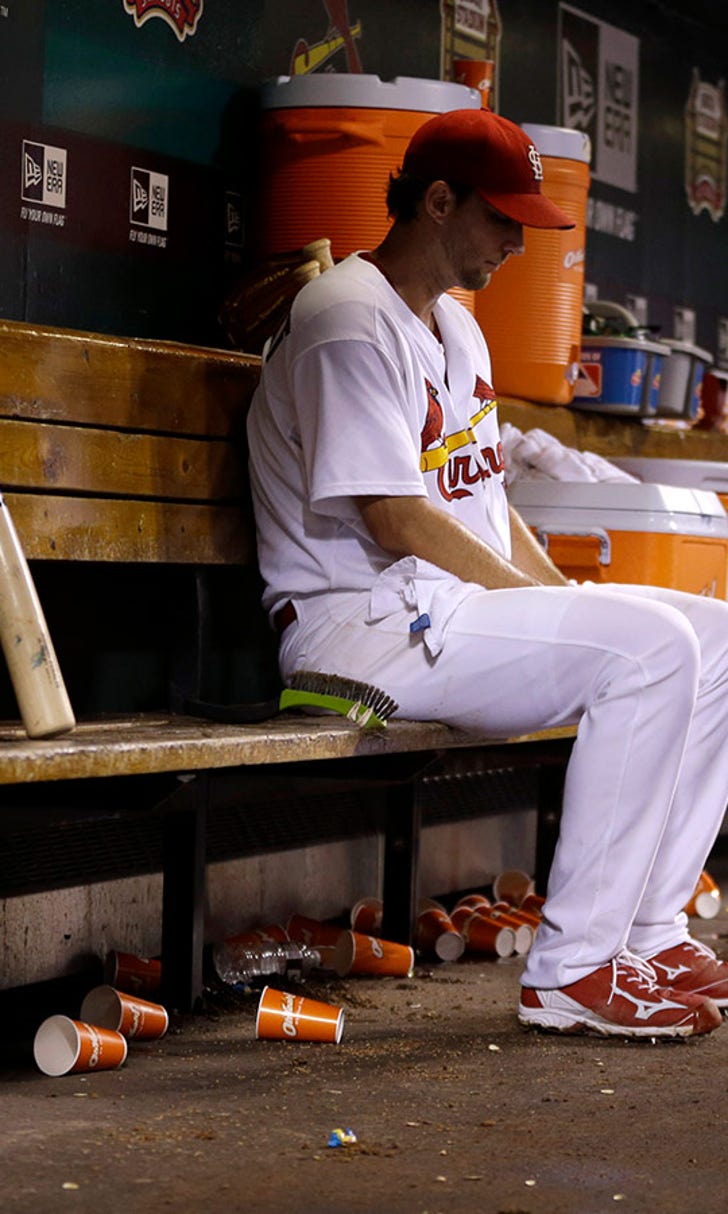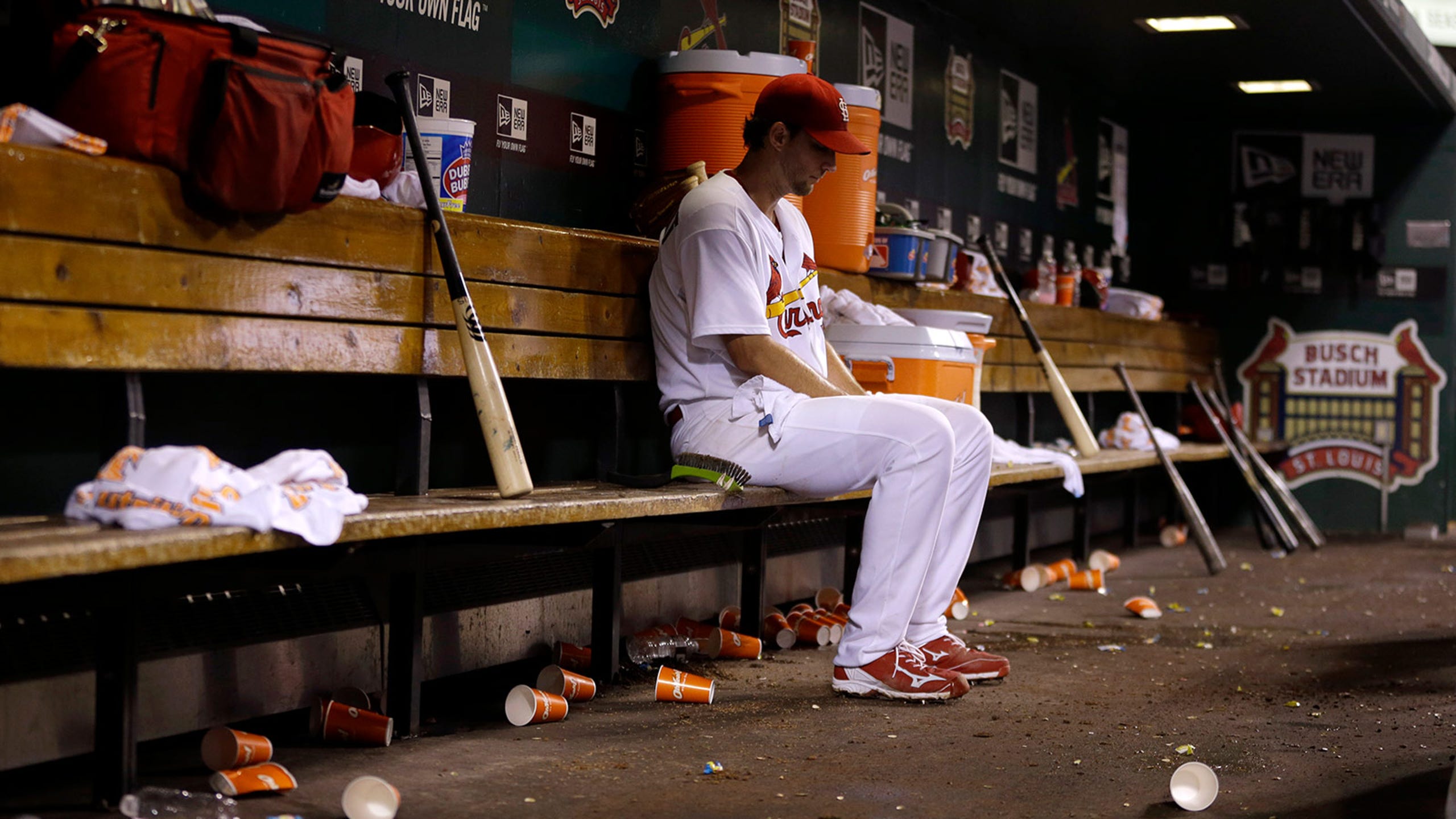 Wainwright gets roughed up as Cards fall to Brewers in series opener
BY foxsports • August 2, 2014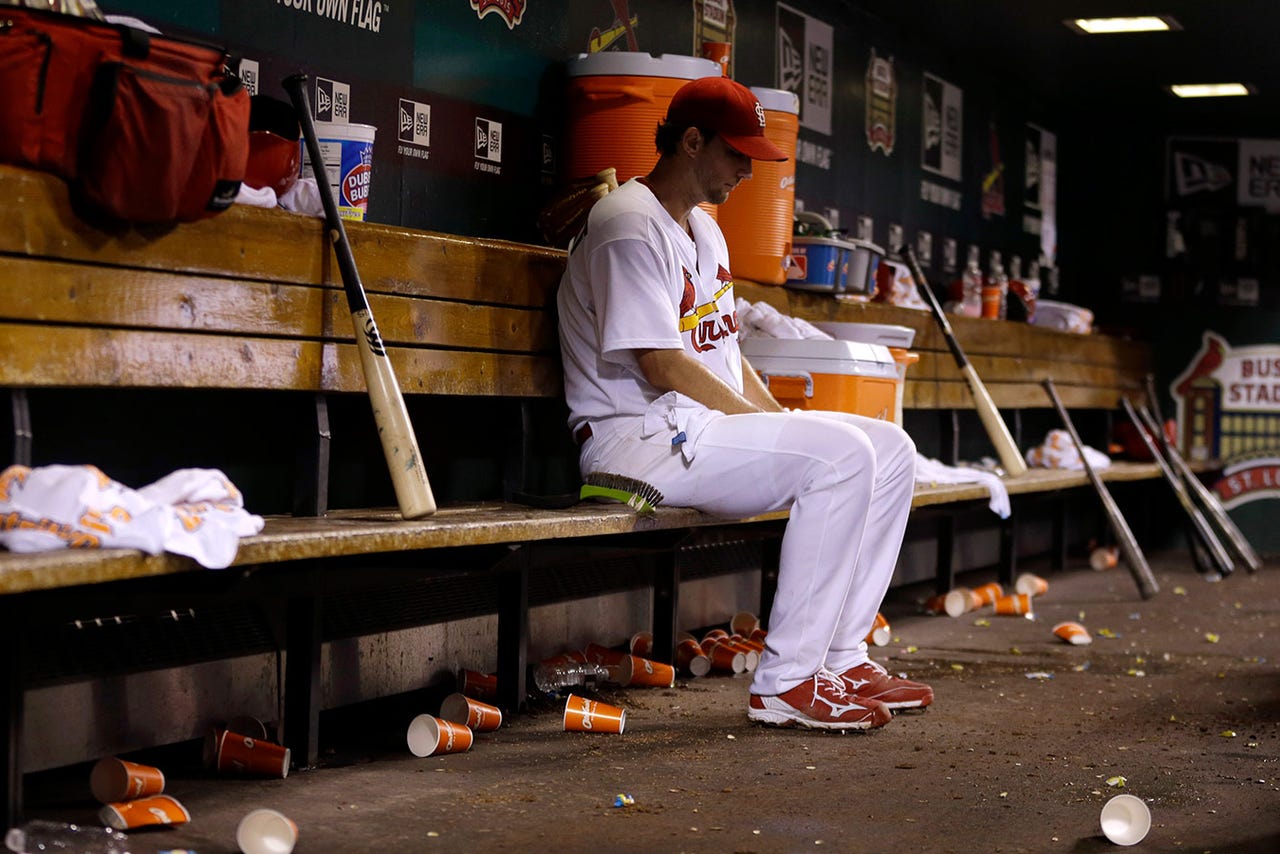 ST. LOUIS -- If their underperforming offense hasn't given the Cardinals enough reason for concern, they just might have another one after Friday night.
Their ace, Adam Wainwright, was roughed up for the second time in his past three starts. He gave up nine hits and seven earned runs and lasted only 5 1/3 innings in a 7-4 loss to the first-place Brewers at Busch Stadium. In his previous home start, Wainwright allowed six runs in 4 2/3 innings in a 7-2 loss to the Tampa Bay Rays.
That one was brushed off as an anomaly, a "he's only human" type of deal. This clunker was different. Wainwright said his stuff was fine and he was just a little bit off. His manager said it might not have been Wainwright's command as much as a strike zone that was squeezed by umpire Greg Gibson. With the borderline pitches not going Wainwright's way, he could not be as fine as he wanted.
"He had to get more of (the plate) than what he normally would instead of being able to make those pitches on the edges that he's used to getting called (strikes)," Cardinals manager Mike Matheny said. "Against a team that's hitting the ball well, bad things are going to happen."
Wainwright chose to let his manager do the strike-zone assessment, chuckling a bit when asked about the tiny zone.
"I know I made a lot of very good pitches that were just off," Wainwright said. "I need to correct that just a hair. I can do better."
The hit that blew the game open came on a pitch that might not have been a strike. With the bases loaded and the Brewers up 3-0 in the sixth, Jonathan Lucroy -- Wainwright's battery mate at the All-Star Game -- lined a bases-clearing double to the opposite field on a full-count sinker that Wainwright put right where he wanted.
Watch the Cardinals Live pregame and postgame shows before and after every St. Louis Cardinals game on FOX Sports Midwest.
"That pitch is down and away, probably off the plate," Wainwright said. "He made a good swing on it. Good hitters do that. I'm not disappointed with the location of the pitch -- obviously, the result."
Why the bases were full was another cause of frustration for the Cardinals. Jean Segura singled on a squib to Wainwright that he threw just low enough to first that Matt Adams was unable to hang on. Elian Herrera followed with a bloop to center that Kolten Wong almost caught with his back to the infield, yet still picked up and, in the same motion, whipped around and fired a throw to second that might or might not have forced out Segura.
Second-base umpire Will Little ruled safe and Matheny's ensuing replay challenge did his team no good even though he insisted his staff felt it "clearly" was an out. Instead of one out and a man on first with the pitcher coming up, the Cardinals were facing a two-on, nobody-out situation. After starter Wily Peralta sacrificed, Wainwright hit Carlos Gomez to set the stage for Lucroy.
It was the 15th time in 18 tries that a challenge went against the Cardinals. A borderline balk called on Wainwright the previous inning already had angered Matheny, who did not hold back his emotions after he went to the mound to take out his starter. The third-year manager promptly was ejected for the second time this season, and afterward expressed his frustration over the replay system and what it has taken out of the game. 
"We've gotten to the point where we've taken a lot of emotion out of the game where you can't even say anything to these guys without getting tossed," Matheny said. "I don't think that was the intention of (the challenge system). We've gotta be able to go out and fight for our guys. What I saw was wrong. It's frustrating when we can't go out and fight when we've been wronged.
"If they're not going to give me the headset to yell at that guy (the replay umpire in New York), it's going to have to be somebody on the field."
As for his ace, Matheny showed little concern. "This guy has been phenomenal all season," he said. "We know it's going to be that way the next time we see him."
Wainwright did not sound worried, either, saying he felt this outing was nowhere near as bad as the one against the Rays or an earlier stinker against the Giants.
"Those games were just throwaway awful games," he said. "Tonight I had good stuff, location-wise was pretty good most of the game. It just didn't work out."
3 UP
-- New guys. Justin Masterson and John Lackey both said they're excited to be with the Cardinals and are looking forward to pitching in a league that doesn't have the DH. Both new starters will get to work this weekend, with Masterson starting against Kyle Lohse on Saturday and Lackey going Sunday opposite Matt Garza. Lance Lynn was on turn for Sunday's start but was pushed back to Tuesday so the ex-Red Sox Lackey will not have to pitch against his old team.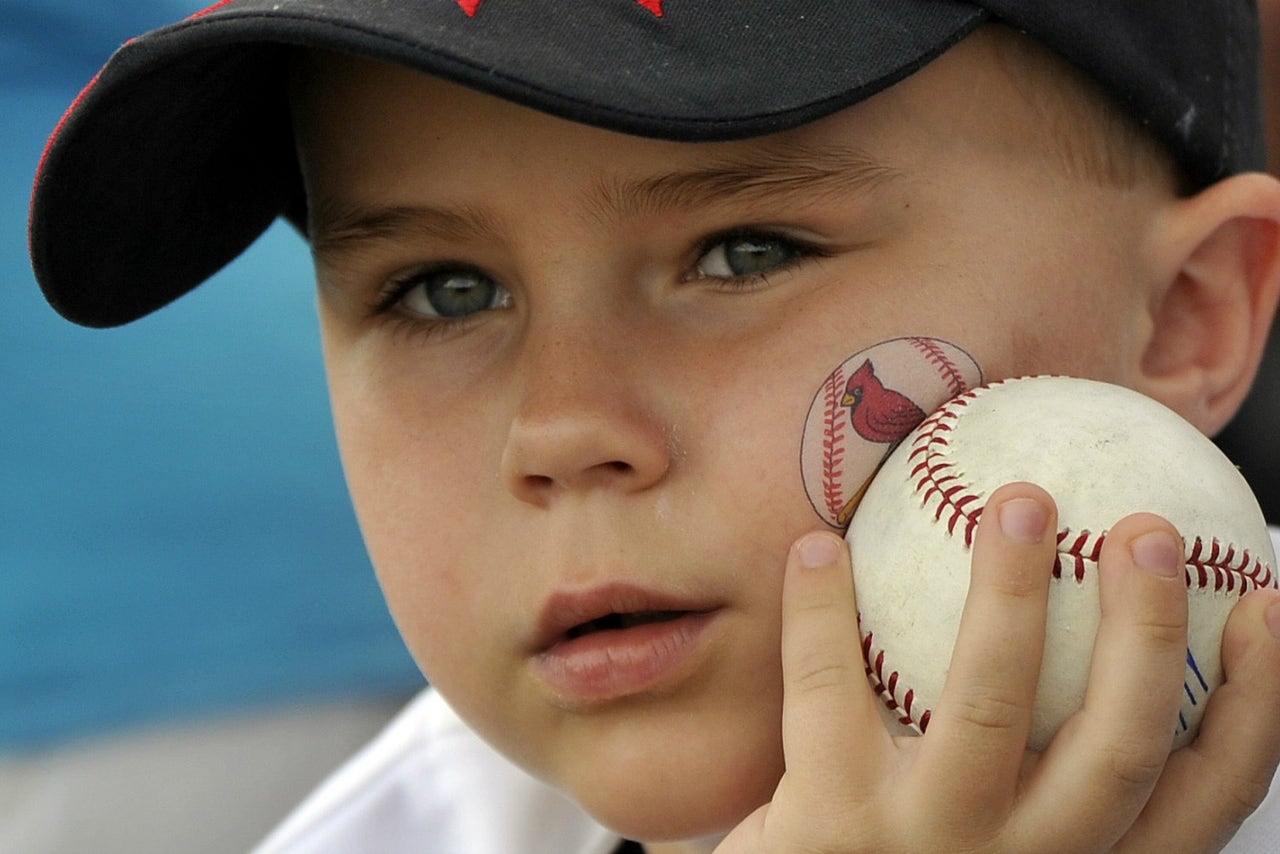 LET'S GO CARDINALS: Check out these photos of fans and the excitement around Cardinals baseball.
-- Hitting Carlos Gomez. The Brewers' flamboyant center fielder pays a price for crowding the plate, especially against a team that works him inside like the Cardinals. Gomez was plunked twice, by Wainwright and Jason Motte, to extend a streak of four straight games that he's been hit by Cardinals pitchers. Gomez entered the game tied for the NL lead with 11 hit by pitches. Seven of those have come against the Cardinals.
"I've hit him twice this year with just terrible pitches," Wainwright said. "You can run one in there without hitting him. Both times I hit him, I let it sail, just didn't get through my pitch at all. He has a right to be mad at me if he is."
-- Peter Bourjos. In the lineup for a third straight game, Bourjos doubled and scored, walked and chased down a couple of flies that many center fielders would not have caught up to. Bourjos has been in the lineup because Jon Jay has a sore left wrist suffered on a checked swing in San Diego. The way Bourjos has been performing, though, he is earning more playing time.
3 DOWN
-- Wong. You have to wonder if the home-run barrage he enjoyed in early July is catching up to him. Something is not right, anyway. Wong struck out three times, each time whiffing with a mighty cut. It marked the third time in his past eight games that he's finished with three Ks. Before this skid, he had not struck out three times in a game all season. Wong finished this one with the first 0 for 5 of his young career.
-- Stopping Aramis Ramirez. No player hits Wainwright better than Ramirez, who had another big night off the Cardinals' ace. Ramirez smoked a 3-0 fastball into the left-field bullpen leading off the second. And with two out in the third, he smoked a double to left-center field for another RBI. Ramirez improved his batting average against Wainwright to .416 (22 for 53 after his first two at-bats). He's done pretty well against the rest of the Cardinals, too. Ramirez is hitting .311 with 36 homers and 135 RBI in 190 games against St. Louis.
-- Carlos Martinez. Matheny said the rookie right-hander said the right things and showed a good attitude when told he was returning to Triple A. Martinez will start for Memphis but is more likely to work out of the bullpen when he returns to St. Louis, which might not be until rosters expand in September. Whatever the team needs at the time, Matheny said. By having Martinez start in the minors, he will be assured of getting consistent work and remain stretched out for whatever role he has when he comes back. 
You can follow Stan McNeal on Twitter at @StanMcNeal or email him at stanmcneal@gmail.com.
---