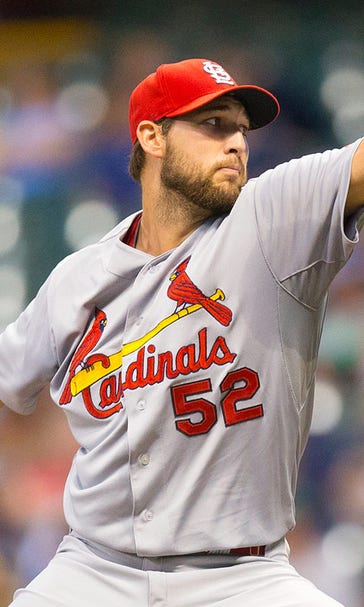 Wacha sharp in return as Cardinals show no mercy to reeling Brewers
September 5, 2014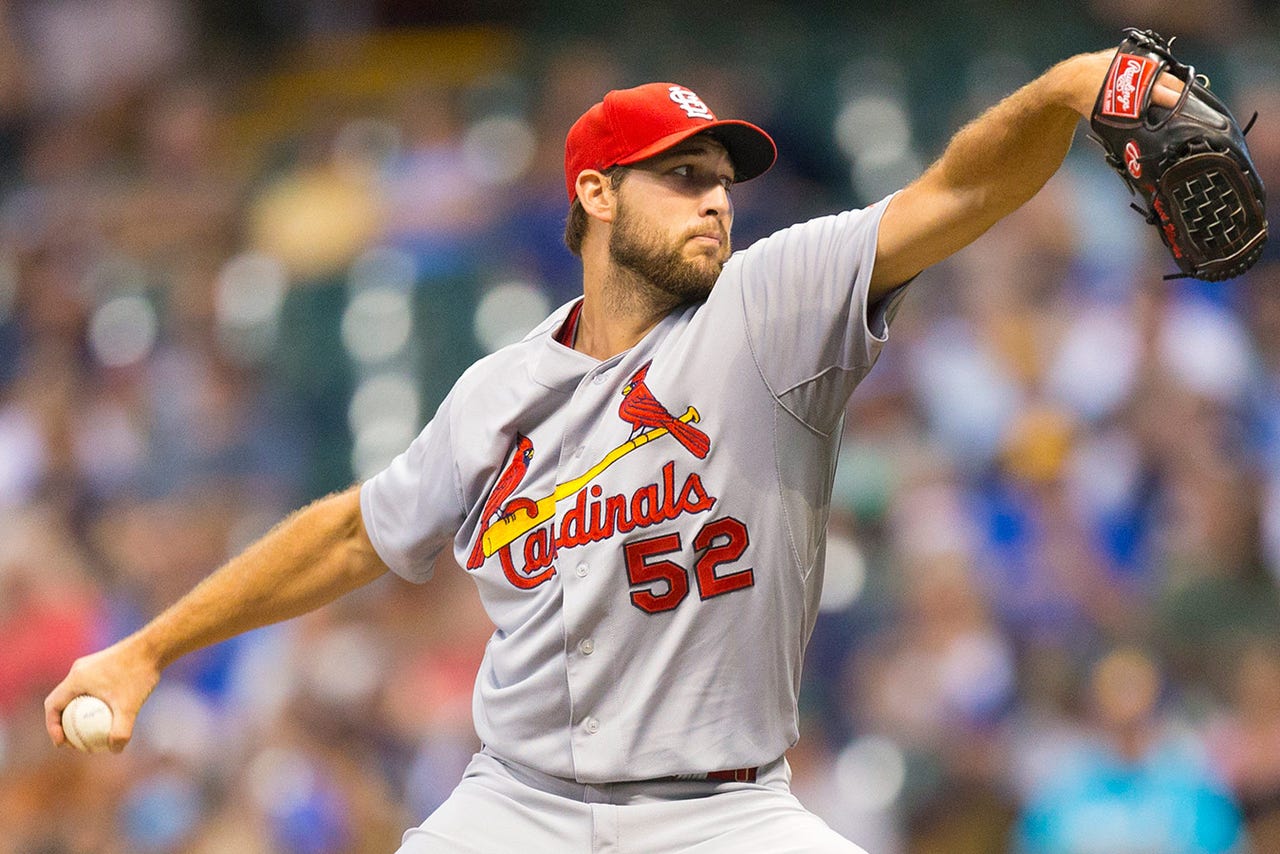 MILWAUKEE -- So much happened during the Cardinals' 3-2 victory over the Brewers on Thursday night that it was easy to overlook the most important development.
There were three run-saving highlight catches in the Cardinals' outfield and two botched plays in the infield. There was Matt Carpenter getting nailed running from second to third by a Matt Holliday grounder that cost the Cardinals a run. There was Jon Jay being thrown out at home trying to score on a fly ball to right, but not until Brewers third baseman Hector Gomez had blocked his view of the right fielder, in the opinion of Mike Matheny, anyway. There were baserunners on both teams left stranded all night, 11 for each side.
There were the Cardinals stretching their winning streak to a season-best six games. There were the Brewers losing a ninth straight game, completely offsetting a nine-game winning streak in April that vaulted them into first place all the way until they were overtaken by the Cardinals this week.
As Matheny said, "We had all kinds of messes out there."
But make no mistake: The No. 1 takeaway from this three-hour and 35-minute contest was the successful return of right-hander Michael Wacha.
You could say the triumphant return, except Wacha was on a pitch count and did not go the requisite five innings to earn the win. That went to Marco Gonzales, who followed Wacha with 2 2/3 innings of solid work.
Wacha, out since June 17 because of a shoulder injury, made good use of his 50 pitches. He lasted three innings and gave up three hits and one run, which came on a first-inning double by Jonathan Lucroy. Wacha, however, would have given up at least one more run if not for a diving catch by Jay.
Still, his fastball touched 97 mph, he walked only one and -- perhaps most impressive -- made good use of a curveball that opposing hitters have not seen much in Wacha's short time in the majors.
"I was very happy with it," Wacha said of the outing. "It was great getting back out there on the mound, into a game. I was able to throw strikes, command with pretty much all my pitches. Ended up getting a big win here. It's been a good day, for sure."
About relying so much on the curve, he said: "Curveball had been looking good coming back after the injury, in the bullpens and then in the rehab start (Sunday). I think it will be a good pitch for me from here on out."
Watch the Cardinals Live pregame and postgame shows before and after every St. Louis Cardinals game on FOX Sports Midwest.
"His curveball has improved so much this season," Matheny said. "It's been a pitch he's going to in deep counts and behind counts."
The view from the outfield was no less impressive, said center fielder Peter Bourjos.
"He looked sharp. Velocity is back, looked like his breaking ball was sharp, he was down in the zone with his fastball. I'm excited to get him back."
Wacha said he felt like he could have continued his outing but with 60 pitches about his limit, Matheny lifted him after the third so Gonzales did not have to enter in the middle of an inning.
"I definitely wanted to keep going, but I know they had a plan set in place," Wacha said. "My arm feels great, still feels strong after those pitches."
Wacha is expected to start again Tuesday in Cincinnati and, if all goes well, his pitch count could go up to about 70. With time to make four more starts in the regular season, Wacha figures to be built up to 100-plus pitches by the end of the regular season.
That would put him at full strength for the playoffs. A lot still has to happen for the Cardinals to make it to October, of course. But after all that has happened lately, that is looking more and more likely.
3 UP
-- Outfield defense. As Matheny pointed out, playing Bourjos in center allows Jay to play right and gives the Cardinals two guys who can cover a lot of outfield. They covered plenty in this game, with both making highlight catches that saved runs. Jay actually made two run-saving catches, and both came with Khris Davis batting. In the first, Jay rushed in and made a diving catch with two out and a runner on third. In the sixth, with two on, he went in the other direction to make a jumping catch on the warning track while running full speed.
With two on in the eighth, Bourjos might have topped both of those when he raced to the center-field wall and, running near full speed and with his back to the plate, pulled in Logan Schafer's fly one step before jumping into the fence.
"I thought that ball was gone," Matheny said.
Said Bourjos: "I felt like I got a really good jump on it. Felt like it was going to be right at the wall. I didn't think it was going to be out. I was just trying to get back to the wall to get there in time."
-- Kolten Wong. The rookie second baseman continued to do his best hitting with two outs.  His ground single to left in the third drove in Matt Holliday and gave Wong 38 RBI for the season -- 28 of which have come with two outs. Only Holliday has more two-out RBI on the club than Wong, who is hitting .333 with two outs and runners in scoring position.
-- Holliday. He took over the major-league lead when he was hit for the 17th time, taking a 96-mph fastball on the left arm just above where he was hit the other day. Holliday also continued his hot hitting with three singles and, as he has done so often this year, also made a hard out on a line drive to right field.
3 DOWN
-- Matt Adams. A checked swing on Wednesday resulted in a strained left oblique that has left Adams day to day and prompted Xavier Scruggs' promotion. Adams is mired in a 7-for-52 slump since Aug. 19 and was due for a break anyway, Matheny said before the game: "He was fighting himself at the plate. Hopefully, that's something he can work on, clearing his mind and starting to think about his swing."
-- Scruggs. He found out Wednesday night he was being called up for the first time but he didn't find out he was in the lineup until he reported to Miller Park on Thursday. His major-league debut could have gone better. At the dish, Scruggs went 0 for 3 and reached once on a hit by pitch. He was shaky on defense, at least on one play. He fielded a grounder fine to start the Brewers' eighth but then air-mailed a throw to Pat Neshek on the way to covering first. The error led to a two-on, one-out situation, but the Cardinals were saved by Bourjos' catch on Schafer.
-- Jason Motte. His first appearance since Aug. 1 did not go all that well. Called on with one out in the sixth, Motte faced three batters and gave up a bloop hit, a four-pitch walk and a very loud out before Matheny pulled him. Motte left the bases loaded for Seth Maness, who induced a pop-up from Schafer that ended the inning and left the Cardinals in front, 3-2.
You can follow Stan McNeal on Twitter at @StanMcNeal or email him at stanmcneal@gmail.com.
---