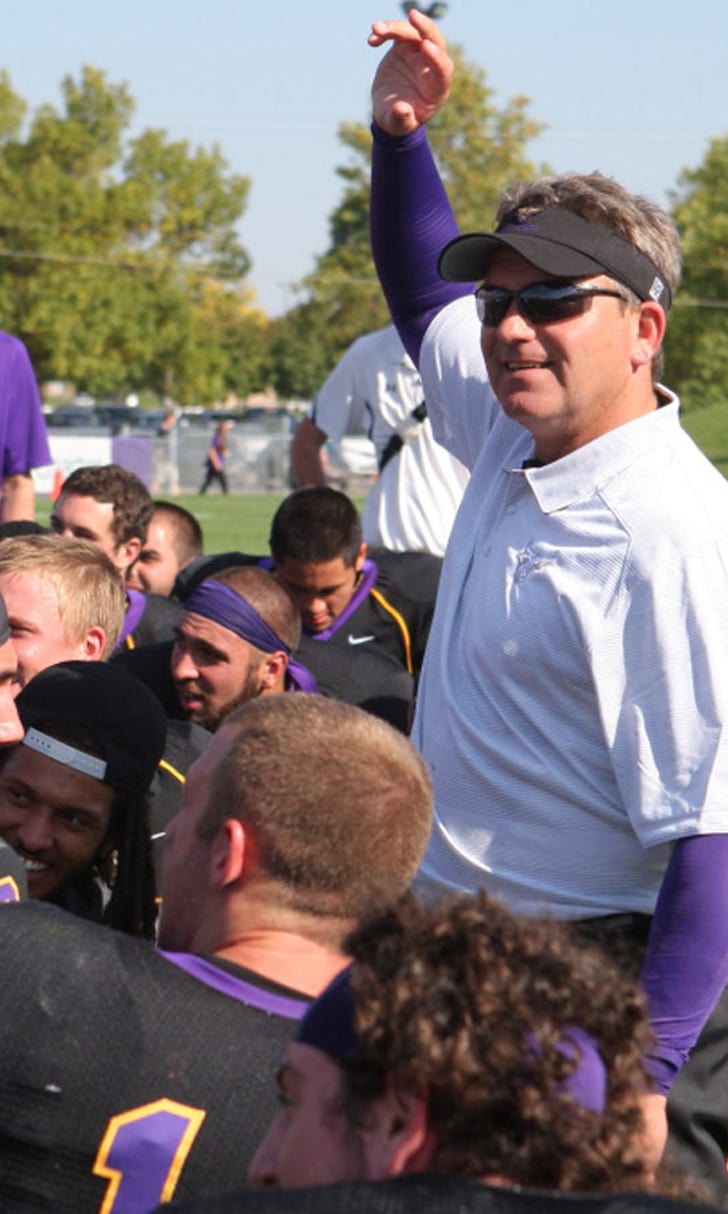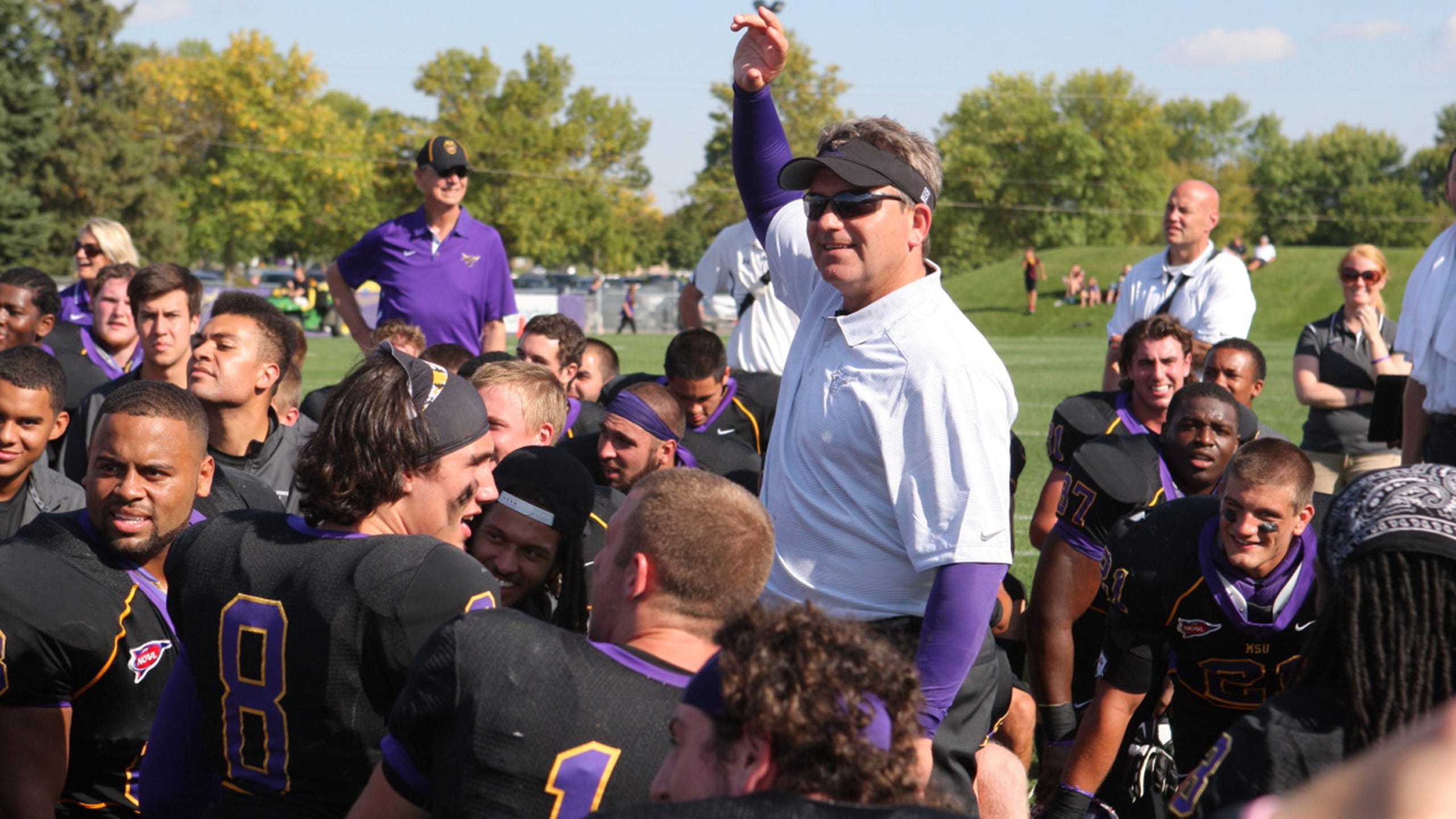 Vindicated of child porn charges, Hoffner has forged ahead at Minnesota State
BY foxsports • November 25, 2014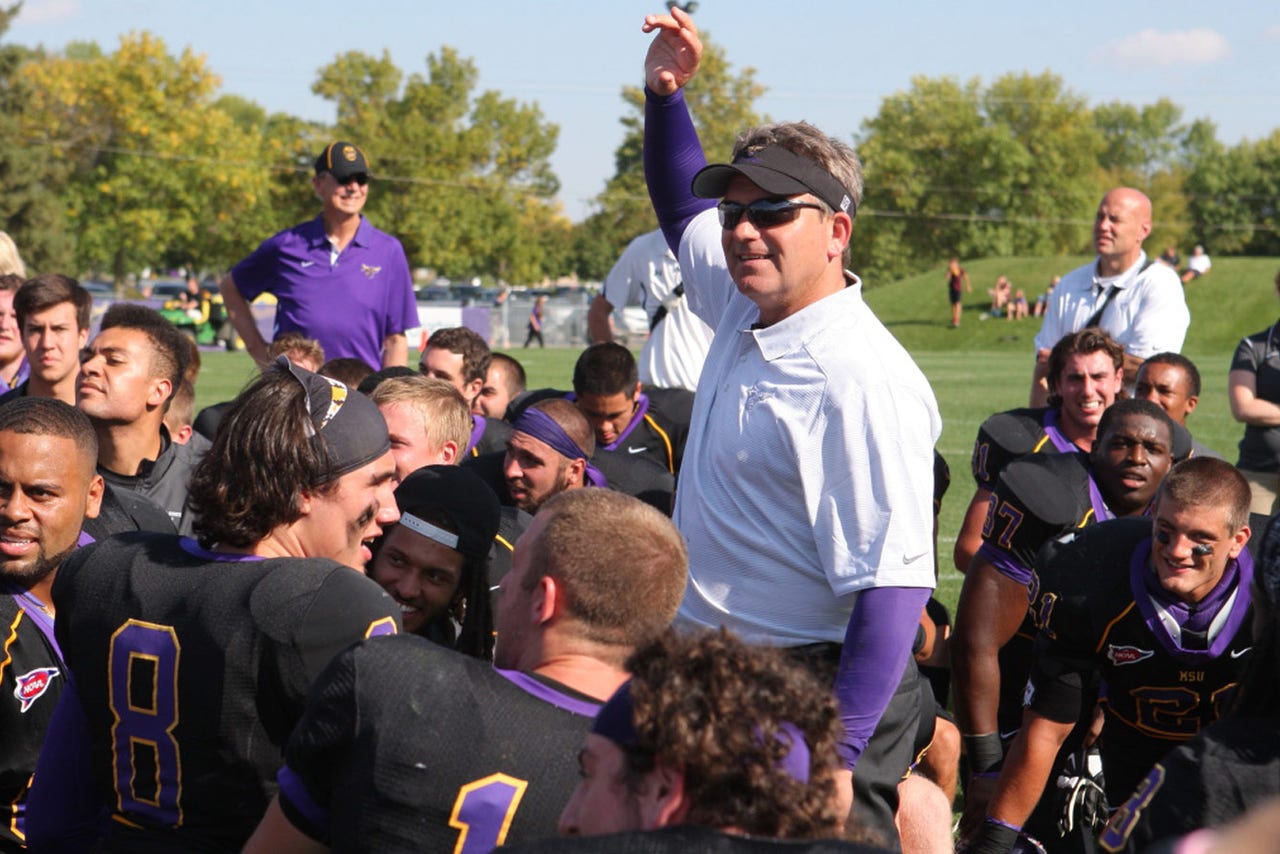 MANKATO, Minn. -- On a brisk, tranquil November Saturday morning in south-central Minnesota, downtown Mankato is quiet. Serene, save for the occasional passing of a car and the shuffle of elderly couples ducking into the Blue Earth County Library. Across Riverfront Drive, ice coats the ground below a Native American memorial the size of an urban backyard, nondescript and easy to miss unless you're looking for it.
Reconciliation Park, they call it.
Behind a pair of oversized faux scrolls and a limestone buffalo statue, a line of trees separates the small commemorative space from the Union Pacific Railroad. A pair of rusty, gray, graffiti-adorned Cargill coal cars sits off to the right. Beyond the train tracks, runners and bikers can navigate the banks of the Minnesota River.
About a mile up Warren Street, past St. John the Baptist Catholic Church and a handful of homeowners out raking their yards, Minnesota State's Blakeslee Stadium begins to teem with the sights, sounds and smells of game day. The band begins tuning up its instruments; they had autumn in the Upper Midwest this year, unlike last year's record-breaking cold season. Concession stand staffers start showing up for duty.
The school's purple-and-gold signage against the backdrop of its red-brick architecture fittingly welcomes the Minnesota Vikings for training camp every August. They take their football seriously after NFL training camp, too, as a premier destination for the vast pool of small-college talent Minnesota high schools churn out year after year.
As you drive up the river bluff toward campus, you can feel the slight change in altitude in your eardrums.
The top team in Division II football is hours away from another victory in an undefeated regular season. But down here, away from the chaos of collegiate life, it's peaceful. Detached.
This space is one of several remembrances dedicated to the U.S.-Dakota War of 1862. On Christmas of that year, the United States Army hung 38 Dakota Native Americans by the neck here -- the largest mass execution in U.S. history. One giant scroll lists all their names, the other is a poem and a prayer dedicated to mercy and understanding between the two sides centuries after the conflict.
Small icicles hang from the bottom of a pair of red benches angled toward the monument. On each is transcribed the same phrase, one that's integral to the story of this 40,000-person town, the state's sixth-largest when the Twin Cities' suburbs are lumped in with Minneapolis and St. Paul.
"Forgive everyone everything."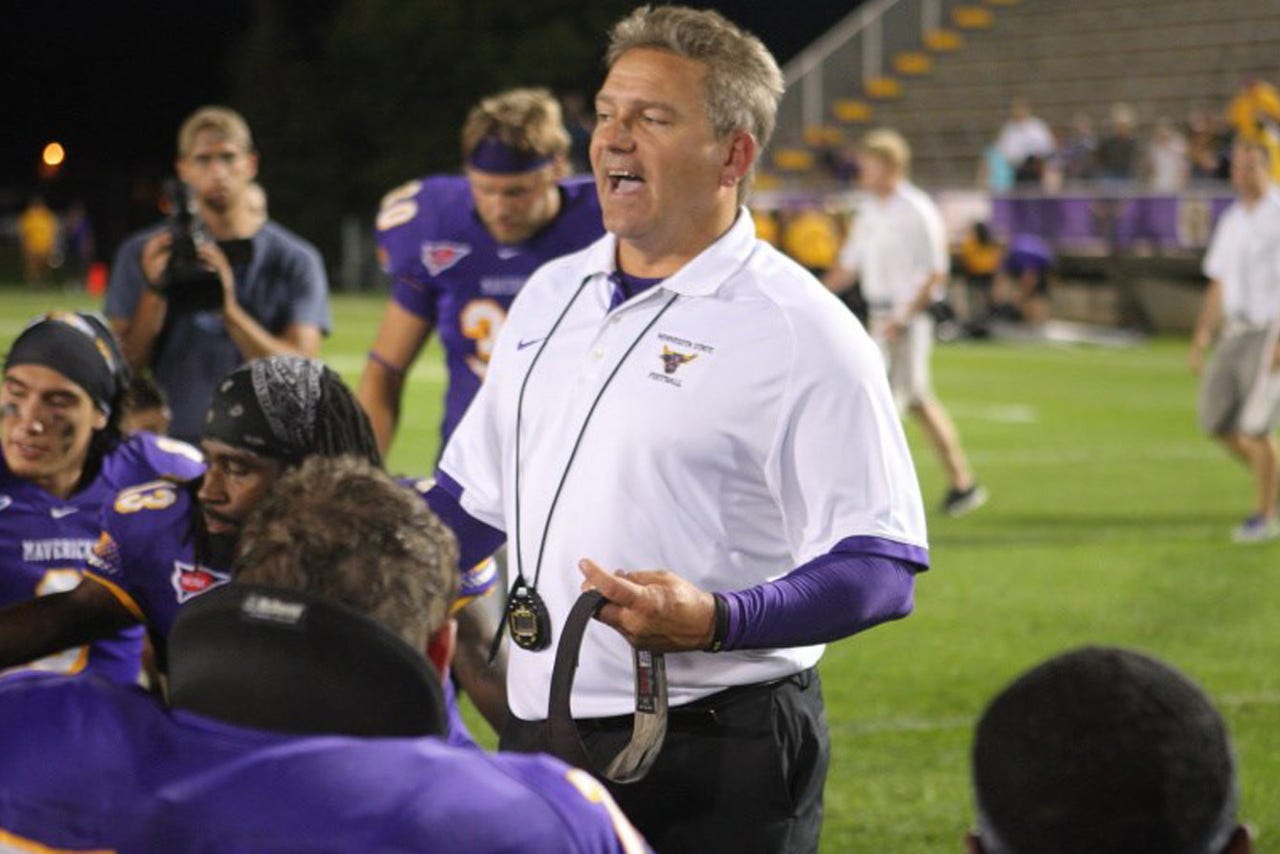 In five seasons as head coach at Minnesota State-Mankato, Todd Hoffner's teams have gone 45-13.

***
Around the turn of the 20th century, Todd Hoffner's grandfather defected from Germany to Odessa, Russia. Years later, he brought his family to America, eventually settling on the rugged plains of North Dakota to farm.
Hoffner, Minnesota State's head coach, grew up in the town of Esmond. When he was in high school, its population numbered about 300. Today, it's a third of that.
The Hoffners cultivated small grains -- corn, wheat, barley. Like every Midwestern kid who grew up on a farm, Todd was in the fields from dusk till dawn, usually pulling a 47-feet-wide cultivator around on a tractor, tilling and planting on the family's 5,000 acres.
On a good day, the signal from Bismarck radio station KFYR would come in on his radio. When it didn't, he'd spend the hours daydreaming, generally about something football-related.
"You have to stay awake," Hoffner said.
The mild-mannered, hard-nosed coach can count on one hand the number of channels his family's rabbit-ears antenna pumped through into their television. Most Sundays, Hoffner and his parents, four brothers and sister would crowd around it for Vikings games.
His parents, who both still live on the farm, taught him about setting goals. And achieving them.
After playing in the state semifinals his senior year of high school and four years as a cornerback and track-and-field hurdler at Valley City State University, Hoffner's football objectives centered on coaching. Even before graduating, he landed a co-head coaching gig at a local high school that played nine-man football. He then served as an assistant at Division III Wisconsin-Stevens Point, where he met his wife, from 1991-98. For seven seasons after that, he oversaw Wisconsin-Eau Claire's program, then became South Dakota's offensive coordinator.
Twice during that time, Hoffner inquired about and was turned down for the Minnesota State job. In 2008, after the departure of Jeff Jamrog to become Nebraska's assistant athletic director for football, athletic director Kevin Buisman hired Hoffner on try No. 3, citing his charisma and a personal employment campaign that included showing up at a Mavericks hockey game and shaking hands for three hours.
"You could tell he made an immediate connection with the community," Buisman said.
It only germinated when, in one year, Hoffner turned around a program he called "a sleeping giant," leading it to a 9-3 record and its first Division II playoff appearance since 1993. The next year, Minnesota State went 10-2 and hosted the first postseason game in Blakeslee Stadium history.
Hoffner put together an effective staff and expanded the program's recruiting ties beyond the traditional radius of Minnesota and Wisconsin and into Nebraska, Iowa and Chicago. He brought in bigger, stronger linemen and instilled a smashmouth, chippy team persona.
The wheels were rolling. Then one day at practice, Buisman came out in jeans and sandals and delivered news that rocked the train off its tracks.
***
With curly, salt-and-pepper hair gelled into an upright position and one leg comfortably folded over another, Buisman sits in a meeting room adjacent to his office less than two hours before kickoff. Renderings of the university's massive facilities overhaul plan hang on the wall.
Buisman is a man devoted to detail. This week, he's made preliminary plans to work around the Thanksgiving holiday as the Mavericks ready for the postseason and discussed with Hoffner the complications of practicing outdoors when daylight savings time switches off.
But on Aug. 17, 2012, the 50-year-old Iowa native didn't have any details when he pulled the coach he hired out of practice. A human resources worker handed Hoffner a piece of paper saying he was being placed on administrative leave and was banned from school grounds.
What followed was the gripping saga of Hoffner's arrest on child pornography charges, his legal exoneration, his firing and eventual reinstatement after almost two years of legal back-and-forth and muzzled response from Minnesota State administration throughout.
Hoffner wasn't told why the school acted the way it did that day of preseason practice. In many ways, he still hasn't received a full explanation.
But he's here, legally and personally vindicated, he feels. And after a tumultuous time that's seen him, his family and his program taxed repeatedly, the Mavericks are ranked No. 1 in D2football.com's top 25 poll and host Pittsburg State in the second round of the NCAA playoffs Saturday.
"I don't know where you could go off in a corner of the country and sort of retell this story," Buisman said, "and have people believe that all this is factual, that it's not some Hollywood script for a movie."
***
A week before being removed from practice, Hoffner took his broken BlackBerry into the school's IT department for a repair. The technician working on it discovered videos of Hoffner's naked children. On Aug. 21, five police cars showed up at Hoffner's suburban, white-vinyl-siding home in Eagle Lake, Minn., and arrested him on suspicion of producing and possessing child pornography.
The coach spent the night in jail. Drew immediate comparisons to Penn State assistant Jerry Sandusky, currently serving out a life sentence for 45 charges of sexual abuse of young boys. Was shunned in the neighborhood he and his family had made their home. Watched helplessly as his wife, Melodee, vomited because of stress and began taking medication to handle the anxiety of her husband losing his job, his reputation and his means of providing for them.
She stood by her husband, though, calling the charges "ridiculous and baseless" at a news conference.
"Between my wife and I, we endured the most pain," Hoffner said. "It was very painful for the both of us. My wife knows me, I know who I am, and the things that I was being accused of were the most ridiculous things I'd ever heard in my life."
After Hoffner testified in his own defense he was merely filming a playful, bath-time skit of his children -- then ages 9, 8 and 5 -- a judge dismissed the charges. That wasn't enough for the school, though, which placed Hoffner on 20 days of unpaid suspension, reassigned him to a token position on the other side of campus and eventually fired him.
Again, no explanation.
Not until an arbitrator upheld Hoffner and his legal counsel's appeal of his termination in April was the debacle resolved. Minnesota State was legally obligated to either reinstate Hoffner or pay him the difference in his salary, worth six figures. By then, Hoffner had taken a job at Minot (N.D.) State, and interim coach Aaron Keen had led Minnesota State to a combined 24-2 record and two more NCAA berths, including a spot in the 2012 national semifinals.
"Basically, it's kind of like sitting in a penalty box and somebody else is skating out your minutes," Hoffner said. "You can sit there, you can see it, you can watch it, you can almost touch it, but you're ostracized a little bit."
***
Seated in a booth in the corner of Noodles and Company across the street from Minnesota State's athletic offices, Hoffner taps his No. 9 meal marker against the table, sipping a Diet Coke with his other hand. Before sitting down, he goes over and shakes the hand of Ryan Schlichte, a local Mavericks commit at quarterback, and says hello to the Mankato West senior's girlfriend. Before Hoffner's Penne Rosa shows up, he fields a call from the father of Isaac Kolstad, the former Minnesota State linebacker who suffered irreparable brain damage after a bar fight involving the University of Minnesota's former quarterback. Wayne State, the Mavs' upcoming opponent, plans to honor Kolstad before the game, and Hoffner signs off on the final details before digging into his pasta, tomato cream sauce, spinach, tomatoes and mushrooms.
"I said I had two goals when the whole thing started: one goal was to be exonerated, and the other was to be vindicated," Hoffner says between mouthfuls. "I was exonerated of any criminal charges, and vindicated of all wrongdoing by the university. It took a very long time to accomplish that, but it would not have come to fruition without perseverance and that mentality and work ethic that I grew up with and my parents taught me -- to never give up, to never quit."
When his hands aren't rapping on the table, they're being used to illustrate a point. The coach recounts his story, from that night in jail all the way back to the sideline, with brutal honesty and fierce admonishment, occasionally drifting into coach-spoken football platitudes.
"Whatever the storm is, you have to weather it," he says. "Nobody can predict the next hurricane, avalanche, tornado. Whatever happens, your ability and your mindset to deal with things is all you have."
Hoffner says he learned that during rough harvest seasons on the farm. Through the pain, embarrassment and gut-wrenching uncertainty that's marked the past two years of his life, he somehow held fast to it.
Today, he's a free and fulfilled man, one who can share his thoughts on the ordeal openly without fear of retribution. He's recalled the night he filmed his kids over and over and over, still amazed at what a harmless act he thought he was partaking in.
The story has been told as many times as Hoffner has gone over it in his mind, the same way he dissects film tirelessly and strives to relate to the 18- to 22-year-olds he's charged with molding into winners. Kids come downstairs after taking a bath and ask dad to record a skit they're performing. Taking a brief break from some football-related work, dad obliges. Kids drop their towels and begin dancing naked, laughing, shouting and singing.
Three videos. A total of 102 seconds. And a life-altering decision Hoffner says he still would never think twice about.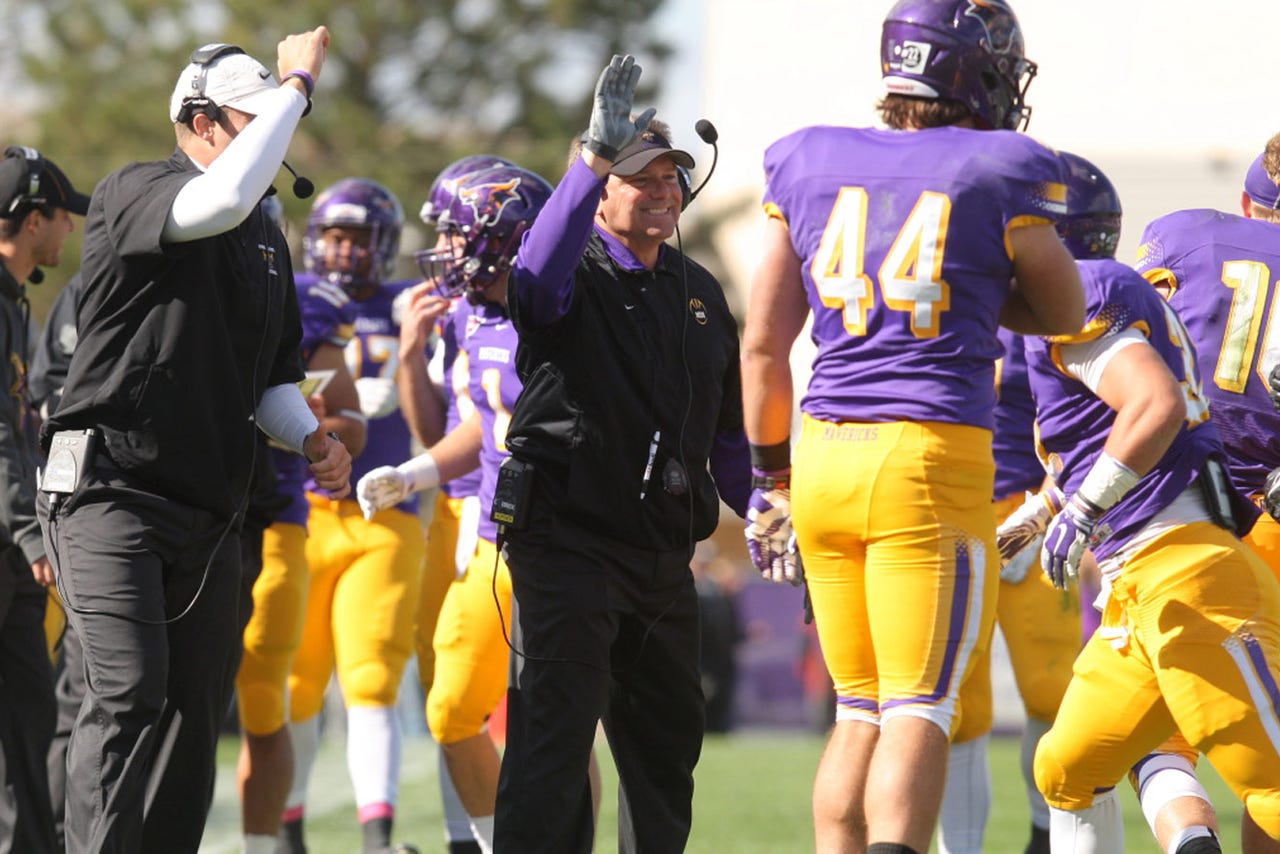 In April, an arbitrator ruled Todd Hoffner had been wrongly fired by Minnesota State and must be reinstated.
"For a father to see his own children naked is not a very big deal," Hoffner said. "If it's OK for our children to be around the house when they're young with or without clothes and it's not OK for some other parents, that's individual parenting. There is no harm being done to my children either way that you raise your child. There's none."
Hoffner stops. Laughs. Pauses. Continues. "I don't know, it's ridiculous. To be accused of that is absolutely beyond my wildest dreams."
The fallout spread like wildfire among dry, outstate Minnesota timber. The Sandusky comparisons came quickly. So did a kneejerk reaction among the locals: the top football coach in town is a pedophile.
"At first, when you hear 'child pornography' or anything like that, you have a negative connotation," said John Harrington, the Mavericks' radio color commentator, a Minnesota State booster and a close friend of Hoffner's.
But this was the most heinous possibility in an egregious category of misconduct: using one's own children to create pornography, as Blue Earth County Assistant District Attorney Mike Hanson accused Hoffner of in court.
A lot of people changed their minds once Blue Earth County District Court Judge Krista Kass ruled the videos contained nothing but "nude images of Defendant's minor children dancing and acting playful after a bath" and that "at no time did the children perform a lewd or erotic act."
Goal No. 1 – exoneration -- was in the books. The second objective, though, would take much longer.
While Hoffner waited for the rest of the process to play out, local support was overwhelmingly positive, he said.
His children, who were only told their father was on sabbatical between stints as Minnesota State's head coach, never came home from school with news a peer had ridiculed them for getting their dad fired. The Hoffners' mailbox was full of encouraging letters. Their phone rang constantly with words of support.
But it wasn't coming from the school itself. A second investigation into matters separate from the cellphone videos, the arbitrator found, led to Hoffner's dismissal. Minnesota State accused him of viewing porn on a work-issued computer – a charge he denies given that others had access to the computer -- and letting his wife use the same machine. The arbitrator wrote off the first allegation and said the second one was not a fireable offense.
With the family's resources running desperately low, Minot State -- about 90 miles from Hoffner's home, which allowed his family to avoid moving right away – gave Hoffner a $90,000 salary. But in what he says was a terribly difficult decision, he came back to finish what he'd started before a two-year hiatus he never, ever wanted. Had he stayed at Minot, Hoffner says, his second goal would've gone unfulfilled.
"He's a genuine person," Buisman said. "He'd been successful here. This was his community. This was his family's community. And as challenging as that situation was, his goal throughout was, 'One day, I want to go back and be restored as that coach and go back to being in charge of that program and demonstrate that I can persevere and continue to be successful.'"
***
The same day as Minnesota State's Nov. 1 home game, Aaron Keen is stalking the sideline at Eastern Michigan's Rynearson Stadium. First-year Eagles coach Chris Creighton hired Keen away from Mankato before this season to coach special teams and tight ends.
Keen jumped at the FBS-level opportunity shortly after Hoffner regained the reins at Minnesota State.
Hoffner had hired Keen as his offensive coordinator at the recommendation of Nebraska-Omaha coach Pat Behrns. Omaha dropped football in March 2011, and Hoffner brought Keen on to oversee an offense ranked as one of the country's most efficient during his tenure.
Buisman immediately turned to Keen when Hoffner was put on leave. Keen and the Mavericks didn't miss a beat, going 13-1 in 2012 and 11-1 the following season.
"The foundation was laid," cornerback Justin Otto said. "The program was here. He stepped in, he took over and was a great leader. He picked up where we were already headed."
Keen, who declined comment for this story via an Eastern Michigan spokesman, had long had his own ambitions of becoming a head coach. But the arbitrator's ruling put him in a difficult situation, one Hoffner said he understands.
"He's being told that I'm never coming back," Hoffner said, "and even if I do, they'll buy me out." The players were given a similar impression, Hoffner said.
Indeed, Minnesota State had appeared to move on. But Buisman disputed Hoffner's claims, saying he never recalls players being told flat-out the job was Keen's for good.
"There was a lot of uncertainty about what was going on," Buisman said. "Until there was any change, Aaron would be directing the team on an interim basis."
The change came. It just took 20 months.
***
Mavericks offensive lineman Herschel Prater grew up in Ferguson, Mo., the sight of the Michael Brown shooting that has grabbed national headlines. The St. Louis suburb wasn't widely recognized before the incident, but Prater was all too familiar with its dangerous streets and frequent gang activity.
The kind of full football scholarship Minnesota State provides was his way out. Hoffner gave it to him.
Standing on the practice field next to Blakeslee Stadium, Snoop Dogg blaring in the background (a banned practice until Keen took over), Prater says he was just as surprised and confused as anyone when Hoffner was put on leave and later terminated.
"We didn't think about that at all," Prater said. "We were just like, 'Oh, that happened? Wow.' But we had to focus on football. We probably fell a little bit -- we didn't even fall; we tripped -- but we still kept going."
And though Hoffner recruited many of them, Keen directed those players to the club's best-ever finish in 2012. Hoffner became an afterthought.
Until he showed back up on campus April 15 following his reinstatement.
Confused, frustrated and feeling like they'd been kept out of the loop, the players boycotted spring practice the following day. When Hoffner was let go, their mantra became "flush it" -- move on, leave the past behind.
But the past was back.
"No one told us anything; they just start doing things," Prater said. "No one asked how we felt about the switch."
After an apology from Buisman and Minnesota State president Richard Davenport, this would be Hoffner's first test in his second stint in charge. He opened the floor during a two-hour meeting the next morning, asking his disgruntled players to address any and all issues they had.
In addition to what they perceived as a lack of communication, Prater and his teammates discussed changes Keen had instituted as a more laid-back, friendly leader in contrast to Hoffner's strict, straight-laced style. Hoffner assured them he'd reevaluated his own philosophies during his time away and vowed to be more open than he'd been before.
By the end of the gathering, Minnesota State's players had agreed to practice the following Friday.
"It was a tremendous venting session for everybody in the room," Hoffner said. "It was great. They didn't hold back, and I thought that's been very healthy moving forward.
"I think I've changed. I think I've learned to absorb the feedback and grow from it. Good, better, indifferent, you've got to take things the way they are and try and learn from any experiences you have."
Said defensive back Patrick Schmidt: "He loves the game. He loves us. That's what's important."
***
Three hours ahead of a 1 p.m. kickoff, Mankato's small downtown bar district is mostly abandoned. The folks who do drive by are friendly, waving at pedestrians to cross in front of their cars. At the intersection of Cherry and Front Streets, an early-shift server walks into Blue Bricks Bar and Eatery, its glass door and angled windows multiplying her reflection threefold.
It's on this street corner that former Gophers and Rutgers quarterback Philip Nelson was involved in an altercation with Isaac Kolstad early the morning of May 11. Nelson, a Mankato native who's since been kicked off the Scarlet Knights team, allegedly kicked the former Mavericks linebacker in the head as he lay on the ground unconscious due to a punch from another man. Kolstad was initially "fighting for his life," according to his father, but has made significant process in his recovery.
There were days when Hoffner lamented his lot in life. And there were days when his players wondered how the heck they'd received so much more than they'd bargained for when they signed with Minnesota State.
But seeing one of their own battle back from a coma to lead them onto the field earlier this season casts a different light on the entire picture, Hoffner said.
"Anybody that went through what he did pales in comparison to what I went through or student-athletes went through during that whole timeframe," Hoffner said. "Putting all that in perspective, if that's the worst thing -- my situation -- those student athletes go through, I think their lives will be OK."
***
Sioux Falls has the ball at the Minnesota State 17. On fourth-and-3 with 8 1/2 minutes remaining and trailing 17-14, the Cougars decide to go for it. After all, they've moved up and down the field all afternoon, led 14-10 in the third quarter and can either tie or regain the advantage. Wind howling through the Minnesota prairie has made kicking a dubious task, so the former NAIA club attempts to inch closer to paydirt.
The fullback shifts out of the backfield, leaving it empty. Kris Fleigle times his blitz perfectly, converging with fellow linebacker Tyler Henderson for a 4-yard sack and a turnover on downs.
"They didn't think we were coming," Fleigle will tell reporters afterward.
Three plays later, a 70-yard touchdown run by tailback Connor Thomas puts the game away and keeps the Mavericks' record unblemished. They go on to blow out Wayne State and Upper Iowa in the regular season's final two weeks, earning a week of rest and a date with destiny against Pittsburg State.
The crowds are bigger than they've ever been at Blakeslee Stadium. And for the first time in a long time, the focus is back on football.
No more paparazzi stakeouts outside the Taylor Center, where Minnesota State's coaches keep their offices. No more prepared statements from players saying they refuse to practice. No more days of Hoffner feeling imprisoned and rejected for something he didn't do.
When the players showed up for that first spring workout in sweats in April, a Deadspin.com article concluded with this:
Hoffner wants to be MSU coach, but Mankato doesn't want him. The players want Keen, and Keen wants to coach them, but the university's hand is forced. This will undoubtedly take more turns before it's over, but it's almost assured that it won't have a happy ending.
Prater, the offensive lineman from Ferguson, Mo., doesn't read Deadspin much. But he laughed when that excerpt was read aloud to him.
"We'll have a happy ending regardless," Prater said. "We're focused on what we focused on: winning every game, day by day, week by week, second by second and trying to get to a national championship."
Even Hoffner, like every coach a creature of the process, has allowed himself to wander that far ahead.
"Hopefully, we're destined for greatness," Hoffner said. "That would be an amazing feat to pull off."
***
Hoffner surely has theories as to why Minnesota State so adamantly opposed his employment. Those close to him do, too -- a personal vendetta, an overreaction to the Sandusky case, or some combination of the two.
"They were not very cautious," said Dennis Hood, another Hoffner confidant and booster who resigned his position as president of the program's touchdown club following the coach's dismissal. "They looked at the Sandusky situation, and I think the president acted like a deer in the headlights. He panicked. He overreacted. They should've just sat back and said 'Hey, what do we really have here?' None of this would've ever happened."
Buisman says the decisions were handed down to him from above. "I just did what I was instructed to do," he said.
Via a university spokesman, Davenport declined comment for this story, citing the same data privacy laws the school has hidden behind throughout the process. But the president did pass along the following written statement to FOXSportsNorth.com:
"I'm very proud of our football team and what it has accomplished so far this season. To have an undefeated . . . record and No. 1 national and regional ranking at this point in the season is a testament to all of the hard work and dedication of the student-athletes along with the outstanding work of head coach Todd Hoffner and his staff. As president of the university, I fully support Todd and the football team, and all of us at Minnesota State University, Mankato wish them continued success for the remainder of this season and the seasons to come."
Buisman did admit the administration could've handled things differently -- a fairly safe statement considering Hoffner's legal adjudication.
"I certainly am not going to give myself an A-plus for the effort," Buisman said. "It's one of those things that I think I'm perceptive enough that you're going to regain and restore confidence and trust over time. It's not going to happen overnight. It was a very tenuous time, and it's going to take some time to reestablish."
Regardless of motive, it's an extraordinary set of circumstances. Daily, Hoffner is immersed in work alongside men and women who saw fit to hit him with damning accusations and ultimately signed off on his firing.
Via his family and friends' support, his faith and a focus on "moving forward" -- the mantra around here since his reinstatement -- Hoffner says they're forgiven.
"I'm not a vindictive person. I'm not an ill-will person. I just know what's right," he said. "I'm a Catholic man, and that's part of the Catholic faith and belief system, is that . . . you've got to forgive."
"But," Hoffner added, "you'll probably never forget."
Not when his livelihood was taken away. Not when his reputation was sullied. Not when it took almost two years to right a wrong he thinks never should've been perpetuated in the first place.
"It's an unbelievable amount of time, and the amount of resources that were put into it are mind-boggling," Hoffner said. "For what?"
And try as he might, Hoffner never will fully leave behind the nightmare. Eventually, he says, he'll have to tell his children what really happened when daddy stepped away from coaching for a while.
But his goals have been achieved. And the lessons from getting there can be imparted, too.
***
The sun starts to set on Mankato after the Mavericks' 27-14 win. The 4,717 spectators in attendance go their separate ways.
Some of them cruise down Riverfront Drive, past the giant parchment representations by the train tracks serving as a reminder that while this place has been one of turmoil, it's also been one of reconciliation.
The last stanza of Katherine Hughes' poem on one of them says as much:
Hope for a future
When memories remain,
Balanced by forgiveness.
Follow Phil Ervin on Twitter
HOFFNER TIMETABLE
A look back at the tumultuous and prosperous Todd Hoffner era at Minnesota State.
Jan. 25, 2008: North Dakota native and former University of South Dakota offensive coordinator Todd Hoffner is introduced as Minnesota State's head football coach.
2008 season: The Mavericks go from 4-7 the year before to 9-3, win the Northern Sun Intercollegiate Conference South Division title and reach the NCAA Division II playoffs for the fourth time in school history and first time since 1993.
2009 season: Minnesota State finishes 10-2 and hosts the first NCAA playoff game in Blakeslee Stadium history.
2010 season: The program regresses, finishing 6-5 and missing out on the postseason.
2011 season: The Mavericks bounce back and go 9-3 in Hoffner's fourth season. They miss out on the NCAA playoffs but earn a share of the NSIC championship and a win against Northeastern State in the Mineral Water Bowl.
Aug. 10, 2012: Hoffner takes his broken BlackBerry phone into the school's IT department for a repair. While recovering Hoffner's photos and videos, a technician discovers footage of Hoffner's naked children. The technician immediately reports the finding to his supervisor, who turns the information over to Minnesota State's human resources department. A member of that department, in turn, notifies the police.
Aug. 17, 2012: Minnesota State athletic director Kevin Buisman pulls Hoffner out of practice. Moments later, the coach learns he's been placed on investigative leave and is no longer permitted on university grounds. He asks for an explanation but doesn't receive one.
Aug. 21, 2012: Five police cars pull up to Hoffner and his family's Eagle Lake, Minn., home and tell him he's under arrest on suspicion of producing and possessing child pornography. He spends the night in jail and is eventually told the charges are related to videos of his naked children recorded on his cellphone.
Aug. 27, 2012: Hoffner and his wife, Melodee Hoffner, hold a news conference saying the charges against the coach are "ridiculous and baseless," according to Melodee. Investigations by the school and Blue Earth County Assistant District Attorney Mike Hanson ensue.
Oct. 31, 2012: At a pretrial hearing, Hoffner testifies in his own defense that he filmed his children, then ages 9, 8 and 5, performing some sort of skit after a bath -- at their request. Early in the video, they dropped their towels and danced naked.
Nov. 30, 2012: Blue Earth County District Court Judge Krista Kass dismisses the charges against Hoffner, writing the videos "contain nude images of Defendant's minor children dancing and acting playful after a bath. That is all they contain." Not long after, the school launches a second investigation it says isn't related to Hoffner's child porn charges. Hoffner is placed on unpaid suspension, then later reassigned to a newly created administrative role -- assistant athletic director for facilities development.
Dec. 8, 2012: Under interim coach Aaron Keen, Minnesota State finishes 13-1 with a loss to Valdosta State in the Division II semifinals, marking the deepest postseason run in program history.
May 6, 2013: Minnesota State fires Hoffner but declines to state why publicly. The Inter Faculty Organization, a union which represents faculty at state universities, initiates the appeal process to challenge the termination.
2013 season: In Keen's second season as head coach, the Mavericks finish 11-1, losing to St. Cloud State in the first round of NCAA tournament play. Keen is named American Football Coaches Association regional coach of the year.
Jan. 30, 2014: Minot (N.D.) State hires Hoffner as its head football coach, paying him a $90,000 salary.
April 15, 2014: Minnesota State welcomes back Hoffner after an arbitrator upholds his appeal, ordering the school to reinstate Hoffner or pay the difference in his salary if he worked somewhere else (about $105,800). The arbitrator found the school accused Hoffner of viewing porn on a work-issued computer and that his wife was allowed to use the computer, a violation of employee policy. Hoffner denied viewing porn; the arbitrator ruled several other people accessed the computer, and that Melodee's Hoffner's access wasn't a fire-worthy offense.
April 16, 2014: The Mavericks players boycott spring practice, stating their desire to play for Keen. The next morning, Hoffner meets with the team for nearly two hours. After resolving their differences, the players return to practice the following day.
May 8, 2014: Eastern Michigan hires Keen as its special teams coordinator and tight ends coach.
Nov. 15, 2014: No. 1-ranked Minnesota State finishes an undefeated regular season with a 45-14 win against Upper Iowa. The Mavericks earn a first-round bye in the Division II playoffs and will host Pittsburg State at 1 p.m. Saturday at in the tournament's second round.
---
---