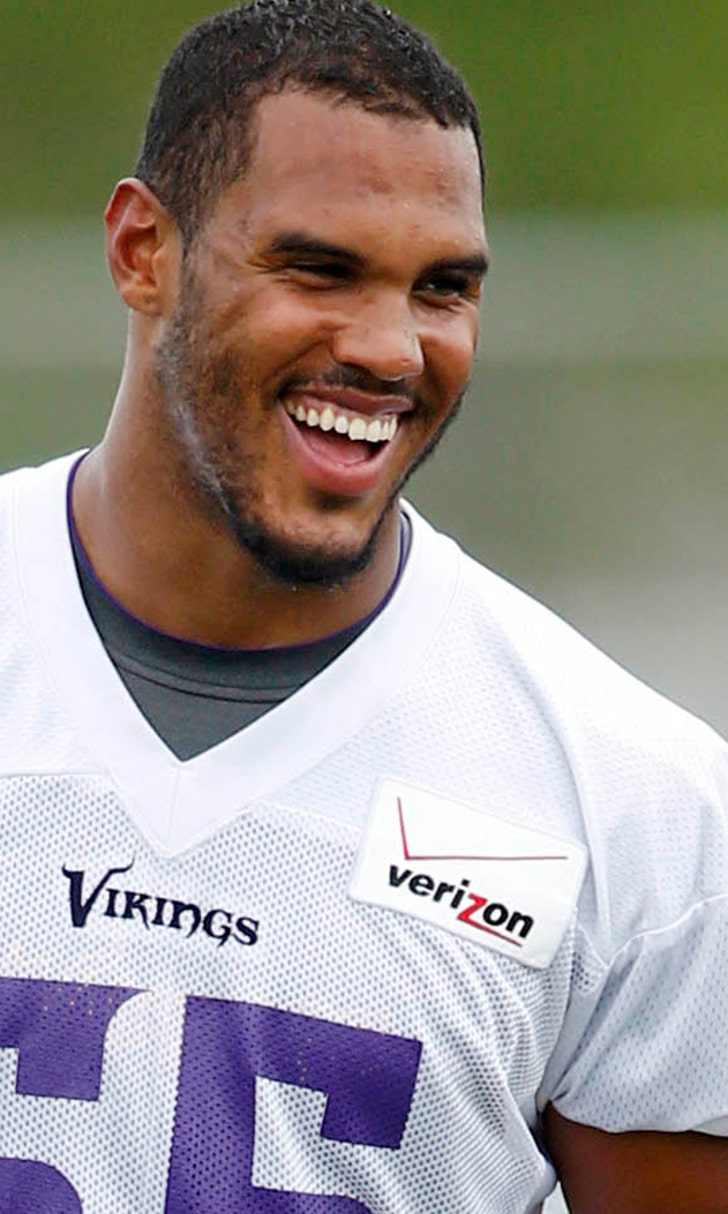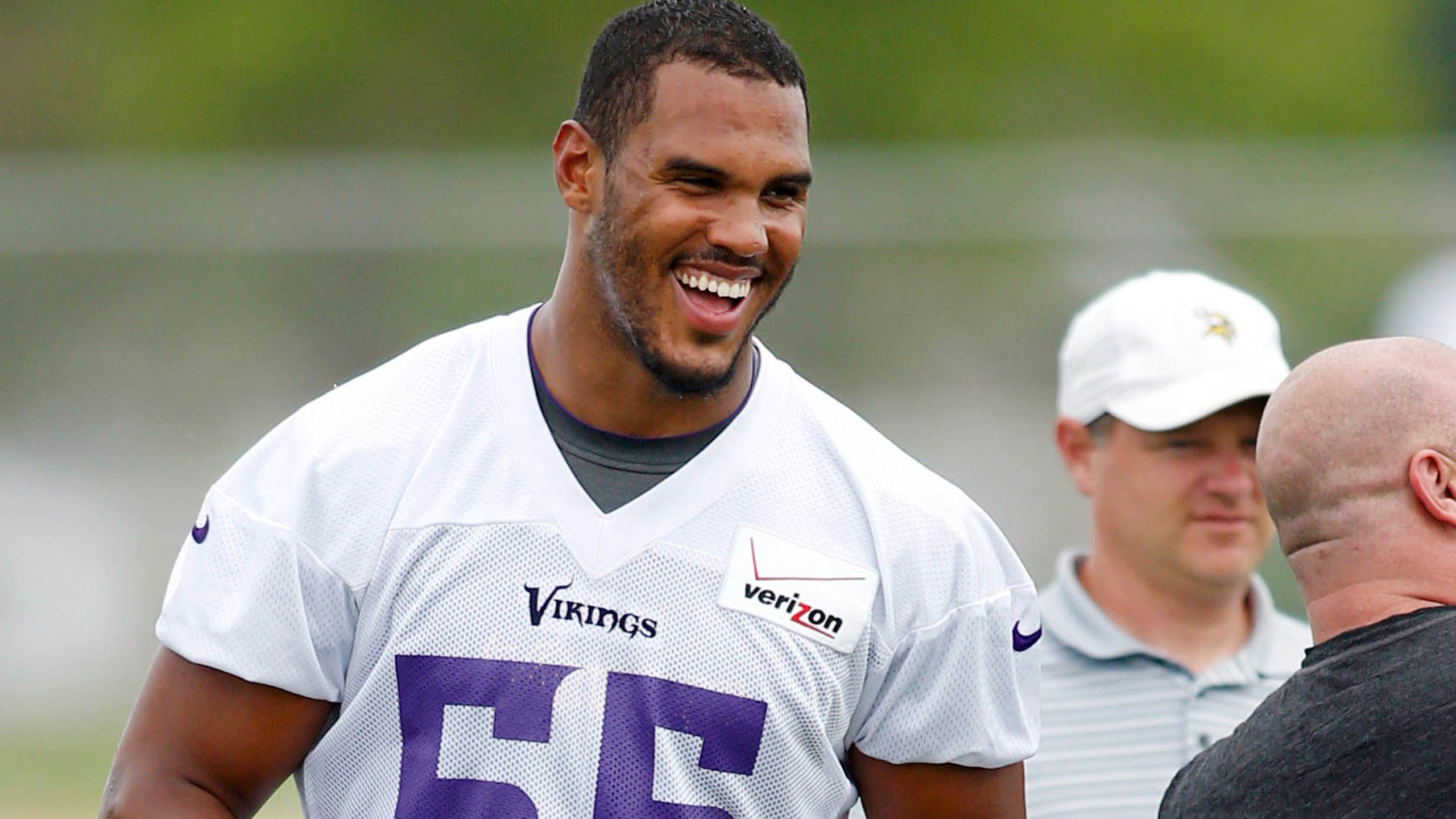 Vikings rookie LB Barr closing in on starting job
BY foxsports • August 2, 2014
MANKATO, Minn. --€" After inserting rookie linebacker Anthony Barr into the first-team defense this week, Minnesota Vikings coach Mike Zimmer was asked how Barr responded to the assignment.
Zimmer said he only noticed Barr, the team's first pick in the 2014 NFL Draft, when he missed a blitz. The defensive-minded coach might have been joking a bit about his new defensive project, but Barr certainly has his coach's attention.
The No. 9 overall pick in the draft, Barr has a "strong" chance to start in Week 1, Zimmer said.
"I would have said that after the first minicamp," Zimmer told reporters after Friday's practice.
Barr was one of the most physically gifted linebackers in the draft, a 6-foot-5, 255-pound package of strength and speed. In only two years as a linebacker at UCLA, had 23.5 sacks, 41.5 tackles for loss and 10 forced fumbles.
There is still upside to Barr's game, still techniques and responsibilities he will fine-tune over time. Yet, Barr's carving out a role immediately for the Vikings, who lack overall depth at linebacker.
"Anthony has so many good things going for him," Zimmer said Saturday. "He's extremely smart. He hardly ever makes the same mistake twice. He takes unbelievable notes and he's a great athlete. He's got great size, great speed, great acceleration.
"Now, there are still a lot of things he has to work on, but when he does things right it could be special."
Interestingly, Barr's reputation coming out in the draft was built on his ability as a pass-rusher. Playing in UCLA's 3-4 defensive system, Barr was an outside linebacker focused on rushing the passer. His transition to the NFL includes a move to Minnesota's 4-3 defense and more responsibility in coverage.
"We still need to develop him a little bit more in the pass rush," Zimmer said. "In college, he could run around guys. He can't do that here in this league. But he should be a very, very good player in this league."
Zimmer has plans to use Barr all over the field.
Since the beginning of training camp, Barr has rushed from the inside or outside, and dropped in coverage as the strongside linebacker. He's had his hand in the ground as another defensive end, and is currently working in the first-team nickel defense with Chad Greenway.
"It's definitely a challenge," Barr said. "But it's good and will benefit me. The more you can do, the more valuable you are. I look at it as a positive thing."
Barr said he's grown comfortable working with the first-team defense. Having his hand in the ground as a defensive end is a new experience. He said he might have been a down rusher "maybe two downs" in his time at UCLA.
Part of his instruction has included working with defensive line coach Andre Patterson to help his pass-rush moves.
"It is just like we saw him in college; there is a guy, with the skill set that he had, to be able to run in the open field, to be able to rush off of the edge, and to be able to stack and chase the ball," defensive coordinator George Edwards said. "We are excited with where he is right now. He seems to be doing a good job of retaining what it is we are asking him to do and transferring it out of the classroom to the practice field. We are seeing a lot of the flashes that you saw when we evaluated him coming out."
No matter where he lines up, Barr's talent has the coaches excited about the potential.
"My expectations of him are probably higher than for everybody else," Zimmer said earlier this week.
Those expectations also mean Zimmer is tough on Barr.
"I got after him a little bit yesterday on the field and he came over and kind of explained what he was thinking," Zimmer said. "But he doesn't get shook up. He doesn't go in a shell. I got after him pretty good yesterday."
Waiting on Yankey: Minnesota returns all five starting offensive linemen from last year and looks ready to head into the season with the same starting five.
Asked about guard David Yankey, the team's fifh-round draft pick, Zimmer said he's not ready to give Yankey first-team repetitions.
"Probably not for a while," Zimmer said, adding: "He missed so much time with coming from Stanford and missed all of the OTAs, so his technique's got a long way to go still. But that doesn't mean he won't get there. He's a smart kid, but he's working real hard on his techniques and his sets. He's not making many mental errors as far as who to block and things like that. But he's got to do a better job in the technical part of the game of what we're teaching him. That may take a little time."
Injury update: Tight end AC Leonard was present for Saturday's morning walk-through but did not participate. Leonard has been out since Wednesday when he left with a headache, according to Zimmer.
Zimmer said he doesn't know if Leonard is dealing with a concussion and said the undrafted rookie still has one more "test" to do.
Safety Robert Blanton is still out with a hamstring injury and Zimmer said he doesn't know a timetable for Blanton's return.
Cornerback Josh Robinson, also dealing with a hamstring injury, is getting closer to a return, but will be held out of the team's evening practice Saturday.
"He probably could go tonight, but we're probably going to hold him out," Zimmer said. "We have a day off tomorrow and then he should be good to go the next week. I'm pretty hard on the corners so they have to make sure they're out there and going and getting better all the time."
Follow Brian Hall on Twitter
---