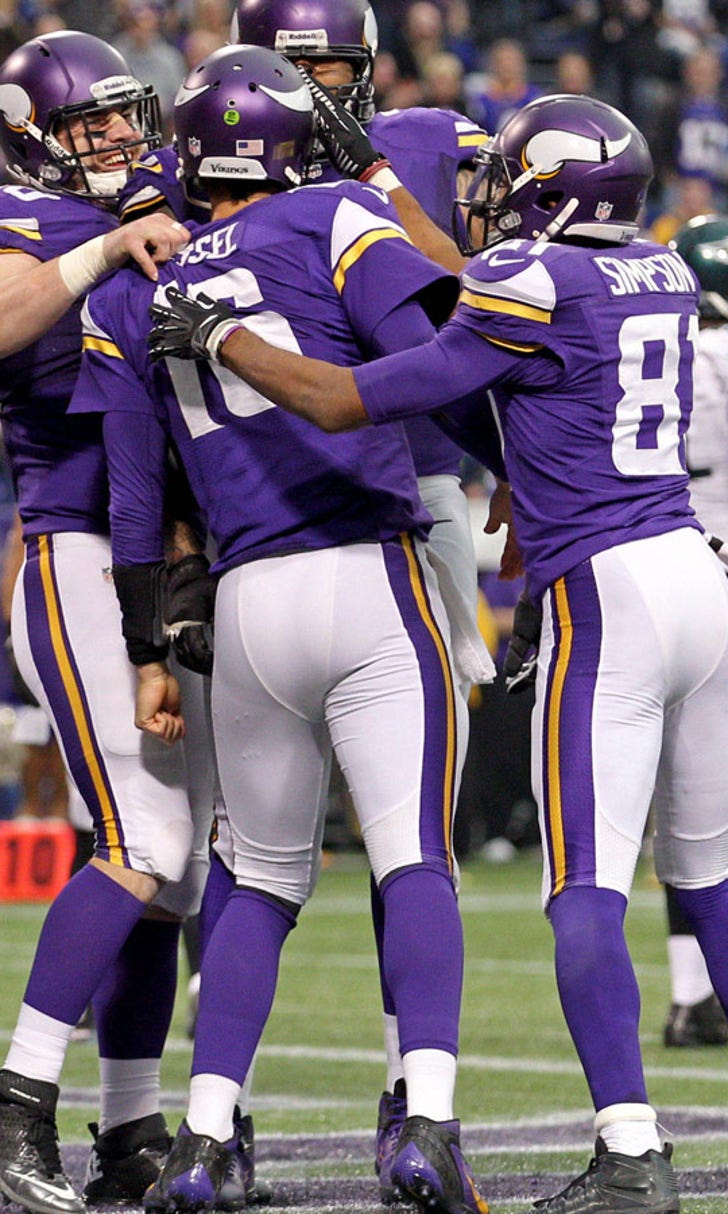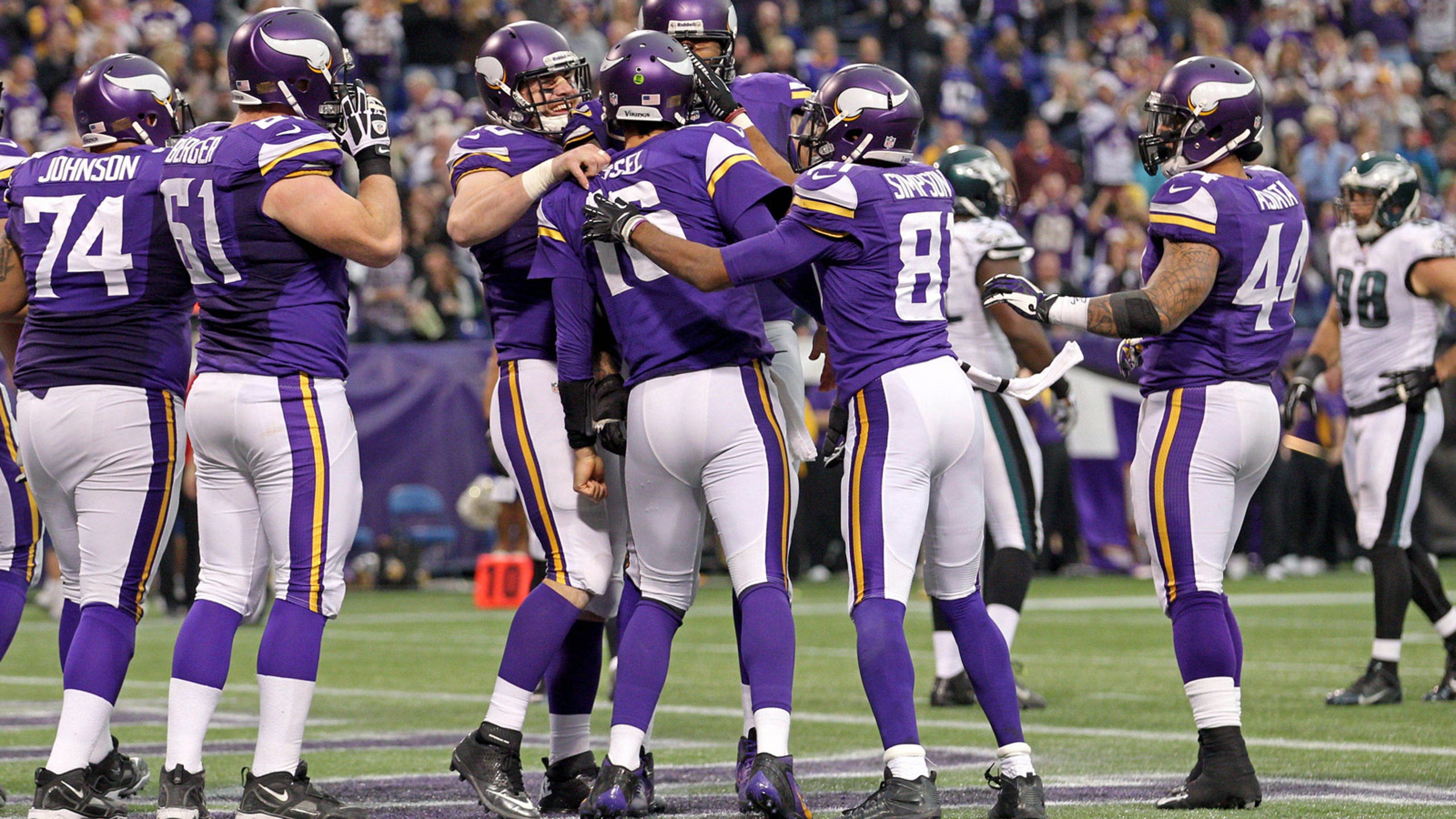 Vikings report card: Matt Cassel excellent against Eagles
BY foxsports • December 16, 2013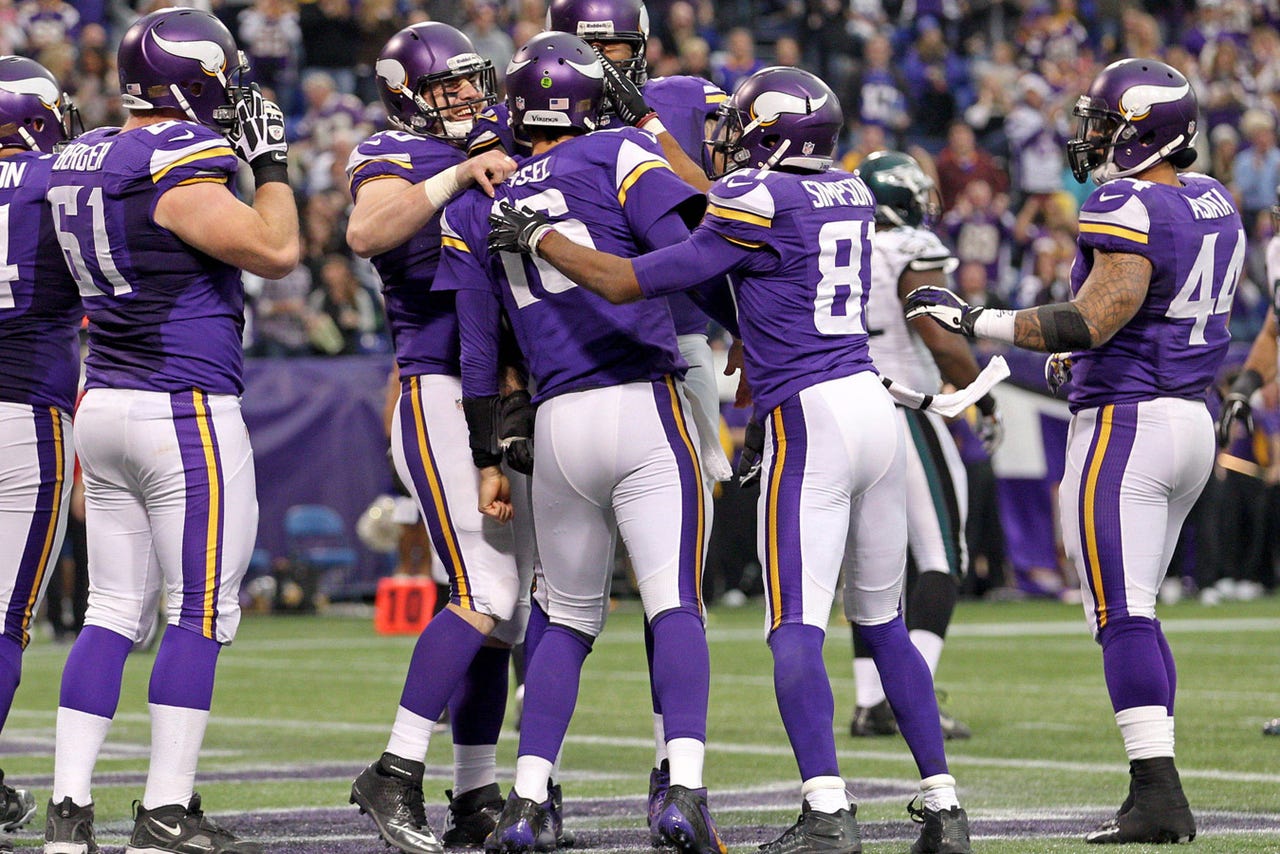 The Minnesota Vikings were extremely short-handed Sunday
near the end of an increasingly lost season, playing without their top two
running backs, top two tight ends and top three cornerbacks.
On the others side were the streaking Philadelphia Eagles,
winners of five straight games and owning the NFC's best road record at 5-1.
So of course, Minnesota rallied together and beat
Philadelphia 48-30, scoring the most points by a Vikings team since the 1998
season.
Here's how Minnesota graded out in each phase in Sunday's
win:
Pass offense: A
Without Adrian Peterson and Toby Gerhart, more
responsibility was expected to fall on the shoulders, and right arm, of
quarterback Matt Cassel. Cassel was making his second straight start, getting
another chance after proving he adds a threat of a passing game to the Vikings'
usually strong rushing attack. Cassel did more than just take the extra load.
He carried it.
Cassel completed his first nine passes, including a 53-yard
touchdown to Greg Jennings. Jennings said his route didn't call for him to be
closer to the sideline, but he saw Cassel avoid pass rushers and loft the ball
deep and Jennings went and got it. The connection between Cassel and Jennings,
two veterans who signed with Minnesota in the offseason, continued. Jennings
caught a career-high 11 passes for 163 yards.
Cassel finished 26 of 35 for 382 yards, the most by a
Vikings' quarterback since Brett Favre threw for 446 on Nov. 7, 2010. Against
the Eagles' 31st-ranked pass defense, Cassel connected with six different
receivers and had six passes go for 20-plus yards. Second-year receiver Jarius
Wright added a career-high 95 yards receiving. Cassel finished with three total
touchdowns -- one rushing -- and an interception.
Run offense: C
More was on Cassel's plate because of the loss of Peterson
-- out with a sprained foot -- and Gerhart -- out with a hamstring injury.
Cassel had to do more, but he didn't benefit from the favorable coverages
Peterson usually provides. In Peterson and Gerhart's absence, Matt Asiata
stepped forward for his first NFL start. And Minnesota's balance remained. The
Vikings ran the ball 35 times -- including two Cassel scrambles and Cordarrelle
Patterson keeping the ball on a designed pass -- and passed 35 times.
It wasn't the explosiveness or power of Peterson and Gerhart,
but Asiata offered a strong complement to Cassel's passing, helping Minnesota
stay balanced and control the clock against Philadelphia's big-play offense.
The Vikings had the ball for 36 minutes, 26 seconds to the Eagles' 23:34.
Asiata ran the ball 30 times, gaining 51 yards and scoring the first three
touchdowns of his career.
Pass defense: D
The biggest mismatch appeared to be the Eagles' offense
against Minnesota's short-handed secondary, playing without Xavier Rhodes,
Chris Cook and Josh Robinson. The return of safety Harrison Smith certainly
helped. But the Vikings, particularly in the first half, held down quarterback
Nick Foles and his array of receivers. Philadelphia had to settle for three
field goals in the first half, allowing Minnesota to lead 17-9 at halftime and
27-9 before the Eagles' offense got going.
Foles threw for 144 yards in the first half and did some
damage with 41 rushing yards. The second half, needing to pass, was a different
story. He threw for 284 yards and finished 30 of 48 for 428 yards passing and
three touchdowns. DeSean Jackson had 10 catches for 195 yards receiving and one
touchdown.
But Foles was sacked four times, twice each by Jared Allen
and Brian Robison. Marcus Sherels and Shaun Prater, who played every defensive
snap, filled in admirably as the starting cornerbacks. Prater, making his first
career start, had his first career interception.
Run defense: A
The Eagles felt forced to pass the ball, and in the process
forgot about the league's leading rusher, LeSean McCoy. McCoy, who entered the
game with 1,305 rushing yards in 14 games, finished with eight carries for 38
yards. He did add five receptions for 68 yards.
Minnesota never let McCoy get going in the ground game. When
he had chances, the Vikings were quick to get McCoy on the ground and not let
him force missed tackles as he's done so often this year. Linebacker Chad
Greenway made a couple of stops near the line of scrimmage, as did Smith. Smith
stopped McCoy going wide on one short third-down attempt and Philadelphia
curiously went for it on fourth-down in their own territory in the third
quarter, as Minnesota stopped McCoy again up the middle for no gain.
Special teams: B
Nothing out of the ordinary for the Vikings' typically
strong special teams units. Kicker Blair Walsh did miss a 55-yard field-goal
attempt wide left. He later added field goals of 21 and 38 yards, connected on
all of his extra-point attempts and had seven touchbacks. Philadelphia did
average 41.5 yards on the two kickoff returns it was able to bring out.
Punter Jeff Locke hardly saw the field with Cassel and
Asiata controlling the game. He had just two punts on the day for a 48.0-yard
net average and pinned both punts inside the 20-yard line.
The Eagles stayed away from Patterson on kickoffs as many
opponents have done recently. But it just meant an average starting field
position of the 38-yard line for Minnesota. Philadelphia went with short, pooch
kicks to keep the ball out of Patterson's hands and the Vikings benefited with
great field position.
Overall: B
Minnesota really controlled Sunday's game except for one
point in the third quarter when Philadelphia appeared ready to make a game of
it. The Eagles scored twice within three minutes, thanks to a Cassel
interception that deflected off a helmet and popped to a Philadelphia defender.
But the Vikings answered with two straight touchdowns.
A season that has not gone Minnesota's way often hasn't kept
the players from battling and being in nearly every game. And the second half
of the season has gone the Vikings' way, more often than not.
---