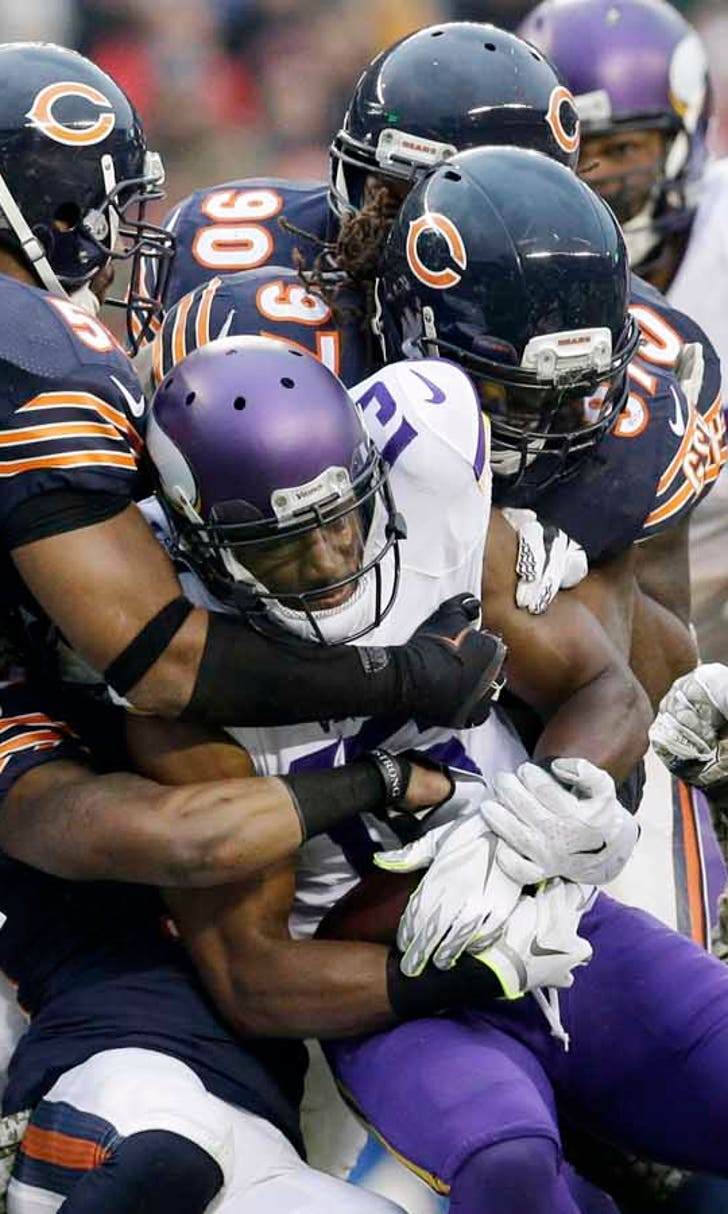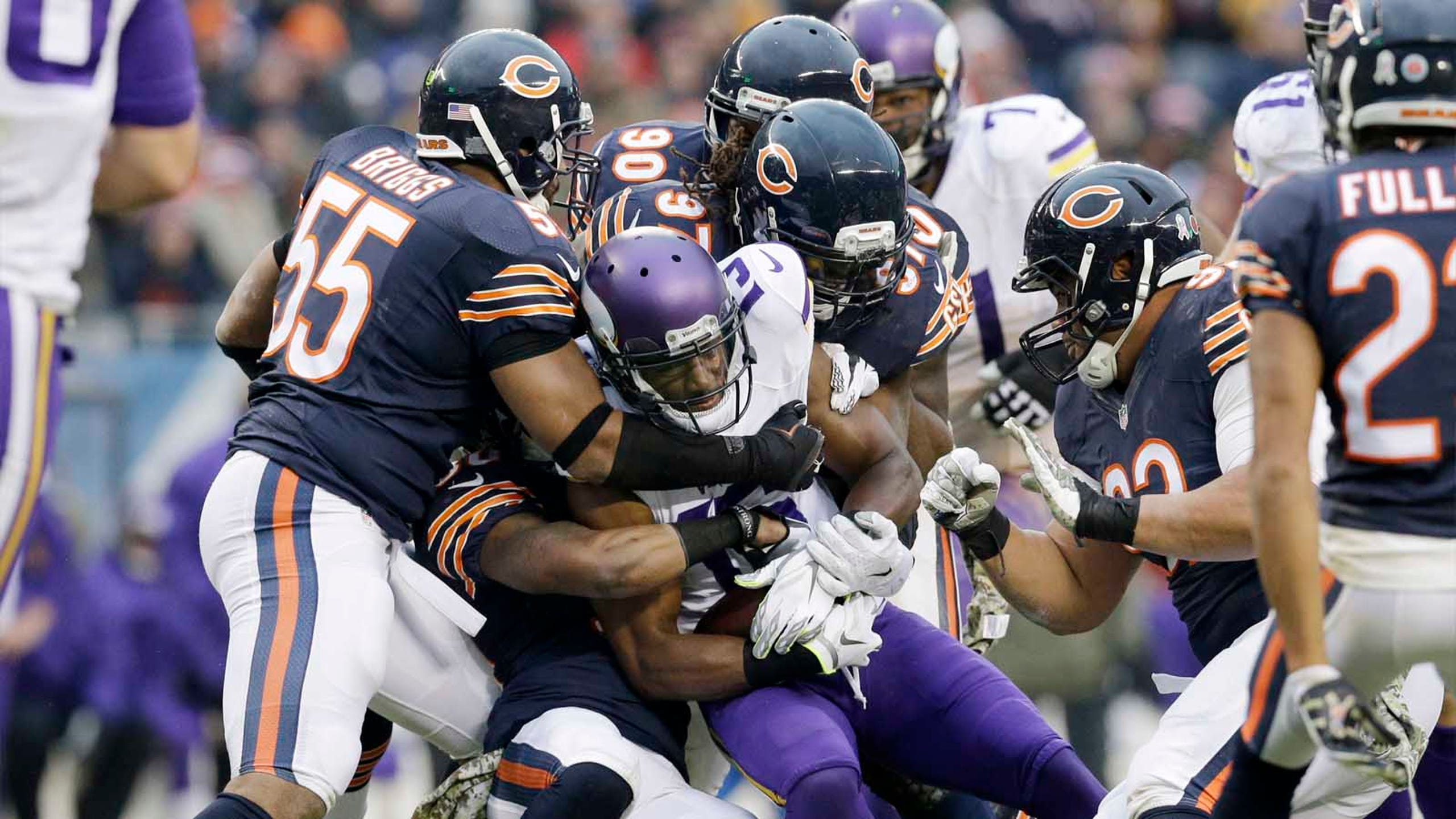 Vikings report card: Flat performance all around
BY foxsports • November 17, 2014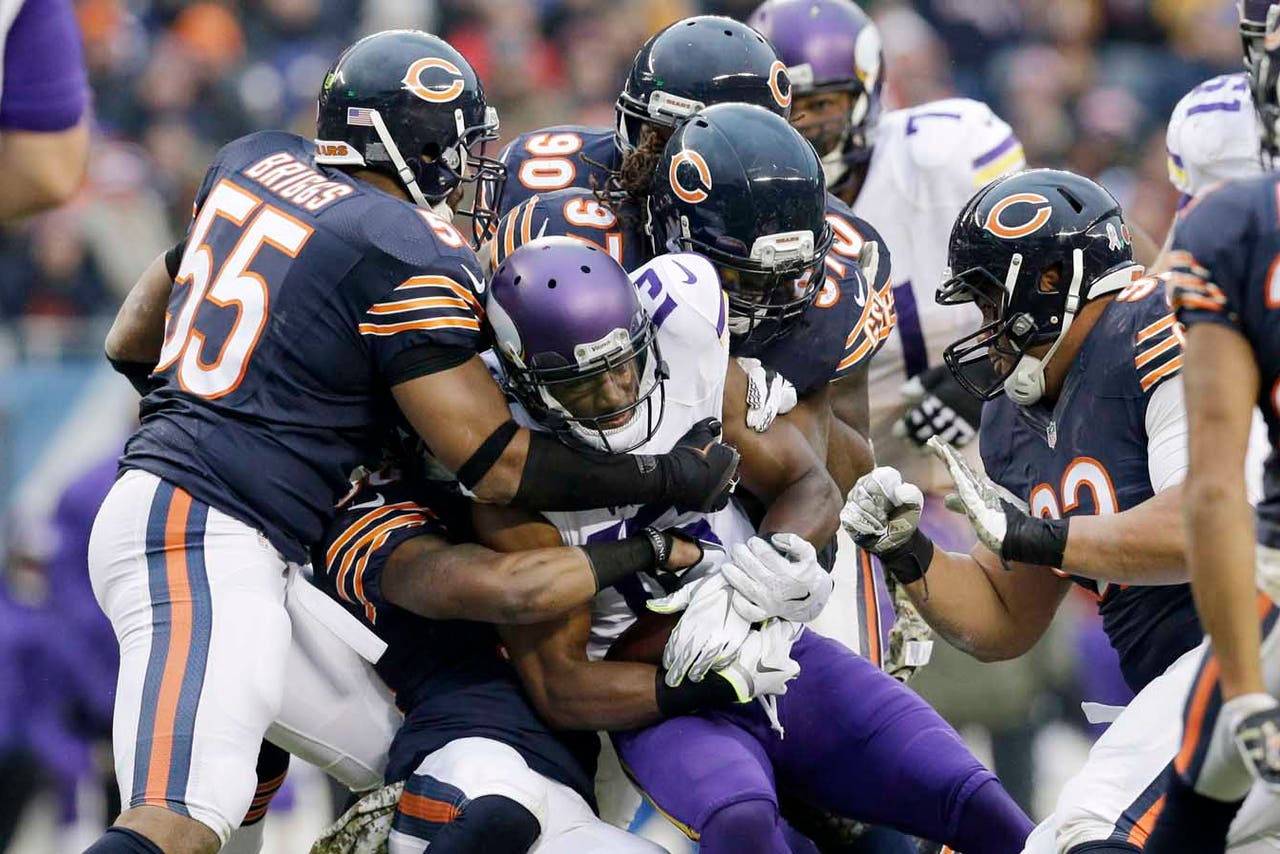 So much for momentum.
The Minnesota Vikings had it, with two straight wins and a refreshed feeling from the bye week. Chicago had allowed 50 points in back-to-back games, including a nationally-televised blowout to division rival Green Bay.
And then Minnesota went up 10-0 early Sunday at Chicago against the Bears. Momentum ended, positively and negatively, for the two teams from then on. Chicago's offense controlled the game, the Vikings' offense couldn't answer and Minnesota (4-6) is the team left reeling from Sunday's 21-13 loss.
Here's how the Vikings graded out in each phase in Sunday's loss:
There is no other way to grade Minnesota's anemic passing game. All phases contributed and rookie Teddy Bridgewater isn't ready to elevate the play of his teammates and looked shy to do anything but take the easy pass on Sunday. Chicago had allowed 657 passing yards and 11 touchdowns with no interceptions in the previous two games. Bridgewater was 18-of-28 for 158 yards, one touchdown and an interception on the offense's final play which ended any chance at pulling off the win.
Receivers aren't giving Bridgewater the chance to trust downfield throws. The offensive line isn't giving Bridgewater time to throw deep. Bridgewater didn't seem ready to throw it deep. Thus, Bridgewater averaged 5.64 yards per attempt. Bridgewater attempted only one pass beyond 10 yards before the fourth quarter, and only four during the game.
While Chicago quarterback Jay Cutler was showing immense trust in his tall -- and very talented -- receivers, Bridgewater didn't seem to want to open up the game, or the play-calling and execution didn't allow him. In the first half, only one wide receiver had a reception. Charles Johnson had one catch for 17 yards in the first half.
Johnson had four catches for 57 yards in the fourth quarter and led all the team's receivers with six catches for 87 yards. But he was the target on Bridgewater's heave right with little over a minute remaining when Johnson couldn't get to the deep pass in the end zone, which had hung in the air a bit and was intercepted.
Receiver Greg Jennings had one catch for four yards. Cordarrelle Patterson had two catches for 24 yards, but they came on back-to-back plays in the fourth quarter. Tight end Kyle Rudolph was silent in limited time in his return from injury and Chase Ford, who was coming off two strong games in Rudolph's place, had one catch for four yards. Minnesota converted two of its 11 third-down attempts.
Because Chicago's offense dominated time of possession, the Vikings had 46 offensive plays to the Bears' 74 plays. Chicago held the ball 38 minutes, 38 seconds to Minnesota's 21:22. The Vikings averaged 6.0 yards per run in the game on only 16 carries, but the majority of the team's 96 yards rushing came on two plays.
Andrew Sendejo, a safety, ended as the team's leading rusher. He took a handoff on a fake punt for 48 yards. Rookie Jerick McKinnon picked up 23 yards on one carry, and finished with eight carries for 38 yards, a 4.8-yard average. Coincidentally, Minnesota scored on the two possession impacted by McKinnon and Sendejo's big runs.
Otherwise, the running game did little. In the second half, the Vikings had eight yards rushing total. Minnesota ended up with just 243 yards as a team. In the second and third quarters, the Vikings tallied 47 total yards.
Cutler became the first quarterback this season to throw for more than 300 yards against Minnesota's defense. It's hard to say Cutler was outstanding with 330 yards, three touchdowns and two interceptions on 31-of-43 passing. Cutler did just what the Bears' offense should do: find the mismatch created by receivers Brandon Marshall and Alshon Jeffery.
Marshall and Jeffery accounted for 27 of Cutler's 43 pass attempts and 18 of the 31 completions. Against Minnesota's small secondary -- particularly Josh Robinson -- Marshall and Jeffery continually used their size to box out or go over defenders.
Jeffery led the way with 11 catches for 135 yards and a touchdown against Robinson in coverage. He had six catches on third downs as Chicago converted 10 of its 17 third-down attempts. Marshall had seven catches for 90 yards and two touchdowns, both coming against Robinson when Marshall simply used his size advantage.
The Vikings had no chance against Marshall and Jeffery on the outside and running back Matt Forte forced the defense to stay honest with 175 total yards. Forte had six catches for 58 yards.
Robinson and the secondary were on the spot with Minnesota's pass rush unable to get to Cutler. Chicago had allowed 24 sacks and the Vikings were tied for third with 30 sacks coming into the game. Cutler got the ball out of his hands quickly to Forte or in trusting Marshall and Jeffery to win one-on-one matchups.
Second-year cornerback Xavier Rhodes had the first interception of his career, but Minnesota couldn't do anything with it as it came with seven seconds left in the first half. Harrison Smith intercepted his fourth pass of the season, but it was followed by Blair Walsh's missed field-goal attempt.
Forte's running and work in the pass game kept the Vikings from being able to devote more attention to Marshall and Jeffery. Forte had 26 carries for 117 yards and played a big role in Chicago controlling the clock in the second half. Forte had 18 carries in the second half, accounting for 68 yards.
Minnesota had several missed tackles during the game, as well, both in run and pass defense. The Bears ran for 138 yards as a team.
Sendejo's fake-punt run was the highlight and looked like the special teams were ready for this game after being under fire by special teams coordinator and coach Mike Zimmer in recent weeks. Sendejo's run was the first fake punt attempt by the Vikings since Dec. 5, 2004.
Facing a fourth-and-2 on the second offensive series for Minnesota, Zimmer called for a fake punt. Receiver Adam Thielen took the snap and handed off to Sendejo, who ran for 48 yards. Bridgewater connected with tight end Rhett Ellison on the next play for a touchdown and a 10-0 lead.
Miscues happened, again. Walsh missed wide right from 38 yards after Smith's interception, only the second miss of his career within 40 yards.
Rhodes was called for a penalty on a punt return. The Vikings have had a special teams penalty in all but one game this season.
Punter Jeff Locke averaged 37.0 net yards per punt. He had two punts travel 35 yards or fewer in the air. On a 54-yard punt, his long of the day, the Bears had a 16-yard return, even though it was negated by a penalty. Locke averaged 41.3 gross yards on four punts.
There was also little to speak of in the return game. Chicago only punted twice and Marcus Sherels didn't have a chance at a return, fair catching one punt. The Bears did set up Minnesota with good field position twice while trying to avoid Patterson on kickoff returns. Patterson had one return for 21 yards.
Sunday was a flat performance all around for the Vikings coming out of the bye. Curiously, it wasn't a slow start. Minnesota had done what it needed in leading 10-0 against a team on the brink of an implosion and the crowd seemed ready to turn on the Bears. But the Vikings couldn't keep Chicago down.
The Bears immediately scored to make it a 10-7 game and kept the players and fans engaged. Forte, Marshall and Jeffery handled their matchups allowing Chicago to dictate terms offensively. Meanwhile, Bridgewater and the Vikings couldn't sustain any offense of their own.
Minnesota missed a chance to put away a struggling team. The Vikings also missed a chance to go to .500 and give themselves an opportunity to make some noise in the second half of the season and the effort coming out of the bye will be in question all week.
Follow Brian Hall on Twitter
---