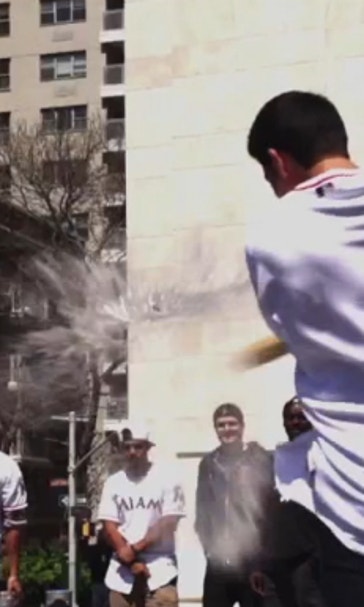 VIDEO: Marlins Garrett Jones, Christian Yelich play 'Baseballoons'
BY foxsports • May 15, 2014
How hard can hitting and getting hit by a water balloon be?
Miami Marlins first baseman Garrett Jones and left fielder Christian Yelich found out last month when they visited the MLB Fan Cave during the club's trip to New York City.
"I've been practicing my entire life for this moment," Yelich said in the clip. "Just a little kid hitting water balloons."
Jones and Yelich took turns tossing balloons to each other, even barreling up a few of them that the video showcased in slow motion.
They then threw to onlookers at Washington Square as well as the Fan Cave dwellers, including Marlins fan Cesar Pichardo.
Yelich hit Pichardo before his fellow dwellers bombarded him with an onslaught of balloons. Jones teasingly taunted them, and got nailed in the process.
"We got to come out to the park, nice day, hit some water balloons and get hit with water balloons," Jones said.
Added Yelich: "I'd like to see (Giancarlo) Stanton hit a few of these."
Don't we all?
You can follow Christina De Nicola on Twitter @CDeNicola13 or email her at cdenicola13@gmail.com.
---