USWNT can breathe easy ahead of smooth knockout round path
BY Laura Vecsey • June 18, 2015
EDMONTON, Alberta 
After being force-fed a high-protein diet of Australia, Sweden and Nigeria in the "Group of Death," the United States women's national team has a lighter menu option for the knockout round — at least on paper.
Colombia, tabbed as the 28th team in the FIFA World Rankings, earned their way through to the Round of 16 thanks to their 2-0 victory over France in group play. The Colombia win may yet prove to be a turning point not for Colombia but for the talented French side, which we'll get to in short order.
For the U.S., the immediate relief of prevailing first in their group was apparent upon their arrival in Edmonton. Abby Wambach and Alex Morgan were reunited at the top of the U.S. attack and scored a 1-0 victory over Nigeria, helping them avoid a cross-continental flight for a date with Brazil.
"We're in a good place. We've gotten better a little bit each game," U.S. midfielder Lauren Holiday said. "We won the Group of Death and we're in Edmonton, not Moncton, so that's nice. This is where we wanted to be."
In addition to facing Colombia on June 22 at Commonwealth Stadium (live, FOX Sports 1, FOX Sports Go, 8 p.m. ET), the next opponent up in the quarterfinals should the U.S. prevail would be the winner of the Cameroon (ranked 53rd) vs. China (ranked 16th) match. To say that the U.S. is pleased with their draw should they prevail over Colombia is an understatement. The two teams have met only twice before, including the 2011 World Cup and the 2012 Summer Games in London. The U.S. won both times 3-0.
The U.S. also benefitted from an extra day to prepare in Edmonton.
"Recovery is our first focus but having five days in between actually gives us an extra day to work on some things," Holiday said. "It's not just necessarily the intensity of practice but being able to walk through things and being on the field together I think is huge for us."
Poor Sweden: It just keeps getting worse
Sweden finished third in the Group of Death and, for their reward, they get to play Germany in the Round of 16. It's one thing to say that Sweden spoiled their own chances by letting Nigeria climb back from an 0-2 deficit to tie the opening group play match. That resulted in only one point when Sweden needed three.
However, to understand why Sweden got the shaft worse than any other team in the World Cup, you have to go back to the seedings and the draw and what FIFA and the Canadian Soccer Association were up to. They protected Canada: On their side of the draw, it is only the host country and Brazil as the top-ranked teams. Canada also get to play their first knockout game in Christine Sinclair's backyard: Vancouver. If they win, Canada will stay put, and only travel to Edmonton if they stay alive into the semifinals and then return to B.C. Place for the finals.
The other side of the draw now includes powerhouses Germany, the U.S., France and Sweden. This is in large part due to the fact that FIFA did not give Sweden a seeded spot in the World Cup, despite their fifth-place ranking by FIFA. Worse, the teams were then placed into groups without a random draw so as to maximize fan-base potential and other "sporting reasons."
It's why France will play in French-speaking Montreal at least twice. It's why the U.S. started in Winnipeg, just north of the North Dakota border, and played their third group match in Vancouver, where B.C. Place was essentially a home game.
It is also why the knockout round matches contain nearly every one of the best teams in the world taking on manageable opponents. In the expanded field of 24 teams, these knockout round matchups are playing out as FIFA prescribed.
What's up, France?
Did Colombia score the greatest upset of the tournament so far when they took down France? Maybe that's one way of looking at it.
No one is discrediting Colombia's impressive win, least of all U.S. coach Jill Ellis.
"They got a tremendous result against France. At this point, and the players know this, you've got to respect what they can do, because they are going to bring it as much as we are,'' she said.
Still, Colombia may have benefitted from whatever was going on with France, which is perhaps the most talented team that had been playing the most consistently outstanding soccer for months. France earned their World Cup entry by winning all 10 qualifying matches and outscoring their opponents 54-3.
But against Colombia, France saw some kind of implosion spearheaded by their most illustrious playmaker, midfielder Louisa Necib. At one point, Necib actually threw the ball at the feet of her own teammate. Maybe that's what happens when you outshoot your opponent 21-3, as France did against Colombia, and you still lose 2-0.
Regardless, France bounced back into dominance with a 5-0 victory over Mexico on Wednesday in Ottawa. Head coach Philippe Bergeroo benched Necib in favor of Amel Majri and it paid off. France blasted away and recorded the second-fastest goal ever in World Cup history at 34 seconds. They were up 3-0 with 13 minutes gone.
It was the kind of emphatic win that will lay to rest any notion that France may have been en route to pressure overload. Bergeroo has this deep team of talented players exceedingly well prepared. So while Colombia went through courtesy of the three points they earned by beating France, France is still the team to watch.
---
---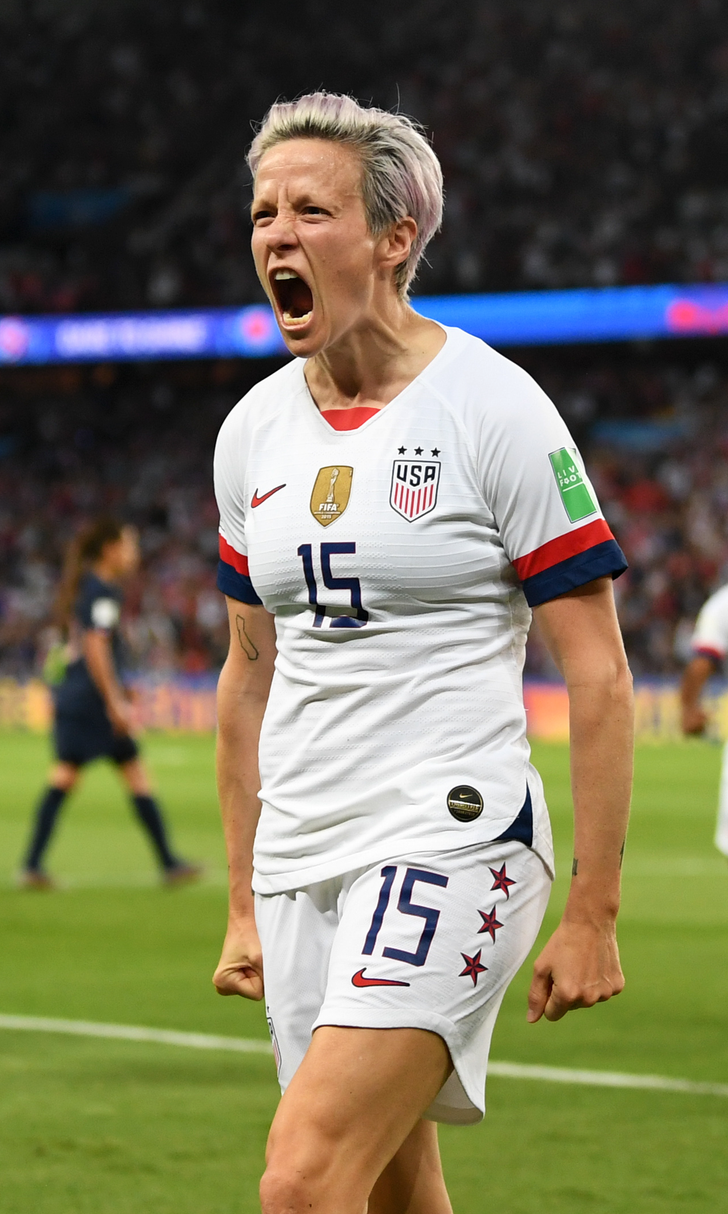 French Fracas
French Fracas
Behind two goals from Megan Rapinoe, the USA defeated host France in the quarterfinals of the 2019 Women's World Cup.