USC LB Sarao to see increased role vs. Boston College in return home
September 11, 2014

Watching your senior captain and leader being escorted off of the field is never anything you want to see.
That was exactly the case last Saturday for USC. Deadlocked in a 10-10 game at Stanford, senior captain Hayes Pullard was ejected for targeting.
It was an example of what head coach Steve Sarkisian continuously preaches about never knowing how or when adversity might strike.
"It was like a bad thing but it was a great thing at the same time," linebacker Anthony Sarao said. "It was terrible to see our senior captain leave the field but then it brought a spark to us. And me, personally, it got me riled up emotionally and it really pushed us through the last quarter."
Fortunately enough for Sarao and the USC defense, they had an experience to draw from.
Before the season, members of the team went to Joshua Tree for a hike, including Sarao. A popular adjective among USC players and staff used to describe the trip is "tough." The Trojans' defensive unit found themselves in a tough situation Saturday.
"(It was) just like we took this trip to the mountains earlier before this season. You got to be able to lean on each other," Sarao said. "Hayes went out, a couple players (were) tired but we just got to be able to lean on each other and just (pay attention) to our technique and what the coaches are telling us."
The Trojans leaned on each other, knowing that the unit collectively needed to step up, fill Pullard's void and make plays. Sophomore Michael Hutchings was called on to make all the defensive calls in Pullard's absence. Defensive lineman Delvon Simmons had his most productive outing as a Trojan with a blocked kick and a fumble recovery.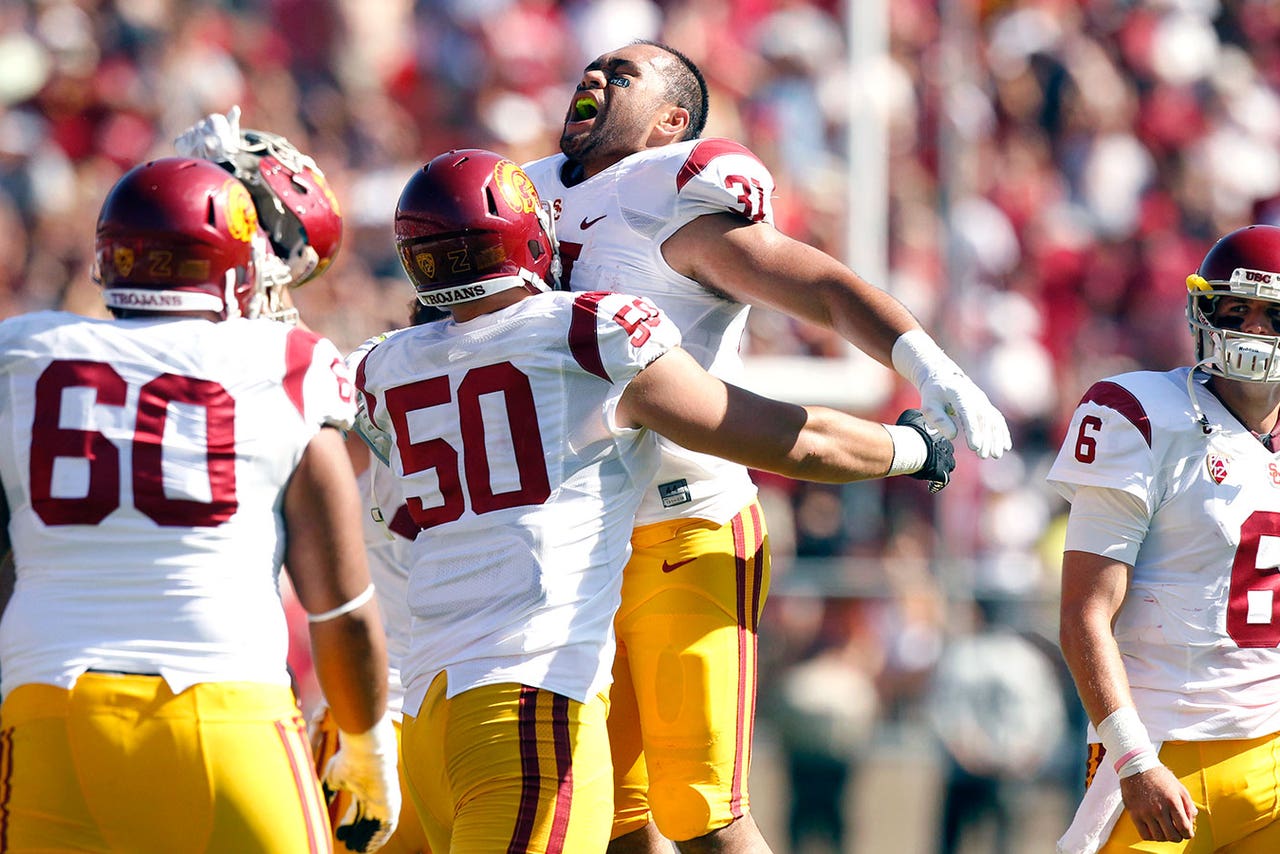 Breakdown: No. 9 USC vs. Boston College
Leonard Williams had to fight through his own adversity with an ankle injury but still led all players with 11 tackles. And, of course, linebacker J.R. Tavai came up with the strip sack that sealed the win for the Trojans.
Many names. Many faces. One purpose.
"Those trips are great in the moment, especially, if they're hard," Sarkisian said. "And that trip was hard. It wasn't us sitting around a campfire and singing songs together. It was hard. It was grueling. It was guys, potentially, wanting to tap out -- coaches included. Believe me, I was one of them there for a while and you rely on the people around you to keep building you back up and to being motivated by them and you don't know exactly when you can go back and lean on those moments but I think Anthony's exactly right.
"When Hayes went down, when the game got really hard there, Saturday, we were able to lean on one another, get tighter, and fight through it, and dig deeper. And we knew we could achieve more than what we had done and that's the purpose of those trips that we go on."
Saturday, the defense will find itself in a similar situation from the opening kickoff. While Williams' status is still up in the air, Pullard has been suspended for the first half against Boston College.
That leaves Hutchings and Sarao to pick up the bulk of on-field communication duties normally handled by Pullard.
In addition to having to step up his leadership duties Saturday, Sarao also will have the privilege of playing in front of friends and family. He's expecting to have around 15-20 familiar faces in the stands.
It marks the first time USC has gone east to play since Sarao was a redshirt freshman in 2012, when the Trojans took on Syracuse at Giants Stadium.
Boston is about a six-hour drive from his home in New Jersey.
"It feels good just knowing you got somebody in the stands that you love and they're out there watching because I don't get to get my parents to come to none of these practices or these games out here so it feels good to go home," Sarao said.
---