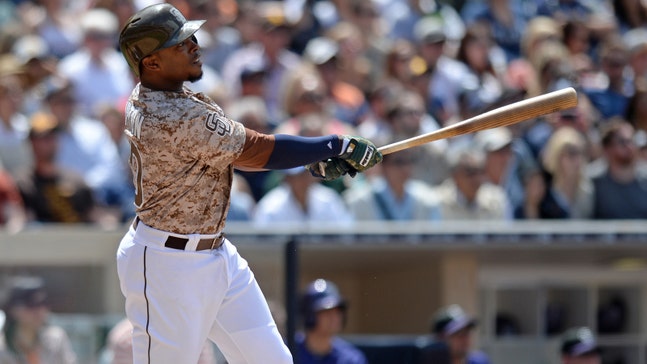 Upton, Gyorko homers help Padres sweep Rockies
Published
May. 4, 2015 11:15 a.m. ET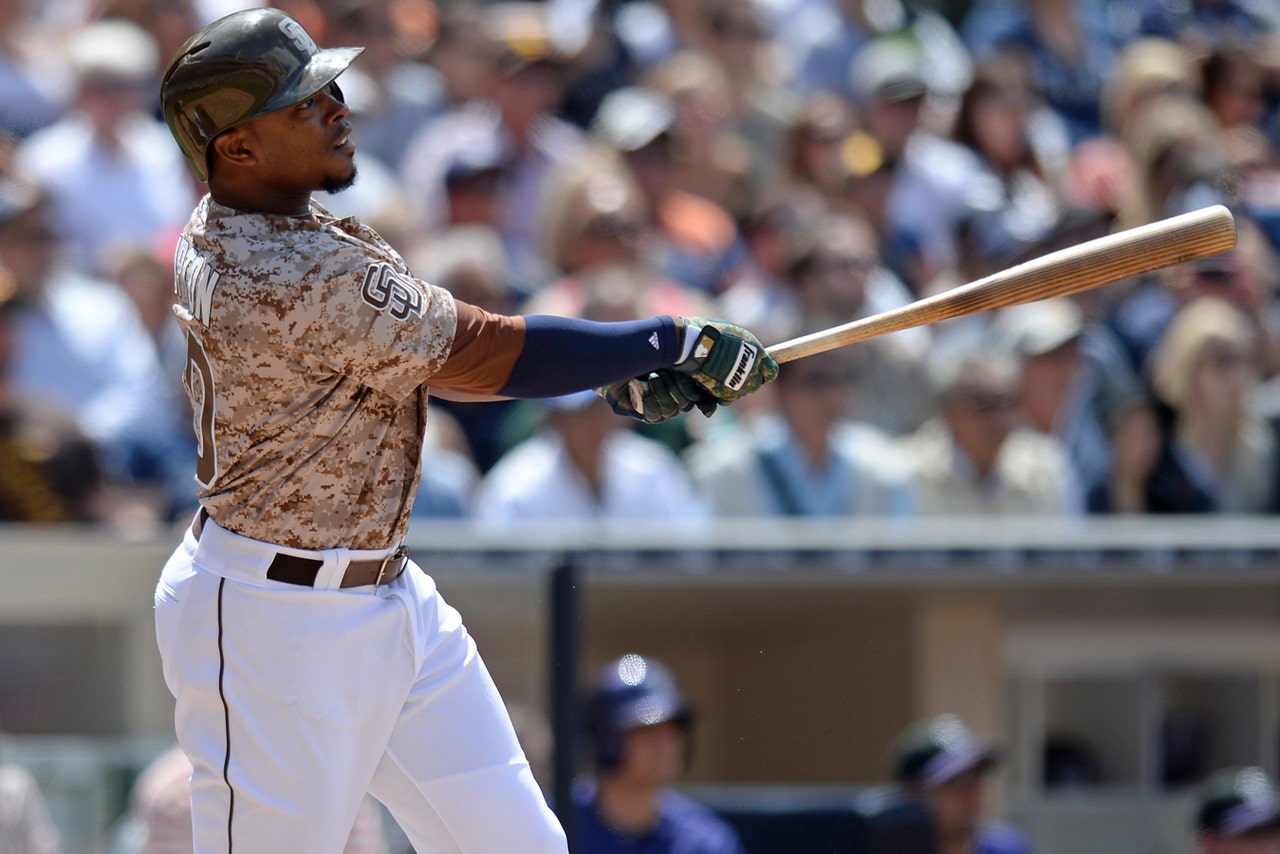 SAN DIEGO (AP) -- Of all the balls that flew out of Petco Park on Sunday, the one that had the biggest impact was Jedd Gyorko's 438-foot drive to straightaway center field that helped the San Diego Padres beat the Colorado Rockies 8-5.
Gyorko was hitting just .145 when he stepped into the batter's box as a pinch hitter. The Rockies had just replaced lefty reliever Christian Friedrich with Brooks Brown because Gyorko was only 2 for 39 against righties.
Gyorko squared up and drove a 1-1 pitch almost to the base of the batter's eye.
"I definitely like May better than April," said Gyorko, whose struggles at the plate have cost him playing time at second base. "My whole career's been that way. But it's been a work in progress. As the season's gone on I feel like my swing has gotten better and better. It's definitely encouraging.
"It felt good to put a good swing on it. I feel like my swing has been where it's needed to be in the last week or so. It's always good to get results."
Justin Upton and Derek Norris also hit two-run shots to help the Padres sweep the Rockies.
Nolan Arenado and Charlie Blackmon each homered twice for Colorado.
It was the first homer for Gyorko this year and gave him five RBIs. Gyorko has struggled since signing a contract in April last year that added $35 million over five seasons through 2019.
Manager Bud Black said Gyorko has been putting in extra work with hitting coach Mark Kotsay and his assistant, Alonso Powell.
"The thing about Jedd is we've seen two slow starts here in '14 and now this year, but I think we all know Jedd's a better offensive performer than what he's shown," Black said. "And hopefully this can jump-start him."
Said Gyorko: "It's all building up to where we need to be."
Upton homered, hit two doubles and drove in three runs for the Padres, rebounded after being swept by the Houston Astros and losing two of three to the rival Los Angeles Dodgers.
Spacious Petco Park played like a bandbox during the nine-game homestand, with the Dodgers, Astros and Rockies combining for 20 homes while the Padres hit 10.
Both of Arena do's homers were off James Shields. He has six.
Blackmon homered on Shields' third pitch of the game and then homered off closer Craig Kimbrel with one out in the ninth, his fifth.
"James Shields is really good pitcher," Arenado said. "He probably left a couple of pitches up that he probably wished he could take back. We put some good swings on the ball."
Shields (3-0) went 5 1-3 innings, his shortest start of the year, and allowed five runs and nine hits while striking out seven and walking none.
Kimbrel pitched the ninth for his eighth save in as many chances.
Kyle Kendrick (1-4) allowed six runs and six hits in five innings.
"The results aren't there," Kendrick said. "I have to just keep getting after it."
Upton hit a two-run homer in the first, his seventh. He doubled in the fourth and was aboard for Norris' homer in the fourth. Norris doubled in Cory Spangenberg with the go-ahead run in the fifth.
Arenado homered leading off the fourth and hit a two-run shot in the fifth.
The Padres thought they got out of the fifth with a double play, but Rockies manager Walt Weiss challenged the out call at first base and won. Arenado drove the next pitch into the seats in left to tie the game at 5.
TRAINER'S ROOM
Rockies: Kendrick was moved up a day to give LHP Tyler Mazak extra rest after he left his last start with cramping in his left hamstring.
Padres: Reliever Joaquin Benoit pitched a perfect eighth. Before the game, manager Bud Black said Benoit was showing signs of a dead arm and was a candidate for the disabled list. Black said the test will be how Benoit feels Monday.
UP NEXT
Rockies: Mazak (2-0, 2.70) will try to beat Arizona in consecutive starts when he goes Monday night in the opener of a three-game series at Denver. The Diamondbacks counter with RHP Josh Collmenter.
Padres: RHP Tyson Ross (1-2, 4.55) looks to beat the Giants for the second time this season when he's scheduled to open a three-game series Monday night at San Francisco, which counters with LHP Madison Bumgarner (2-1, 3.73). Ross beat Jake Peavy at San Diego on April 12.
---