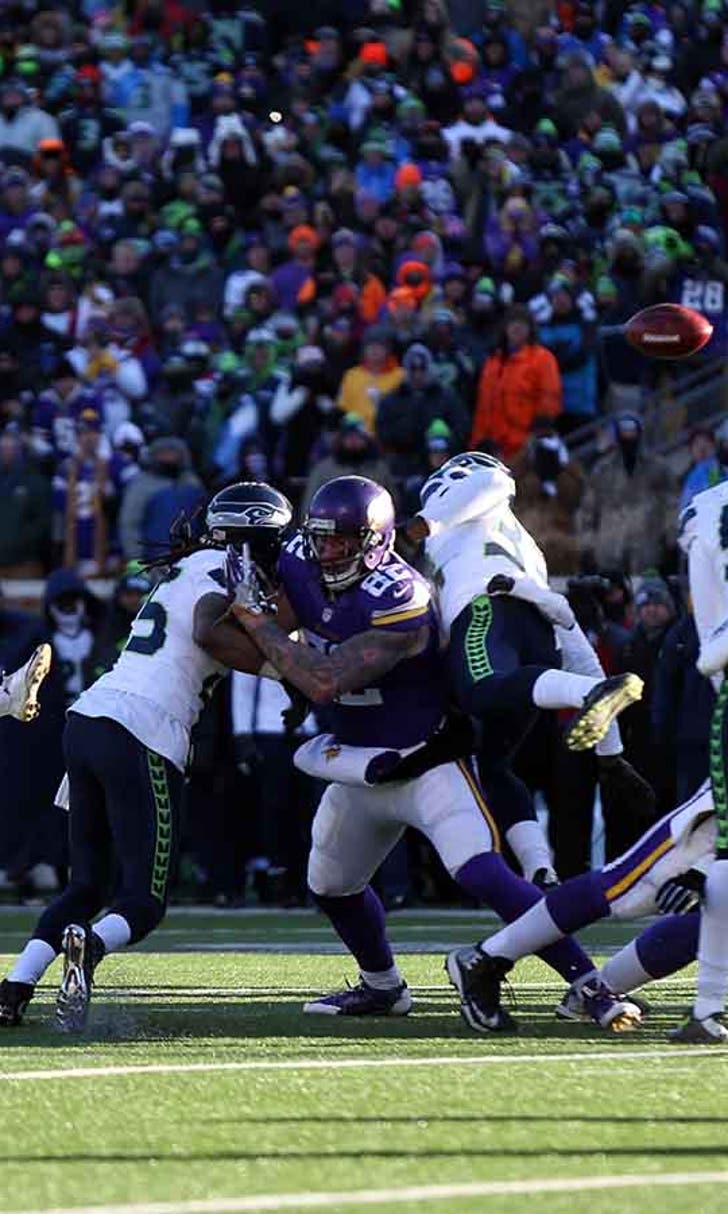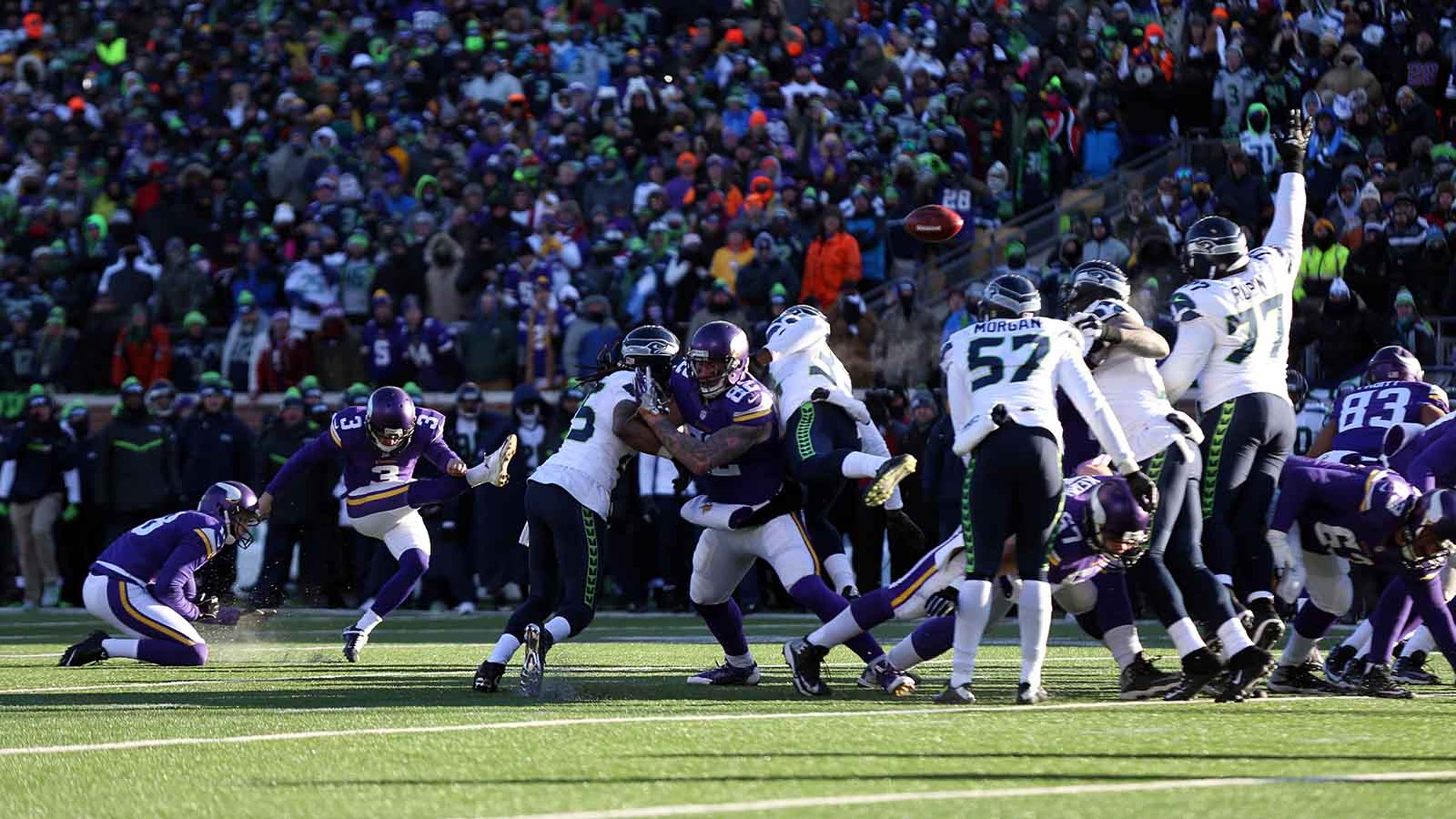 Upon further review: Vikings vs. Seattle
BY Ryan Lund • January 11, 2016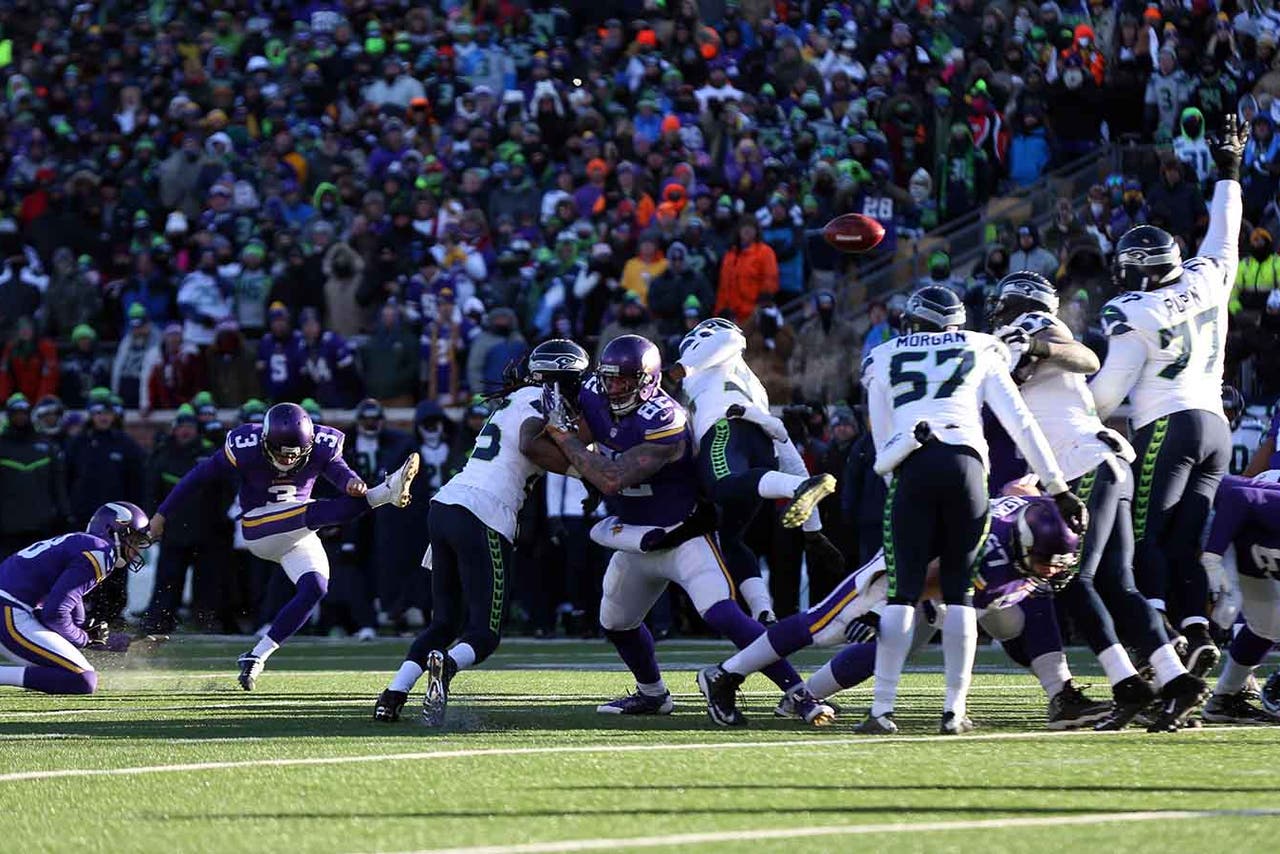 That Minnesota Vikings kicker Blair Walsh connected on his first three attempts with the temperature hovering just below zero was something of a triumph in and of itself.
The only Vikings player to actually score against the Seahawks on Sunday, Walsh hit from distances of 47, 43 and 22 yards after various Minnesota drives stalled out in Seattle territory.
The conditions were so adverse to effective place-kicking that the Seahawks opted to lean on quarterback Russell Wilson on 4th-and-13, as the Vikings nursed a 3-0 lead late in the second quarter, instead of rolling out kicker Steven Hauschka.
Wilson's seemingly innate ability to turn nothing into something probably played into that decision, but it's telling that head coach Pete Carroll attempted to roll the dice in the playoffs, rather than trusting Hauschka, himself one of the league's best kickers, to connect from a relatively manageable 40 yards out.
Hauschka, who was 13-for-15 from that distance and beyond during the regular season, and who connected on all six of his attempts from at least 50 yards out, stayed on the sidelines on fourth down despite Seattle's offensive struggles to that point.
But while Minnesota's defense came to play, quarterback Teddy Bridgewater was largely ineffective against the Seahawks' pass defense, as offensive coordinator Norv Turner instead chose to run Adrian Peterson right into the teeth of Seattle's league-leading run defense.
SUNDAY SCHOOL
-- Bridgewater rebounded slightly after a rough outing against Green Bay, completing 17 passes for 146 yards. His 70.8 completion percentage was the second-highest mark of any quarterback in the wild card round.
-- Peterson was shut down by the Seahawks once again, as the league's top rushing defense held its top running back to just 45 yards on 23 carries. Peterson's 1.9 yards per carry were the lowest single-game average of his postseason career.
-- Minnesota's defense was impressive once again, holding Wilson to just 142 passing yards on the day. The Wisconsin product didn't complete a pass until the second quarter, while Wilson's 63.3 passer rating was his lowest mark of the season.
DULY NOTED
-- Various NFL players, both current and former, chimed in on social media in regards to the conditions, while a few offered analysis on the difficulties of kicking in sub-zero temperatures. "I'd say a 42 yarder [sic] is going to be about the limit for each team on field goals," former Vikings punter Chris Kluwe wrote on Twitter.
-- Adrian Peterson led all NFL running backs in fumbles during the regular season with six, an issue that came to a head on Sunday. One of the three-time rushing champion's few flaws over the first several seasons of his career, Peterson registered nine fumbles during his second pro season in 2008, before posting another six fumbles in 2009. However, Peterson appeared to have cured himself of those issues in the years since, losing just eight fumbles between 2010 and 2015.
WHAT IT MEANT
-- The Vikings are staring down what should be a fairly uncomplicated offseason as head coach Mike Zimmer enters his third year at the helm. There are changes to be made along the offensive line, while Minnesota's secondary remains suspect, but there's little to suggest that anything beyond a few relatively minor changes are coming for a team that outperformed expectations in 2015. Safety Andrew Sendejo and defensive back Terence Newman are set to hit free agency in 2016, a situation that could lead to a few changes on the defensive side, while the Vikings secured the No. 23 pick in the upcoming NFL Draft with Sunday's loss.
PLAYER OF THE GAME
-- Everson Griffen's stellar season continued against Seattle, as the veteran pass rusher went to work against Seahawks offensive tackle Russell Okung. Griffen finished with six total tackles on Sunday, spinning past Okung and hauling Russell Wilson to the ground for a highlight-reel sack in the third quarter.
DON'T FORGET ABOUT ME
-- Second-year running back Jerick McKinnon has become a critical cog in Norv Turner's quick-hit offense, making a big impact on the Vikings passing game out of the backfield. McKinnon finished with three receptions on five targets against the Seahawks, picking up 22 yards through the air and finishing second on the team in both categories.
THAT MOMENT
-- The Vikings appeared to be in the driver's seat when Blair Walsh attempted to give Minnesota a late lead with less than a minute remaining, however, had Peterson managed to pick up just a few more yards on the previous play the outcome could have been much different. Peterson picked up nine yards on three carries on the drive, coming up just short of a first down with 1:12 remaining. A new set of downs would have given the Vikings plenty of time to make something happen in the red zone while wasting out the clock.
THIS NUMBER
34 -- The number of field goals that Blair Walsh completed during the regular season in 2015, more than any other kicker in the NFL. Walsh finished with 135 points on the season, good enough for fourth in the league.
THEY SAID IT
"You're confident, but you never think that you have it or take it for granted. I just didn't put a swing on it that would be acceptable by anybody's standards." -- Blair Walsh
"It's a chip shot. He's got to make it." -- Mike Zimmer
"It just seemed like a whole bunch of bears chasing you. You're just trying to get away." -- Russell Wilson on the Vikings pass rush
"I look back on that and say that if I don't put that ball on the ground, they're not able to get that field goal and take the lead. That's something that will haunt me throughout the offseason." -- Adrian Peterson
WHAT'S NEXT
The Vikings may be reeling following their near-upset of the Seahawks, but they head into the offseason having made significant strides in 2015. Minnesota exceeded expectations this season, winning the NFC North despite being pegged to trail both the Green Bay Packers and the Detroit Lions in the division by a significant number of analysts. With few changes to the roster likely in 2016, Mike Zimmer's squad is on the rise after years of futility.
---
---