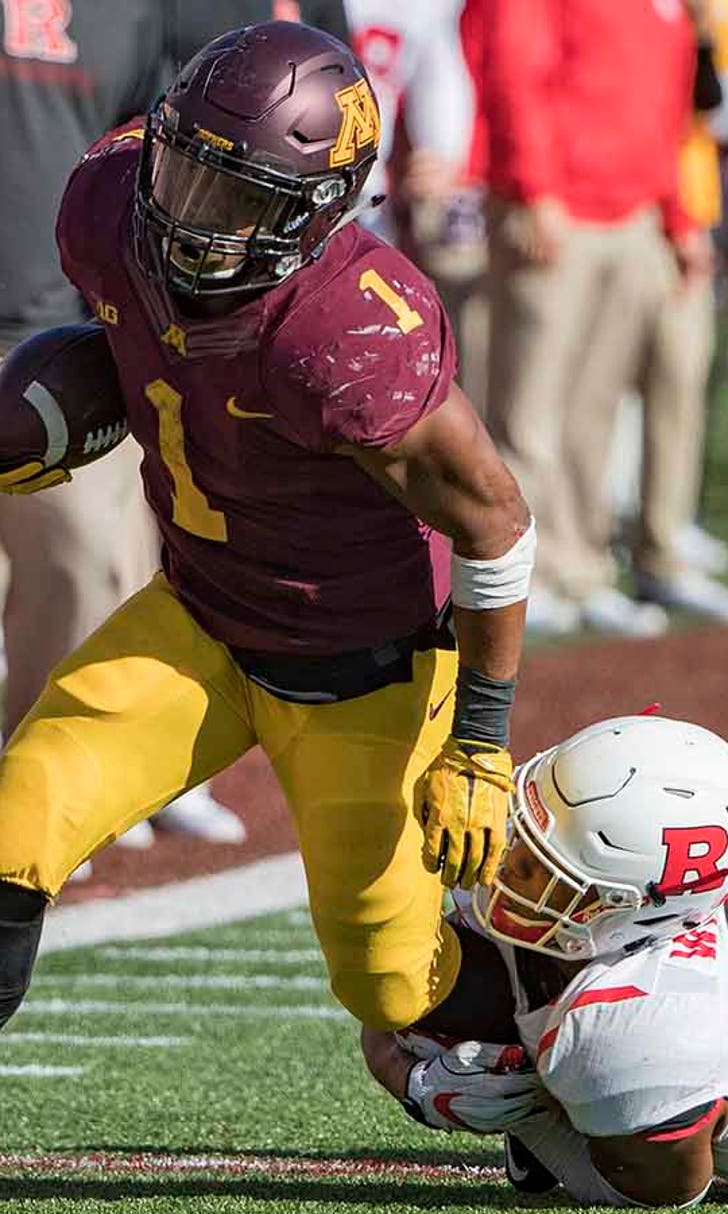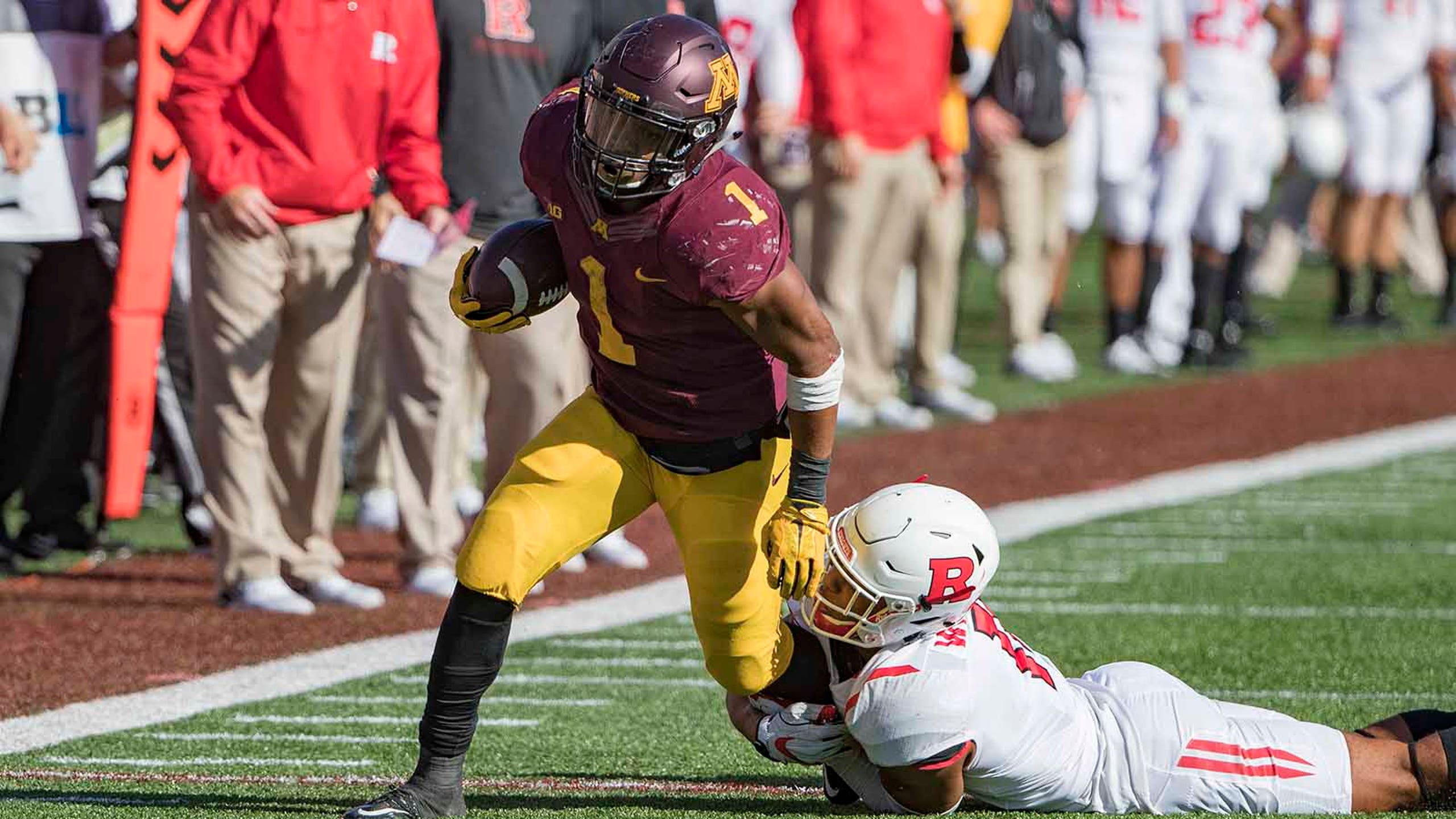 Upon Further Review: Gophers vs. Rutgers
BY foxsports • October 23, 2016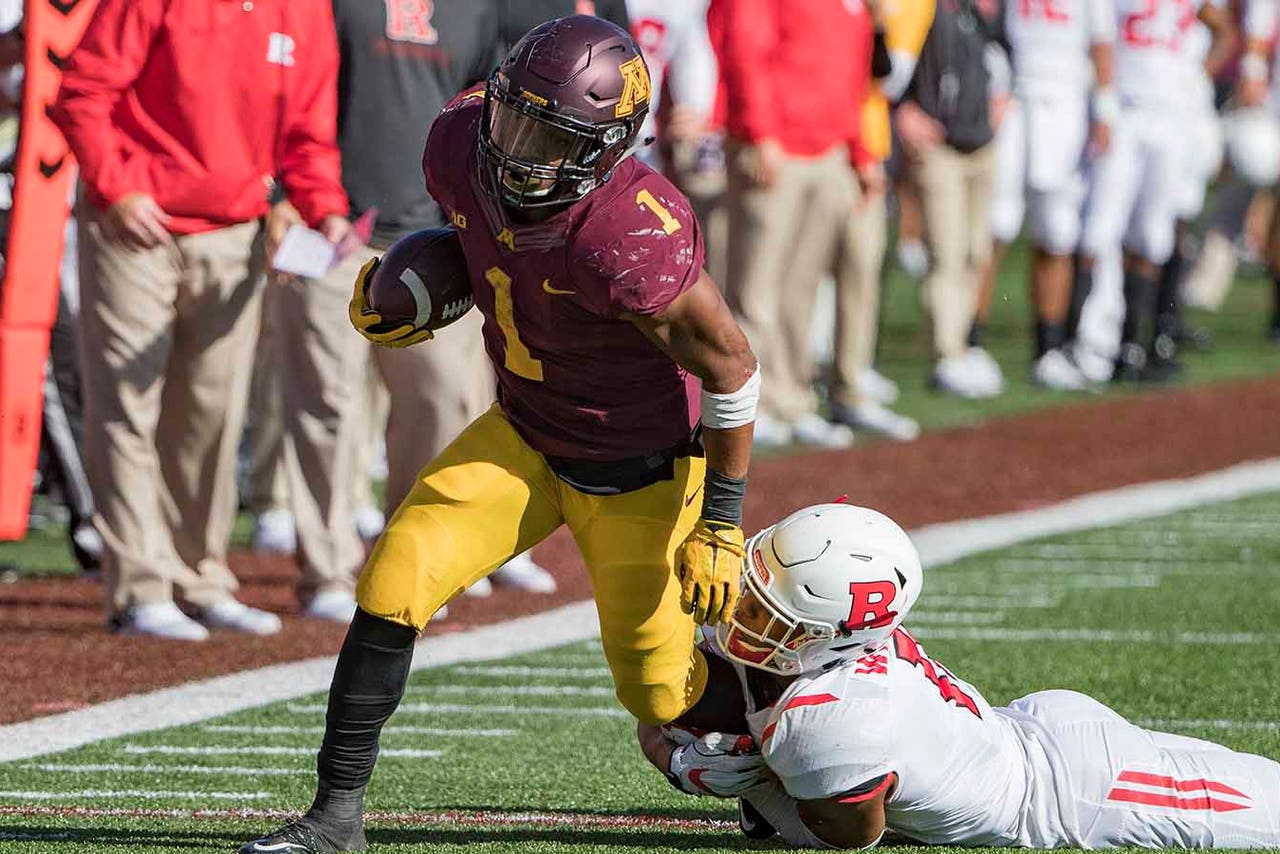 Is there such a thing as a bad win? If there is, we found it.
Minnesota needed a field goal in the final seconds of regulation to beat a weak Rutgers team 34-32. The Scarlet Knights haven't won a Big Ten game in a year and had scored just 14 points in their last four games, including a 24-7 last week to an equally struggling Illinois team.
Yet this was the position Minnesota put itself in despite roaring out to a 21-3 lead. Perhaps it was a little bit of hubris from players and coaches which helped Rutgers get back in the game and almost pull out a big upset victory at TCF Bank Stadium.
So how did it get to that point? Here's a recap of Saturday's game:
CLASS LESSONS
-- Mitch Leidner returned after missing last week due to a concussion. Leidner only threw 18 passes in the game, but three of his 11 completions came on the opening drive, perhaps a show of confidence in the quarterback. On the first play of the game, Leidner hit a wide-open Rodney Smith for 27 yards and later found Drew Wolitarsky on third-and-9 and second-and-5 plays, both of which resulted in first downs.
-- The TV announcers wanted to blame Leidner for his interception returned for a touchdown, which made it 24-23, but on that play receivers Wolitarsky and Brian Smith collided. Leidner was throwing to the spot where Wolitarsky was supposed to be if not for that collision.
-- We saw how missed extra points can hurt. Rutgers failed after the above touchdown and chased points the rest of the game. Just one more play which helped cost the Scarlet Knights the game.
-- There's something to be said about taking risks. But when those risks don't pay off, they don't endear you to fans. In the fourth quarter, Minnesota had three fourth=down situations in which they went for it. On the first, it was fourth-and-1 from the Rutgers 10 and the Gophers tried to get cute by faking a handoff and having Leidner run left. He was stopped. Making matters worse, a field goal would have made it a two-score game and Rutgers drove right down the field and scored. Next, on fourth-and-2 from the Rutgers 45 -- the Gophers led by just two points at this point, so a failure to get a first down would have set up the Scarlet Knights with good field position. But Minnesota, after calling a timeout, had a false start and had to punt. Rutgers took over at its 16 and had to punt, giving Minnesota the ball at its 45 and this time had a fourth-and-1 from the Rutgers 46. Again, with just a two-point lead, Shannon Brooks was stuff behind the line.
-- After the above series, the Minnesota defense held again, but Wolitarsky muffed the punt and Rutgers recovered and, because the Scarlet Knight were kicking from near midfield this meant they got the ball at the 23 and eventually took the lead on a field goal.
-- On Minnesota's final, game-winning drive, Leidner threw just three times -- deep to Rashad Still on first down, a 9-yard completion to Wolitarsky on second-and-8 and a low throw to Wolitarsky which was incomplete on a first-and-10. Other than one Leidner run, it was all Smith, who rushed seven times for 42 yards. His nine-yard run on third-and-1, where he fought through tacklers, ensured Minnesota would have a relatively easy field-goal attempt.
-- Minnesota running backs have run hard all season. On Smith's 6-yard touchdown in the first quarter, he ran into a pile of players and just pushed everyone into the end zone with him.
-- I don't know if Brooks can fly, but it certainly seemed that way on his dive over the top on a first-quarter touchdown.
-- Another game and another Minnesota player ejected for targeting, this time linebacker Jack Lynn, who was flagged in the third quarter. As if you didn't know, but he'll have to sit out the first half of the Gophers' next game. At the time of this penalty, Minnesota was winning 21-10. On the very next play, Andre Patton reeled in a 37-yard touchdown pass.
-- Patton's touchdown gave Rutgers 17 points, which was more than it had in its previous four games combined (14). Rutgers had scored just 64 points vs. FBS teams coming into this game, and 37 of those came against New Mexico.
DULY NOTED
-- Justin Goodwin's 3-yard touchdown pass from Giovanni Rescigno was the first touchdown allowed in the first half by Minnesota to a Big Ten opponent this season.
-- Wolitarsky has a reception in 20 straight games, which is 10th on Minnesota's all-time list. He also became the 14th Gopher with 100 career receptions.
-- Smith's kick return for a touchdown was Minnesota's first since Jaylen Myrick vs. Northwestern on Oct. 11, 2014.
-- Ray Buford, KiAnte Hardin (who had interceptions in back-to-back games) and Dior Johnson were unable to play due to a temporary restraining order preventing them from being at TCF Bank Stadium.
WHAT IT MEANT
Let's face it: this was not exactly a confidence-inspiring victory. Nevertheless, every win counts the same and this put Minnesota one closer to being bowl-eligible with two more Big Ten lightweights upcoming on the schedule
PLAYER OF THE GAME
Rodney Smith rushed for 111 yards -- 86 of which came in the second half -- including some big runs to set up the game-winning field goal. His 94-yard kick return for a touchdown was just what the doctor ordered after Rutgers appeared to steal momentum following a pick six. Smith, who also had one catch for 27 yards, finished with 257 all-purpose yards, the first Gopher to top 200 all-purpose yards since David Cobb had 233 against Michigan on Sept. 27, 2014.
DON'T FORGET ABOUT ME
Maybe you wouldn't think a defensive player shouldn't belong here, but Hendrick Ekpe had six tackles, two sacks, three tackles for loss and forced a fumble. All those are career highs for the senior defensive lineman.
THAT MOMENT
At the time it seemed like, well, Rutgers being Rutgers. At the end of the first half, the Scarlet Knight drove down the field and set themselves up for at worst a field-goal attempt, but on a third-and-5 play from the Minnesota 13, Rescigno threw way high in the end zone to an intended receiver and Damarius Travis climbed the ladder for an interception. Rescigno threw away points and, as the way this game turned out, Rutgers sure could have used them.
THIS NUMBER
21 -- points for Minnesota in the first quarter, the most for the Gophers in the opening 15 minutes since they score 21 against Indiana in the first quarter on Nov 4, 2006.
THEY SAID IT
"For some reason, I guess we thought that because they hadn't won a game in the Big Ten that they were just going to lay down with the big lead." -- head coach Tracy Claeys
"I'm the type of guy who tries to provide a spark for anybody that needs it with a big play. Whether that's on special teams or offense. In the back of my mind I didn't have to do much, I just ran it." -- Rodney Smith on his kick return for a touchdown
"After that missed kick in the first half, I thought about it for a little bit just to kind of learn from the experience and what I did wrong, and then just kind of clean the slate. I knew that my name would be called again at some point in the game. I just had to respond for that." -- kicker Emmit Carpenter
WHAT'S NEXT
Minnesota travels to 2-5 Illinois. The Illini have just two wins this year -- against FCS Murray State and at Rutgers. Illinois has lost to four schools which have been ranked this year, but also were defeated at home by Rutgers.
Dave Heller is the author of the upcoming book Ken Williams: A Slugger in Ruth's Shadow as well as Facing Ted Williams Players From the Golden Age of Baseball Recall the Greatest Hitter Who Ever Lived and As Good As It Got: The 1944 St. Louis Browns
---