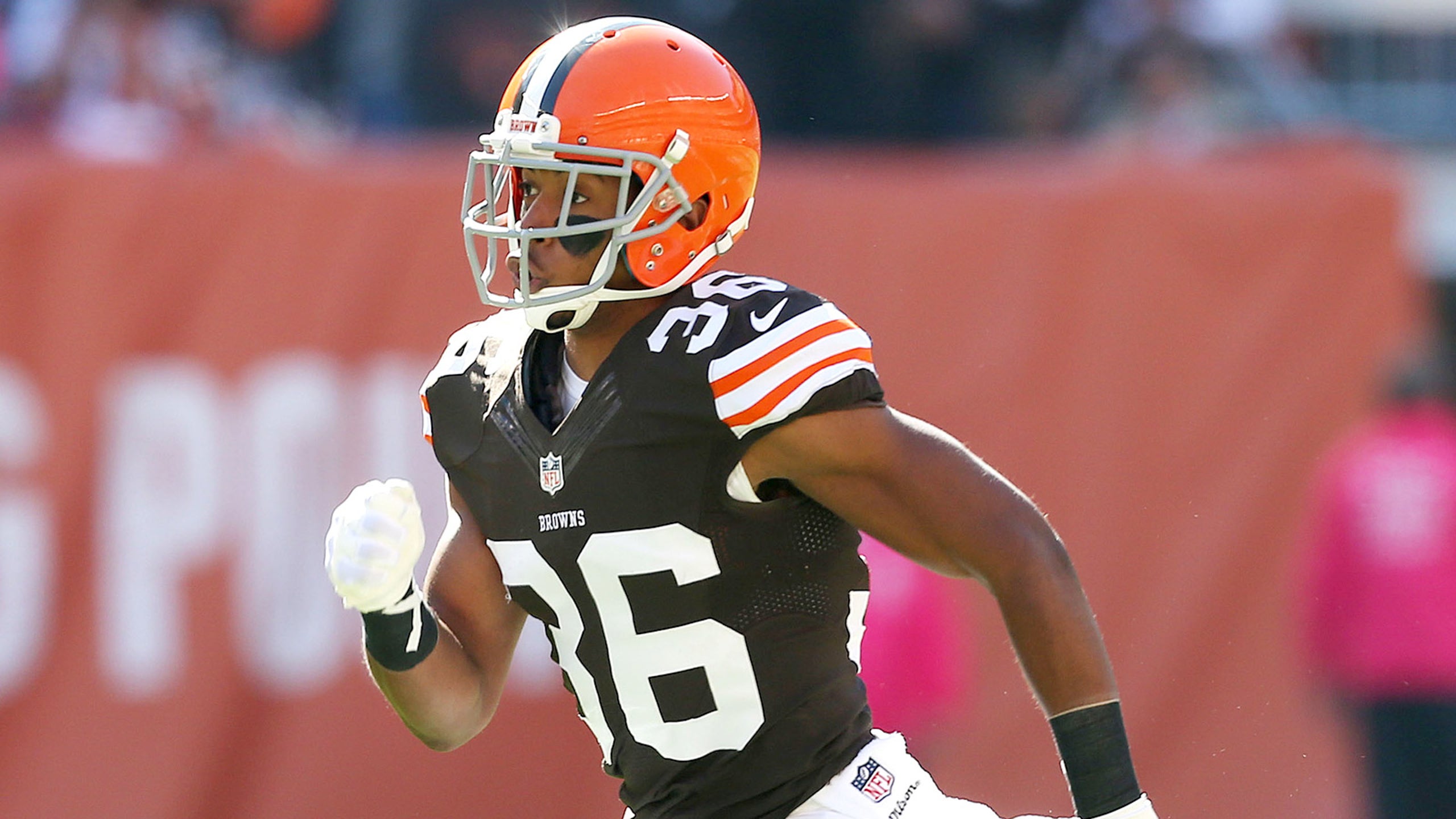 Undrafted rookie Williams keeping top pick Gilbert on bench
BY foxsports • November 20, 2014
BEREA, Ohio -- Defensive coordinator Jim O'Neil doesn't care where players come from.
A good example for the Browns is undrafted rookie free agent K' Waun Williams has risen above the eighth overall pick in the draft in Justin Gilbert.
The Browns obviously, targeted Gilbert in the draft and were willing to trade twice in the top 10 picks on draft day in May to get him.
However, Gilbert has not been able to outplay those on the depth chart above him, particularly the 5-9 Williams.
"I don't get caught up in the number eight overall pick stuff," O'Neil said. "I would say K' Waun Williams has earned the right to be (on the field). I think you would struggle find a corner that was drafted this past year playing at a higher level than K' Waun Williams.
"It's just hard to keep K' Waun off the field," O'Neil said. "He makes plays in critical situations and he's earned the right to be out there."
Williams has 20 tackles on the season with six passes broken up and a sack. He has started three games when the Browns started with three cornerbacks.
"(All I can say) is thanks that (O'Neil) thinks so highly of me," Williams said "It's the next guy up and whatever they need me to do, I'll do because they believe in me."
Williams was given the opportunity with the Browns and he's taken advantage of it so far. He was asked the reason for his success so early in his career.
"I just come in prepared and stay focused," Williams said. "I play my game which is aggressive and fill in where needed."
Meanwhile, Gilbert has 23 tackles with five passes broken up, including two starts in all 10 games. However, most of Gilbert's production was in the first two games when he had 14 tackles.
After suffering a concussion against the Steelers on Oct. 12, Williams had to sit out the following game against the Jaguars. While out, Gilbert stepped into Williams' role, but was unable to establish himself as the third cornerback while Williams was injured.
O'Neil said Gilbert did what was asked of him in Williams' absence.
"(Gilbert) did a good job at the line of scrimmage and brought the technique to the field that we were asking him to do," he said. "He challenged, he competed and he practiced well. He did a good job in the meeting room.
Like I said, I'm not down on Justin, I'm just really high on K' Waun," O'Neil said. "If they let us play with 12, I'd play with 12 and (Gilbert) would be out there."
Last week against the Texans, Gilbert did not play any defensive snaps, rather just on special teams. Meanwhile, Williams had seven tackles, including a pass broken up and a quarterback hurry.
"Justin is progressing and is doing a good job in practice and in the meeting room," O'Neil said. "Justin was part of a plan last week, but it obviously became more of a running attack against Houston.
"This week could be different because (Atlanta) likes to play a lot more three and four wide receiver sets," he said. "Justin is part of the game plan, but I just like... it's not anything Justin is not doing, it's just that K'Waun is playing so well in practice and so well (in games)."
Mike Pettine was asked if he thought Gilbert would play this week against the Falcons passing attack.
"Given (Atlanta) will put a lot of receivers out there--three and four receiver sets and with the amount they throw the ball--it will depend on how they plan to attack us, there are some scenarios where I could see Justin out there," Pettine said.
The Browns look at Gilbert as more of an outside cornerback behind Joe Haden and Buster Skrine and he hasn't been able to unseat Skrine.
"(Gilbert and Williams) are in different positions, but for Justin to get on the field he's going to have to outplay either Joe Haden or Buster Skrine," O'Neil said. "We're going to put our best 11 out there."
Williams agreed.
"We play different positions," he said. "I'm more of a nickel and (Gilbert's) a cornerback."
O'Neil was asked what Gilbert isn't doing to keep him off the field.
"I wouldn't say anything major is lacking," O'Neil said. "Right now, we feel our best three corners K' Waun, Buster and Joe. He's our fourth corner. That's where (Gilbert) fits on the totem pole."
O'Neil feels the Browns were very fortunate to find a great player as an undrafted rookie from Pitt.
"It's a testament to (Williams)," O'Neil said. "He worked his way all the way up from the bottom to the top and is playing at a really high level. When I was in in New York, we were rolling guys in and out and we couldn't find a guy to play nickel in this system.
"We have been lucky the last two years to find great players as rookie free agents to come into this system and play where it's a lot of man coverage," O'Neil said. "It's a hard position to play in our system and K'Waun has come in and done a helluva job. I can't tell you how excited I am about him and that he chose us post-draft."
---