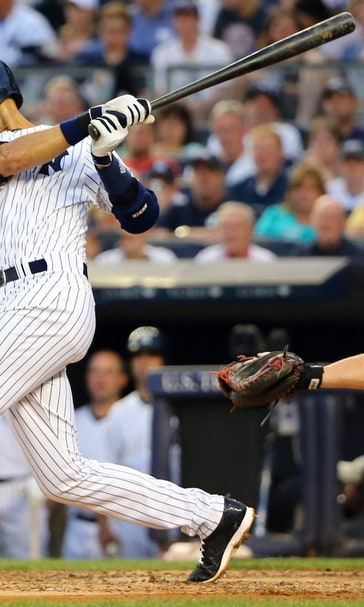 Unbiased All-Stars: American League
BY foxsports • June 30, 2014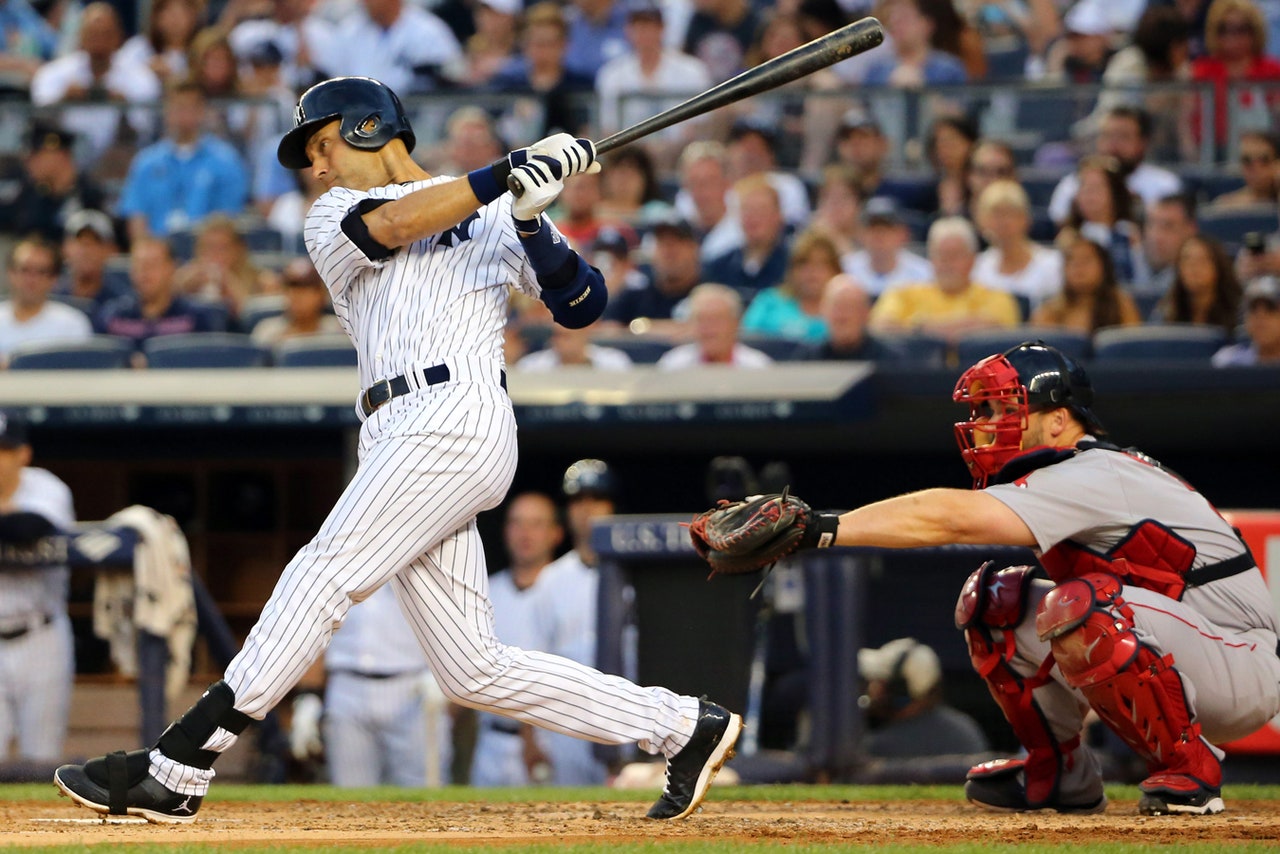 Here is Part 2 of our Unbiased All-Star selections, focusing on the American League roster. For a refresher, our process excludes a player's reputation, fans' favoritism and team representation obligation (although every club ultimately was spoken for by a player's own merit), choosing to focus on one's production solely from the first half. Innovative concept, I know.
Below are the nominees for the American League roster, based simply off the back of each player's baseball card. (Click here for the National League team.)
Stats before Monday's games.
Catcher
Starter: .284/.332/.444, 9 HR, 28 RBI, 31 R
The American League starting catcher is Salvador Perez of the Royals, with Yan Gomes and Derek Norris as backups.
Analysis: Pretty slim pickings at backstop thanks to Matt Wieters' injury, Joe Mauer's move to first and Brian McCann's struggles in the Bronx. Perez is better than his figures state, which are jaded by a slow start. However, the 24-year-old is hitting .316 since May 4, slugging seven long balls in that span.
After Perez, there's a significant drop-off. Gomes' offensive numbers don't jump off the page, but he does rank second in WAR among AL catchers, a testament to his defensive prowess. Norris may seem like a head-scratcher to the casual fan, lacking the name recognition of others on this list. Conversely, a look at his stats will affirm his inclusion, with Norris ranking first in offensive efficiency, a credit to a 14.8 walk rate.
You won't be telling your children about the great All-Star catching class of 2014. Nevertheless, this group will provide a sound presence behind the plate, which is all the position necessitates.
First Base
Starter: .311/.364/.533, 13 HR, 64 RBI, 46 R
The American League starting first baseman is Miguel Cabrera of the Tigers, with Edwin Encarnacion and Jose Abreu as backups.
Analysis: Seemingly an obvious choice, a case could be made that the reigning two-time AL MVP Cabrera belongs on the bench in favor of Easy Eddy. Admittedly, it's a strange and almost dismissive proposition until realizing that Encarnacion leads the majors in total bases and homers (with double the amount of round-trippers as Miggy), and also flaunts the best WAR among Junior Circuit first baseman.
So why does Cabrera get the nod? Even at a position known for its lack of defensive aptitude, Encarnacion is something awful with the glove, with the worst fielding rating in baseball at first. Though Cabrera wasn't nimble at his endeavors at hot corner, he has proven to be relatively skillful manning first, giving him the edge over Encarnacion.
As a side note, if Abreu doesn't participate in the Home Run Derby, just cancel the event. Without him, the trophy comes with an asterisk. It would be like holding a Slam Dunk Contest without LeBron J…er…bad example.
Second Base
Starter: .307/.342/.488, 10 HR, 42 RBI, 55 R
The American league starting second baseman is Ian Kinsler of the Tigers, with Brian Dozier and Jose Altuve as backups.
Analysis: Dustin Pedroia is having a down year at the plate, and though Robinson Cano's batting mark is commendable (.319, fourth-best in the American League), his power has been absent and his defense would be called suspect at best, which is why he comes into Monday's ballgames ranked ninth among AL second basemen in WAR.
Many thought Kinsler would see a precipitous fall in production in 2014. Not only was he leaving Rangers Ballpark (where he owns a .305/.388/.513 line versus .246/.313/.403 on the road), but, at 32 years old, there was a question regarding the tread on Kinsler's tires. He's responded in stellar fashion, raking at a .307 figure for the Tigers, showing there's plenty of gas left in his tank.
Ignore Dozier's middling .238 average and focus on his power production and speed, which could facilitate a run at a 30-30 season. As for Altuve, the guy continues to get it done with the stick, leading the league with a .347 average. Even without Cano and Pedroia, the AL packs a serious punch at second.
Third Base
Starter: .250/.330/.469, 18 HR, 61 RBI, 56 R
Reserve: .350/.404/.562, 8 HR, 36 RBI, 33 R
The American League starting third baseman is Josh Donaldson of the A's, with Lonnie Chisenhall as backup.
Analysis: Historically one of the more coveted spots, Miggy's move to first and a down year from Evan Longoria subtracts the usual glamour at third. Not to say there's a shortage of nominees. Donaldson, who finished fourth in MVP voting in 2013, is showing last season was no fluke. Drop this cat in a normal ballpark, who knows what damage he would inflict on the league. (In pitcher-friendly O.co Coliseum, Donaldson owns just a .247/.317/.440 split.)
Most will be surprised that Chisenhall receives the invite over mainstay Adrian Beltre and Kyle Seager, the latter who's quietly enjoying a solid campaign in the Emerald City (12 HR, 55 RBI, .277/.347/.490). Alas, Chisenhall has been just as successful on the road (.374 in 34 games) as at home (.324 in 32 contests) whereas Beltre's batting clip is nearly 80 points lower away from Arlington.
I don't envy whoever has to tell Beltre that he's been omitted from this list. Just don't add fuel to the fire by rubbing his dome.
Shortstop
Starter: .298/.329/.426, 8 HR, 39 RBI, 40 R, 13 SB
Reserve: .283/.323/.430, 6 HR, 41 RBI, 40 R, 8 SB
The American League starting shortstop is Alexei Ramirez of the White Sox, with Erick Aybar as backup.
Analysis: Derek Jeter will undoubtedly be voted into the All-Star Game despite ranking 19th among all shortstops in WAR, 20th in runs and 23rd in RBI. The Midsummer Classic should not double as a Lifetime Achievement award. There's a place in Cooperstown that handles that responsibility. As absurd as the notion of the ASG dictating home-field advantage in the World Series, it does have that authority. With such consequence, a below-average player should not be on the diamond possibly determining its fate.
Moreover, does Jeter really need the cap-tip from an appreciative-but-apathetic Minnesota crowd? This isn't like Mariano Rivera's moment last year, when he played in front of his home city. Also, with a 1.83 ERA through 38 first-half games, the Sandman earned his seat at the table.
Jeter has 13 All-Star appearances, five World Series rings, over $265 million from his Yankee contracts alone and a black book that would make Leonardo DiCaprio blush. I don't think he'll miss one more ASG summons from his mantle.
DH
Starter: .284/.351/.575, 25 HR, 66 RBI, 48 R
Reserve: .323/.384/.589, 20 HR, 52 RBI, 43 R
The American League designated hitter is Nelson Cruz of the Orioles, with Victor Martinez as backup.
Analysis: Cruz has logged half his games at DH, and we'd rather have the BoomStick in the lineup than the BoomGlove in the outfield. Martinez continues his admirable fight against Father Time with a .323 average and .384 OBP, including a revival in power production (20 homers in 78 games against 26 dingers in his previous 304 contests). Any other year, V-Mart gets the start.
Outfield
The American League starting outfield is comprised of Mike Trout of the Angels, Adam Jones of the Orioles and Jose Bautista of the Blue Jays. Alex Gordon, Michael Brantley and Brandon Moss serve as backups.
Analysis: Don't think we'll get much argument from the starting selections. The backups could be a different tale.
Gordon's offensive line infers someone having a good-but-not-great year with the lumber, a viewpoint that I won't debate. However, Gordon is one of the game's best defensive talents, and 2014 is no different, as he leads all Major Leaguers in fielding efficiency. It's exactly the type of glove you want in the late innings when preserving a lead.
Although Moss has made most of his appearances at first thus far, he has registered 39 games in outfield, allowing us to sneak his bat onto the roster. And if Brantley seems like a surprise, you're clearly not paying close enough attention. Which, given it's a Cleveland entity, is understandable. Brantley has shown a newfound plate discipline in 2014, evidenced by a .386 OBP. Along with 53 ribbies and 54 runs, Dr. Smooth earns his first All-Star trip.
Lineup
Starting Pitchers
Starter: 128.1 IP, 2.10 ERA, 0.92 WHIP, 137 K
The American League starting pitcher is Felix Hernandez of the Mariners, with Masahiro Tanaka, Yu Darvish, Garrett Richards, Dallas Keuchel, Chris Sale, David Price, Max Scherzer and Mark Buehrle as other selected hurlers.
Analysis: I went into this thinking Tanaka would be the unquestioned starter. Further analysis proved me wrong, as King Felix possesses league-best figures in games started, innings and WHIP. For those thinking that's a byproduct of Safeco Field, Hernandez has actually been better away from Seattle, holding a 2.04 ERA on the road. Throw in a 1.96 FIP, also tops in the AL, and Hernandez gets our call. (For those keeping track at home, that's a non-invite for Jeets and a Felix-over-Tanaka decision. If I wind up in the Hudson River, you'll know the culprits.)
Sale only has 12 outings under his belt, but his performance in those games has been lights-out. The ERAs of Price and Scherzer look suspect for nomination, yet their propensity for going late into games and strong whiff rates justify their respective spots. Jon Lester and Corey Kluber were given consideration, with Scott Kazmir as the last cut. Unfortunately, Kazmir's home-and-away splits (1.61 ERA with Oakland's Yellowstone-like dimensions, 3.78 on the road) doomed him.
Relievers
Dellin Betances, Sean Doolittle, Koji Uehara and Greg Holland are the bullpen options for the American League.
Analysis: See Yankees fans, I'm pro-Pinstripes! Go ahead and erase that foul-mouthed email.
Betances has been the rock in New York's bullpen, serving as a jack-of-all-trades arm. His BABIP and LOB numbers say regression is probable, but with an astonishing 14.5 K/9 rate, he won't be going quietly into the night.
Also submitting a laudable effort has been Doolittle. Jumping from set-up man to closer has done little to effect his performance, illustrated in a league-best 0.59 WHIP. Coupled with strikeout masters in Holland and Uehara, the AL bullpen is a hitter's nightmare.
Agree, disagree, need to rant? Let us know in the comment section below.
Joel Beall is a writer for FOXSports.com and WhatIfSports.com. He lives with a Golden Tee machine and a jump shot that's broken. Reach Joel on Twitter @JoelMBeall
---