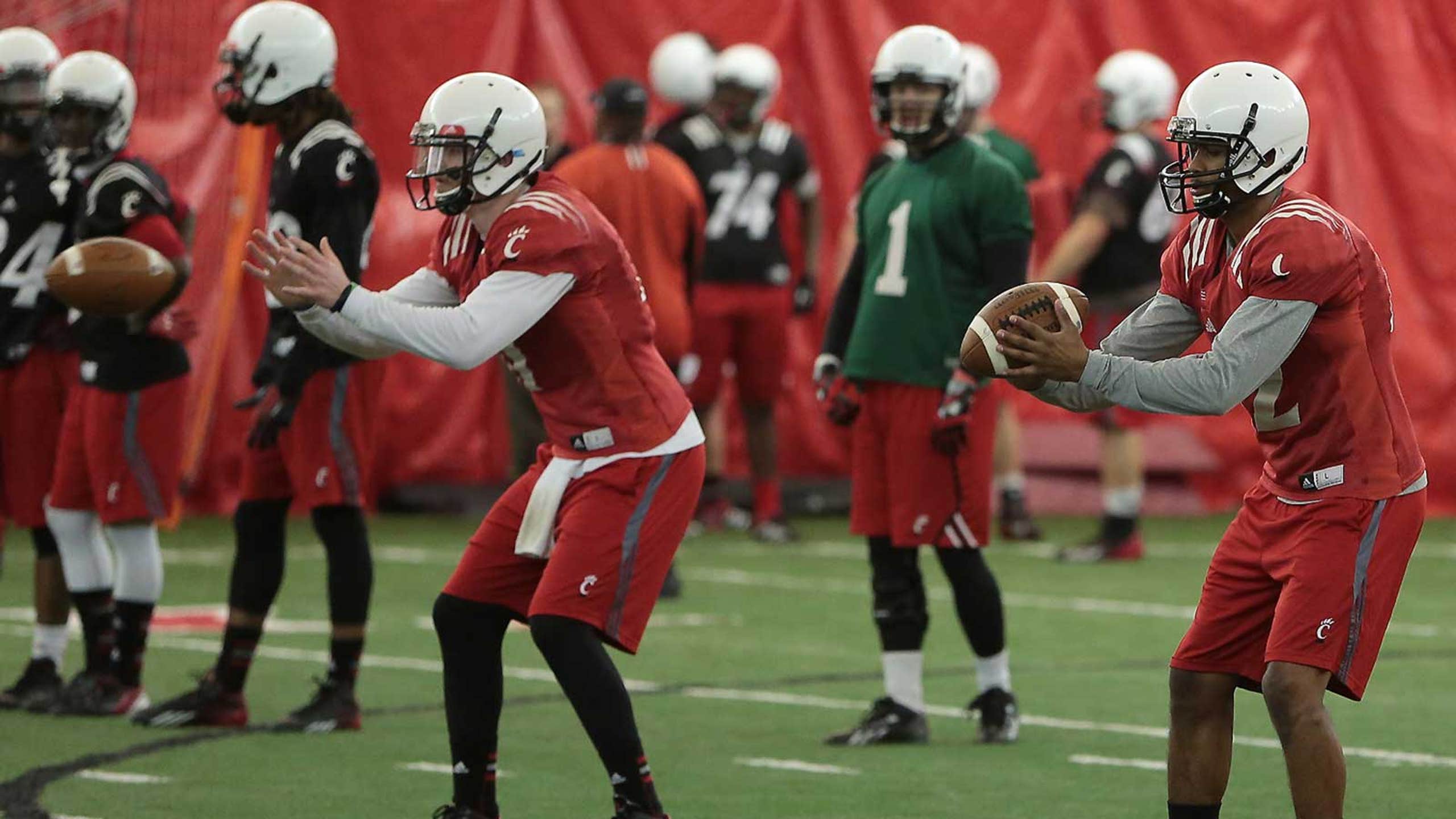 UC's Kiel ready to end his odyssey
BY foxsports • February 27, 2014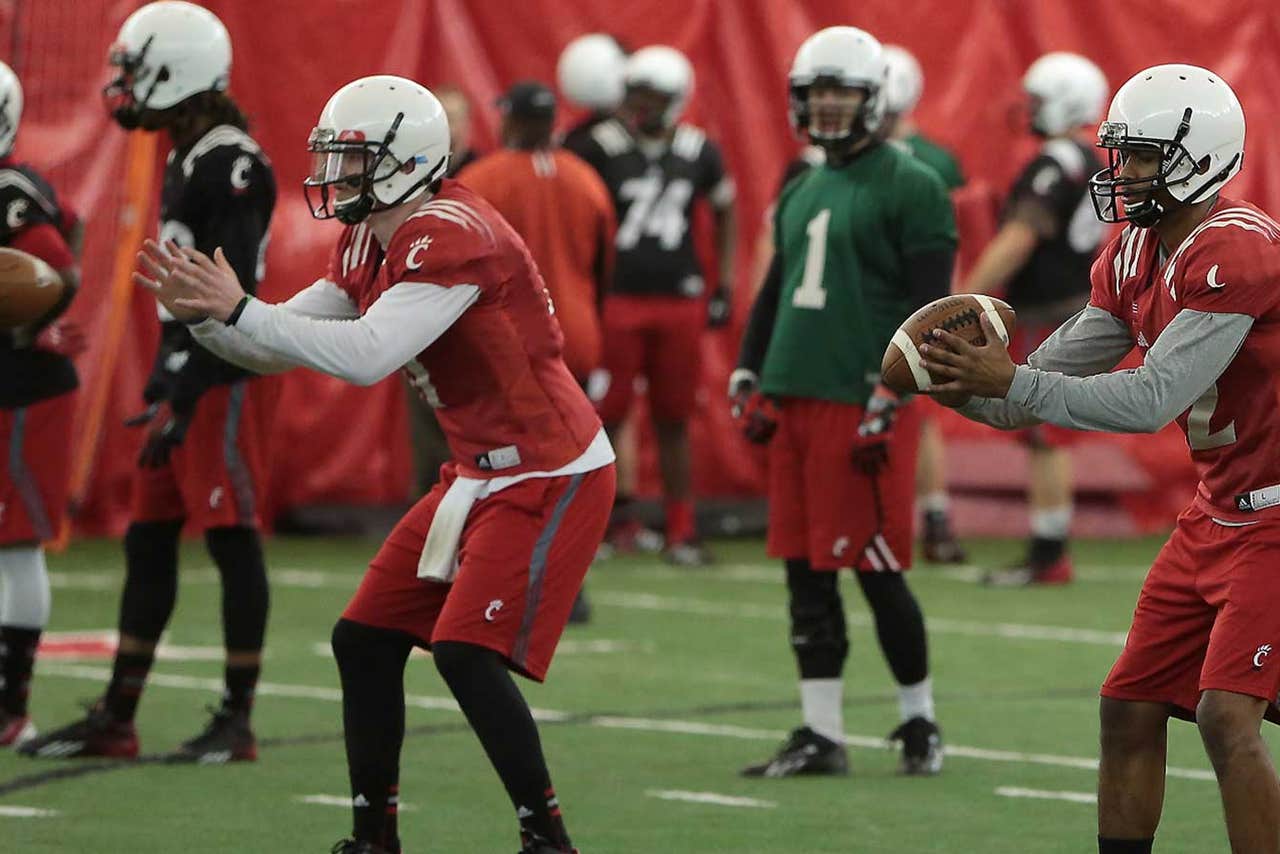 CINCINNATI -- Gunner Kiel hasn't played in a football game in more than two years. He's anxious, to say the least.
There are a lot of people anxious to see Kiel play. They know the name. They remember the prodigious stats Kiel produced at Columbus East High School in Columbus, Ind., the stats that made Kiel one of the top-rated and hotly recruited quarterbacks in the nation.
The University of Cincinnati football team began its second spring practices under head coach Tommy Tuberville Thursday. Kiel was taking snaps as the first-team quarterback for the Bearcats.
Kiel has caused a lot of commotion in the last two years but it hasn't been because of his play. Rather, it's been because of where he was going to play. He's ready to put all of that behind him.
"To sit out for three years and not get under center and touch a ball in a game is a terrible feeling," said Kiel after Thursday's first session. "I'm a competitor. People don't see that in me right now. They see me as a cocky kid who just wants attention but those people just get me fired up. The more people underestimate me, go ahead. That's fine. I'm going to prove them wrong and come out here and be a competitor. I'm going to work hard and I'm going to be the guy for my teammates."
Kiel's journey to this point began with an initial verbal commitment to Indiana. That switched to a verbal commitment to LSU but he ultimately signed with Notre Dame and enrolled in time to participate in spring practices for Brian Kelly and the Irish in 2012. He was red-shirted as a freshman after Everett Golson won the starting job and led Notre Dame to the BCS National Championship game against Alabama.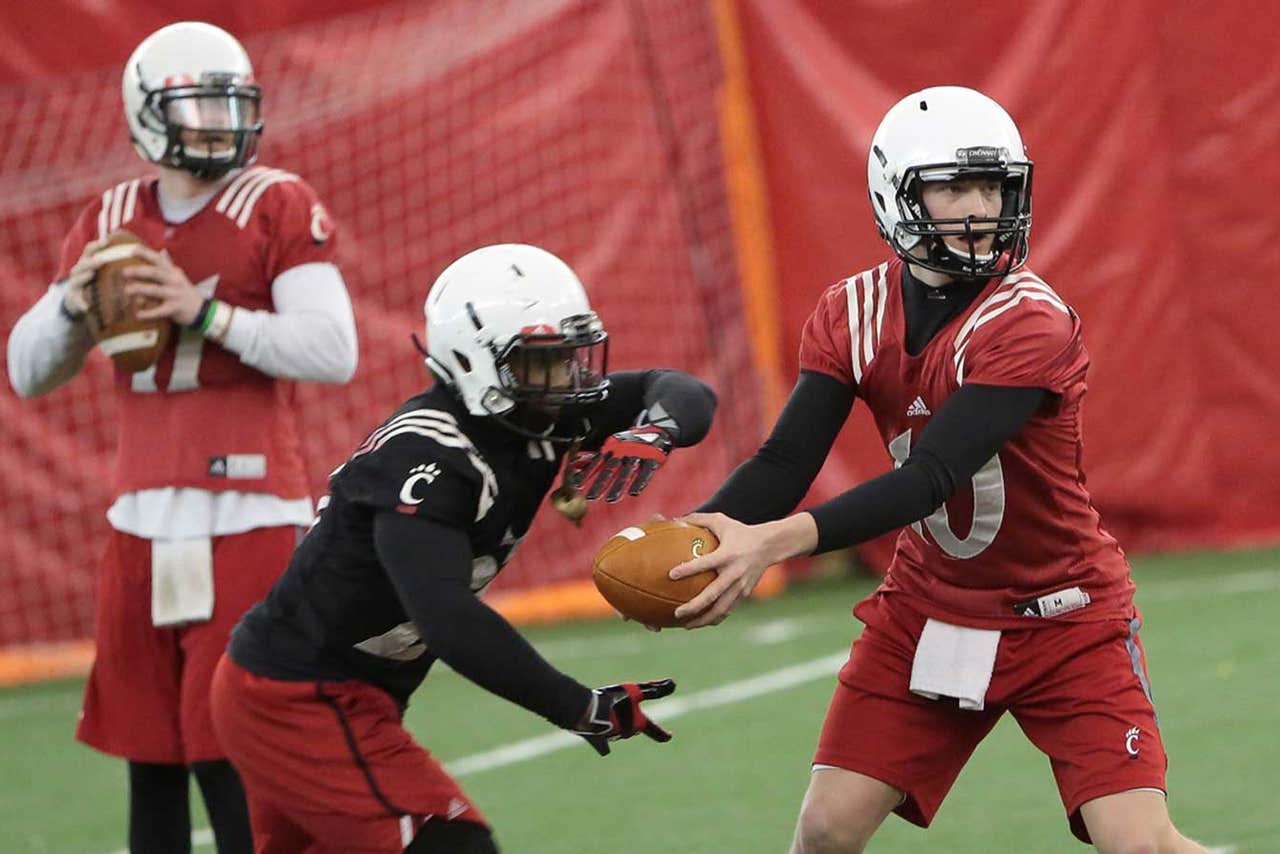 UC freshman quarterback Hayden Moore, with Gunner Kiel looking on, during drills at the first day of spring practice.
Last April, Kiel left Notre Dame and transferred to UC.
He sat out the season per NCAA transfer rules. Running the scout team in practice, giving the UC defense the best possible look at that week's opponent as he could, was his role behind Munchie Legaux and Brendon Kay.
"The experience with Brendon and Munchie last year was great," said Kiel. "To sit out a year taught me a lot. It taught me about responsibility. It taught me that everything is going to be okay. There's going to be adversity in the locker room but you've got to overcome it and you've got to work each day."
It wasn't until the Bearcats began practicing for the Belk Bowl against North Carolina that Kiel got to practice with the first team significantly. Legaux had suffered a torn ACL in the second game at Illinois and Kay was finally getting some rest time after playing battered and bruised all season. Before the Bearcats left for Charlotte, Kiel was getting the majority of snaps with the first team.
"I made him come to every meeting the whole season so he got a lot of mental things that happened during the season," said quarterbacks coach Darin Hinshaw. "He got to see how we handled protections, what we were doing with our routes. He got to see it but not do it. The times he got to do it was during that bowl practice.
"We threw him in (and) he got a good seven, eight days of being able to get some reps and some live bullets being thrown at him. He fell on his face a couple of times, he learned and he got better as that went on."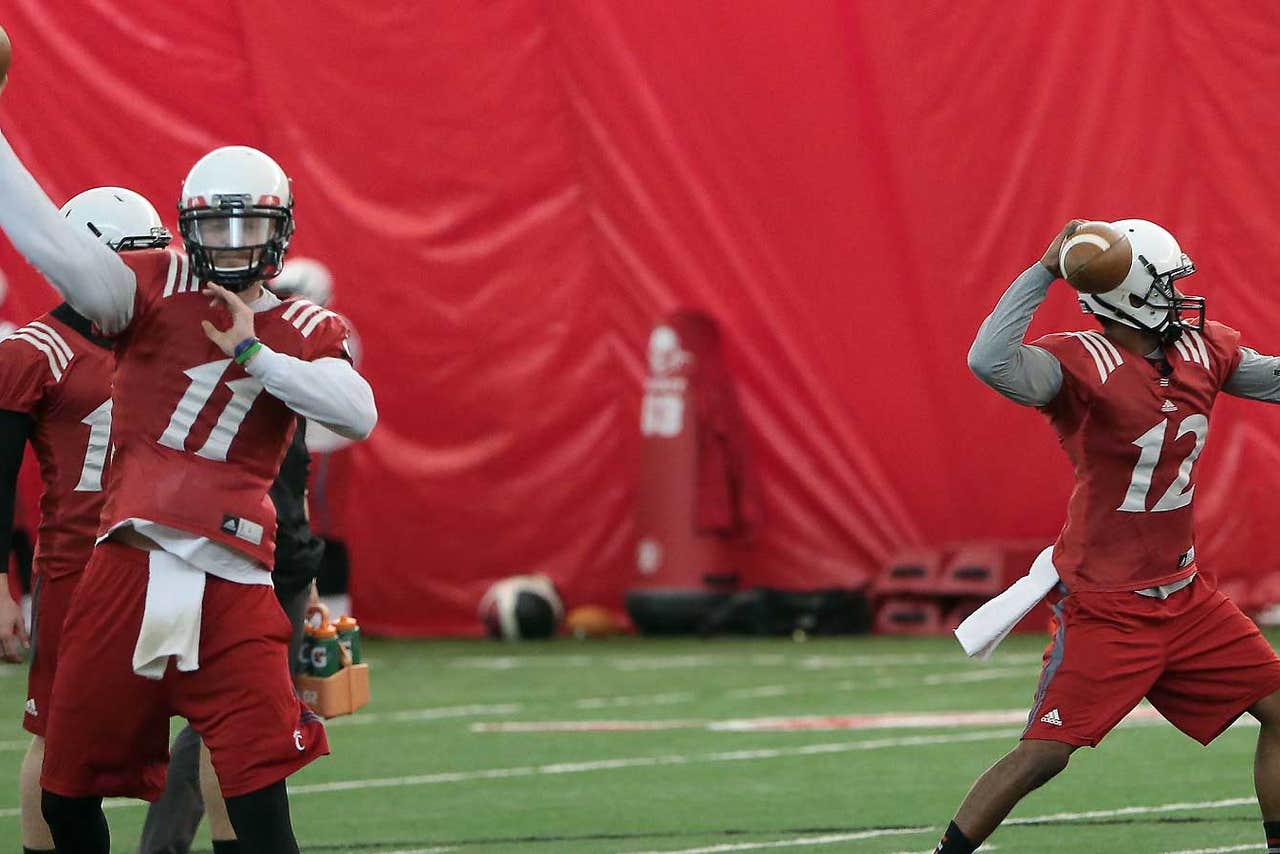 UC quarterback Blair Gunner Kiel, left, and Jarred Evans throwing during drills at spring practice.
Kay has graduated. Legaux has been granted a sixth year of eligibility from the NCAA but he is still in the rehab process and has a lot of work to do before he can again take snaps. This job is Kiel's to lose, although neither Tuberville nor Hinshaw are simply handing him the spot. Junior college transfer Jarred Evans may offer Kiel a challenge at some point this season, while freshman Hayden Moore should have a bright future.
"The quarterback, number one, has to be a leader," said Tuberville. "He's got to be able to grab the offense and convince them that he can be the guy that can score points and win games."
LSU coach Les Miles questioned Kiel's heart and ability to lead a football team after Kiel's decision to sign with Notre Dame. Kiel says he is comfortable in his belief that he can be that guy for the Bearcats. He is anxious to prove it and put his odyssey to rest.
"Coming out of high school as the number one recruit and quarterback in the nation, people really expect a lot from you. They put that pressure on you that this kid, if he doesn't come out and play as a freshman then he's probably a dud," said Kiel. "when I decided to transfer here people really underestimated that and took it as this kid's confused, he couldn't make up his mind during the recruiting process and he can't make up his mind now. He just wants attention and wants to stay in the limelight.
"That's not it at all. I'm just doing what's best for me now and I want to do what I've wanted to do my entire life, and that's just play football. To have these people judge me and they think I'm cocky and they underestimate me, I love it. Keep it going. That fires me up even more. That fuels my fire. That's going to make me work even more."
Follow on Twitter FSOhio_KGoheen
---