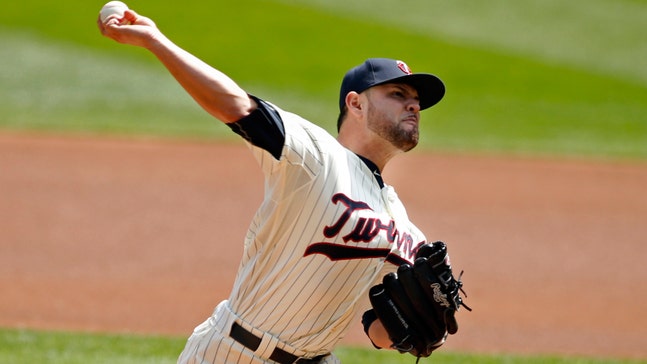 Twins hold off White Sox, 5-3
Published
May. 2, 2015 6:16 p.m. ET

MINNEAPOLIS -- After a terrible first week of the season, the Minnesota Twins have played their way back to .500.
Trevor Plouffe and Torii Hunter homered, helping Ricky Nolasco win in his return to the rotation as the Twins beat the Chicago White Sox 5-3 Saturday.
"We were able to kind of hold the fort down after things looked pretty miserable, to be honest, in the beginning," Minnesota manager Paul Molitor said.
The White Sox lost their fourth in a row and have been outscored 35-8 in that span.
Plouffe also lined an RBI single with the bases loaded in the fifth that broke a 3-all tie. Reliever Carlos Rodon threw two hard-breaking sliders to get two strikes on Plouffe, then left a fastball up.
"You have to put the ball in play," Plouffe said after the Twins won for the seventh time in 10 games. "I couldn't strike out there. I had to put the ball in play."
In his first start since coming off the disabled list with a sore elbow, Nolasco (1-1) held the White Sox to three runs and eight hits over five innings. He had been out since April 11.
The Twins used five relievers to blank Chicago after Nolasco left. Glen Perkins pitched the ninth and remains perfect in eight save chances.
Hunter hit a two-run homer off Hector Noesi (0-3) in the third. Hunter connected for the second time since rejoining the Twins in the offseason.
"He hung a slider, something I could capitalize on," Hunter said. "Kirby Puckett always told me, 'Hey, that's a gift from God. Don't miss your blessing,'" Hunter said.
Avisail Garcia and J.B. Shuck each had two hits and an RBI for the White Sox.
The White Sox lost three runners on the bases in the early innings. Shuck was thrown out trying to stretch a second-inning single into a double. Kurt Suzuki threw out Garcia and Alexei Ramirez attempting to steal second in the third and fourth, respectively.
"For us, we just need something to fall through when we get a lot of guys on," Ventura said. "We had some opportunities, we're just not cashing in on them right now. Eventually that's going to happen for us."
---