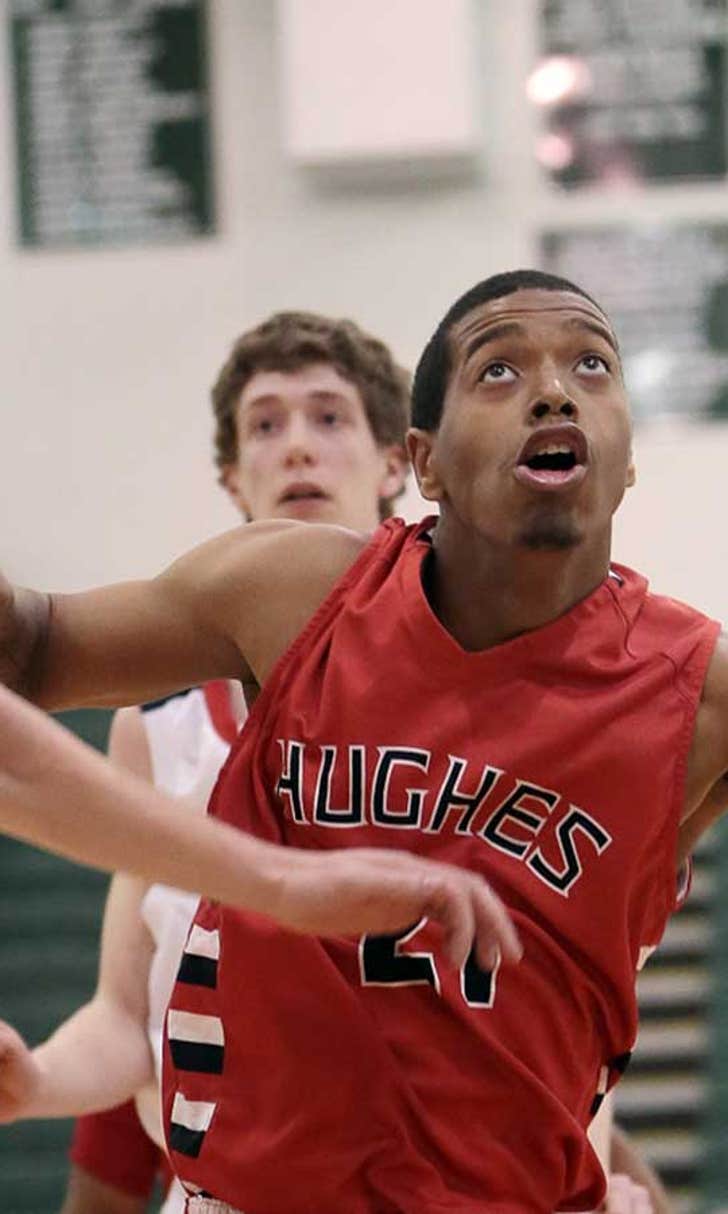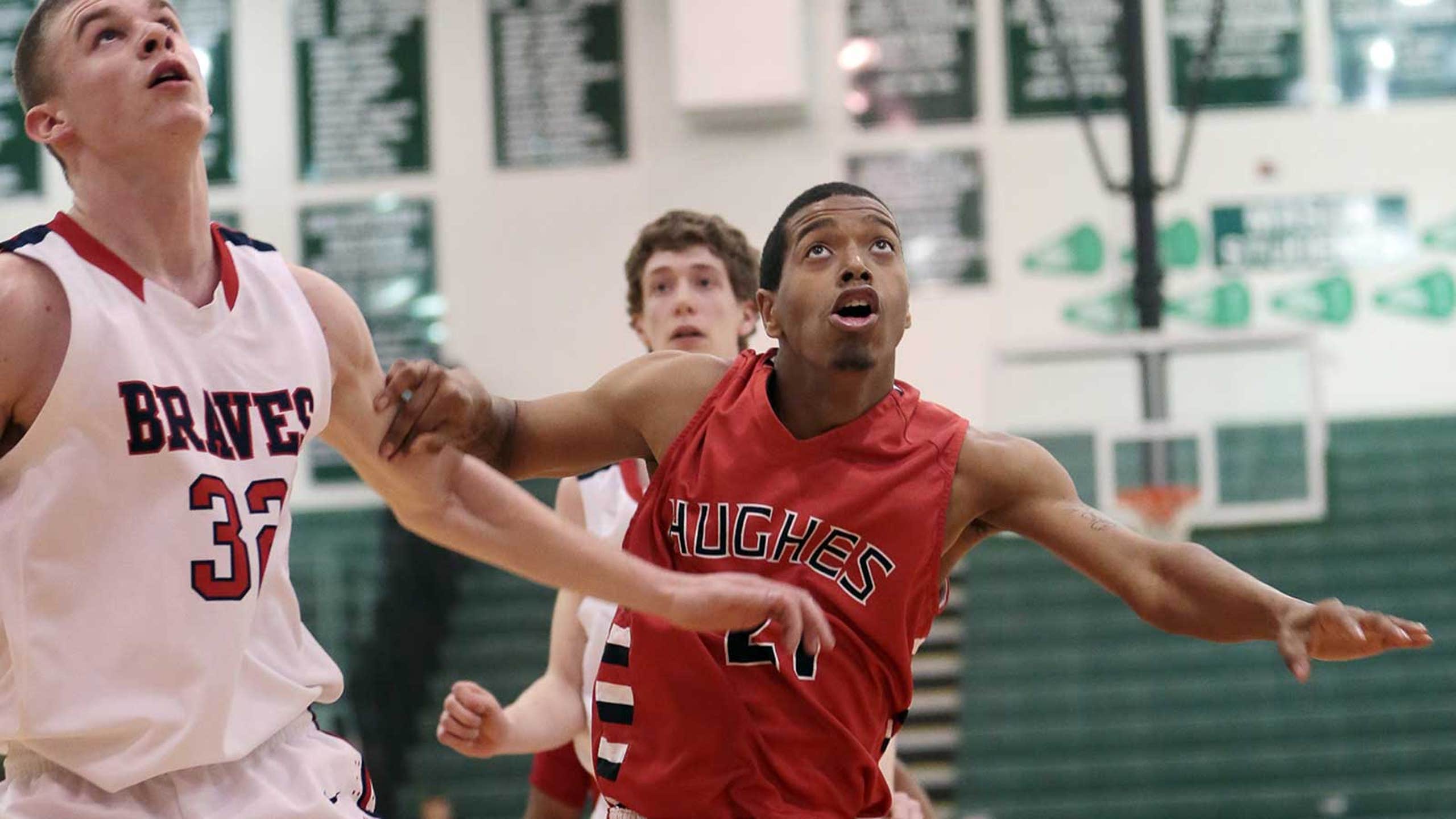 True 20/20 vision
BY foxsports • February 26, 2014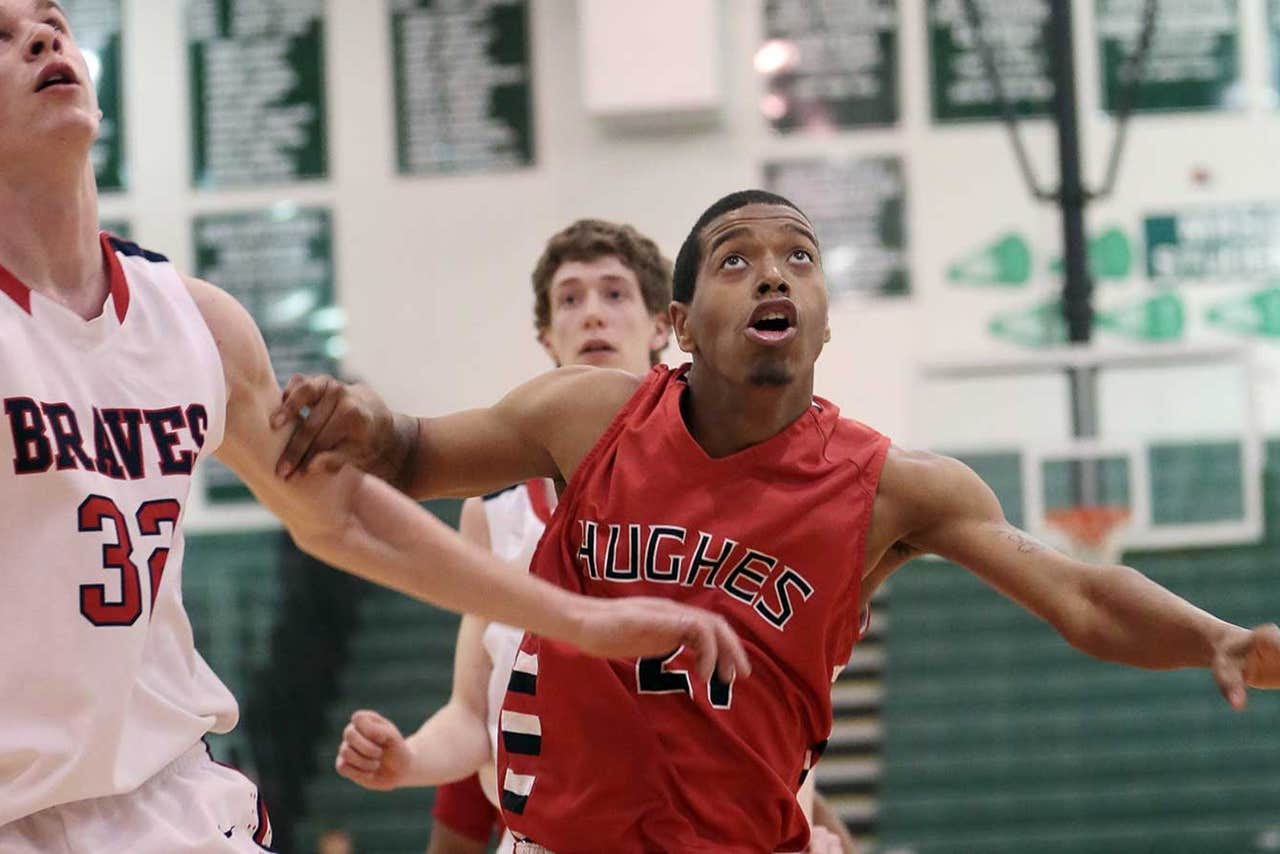 Juandez Scruggs was ready for the basketball to come his way. The senior from Hughes High School in Cincinnati made his way up to the spot on the floor, just off the right side elbow of the free throw line. The bounce pass came to him. He attacked the ball, just like his coaches had taught him, and caught it.
Scruggs' teammates had cleared out for that side of the court for him. All the great players get their chances to go one-on-one against a defender. Can't stop me with just one guy.
Scruggs jab-stepped to his right, cut back to his left, into the middle of the lane and toward the basket. His shot went up but missed.
Thweeeet!
Scruggs was fouled on the drive so off to the free throw line he went for two shots. It was the first time in his varsity career Scruggs would shoot a free throw in a game, the chance for him to score his first varsity point. It was coming in his first sectional postseason tournament game. The first shot was a bit off but the second one was true, skimming over the front lip of the rim and bouncing directly off the back of the iron, through the net.
"The most exciting part was hearing the crowd and how loud it got," said Scruggs. "Once I made the free throw, I think that's what made me happy the most, the crowd."
Scruggs knew he had missed the first attempt because of the crowd. The buzzing excitement grew hush. He knew he had made the second one because of the crowd.
Nothing but jubilation.
Dez Scruggs has Leber's Hereditary Optic Neuropathy, a genetic condition that affects the optic nerves and causes them to diminish in such a way that a person's central sight is all but gone. There is a blurring and cloudiness of vision that typically manifests itself in one eye and then gradually in the second eye. The condition tends to affect males four to five times more than females and when it does manifest it usually does so when someone is between the ages of 15-25. Just because a person carries the genetic coding of LHON does not mean he or she will be affected.
One day when he was in the eighth grade, Dez Scruggs realized he couldn't see the blackboard in his classroom no matter how far up his teacher sat him.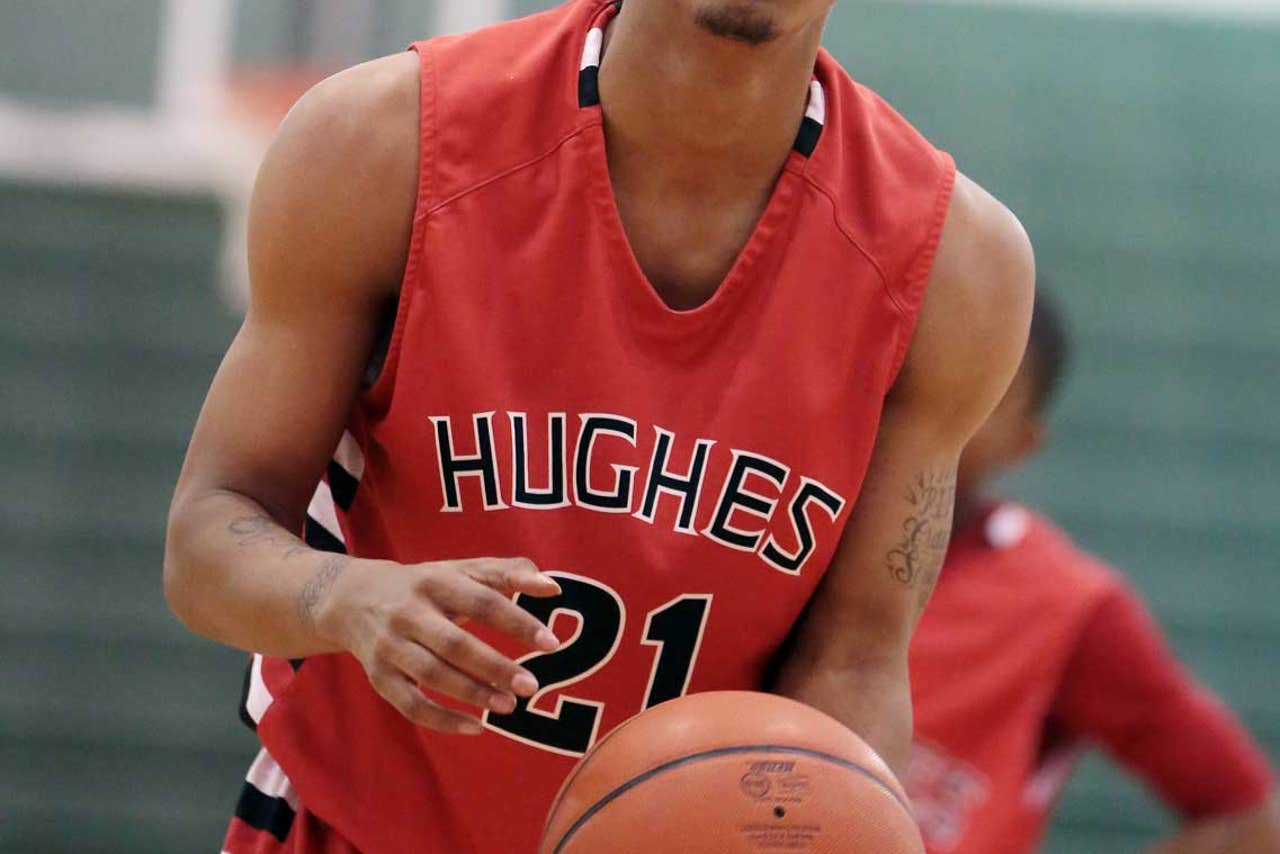 Dez Scruggs prepares to shoot a free throw.
THIS IS SERIOUS
Scruggs didn't know how to tell his mom, Kelly, that he couldn't see. He lived a block or so from his school and was able to manage getting there and back but he finally told her after a week that he was having problems.
Kelly Scruggs wasn't sure what to think at first. She was skeptical.
"I thought maybe he didn't want to take a test that day or maybe there was a bully at school," she said. "I didn't know what it was and I didn't initially take him seriously. And then when he said it again I knew he was serious. It was nothing at school or anything like that. He was serious."
A trip to the eye doctor led to a trip to the emergency room. Various tests were conducted, including a spinal tap, and there were various thoughts on what was causing Dez to lose his sight. A blood test finally revealed the diagnosis of LHON.
Dez Scruggs can see images up to about three feet away from him, although they are mostly blurred.
According to the web site LHON.org, approximately 100 people a year in the United States lose their central vision to the condition and there are more than 4,000 people in the country who live their lives while being affected by LHON. Thousands more are carriers of the LHON gene mutation in the U.S. and worldwide.
The mutation is passed down by a mother to her children. Males cannot pass along the gene mutation to their children.
Dez Scruggs has an older brother DeMarco who carries the mutation but has not been affected by it at this point. An uncle, his mother's brother, had an eye condition before he passed away. Kelly Scruggs has two sisters who are legally blind. They haven't been tested specifically for LHON, says Kelly, but it's probably a good bet what the diagnosis would be if they were.
Kelly hasn't been affected physically by LHON, although there is always the chance the mutation manifests itself at some point. Emotionally, however, the condition that has taken her son's sight has hit her.
"I want to make everything perfect in his world. I want to make everything right and I can't fix it," she said. "You get it through your mitochondrial, and you only get that from your mother. So, the condition comes from my mom, which was given to me, which I gave to my sons. The good thing is Juandez can't give it to his children. But to think about that, and I went through this whole hang-up when he first was diagnosed that I did this to my son.
"For the first couple of years that I dealt with it, I went through a whole depression myself because I had to deal with the fact that not intentionally but something in my DNA did this to my son. I'm just so proud. Some days he'll come in my room and say, 'Mom, you know, today is a good day. Today is going to be a good day.' He is an awesome kid."
JUST LIKE EVERYONE ELSE
The emotional toll extracted by LHON can be severe. The condition comes upon those it affects suddenly and swiftly.
Dez Scruggs has always played basketball. He loves the game and he doesn't want to give it up. That doesn't mean he hasn't thought about giving it up. Each year he's contemplated not playing. Each year he pushed those doubts aside and made the team. He played in the eighth grade, as a freshman and two seasons on the junior varsity before making the varsity team this season.
He wasn't a token choice to be on the team.
"All summer long, all fall long he put in the work," said Hughes coach Bryan Wyant. "His leadership was something that there was no way we could replace it."
Hughes, located in Clifton across the street from the University of Cincinnati and part of the Cincinnati Public School system, is coming off its most successful season in nearly 60 years when it finished 21-6, won a district title and reached the regional tournament for the first time since 1956. It's a program Wyant has nurtured along the way, a program that had won just 11 games the three previous seasons before last season's run.
The Big Red entered this year's Division II sectional tournament as the No. 1 seed but hadn't been playing well down the regular season stretch, losing three straight and five of its last seven games.
This is the time of the season when a team that has talent needs leaders who can help harness that ability and get it to work together. Those kinds of things can't just happen in the games. They have to happen in practice first.
"He's a vocal leader. He's so loud. When he plays defense he's louder than the whole team on defense. He calls out commands and that helps us out as a team," said senior forward Dwight Nared, a three-year starter who averages more than 13 points and seven rebounds a game. "I always wanted him on the varsity team with me. I don't treat him different. I feel like he can see. Sometimes I forget he can't see and I'll throw him the ball just like a regular person. I treat him like a regular person. I treat him like everyone else."
Wyant has set up some ground rules for when Scruggs is in the game. Players have to call out his name before passing to him, and he needs to get a bounce pass -- he hears the bounce of the ball off of the floor to help judge where it's at -- but that isn't always going to be the case. In the heat of the moment with a defender all over you it's tough to remember bounce passes only.
Defensively, Scruggs uses his 5-foot-10, 165-pound muscular frame to play a physical style of man-to-man defense. He really doesn't have a choice; if he's going to guard someone he has to be close enough to keep himself within hands-reach. A forearm to the body of the opponent lets him keep track of who it is he's defending. It's the reaction of his opponent or other players nearby that lets him know a shot has been taken and he needs to box out for a possible rebound.
"I think I have an important role on the team," said Scruggs. "When I'm on the floor, (Wyant) wants me to show leadership. He wants me to be loud. He just wants me to play defense and rebound. When I'm off the floor I've got to bring energy to the bench. I've got to make sure the bench is talking, make sure my teammates are engaged in the game.
"I'm trying to get my teammates better every day."
THEIR DIAGNOSIS, NOT YOURS
Scruggs has visual enhancement equipment he uses in the classroom. He has a CCTV camera and monitor that helps him view the blackboard or video device being used by the teacher. His computer screen has a video magnifier which allows him to read. He has a magnifying glass that lets him read his phone texts or the ingredients on a box at the grocery store.
It might take him longer to complete his studies or assignments but he is able to do them.
"Cincinnati Public (Schools) is awesome," said Kelly Scruggs. "They gave Juandez everything he wanted to be an A/B honor roll student. He's on A/B honor roll all four years of high school. That's been worth it to sacrifice knowing that he needs everything that they gave him. I'm so grateful to them for that."
Craig Scruggs, Dez and DeMarco's father, died in a car accident on Feb. 12, 1999, when Dez was four. Dez has a tattoo -- RIP Craig Scruggs -- inscribed on his left biceps. Things haven't always been easy for Dez and his family but the way Kelly Struggs sees it, things could always be worse and she's thankful for what she and her family do have.
"We're a faith-filled family and I told Juandez when he was diagnosed this is not the end for you," she said. "That's their (doctors) diagnosis. They don't have the last say. According to the doctors, Juandez should be totally blind by now. They don't have the last say. We're a faith-filled family. God has the last say. Five years later, he's still got a little bit of vision."
Her attitude has been passed on to her son. She's talked him into learning Braille and expanding his thoughts on what he wants to be as he grows into adulthood, how he can use his condition to his advantage.
"If you ask me, I think I can do anything that a person with complete vision can do. I think everything is possible," said Dez. "I want to graduate and then eventually go to school. I want to be an entrepreneur. I want to start my own business for kids with vision problems like me. I want to teach them how to play anything and everything. Most kids in my position may not want to play sports no more. They might be feeling like I was feeling, wanting to quit, wanting to give up and not play no more.
"That's not necessary. You can still play basketball. You can still play football or soccer. Whatever you want to play. Just don't quit. I was there before. I thought about quitting. Not a good idea."
MAKE THAT TWO
Dez made his first free throw in an 83-55 win against North Bend Taylor on Feb. 21. Hughes played its second tournament game against Oxford Talawanda on Tuesday night at Mason. Talawanda came into the game with a 3-18 record and this contest went as expected.
For most of the game, Dez listened intently to the squeak of sneakers, the pounding of the ball against the hardwood floor and the crowd reactions as he sat on the bench. Then Coach Wyant called for Dez to go to the scorer's table. Dez told the official who he was going in for and then sat down waiting for the next dead ball so he could enter the game. The horn sounded with five minutes, 39 seconds left to play in the fourth quarter. Dez went in and immediately found his defensive spot on the free throw lane boundary.
During his playing time in what would be an 82-37 win for the Big Red, Dez did his best to frustrate the Talawanda ball handlers, including forcing an errant throw that became a turnover. He set some screens on offense, boxed out on defense. And Wyant called his number a couple of times. One time he got the ball at the right-side elbow, just as he had against Taylor.
"I like to shoot from the elbow," he said.
This time he did take that shot. It went off the rim to the backside but a teammate grabbed the offensive rebound and the Big Red scored on the possession. Dez got the ball on the left-side low block another time but kicked it back out to a guard when he couldn't find any more room to make a move to the basket.
He was on the opposite side low block with 0:48 left when he got a bounce pass with his back to the basket. He was guarded by a taller, bulkier opponent but Dez spun to his right and went in for a shot.
Thweeeet!
A good, clean, old-fashioned hard foul sent Dez to the floor, the ball away from the basket.
Back to the free throw line.
Nothing but net on the first one as Kelly Scruggs stands, arches her back a little and gives celebratory pumps with both of her fists. The second one tantalizingly bounces in and out and off the rim.
Hughes' next game is Saturday against Cincinnati Metro Athletic Conference rival Taft, the No. 3 seed in the tournament. The teams split their two regular season games but Taft won the league title. The winner advances to the district title game, where a spot in the regional tournament will be on the line.
This is exactly the kind of spot any high school basketball player wants to be in at this point of the season. Dez Scruggs may not play much more this season. He might have already played the final minutes of his high school career. He might get a chance to cut down a championship net or two or three before it is all over.
Whatever the case might be, Dez Scruggs is still determining his own diagnosis.
---