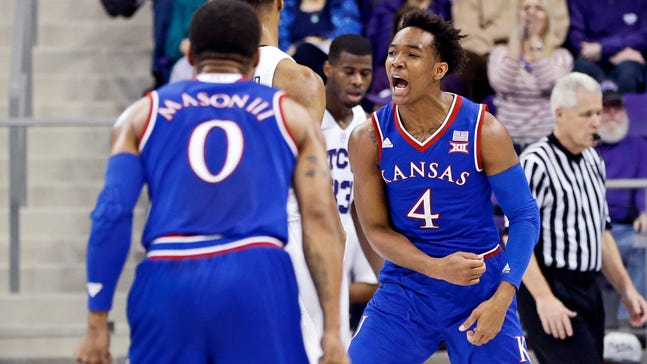 Tourney has brought upsets galore, but Jayhawks keep rolling
Published
Mar. 21, 2016 5:11 p.m. ET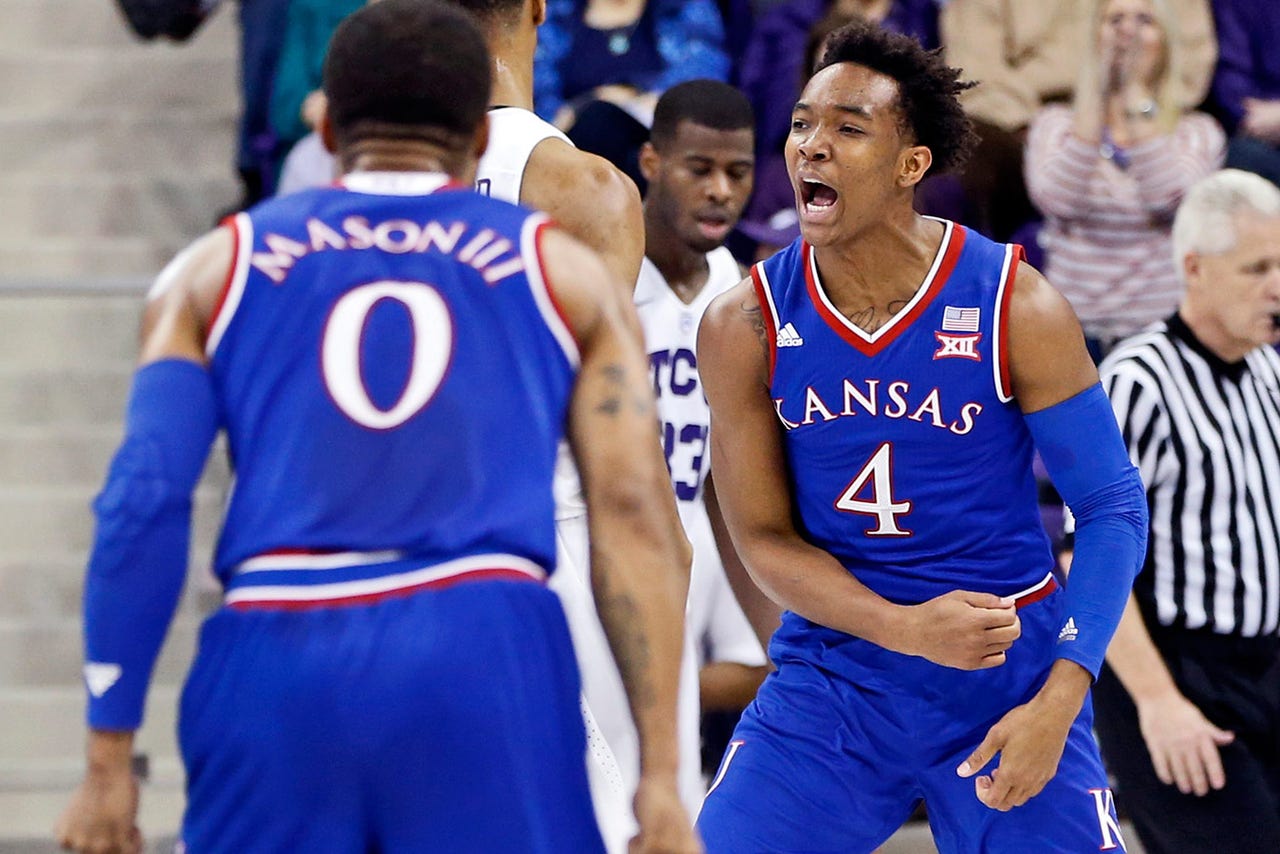 LAWRENCE, Kan. -- The overall No. 1 seed in the NCAA Tournament did nothing to dispute its front-runner status through the opening weekend, despite upsets galore that rendered so many brackets nothing more than confetti.
More important, Kansas lived up to its own expectations after failing to do that the last two years.
Seeded second on both occasions, the Jayhawks failed to get past their second game. They were done in by a plucky bunch from Stanford playing far better than its seeding in 2014, then by injuries and a matchup with a fired-up Wichita State team last year that sent them shuffling into the offseason.
"You know, there was a lot of motivation from last year, that feeling we had," said Perry Ellis, the Jayhawks' leading scorer. "We just want to continue to play the way we are, have fun."
Because it's a lot more fun to win.
Nobody expected anything less than a blowout of Austin Peay in the first round, but the Jayhawks still left jaws hanging by easily putting up 105 points. But it was in Sunday's never-in-doubt win over UConn, a team that had never lost in the NCAA Tournament under coach Kevin Ollie, that the Jayhawks issued notice to the rest of the nation that they're the team to beat in this edition of March Madness.
They went on a 16-0 run early on. Then a 19-0 run later on. When shots stopped dropping and their focus wobbled ever-so-slightly, Ellis and Wayne Selden Jr. and their seemingly inexhaustible number of tried-and-true veterans were there to steer things back on track.
The final score was 73-61. People who watched knew it was never that close.
"That's a real good team, solid players up and down," Ollie said, marveling at how fresh the Kansas starters looked late in the game. "They're going to be a very, very tough out of this tournament."
Fifth-seeded Maryland is the next to get a shot on Thursday night in Chicago.
If there is any team in the tournament that matches up well with Kansas, it just may be the team from College Park, coached by a Sunflower State native and former Jayhawk standout in Mark Turgeon.
Melo Trimble and Rasheed Sulaimon give the Terrapins the backcourt talent to deal with the pressure of Kansas guards Frank Mason III and Devonte Graham. Jake Layman is every bit as versatile as the sinewy Ellis, and Diamond Stone is physical enough to pound inside with Landen Lucas and Jamari Traylor.
"Maryland is without question one of the most talented teams in the country," Kansas coach Bill Self said. "They are very strong on the perimeter and play through both bigs. They've been ranked nationally in the top-10 for the majority of the season. We know how talented they are."
Then again, the Jayhawks (32-4) are a whole different animal than South Dakota State and Hawaii, the two double-digit seeds that the Terrapins beat to reach the Sweet 16.
The Big 12 behemoths won what was, until the NCAA Tournament, the nation's best conference by two whole games. Kansas hasn't lost since January, and has in fact rarely been tested since then. This is a team that can go 10 deep without blinking.
They may not have a projected lottery pick, but where did Andrew Wiggins and Joel Embiid and Kelly Oubre Jr. get them the past two years? No, this team more closely resembles the blue-collar bunch that made a run to the national title game in 2012, finally succumbing to Anthony Davis and Kentucky.
They have the same expectations as that team. And right now, they're living up to them.
"You know, the pressure is going to be there for everybody. But I think that we've been through so much now," Lucas said. "We've been battle-tested, and we're right in a really good win streak. ... I'm looking forward to getting deep into the tournament for the first time in my career."
---
---