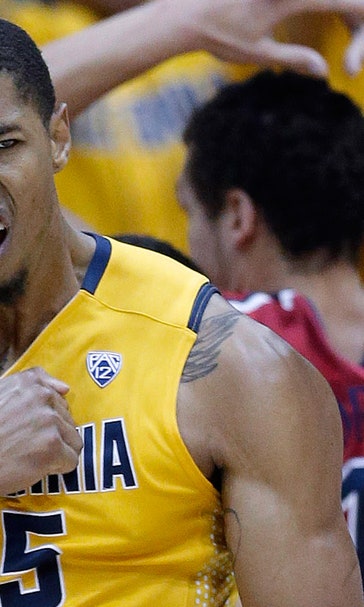 Top-ranked Arizona suffers first loss in painful fashion
February 2, 2014

Down goes Arizona. And just like that, the Wildcats are no longer among college basketball's unbeatens.
Host California stunned top-ranked Arizona 60-58 Saturday night when Justin Cobbs hit a 15-footer with 0.9 seconds left to give the Golden Bears the win.
The Wildcats, who had set a school record for consecutive wins, are now 21-1 overall and 8-1 in the Pac-12.
And Arizona may have lost more than the game. In his postgame radio show, coach Sean Miller said forward Brandon Ashley, who left the game just two minutes in with a right foot injury, might be out for the rest of the season. He said he had no definite news but felt that Ashley's foot might be broken.
"I'm not as disappointed that we lost but that Brandon may be lost," Miller said on his radio show. "Someone like him who has worked so hard and has done so many good things for us, you hate to see that. That's the hard part of sports: Things can be taken from you on one play. That is certainly something he can get back from. I'm disappointed for him and his family."
While Arizona might have been able to overcome Ashley's injury in this one, it wasn't able to get past junior leader Nick Johnson's worst game of the season. Johnson went 1 for 14, finishing with just four points, 12 fewer than his season average.
The Wildcats' offensive troubles weren't limited to Johnson. As a team, Arizona shot a season-low 32 percent, making it three anemic games in a row for the offense.
Point guard T.J. McConnell finished with 13 points but had no assists, and freshman phenom Aaron Gordon finished with eight points but went 4 for 14 from the floor.
"Our guys hung in there with great effort and togetherness," Miller said. "We came up short."
What kept Arizona in the game, perhaps surprisingly, was its free-throw shooting, something that has been a weakness all season. In this one, the Wildcats were a perfect 16 for 16 from the line, a massive improvement from their season average of just 66 percent.  
Sophomore center Kaleb Tarczewski did most of the damage, going 12 for 12. He finished with a team-high 18 points.
But it wasn't enough, in large part due to Cobbs, who scored California's final 12 points in the game's waning minutes.
Miller pointed specifically to the game's final four minutes. He said there have been about 10 games this season in which Arizona has found itself in a battle at the four-minute mark and has found a way to win.
"Whether it be a great defensive play or big shot, great togetherness or a hard play, we found a way to always be on the positive end of that," Miller said. "In that same moment (Saturday), we didn't make a couple of the shots and we didn't get the big stop. I credit Cal. They played a great game."
Still, the Wildcats were able to stay close after falling behind by eight points midway through the second half. Arizona outscored California 14-4 in second-chance points, 14-5 in points off of offensive rebounds and 15-2 in bench.
Miller said that even though Cal shot a solid 44 percent, he was pleased with his team's defense "because we had enough defense to win."
He added, "We just shot 32 percent for the game, including 2 for 11 (from 3-point range)," Miller said. "You can't (stop them) 40 times in a row."
Instead they'll be dealing with a different kind of pressure, as they'll likely have to figure out how to keep winning without one of their best players in Ashley -- and even before the injury, Arizona played with a short rotation due to an apparent lack of depth.
"For us, we have to figure out from the bench perspective of getting a few guys who haven't played as much -- some maybe not even at all -- they have to start getting the opportunity," Miller said. "That opportunity doesn't have to be 20 minutes a game, but it might need to be a four-minute window or a couple of minutes here and there."
Junior forward Matt Korcheck and freshman guard Elliott Pitts are the two logical candidates for more minutes. The two briefly saw the floor Saturday night but were nonfactors.
Earlier this season, Tarczewski suffered an ankle injury and missed a couple of games yet Arizona continued to play well. But that was against a lesser level of competition than what the Wildcats will see the rest of the way in the Pac-12. There's no question that, assuming Ashley misses any extended period of time, this will be a far tougher task for Arizona.
California showed just how tough it will be.
Gordon kept Arizona in the game in the first half with 10 rebounds, five assists and six points, but the Wildcats couldn't stop forward David Kravish, who finished with 14 points and 11 rebounds.
The Bears remained in the lead deep into the second half as everyone waited for Johnson, Arizona's hero in more than a handful of games this season, to deliver yet again. But on this night, it wasn't to be, perhaps due in part to a wrist injury that's lingered from early in the season.
"Tonight wasn't his night," Miller said. "One for 14, 0 for 5 (from 3-point range) and five turnovers. But part of us being 21-0 and 21-1 is how well he played. We needed a couple of guys to step up."
---