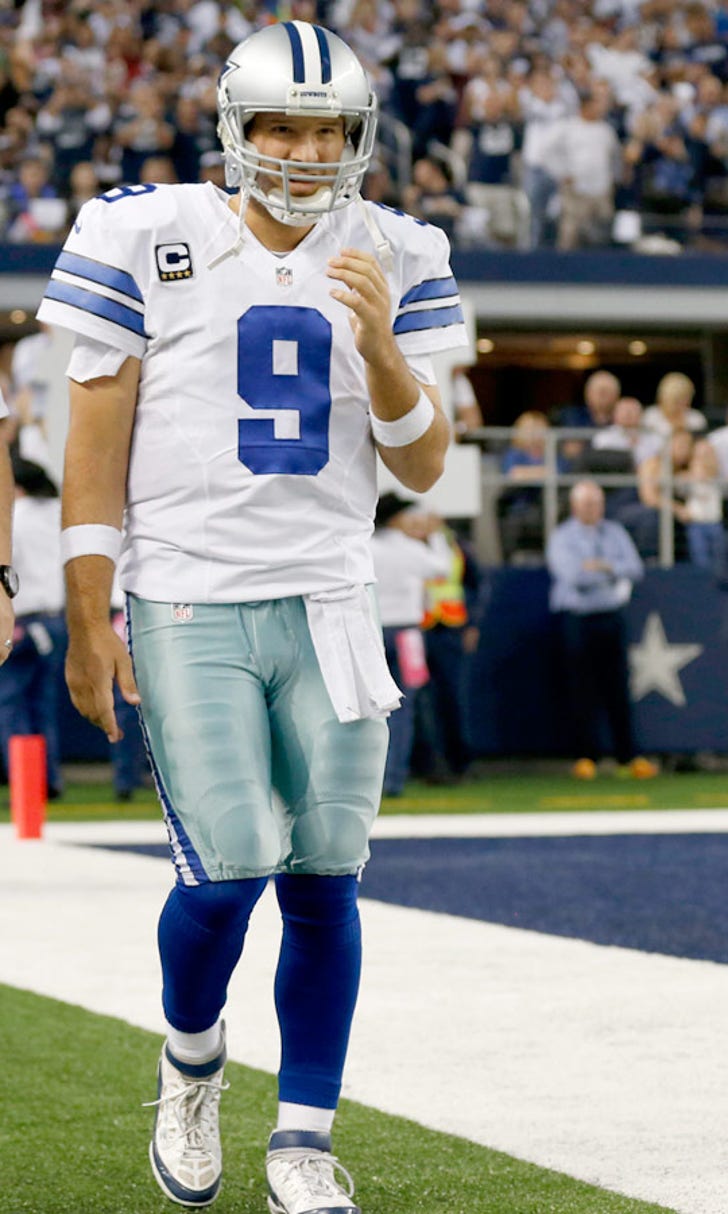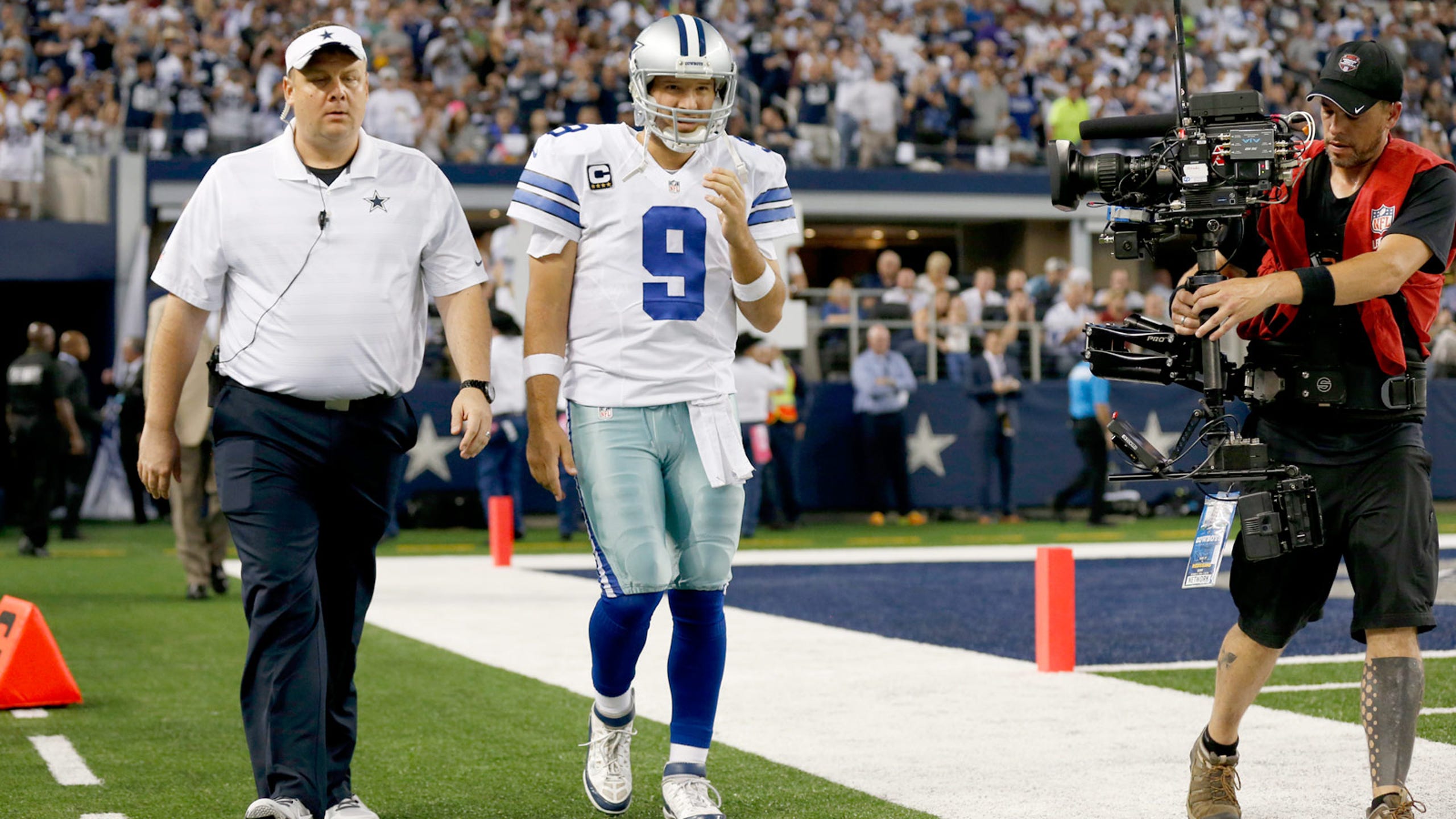 Tony Romo misses second-straight practice with back contusion
BY foxsports • October 30, 2014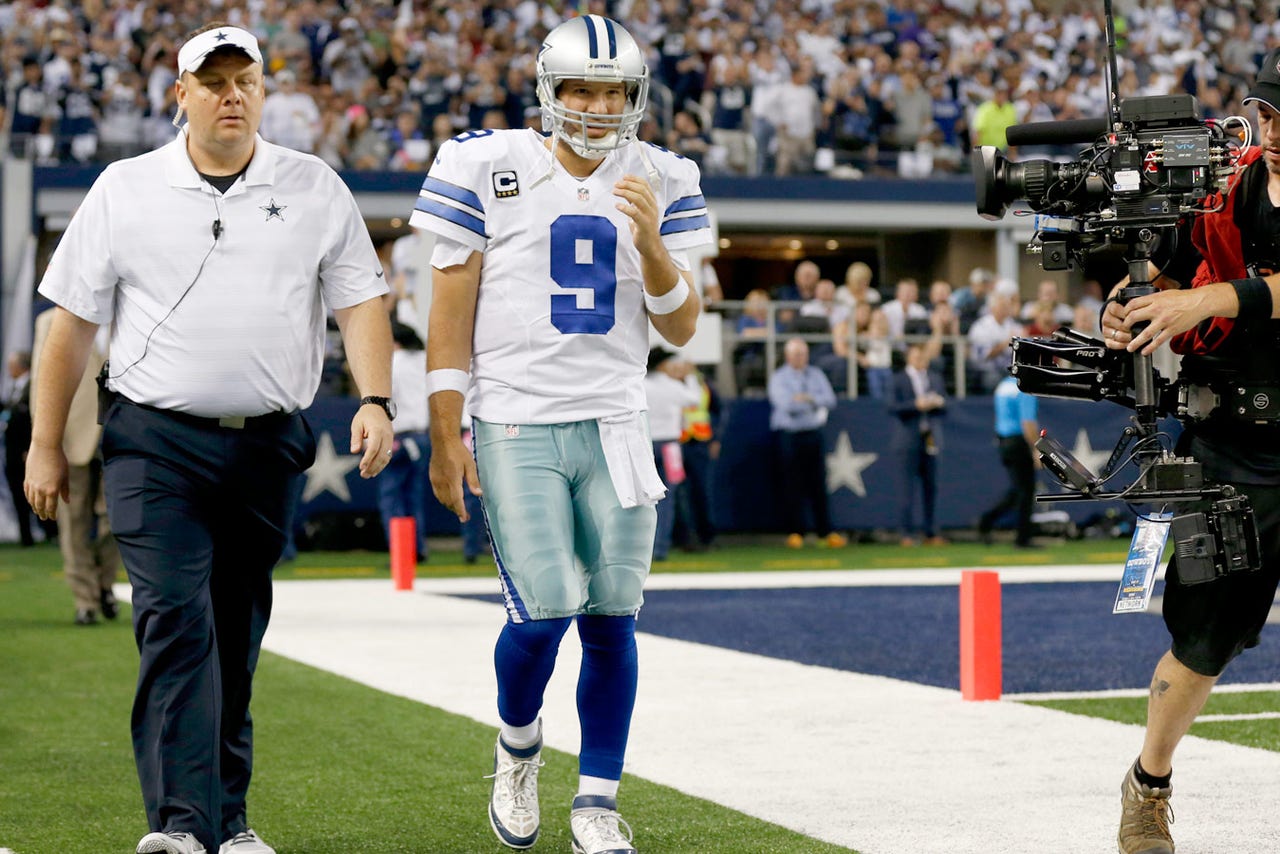 Tony Romo was absent from Cowboys practice Thursday -- deviating away from his normal practice schedule as a result of his back contusion.
Romo sat out of Wednesday practices every week during the Cowboys' six-game winning streak as part of an effort to rest his back. This is his first Thursday absence of the season, though, as he attempts to rebound from the knee he took to that back on Monday night against Washington.
"It just sounds like he's feeling better. Typically that happens. The further away you are from an injury, hopefully the better it gets," said Cowboys coach Jason Garrett on Thursday morning. "You get some blood flowing through your body. So hopefully he's able to do something today, and we can build on that."
Garrett said he didn't anticipate Romo would do much on Thursday, but he was hopeful the 34-year-old would be able to do "something" as the team continues to prep for Sunday's game against Arizona. The media portion of practice only lasts for about 20 minutes, but Romo was not participating – nor was he present on the sideline.
Romo said Wednesday afternoon that if it comes down purely to pain tolerance, he will play against the Cardinals. What the Cowboys are monitoring is how functional and how well he can perform while dealing with the injury. As both Romo and Garrett have clarified, the silver lining for the Cowboys is that this contusion isn't related to the herniated disc Romo required surgery for last December.
"We don't think that's the nature of this injury. As much as anything else, it's being able to handle the pain to the point where he can function and do his job," Garrett said. "And that's where we are and we'll see how he does over the next few days to answer that question."
FOX SPORTS DAILY
COWBOYS EDITION
Cowboys News To Your Inbox!
*By clicking "SUBSCRIBE", you have read and agreed to the Fox Sports Privacy Policy and Terms of Use.
That means the waiting game will continue, at least into Friday -- and more than likely into the weekend. Given Romo's experience, Garrett said the quarterback has a long leash in terms of how long he needs to be cleared to play.
"We have no hard and fast rules about, 'This guy has to practice by this point in order to play this game.' We don't have any of those rules," Garrett said. "We take it individually and we see how the player feels."
Elsewhere at practice, linebacker Rolando McClain returned to practice after missing Wednesday with a shoulder problem. Starting offensive linemen Ronald Leary and Doug Free were also absent. Leary is dealing with a groin strain he suffered Monday, while Free continues to recover from the foot fracture he sustained Oct. 12 against Seattle.
MORE FROM FOX SPORTS SOUTHWEST: 
- Ranking NFL quarterback salaries
- Best college football traditions
- Greatest NBA players without a championship ring
---