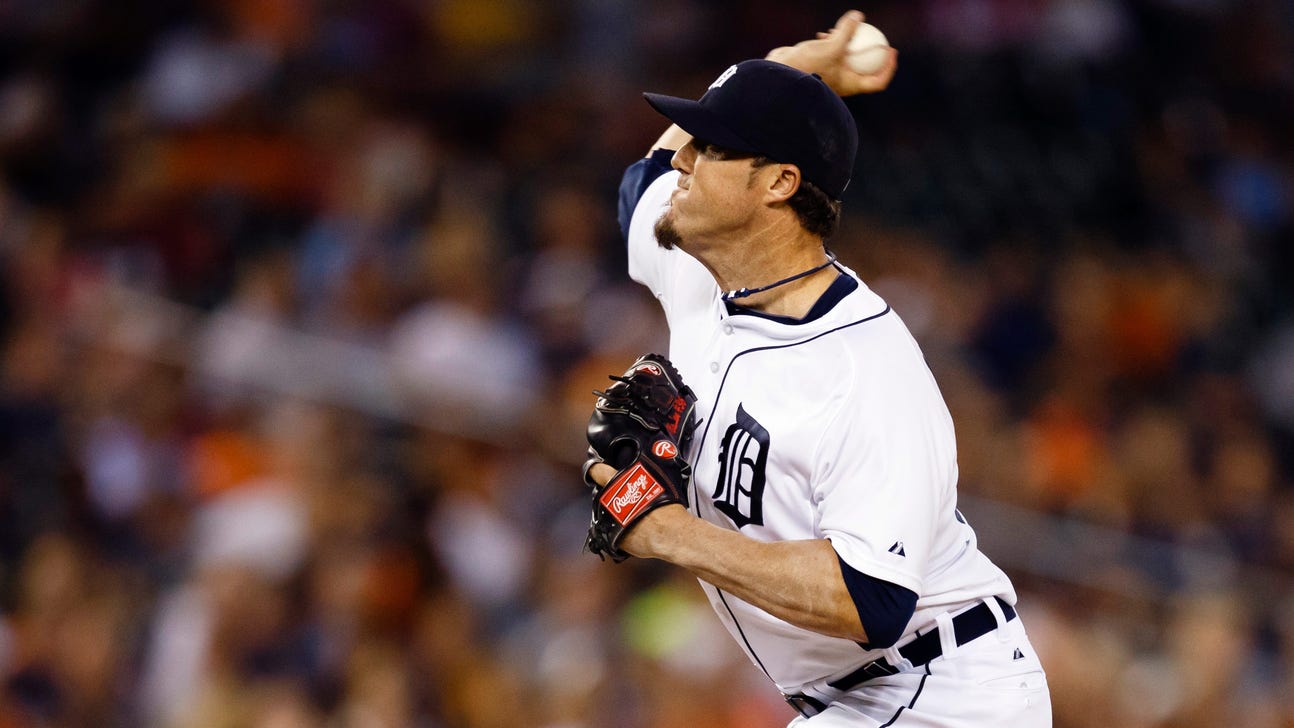 Tigers Notes: Nathan apologizes for gesture, 'frustrations came out'
Published
Aug. 14, 2014 12:09 p.m. ET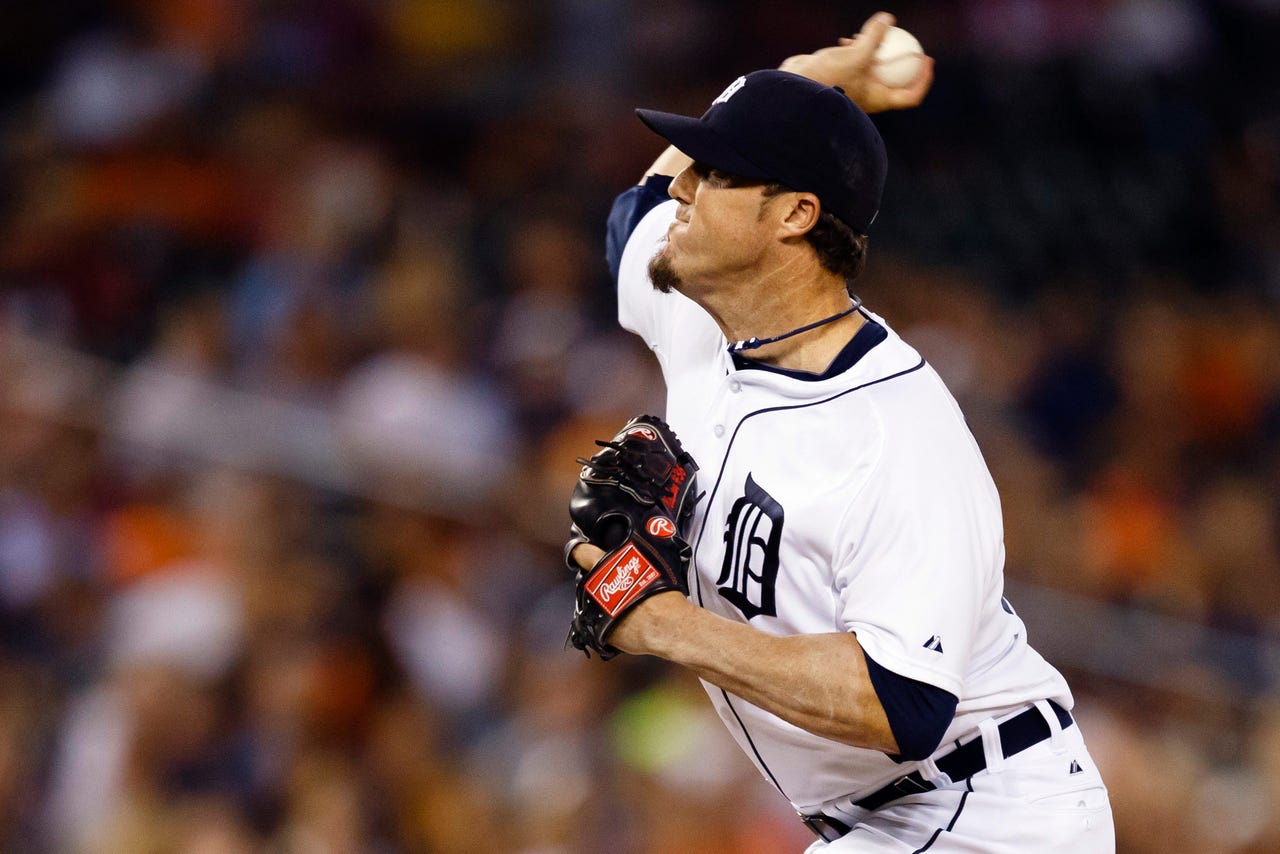 DETROIT -- Joe Nathan was ready to face the music when he arrived in the clubhouse Thursday morning.
A video of Nathan offering a chin flick to the fans started circulating after Wednesday night's win.
The trouble began for an already edgy fan base when Nathan came on for the ninth inning and walked the first two batters.
"It was a lot of frustration on the fans' part, right from the first pitch," Nathan said. "Right away, right out of the chute. I think I threw ball one, and everything started. It was just frustration. Hearing it the whole inning just got the better of me. My frustrations came out.
"Obviously it happened. But again, the important thing is we ended up winning the game. I get an out, then the double play ball, we win the game, and all is good. Just want to put it behind us. I understand it was bad on both parts. Frustration came out on both sides.
"I apologize to the fans, I apologize to my kids, and I will be better."
Tigers manager Brad Ausmus hadn't seen the video so he didn't really want to comment.
"I just heard about it when I walked in this morning," Ausmus said. "I haven't seen Joe or talked to Joe but I certainly will. I gotta look at the video and see exactly what we're talking about."
Nathan, who is 4-3 with a 5.11 ERA and 24 saves in 30 save opportunities, said he's not mad at the fans.
"There's no hard feelings, there's no frustration towards them," Nathan said. "They want us to get to the same place and they want us to get to the postseason. It's just one of those things right now where I think fans just have a short leash on how they want me to go out and pitch. I think they have a perception of how it should go and if it doesn't go exactly that way, they get frustrated."
Nathan was asked whether Tigers fans were a little more harsh than fans in Minnesota or Texas.
"I think just expectations, expectations of our team, expectations of what you guys have put on us for expectations," Nathan said. "I think that all goes hand in hand on what the fans expect from this ball club. Because of that, there will be an expectation to go out and be as good as we can be."
Nathan said he didn't consider the expectations unfair.
"We know what we expect," Nathan said. "We expect that from us as well. We know we have talent in here. We go through stretches where we aren't playing as well as we'd like to. I think this kind of coincided with how we've been playing the last few weeks, too."
Nathan apologized several more times for his actions.
"It's obvious it was just frustrations," Nathan said. "It's something that I've never been a part of, never have done, and never will do again.
"I let my frustrations get the better of me, and that's what I'm apologizing for."
MARTINEZ TALKS FANS, TOO
Victor Martinez had a few things to say about the fans, too, when he spoke after Wednesday night's win.
"We're trying. It's too long of a season," Martinz said. "At some point you're going to struggle, every team struggles. As a fan, if you're just going to be with us when we're doing good, we really need the fans when we struggle, too. It bothers me. It bothers me because people think that we're playing Little League teams out there. You have to give credit to who deserves credit sometimes."
Martinez said even when the Tigers were up 3-4 games in the division, he was hearing some complaints. 
"They have all the right to be mad but I just let everyone know that it's not that easy like they think," Martinez said. "We're not gonna go out there and run over everything. I wish. I can have 5-6 RBI every night. That would be perfect for me and the rest of my teammates. You know what, the other guys on the other side, they have families, too. They are in the big leagues for a reason. So let's don't forget that part. We're trying. We're giving our best out there, man."
The Tigers were coming off a 2-7 road trip that saw them lose the division lead to the surging Kansas City Royals.
"We don't want to give it up, we don't want to lose," Martinez said. "It's just the way it is. We're in a really tough stretch and this is when we need the fans the most. Because as soon as I go out, as soon as the team goes outside and sees the atmosphere outside, the fans in the game, we feed off that. We feed off that and that's what we want to see. We want the fans to keep backing us up."
Martinez had three RBI in the 8-4 victory Wednesday, including a two-RBI single with the bases loaded in the seventh after Miguel Cabrera was intentionally walked.
Although Martinez often does come through, he said he hates when he doesn't.
"There's nobody that gets more frustrated than we do," Martinez said. "I don't want to go out there and leave the bases loaded, strike out with men in scoring position. I don't want that. I want to win. I'm desperate. 
"I want to get that World Series ring on my hand. I never had a chance to win. Never."
PORCELLO READY TO FACE JACKSON
Rick Porcello had his start pushed back to Friday, meaning he'll be facing former teammate Austin Jackson when the Seattle Mariners come to town.
"It'll be a little different," Porcello said. "Just having such a good relationship with him and playing with him for so long, it's obviously going to be a little strange to see him on the other side. But honestly, at this point right now, the way things have been going, I really don't care."
In his last 10 games, Jackson is batting .244 with five RBI.
"I'm trying to get his (butt) out the same as everybody else," Porcello said. "Maybe I'll text him after the game. As long as he doesn't get any hits off me."
---