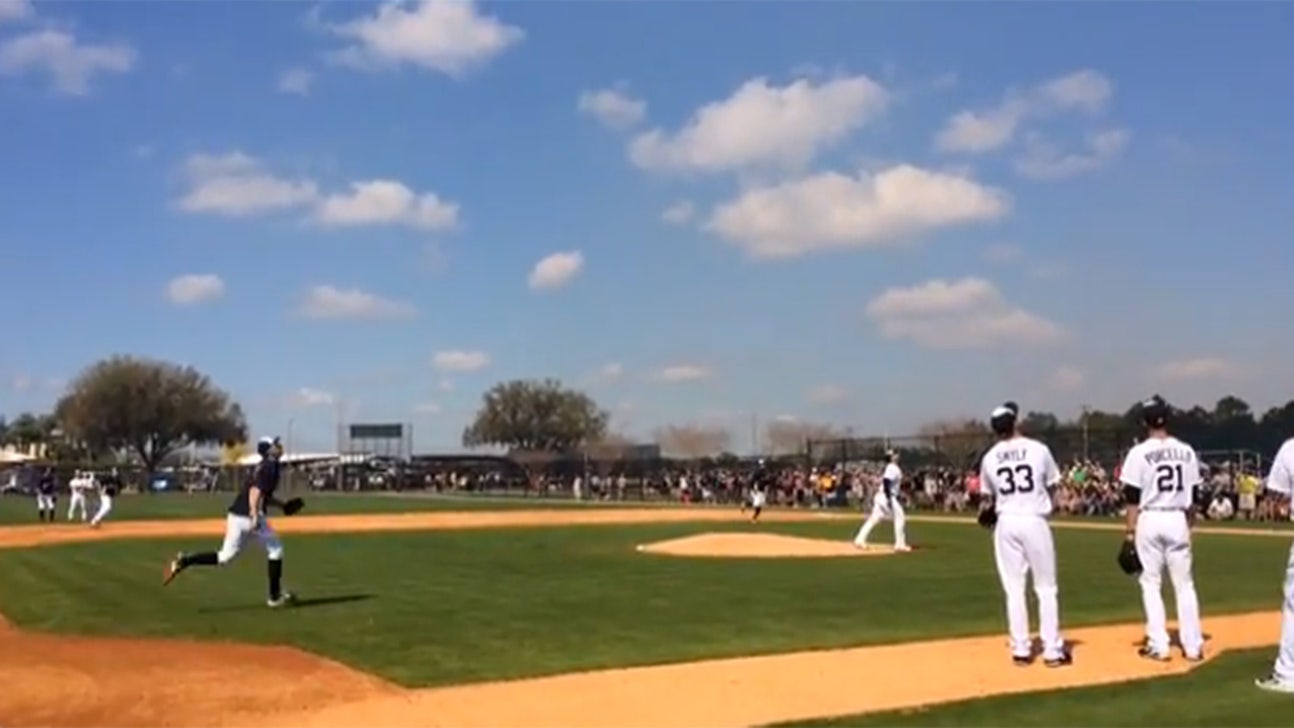 Tigers notes: Ausmus leads pop-up drills
Updated
Mar. 4, 2020 8:54 p.m. ET

LAKELAND, Fla. -- Pop-up drills aren't the most thrilling spring activity but they have to be done.
Former Tigers manager Jim Leyland wasn't a huge fan of them because of the chance that somebody could get hurt, but new manager Brad Ausmus is matter-of-fact about it.
"I'm not overly concerned about that," Ausmus said. "It's just one of those things you gotta cross off your list, one of those fundamentals you have to cover. Really at this level, guys know how to catch pop-ups. It's more about new voices in camp, recognizing on the field when they're calling for the ball and a refresher on the pecking order of who has priority."
It can be difficult to replicate game conditions, no matter how much you focus on doing it the right way.
"No one's advancing if you miss the ball in a drill," Ausmus said. "If there's two outs and the bases loaded and there's a pop-up, they're circling the bases."
The Tigers got through it but they might need to review.
"One aspect of that drill didn't go as well as I was hoping so I was reiterating a couple points. And I'll probably reiterate some of the same points (Friday) morning just to make sure that everyone has clarification on exactly where they're supposed to be and what the goal is."
Ausmus and his staff hold a meeting every morning at 9:30 in which they discuss some baseball things and have some team-building activities to get to know one another.
His role has evolved quickly.
"Matt Martin's title as defensive coordinator changed as soon as they announced instant replay," Ausmus said. "He became that guy. He's our point man. He's the guy that'll be looking at the video. He's the guy that I'll blame in post-game conference if we screw up a challenge."
That last part was a joke, but the job itself is not.
"Initially, the thought process was one, he could help Omar (Vizquel) with the infield, but two, it was more about making sure that going into a series, the way we were pitching hitters matched up with the way we were defending hitters in both the infield and outfield. Say we're playing a shift on someone, let's make sure that the shift in the infield parallels the approach with the pitchers to get that result to get a ground ball to the right side. 
"There were some teams I played against that were very good at making sure their defense lined up with their pitching. The St. Louis Cardinals and Atlanta Braves consistently seemed to pitch the opposing hitters to the strengths of their defense. I'm assuming that was a conscious effort by Bobby Cox and their staff, and Tony and their staff in St. Louis."
As he walked to the practice fields with his teammates Thursday morning, Tigers fans serenaded him, singing the Happy Birthday song.
Verlander took a bow afterward.
"That was awesome," Verlander said.
There are some things money can't buy and having Tigers fans sing an impromptu birthday song is one of them.
---