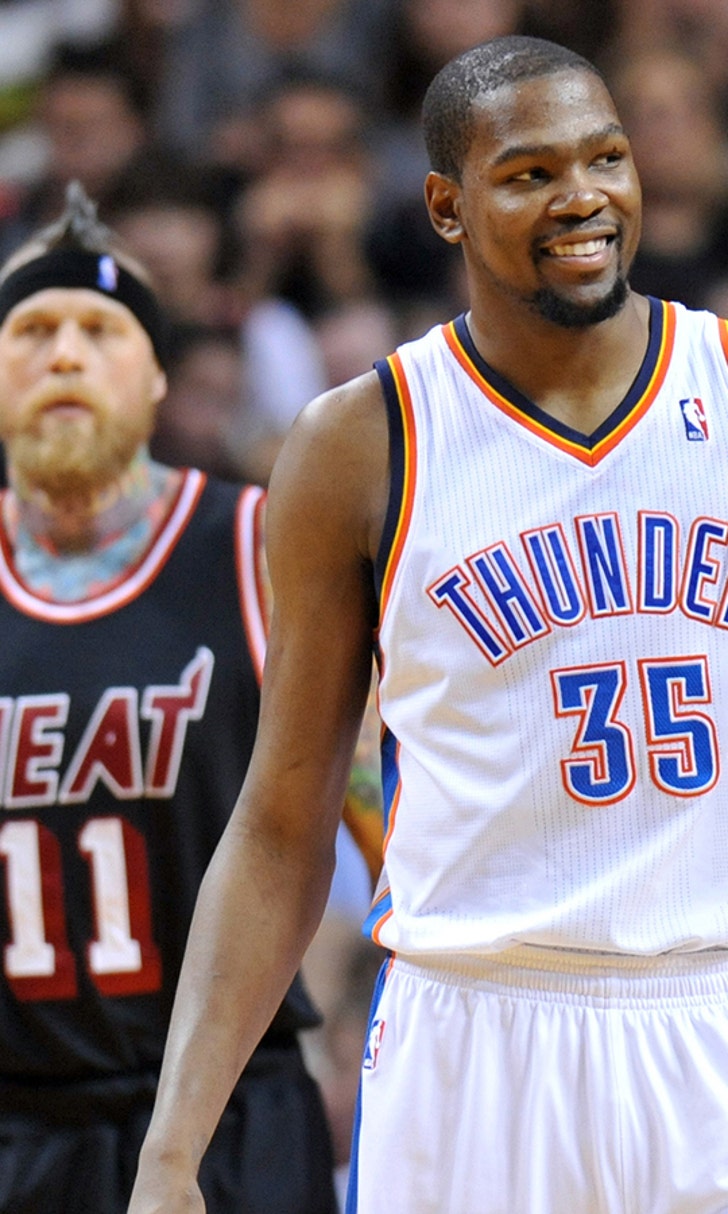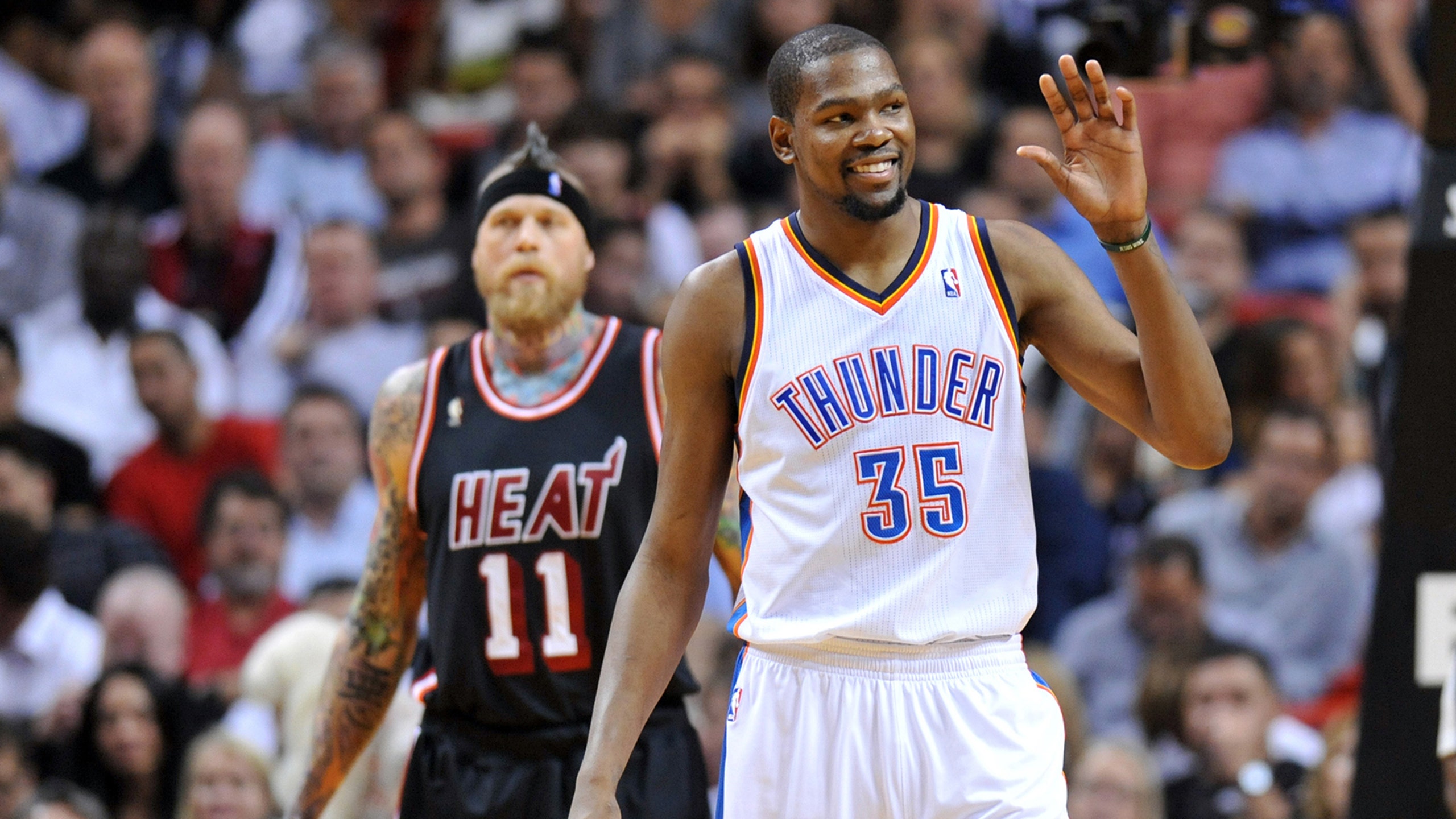 Thunder climb out of early hole to beat Heat
BY foxsports • January 29, 2014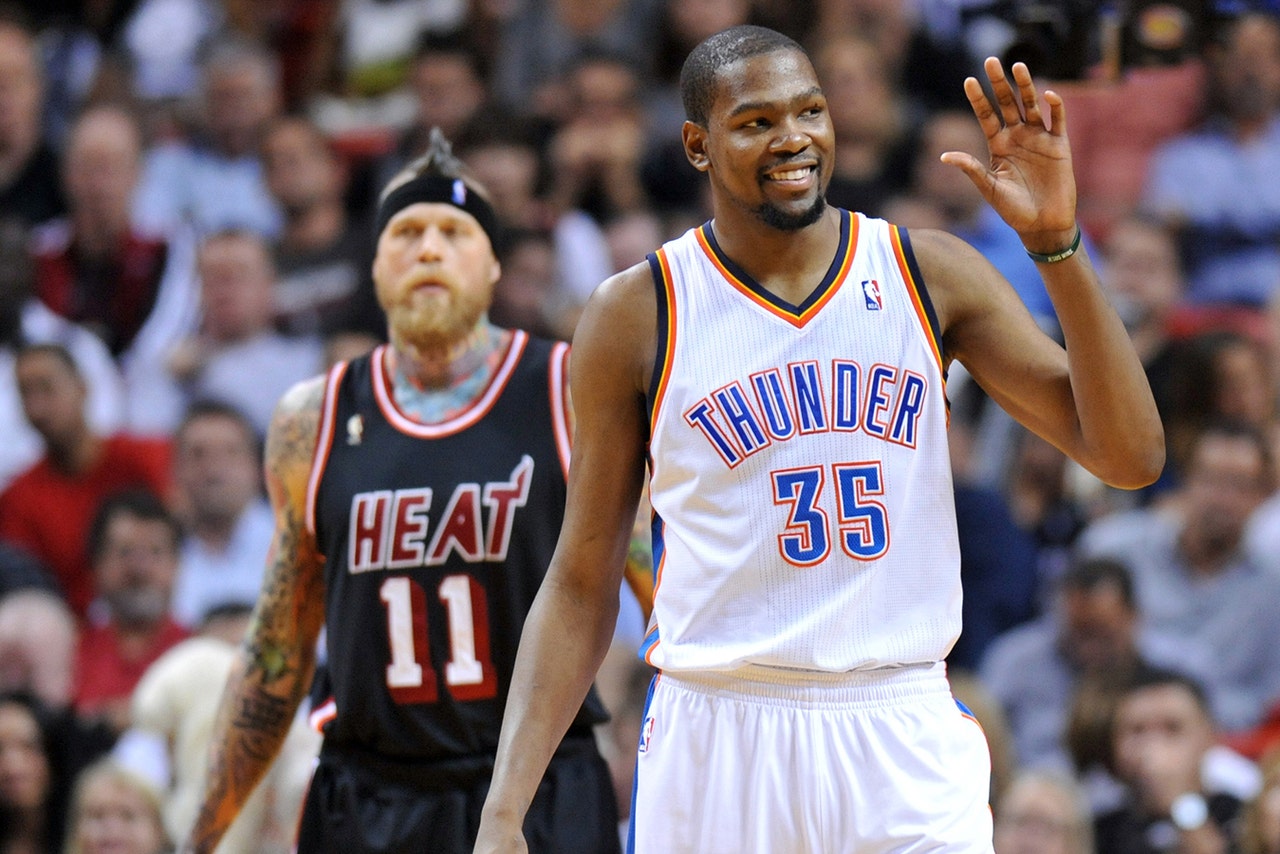 Do not get blinded by the result.
Because the result was really good for Oklahoma City, which survived a first-quarter, 18-0 Miami run, made 16 3-pointers and got another notable performance from Kevin Durant -€" all in the same 112-95 win Wednesday night against Miami.
It was the end of a six-game losing streak against the Heat, it was a continuation of Kevin Durant's 30-plus point streak. It was Jeremy Lamb and Derek Fisher, Serge Ibaka and a team performance that is one of the best from Oklahoma City in the last five seasons.
More importantly it was Scott Brooks finally going shuffle, instead of repeat on the iPod that is his coaching style.
The Thunder won its ninth game in a row with a thorough undoing of Miami. Durant had 33 points and Fisher made all five of his 3-pointers, and after falling behind 18-2, the Thunder led 55-50 at halftime and then easily distanced themselves in the second half. 
And all of it without Russell Westbrook.
But this game spun to Oklahoma City's favor because Brooks made a change he's been reluctant to do for the better part of three seasons.
He benched Kendrick Perkins. Simple as that. 
Perkins played five minutes. Five. His stat line: zero points, rebounds, assists, steals, fouls, blocks. Listen, this is not about piling on Perkins. That story has been told and documented since Perkins came to Oklahoma City. He's not an offensive player and often times is overmatched and looks overwhelmed. We get that.
This is a Scott Brooks story. Loyal to his ways. Perkins starts: Thy will be done. Been that way forever. He starts the game. He starts the second half. And that's fine, most of the time. Not against Miami, and despite the fact, everyone else has been arguing it, Brooks has held onto Perkins in the lineup like the rest of us hold onto a grudge. It's unhealthy, but it happens.
Until Wednesday. 
Perkins isn't built to run with Miami. He's built for slower, bigger. He's not a sailboat, doesn't shift easily, can't change course with ease. He's a battleship. It's hard to turn a battleship and it's hard for Perkins to keep up with Miami, so Brooks went with just 2 minutes from Steven Adams and the 5 from Perkins, instead going with extended minutes for Jeremy Lamb (35) and Perry Jones (30). 
Jones started the second half and guarded LeBron James. James wound up with 34 points, but darned if Jones didn't make it easy for him. It also allowed Durant to roam away from James and not worry about foul trouble. And darned if playing Lamb and Fisher (18 minutes) didn't look like the right move. Lamb was 7-of-10 shooting, made four-of-six 3-pointers and had 18 points. Fisher banked in a pair of 3-pointers and scored 15. 
For much of his career as the Thunder coach, Brooks hasn't had to make the hard decisions. Obviously, he leans on Durant and Westbrook, too. Anyone would. But Brooks has also had the benefit of a rotation that featured James Harden first off the bench every time. Then he had Kevin Martin in that same spot, too. Then he featured Reggie Jackson in that same role. It worked. When Westbrook got hurt again this season, it made Brooks into a better coach because he had to make choices. 
Wednesday it showed. It showed he's not obtuse enough to force Perkins into a spot where Perkins doesn't fit. Wednesday showed Brooks trusts Jones in a tough spot and can use his bench in a gotta-have-it situation. The Thunder outscored Miami by 30 with Perkins on the bench.
Doing that against Milwaukee or Charlotte or Detroit on a Wednesday night is hard enough, but in a game against the Heat, a team that has owned the Thunder the past two seasons, is part shocking and part sophisticated. 
Now we'll see if Brooks does it again the next time the Thunder and Heat play.
Follow Andrew Gilman on Twitter: @andrewgilmanOK
---