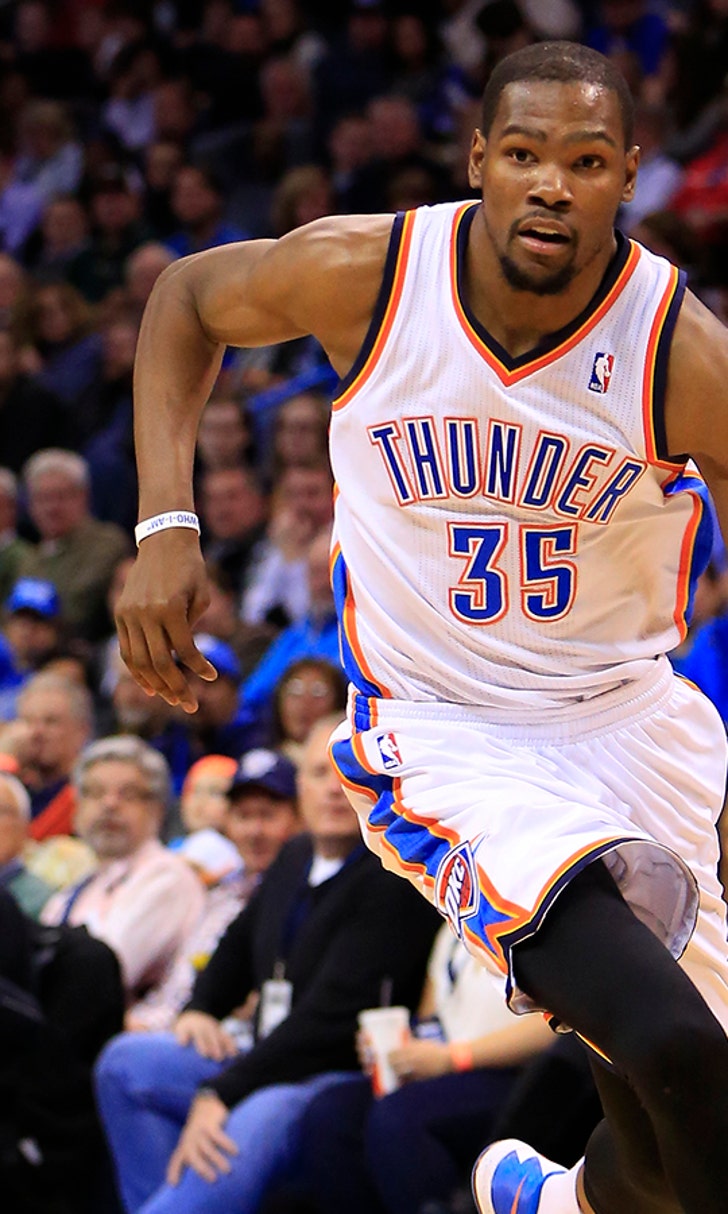 Thunder brush off bad loss for solid win against Grizzlies
BY foxsports • February 3, 2014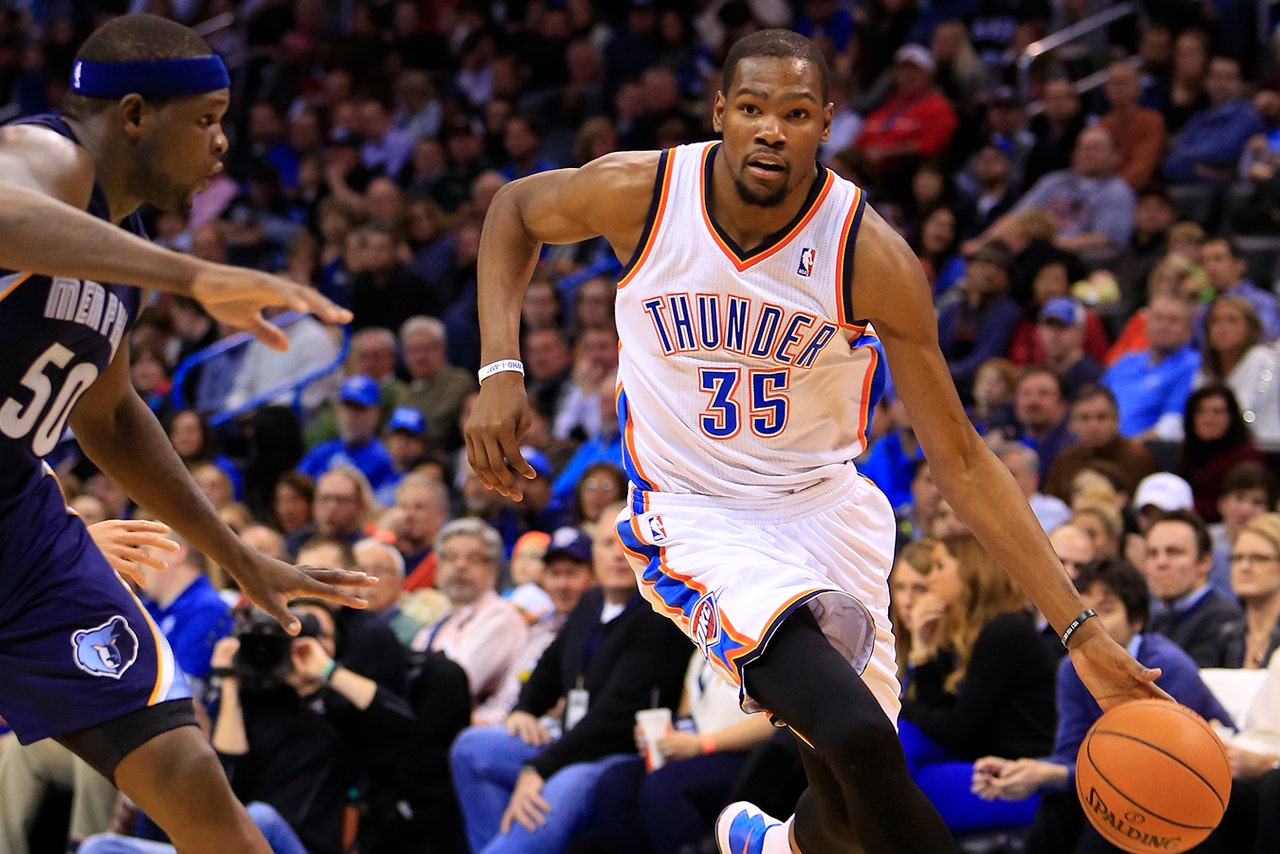 OKLAHOMA CITY – The Thunder were due for a bad game.
The question Monday was whether or not it would linger. Hard to say the 86-77 win Monday night over Memphis was well played or was on the same level as some of Oklahoma City's past and recent performances, but it was another victory over a Western Conference team that had previously beat the Thunder this year. 
So there's that.
Saturday, the Thunder lost in Washington. Monday the Thunder got a little something back.
Next up: Minnesota in Oklahoma City on Wednesday, but for now, here a few things to feel good about and a few quick hits on things that might concern you:
Feel good about Kevin Durant
So, yeah, Kevin Durant is on his way to the MVP award, but Monday's game against Memphis was kind of important. 
Here's why: 
Durant had a January to remember where he went over 30 points 12 times in a row and it would have been 13 if not for the Thunder blowing out Brooklyn Friday night, sending Durant to the bench with 26 points early in the fourth quarter. But Saturday in a loss to Washington, Durant wasn't great.
Durant is certainly awarded a pass for an effort that wasn't exactly Durant-like, going 8-for-21 and missing all six of his 3-pointers, but he wouldn't be afforded  that kind of leeway on Monday. 
So all Durant did against Memphis was shoot 11-for-21, score 31 points along with eight rebounds and eight assists.
Monday's game was important for Durant, just like it was for the Thunder. They needed a bounce-back. Durant got it. 
Feel really good about the play of Serge Ibaka
"Sometimes you forget about the development," coach Scott Brooks said of Ibaka. Kevin is a much better player. That happens through all the work our players put in. I'm proud of all our people. Everybody plays a part.
Sometimes you forget the developments. That happens through all the work our players put in. I'm proud of all our people. Everybody plays a part."
Unquestionably, Ibaka has become a better player, but he's been really good lately. Monday, Ibaka was 10-of-17 for 21 points and 12 rebounds. He's 38 for his last 51 in the past four games, but more importantly, Ibaka has become the consistent scorer the Thunder have not had beyond Durant and Russell Westbrook.
Ibaka's jumper is much improved, but his ability to take it without hesitation is the bonus. Durant had eight assists and seven of them came by way of Ibaka. Teams respect Durant but now have to expect Ibaka to take shots.
"He's shooting the shots he always shoots," Memphis coach David Joerger. "He's just making them now. He's been shooting the ball extremely well the past couple of weeks. He's just playing with a lot of confidence. I don't know if that's permanent or not."
Feel good about the Thunder's versatility
Brooks has done a pretty good job navigating what was a really tough January. He made great moves with Kendrick Perkins at Miami and has shuffled and reshuffled his bench rotation as well.
The Thunder thrived playing small in the win against the Heat and they grinded out a win Monday by playing big. Stven Adams played 22 minutes. Perkins played another 25 minutes. Collison was in for almost 11 minutes – and it worked. Memphis has maybe the best front line in the NBA with Marc Gasol and Zach Randolph. The two combined for just 11-of-26 shooting and 26 points. 
Without guard Mike Conley in the lineup there was going to be increased dependence on Gasol and Randolph. Pretty sure the Thunder are happy about what they did against them.
"I think tonight it was shown that sometimes you have to play different styles of basketball," Brooks said. "On the road we won small. Tonight I thought we did a good job of winning big."
Feel good about the Western Conference standings
It's time to start peeking at the standings, and right now it's looking good. Not only have the Thunder thrived since a 5-5 stretch right after Christmas, winning 11 of their last 12 games, but they've worked their way up the standings in the West.
Last week, the Thunder were in third place. Now, they are in first place by three games over San Antonio and four games over the Clippers.
Feel good because the Thunder have improved to 39-11, a good chunk of it without Westbrook, which alleviates any sort of pressures to feel the need to bring him back earlier.
Yes, the Thunder are interested in getting the No. 1 seed, but their priority is getting everyone healthy first. They couldn't have expected both would be possible, though.
Now OKC can start counting down the days until Westbrook returns and they can do it with a bit of a cushion, too. 
Worry about
* Reggie Jackson. Umm, 6-of-15 shooting and 12 points. It was the seventh game in a row Jackson has yet to get to 50 percent shooting. While he still is excellent at creating shots, he still fails to make them and his judgement hasn't been the best, either.
* The music inside Chesapeake Energy Arena. At least twice, Memphis coach David Joerger pleaded with the folks at the scorer's table to turn it down, once resorting to using an expletive. If you're a regular at the arena, you know the music is a bit loud, harsh and repetitive. Then again, maybe that's a good thing if the visiting coach is concerning himself with those kind of matters as opposed to trying how to stop Kevin Durant.
* The Thunder's second half slump. OKC scored just 35 points in the second half Monday against Memphis. Yes they played good defense, but they can tend to get into a Durant-style rut where they look for him too often. Memphis has that affect on a lot of teams, slowing them down and forcing tough possessions, but the Thunder aren't new to this. They need to figure out how to pick up the pace, run more and do what they do, instead of letting Memphis dictate flow
Follow Andrew Gilman on Twitter: @andrewgilmanOK
---