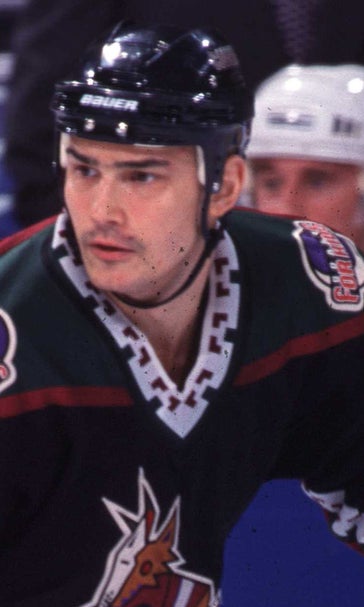 Throw Back memories: Doan, Nash and Gerald Diduck's knees
BY foxsports • February 19, 2016
A Programming Note:
Saturday night is another "Throw Black Night" for the Arizona Coyotes, and in the spirit of that we plan to dig a little deeper than normal.
As fate would have it, the St. Louis Blues are on the other side of the rink, and that provides an opening. So we pounce!
On "Coyotes Live" we will sit down with Shane Doan and Tyson Nash and look back on perhaps the most painful loss in Coyotes franchise history.
And no, this isn't an ode to Jeremy Roenick's jaw bone and mask and his heroic effort in playing in Game 7. Besides, we've already done that.
Instead we will take a journey back to April 1999 and see what Doan and Nash remember about that series from both sides of the equation.
Doan was an up-and-coming future star of the Coyotes, and Nash was about to make his playoff debut with the veteran-laden Blues.
In conjunction with that, I'm sharing some thoughts I wrote back on April 24th, 2012, while getting ready to leave Chicago with the victorious Coyotes after what was the biggest win in franchise history -- the playoff ouster of the Chicago Blackhawks. The foundation of this piece was put in place many years before. April 5, 1999, in fact -- just a few moments after what still resonates as their most heartbreaking loss.  
As for the central figure in this story? Well according to Wikipedia, he "grew up in Sherwood Park, Alberta."  I wonder if Tyson Nash knows where he is these days? 
***
Gerald Diduck.
Of all the people and places, of all the moments and memories, for some reason he is the first person that came to mind when the sun really did rise this morning in Chicago.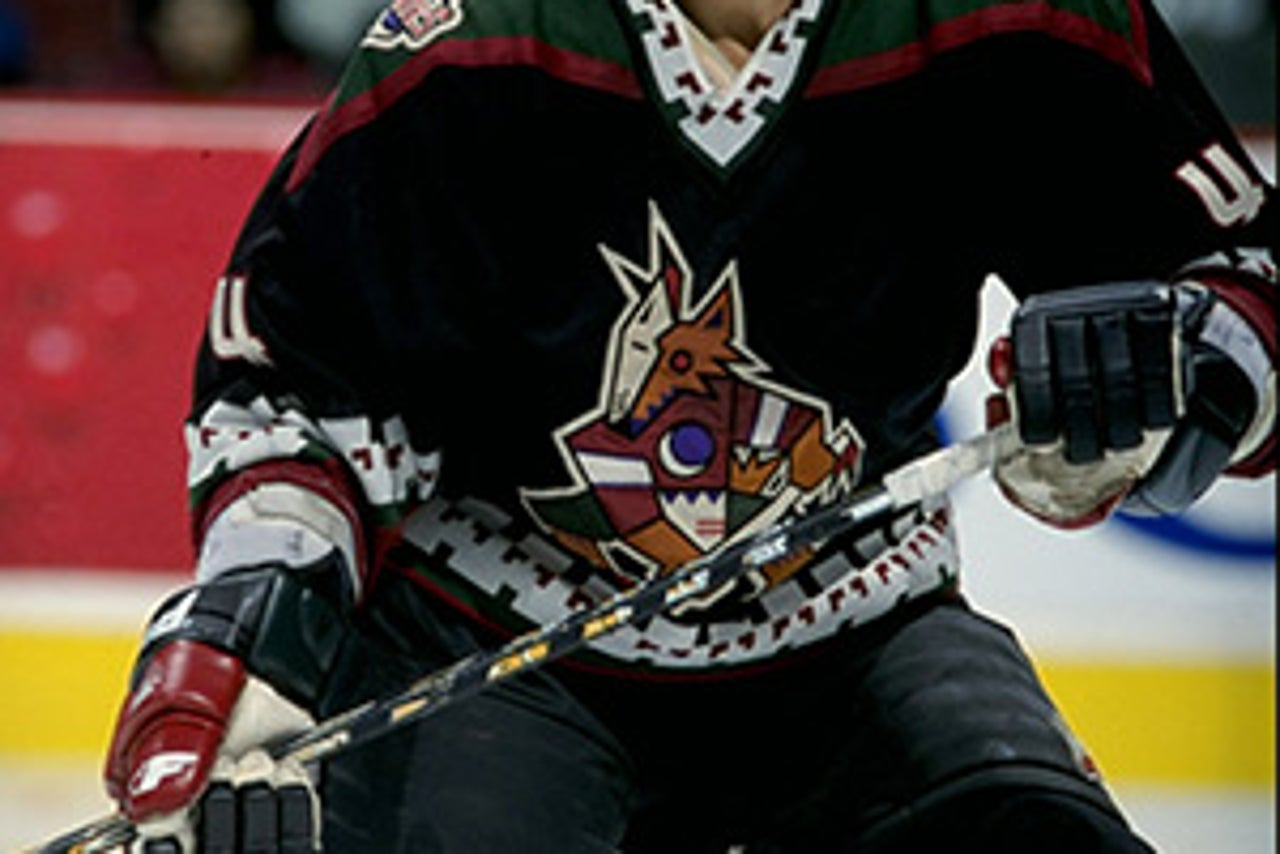 Gerald Diduck
Gerald Diduck.
It was in the aftermath of the gut-wrenching overtime loss in Game 7 to the St Louis Blues in 1999 that he limped out of the Phoenix Coyotes room to do a radio interview.
He was spent. There wasn't a tooth in his mouth that I could see. His jet black hair soaked. The sockets of his eyes red from crying, and he wasn't alone. It was an epic loss in an epic series, and the rubble of that loss was strewn about the Valley for more than a decade.
Head Coach Jim Schoenfeld was fired after guaranteeing a Game 7 victory.
Richard Burke nearly let the team drift away to Portland but wound up selling to Steve Ellman, unleashing the Wayne Gretzky era.
"The Captain" Keith Tkachuk, Jeremy Roenick, Teppo Numminen, Rick Tocchet, Dallas Drake and Nikolai Khabibulin were soon the marquee list of "ex-Coyotes" who rolled into town in what felt like a never ending reminder of what once was the hottest ticket in town.
There were elections and referendums and stadium districts. Blueprints and scale models of make-believe dreams of a new centrally located arena in which the Coyotes could control their very own revenue streams.
And there was Diduck, standing there, obliging me with what must have felt like a root canal. What could I ask in the wake of a 1-0 overtime loss in Game 7 of a series that the Coyotes had in control at three games to one? Al MacInnis and that damn slap shot almost single-handedly won this series as he picked off Coyote after Coyote. What felt like the entire Penalty Kill unit was sequestered in the press box by series end, all with broken or fractured bones from the torque of his shot.
But before we started the interview Diduck said something that I will never forget.
He asked me not to show his knees. I looked down and saw two gargantuan ice bags on both knees. He had suffered serious injury and was in a contract year. He didn't want anyone to know just how hurt he was, as he was hoping for one more deal.
"Just don't show my knee, man. No cameras," he implored, through a toothless expression.
There was only one problem. We were on the radio.
Gerald uttered those words not too far from where I saw Jerry Colangelo with those same tear-soaked eyes. It was 1993, and the Chicago Bulls had just won the NBA title off John Paxon's dagger through the heart and soul of the Valley. Colangelo walked down to the Bulls locker room at AWA to offer his congratulations, but I have always thought he went down there to see what he could have, maybe should have, been feeling.
I awkwardly asked him for a few moments on the radio.
He then boldly promised that the Suns would their title and said it would happen the following season.
It didn't, of course. It still hasn't.
Which is why I think Diduck came to mind this morning. The Coyotes had been to the postseason with regularity back in the early days of the franchise. First-round failure didn't carry the stigma that it did up until last night at the United Center. You just always assumed that they would crack the top 8, and you spent more time wondering if home ice would be secured.
But the desert is an unforgiving environment. One small mistake can lead to a series of big mistakes. Poor draft picks, ill-advised trades and the signing of over-aged and over-priced free agents took their toll as much as a French speaking puppet hired as a marketing arm did.
The product on the ice nose-dived, and the attendance followed suit.
Still, remarkably, the franchise hadn't hit the required depth of rock bottom, and that compounded the misery.
Suddenly a playoff drought of Biblical proportions sucked the life out of the franchise.
And then bankruptcy nearly did it in.
Enter Don Maloney and Dave Tippett and a group of overachievers who bought into a system that allowed them success if they stuck with it. It was all in, all the time.
This is Shane Doan's team, but it is Mike Smith's journey, and his story is emblematic of the entire operation. Smith was at a career crossroads this off-season. But management believed in him, wanted him to grow and blossom, and he did. It's funny what a little belief will do for the soul and a goalie and a franchise.
And now casual fans are starting to believe in this group, too. They have already ridden a rollercoaster of five straight overtime games. They have already watched one of their own get toasted, tried and convicted in the court of public opinion and the Department of Player Safety. They have watched new heroes like Smith and Mikkel Boedker  emerge, and they revel in the unbridled passion and joy of their Captain, Shane Doan.
I wondered this morning as we approached Sky Harbor if Gerald Diduck was watching the game last night. Probably not. But by now, I bet he knows that his former team has advanced to the second round of the playoffs, and I would presume that he knows it's a first in Phoenix franchise history. I wonder if for a moment today he remembered the agony of that defeat in overtime of game 7.
If he didn't go there, I get it. But I did. And I'm glad that I did. That was the most painful loss in Coyotes history, in my opinion. The second round seemed so close, yet now in hindsight, was so far away. I can finally shut the door of that scene in the locker room back in 1999. All I remember were tears and the peeling off of tape. And silence. I will replace it with the sight of Mike Smith standing on the ice in Chicago, post-handshake, still not believing even what he just himself had done. I will remember Shane Doan standing in front of his stall answering wave after wave of questions, as he always does, but sometimes in the most dire of circumstances.
I will remember victory and finality. I will remember the thought of "who's next?"
I never spoke with Gerald Diduck again. As it turns out, he not only blew out his knee but also broke his foot in Game 7. Yet he finished the game. Talk about grit.  After surgery and rehab he came back and signed a two-year contract in February of that following season, finishing out with Toronto and Dallas. He had a serviceable career than spanned 932 games.  Damn good thing we didn't show that knee on the radio.
---
---