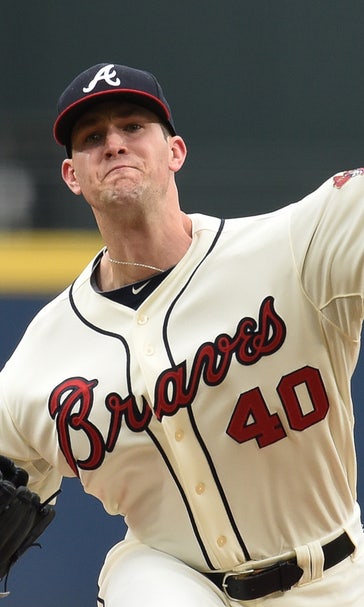 Three Cuts: Walks shake Braves late, take first loss of season
April 12, 2015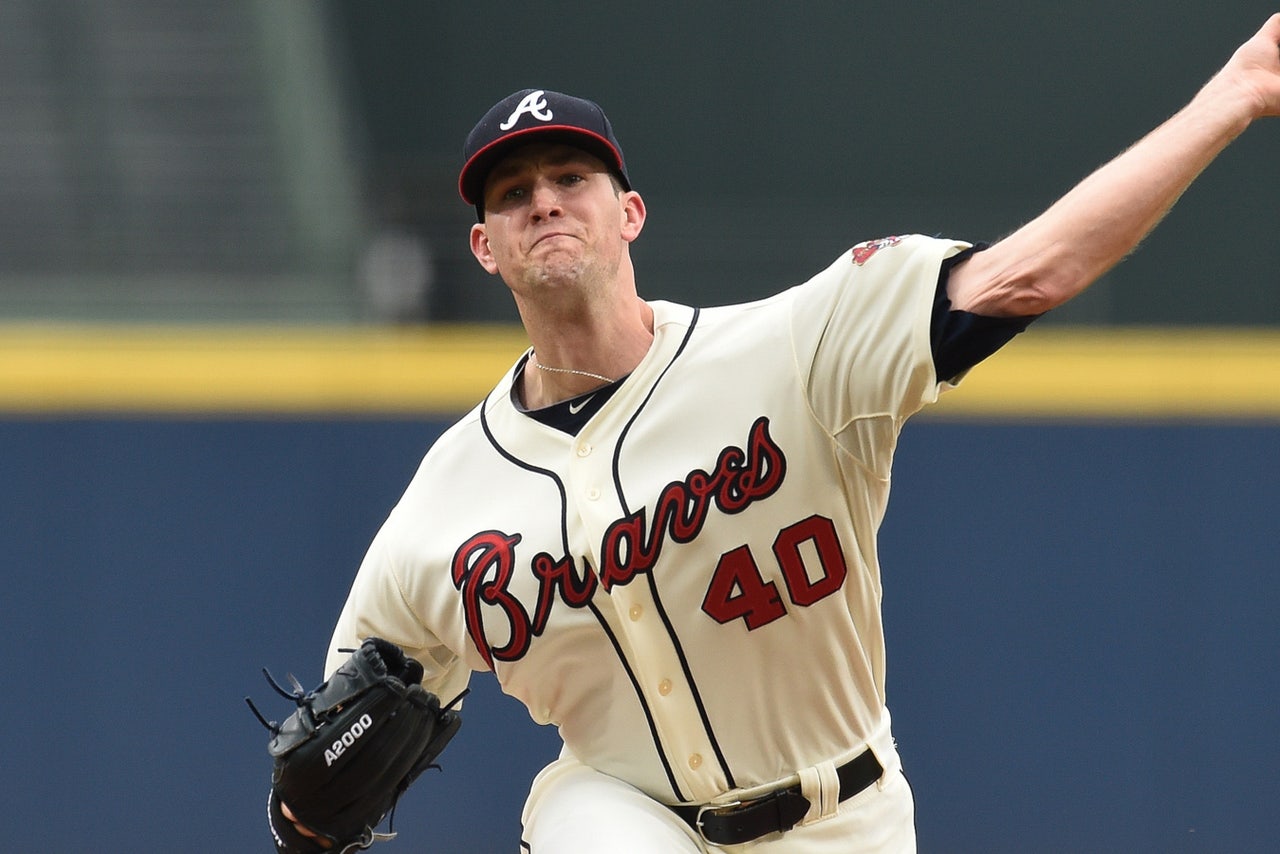 ATLANTA -- Two walks to begin the eighth inning crippled the Braves as a 3-3 tie turned into a one-run deficit even though the Mets didn't record a base hit in the inning. Atlanta had two innings to score a run to tie the game, but outside of a Jace Peterson one-out single in the eighth, nothing happened for the Braves.
Atlanta dropped its first game of the season, 4-3, and fell to 5-1.
Here are three observations from Atlanta's loss:
After Lucas Duda singled in the first inning, Braves starter Alex Wood offered a changeup to Michael Cuddyer that the Mets left fielder planted over the left-field wall. Wood later called the situation a mistake, and when the Braves came to bat, they did so in a unique situation.
At least the situation exclusive to the 2015 season.
Through five games prior to Sunday, the Braves had never trailed. Not for one pitch had Atlanta been on the losing end of the scoreboard.
Atlanta scored two runs in the second inning to quickly even the tally, and that began an interesting back-and-forth game between the two division rivals. It also led into a number of firsts for the two teams.
The runs surrendered by Wood were a bit of a shock, and not only because the Braves hadn't been behind during the 2015 season. This was the first time in 13 starts that Wood had allowed a first-inning run.
On July 25 of last year, Padres first baseman Tommy Medica singled in Chris Denorfia to put San Diego on top. That was the last first-inning run Wood gave up in 2014.
In the fourth inning, New York starter Bartolo Colon smacked a ball into the right field that floated into the play and scored Wilmer Flores. Not only did the RBI single put the Mets on top, it ended a rather lengthy drought.
The last time Colon drove in a run with a single, George W. Bush was in office. On June 10, 2005 when Colon was with the Angels, he singled to right field to score Orlando Cabrera. Colon's RBI single against the Braves was his first in nine year, 10 months and three days.
When 25-year-old Andrew McKirahan took the mound in the eighth inning, he made his major league debut. According to Braves manager Fredi Gonzalez, he performed swimmingly.
"He did a terrific job," said Gonzalez. "I was really, really excited about watching his 1 2/3 of work, I'm talking about Andrew [McKirahan]. That was nice to see, especially bringing him in with the bases loaded and one out at the time."
McKirahan was brought in during a tough situation, that's for sure. He faced bases loaded with just one out. He gave up a sacrifice fly to give the Mets the go-ahead run. That was the first run allowed this season by Atlanta's bullpen.
Jonny Gomes hit his first home run as a member of the Braves. And as an aside, he's hit Colon extremely well over his career. Gomes is now 8 for 21 (.381) with three home runs and three RBI. Gomes is averaging a home run per every 7.3 plate appearances versus Colon.
The final first comes on a sad note. The loss was the Braves' first of the season. But as Gomes said after the game, "Well, 162-0, no one was banking on that."
Wood left his start after 6 2/3 innings. He gave up three runs on eight hits while striking out seven batters. He avoided a loss, but after the game said e never really felt in sync.
"No," Wood answered as to whether he settled in after the first few innings. "It was a battle the whole game. Looking back on it, not having my best stuff, I think these are the type of games that separate seasons between good and great. I didn't really think I had much of anything from start to finish, but my goal is to give us a chance to win each time out.
"I feel like I was competitive enough throughout the game to where I gave us a chance to do that. From that standpoint I was happy. The rest of it, not so much."
Gomes, who has only been Wood's teammate through spring training and two starts, marveled at Wood's preparedness after the game. He said it was very easy to understand why Wood was able to battle because of all the work he put in before the game.
Gonzalez agreed that Wood didn't look as sharp as usual on Sunday, but said he was fine with how the youngster pitched.
"Today he didn't have his good stuff until maybe the last couple of innings, but he competed," said Gonzalez. "He gave your team, on a night where he wasn't on, a chance to win a game. You leave the game after 6 2/3 with three runs, you've done your job."
Using Gonzalez' three runs as a benchmark, Wood has "done his job" 32 of 37 starts during his three-year career in the majors.
In two seasons in the majors, Juan Jaime has struck out an impressive 19 batters in 13 2/3 innings. He's also walked 13, and three of those came in Sunday's loss to the Mets.
Jaime walked the first two batters of the eighth inning and then was forced to intentionally walk a third when a sacrifice bunt move the first two runners into scoring position. In just two appearances this season, Jaime has issued four walks and one strikeout in 1 1/3 innings of work.
An even larger exclamation point is added to the 26-year-old flamethrower because of how well the Atlanta bullpen has been doing through six games. Braves relievers have only issued six walks all year and Jaime has four (one was intentional).
"It's not like it's the first time with Jaime," Gonzalez said about Jaime's walks. "It's one of those things that he's got a good arm, he really does. It's just putting it all together. Today we were behind the eight ball. It happens when you won five games in a row using the Avilan's, J.J. a couple of days in a row, [and] Cunniff. We went with what we had. Other than that eight-inning walk, those two guys, I thought everything went to script."
It sounds like the only thing Gonzalez is not happy with among the Atlanta bullpen is Jaime, and that could spell bad news.
Jaime made the final 25-man roster on the driving force that he had no more minor league options. If the Braves had sent him to the minors after spring training it would have opened him up to the waiver process and any team could have signed him. The Braves see something special in Jaime, but it's taking some time to materialize.
One of Gonzalez' mantra this spring for the pitching staff was finding guys that didn't hurt the team with walks. Jaime crippled the Braves with walks on Sunday.
---