Three Cuts: Miller dominates Phillies, Braves fail to cap strong week with sweep
Published
Jul. 5, 2015 6:17 p.m. ET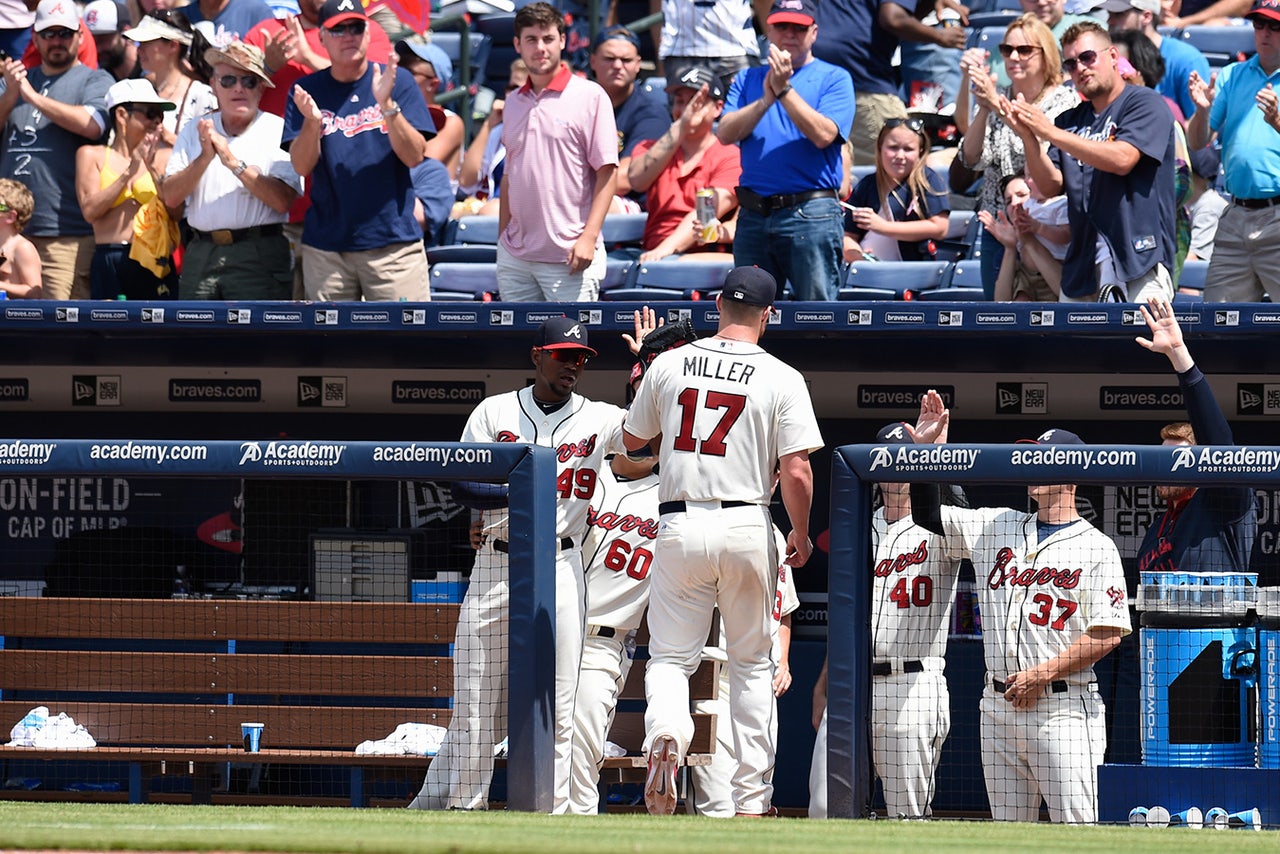 ATLANTA -- The Atlanta Braves could not successfully cap off one of their best weeks of the season on Sunday afternoon, dropping their series finale against the Philadelphia Phillies, 4-0.
The Braves still logged two series wins against division opponents for the week, though, winning five of their past seven games behind their strong starting pitching. The offense is still stumbling without first baseman Freddie Freeman, who is not expected back until sometime after the All-Star break, but there's been more good than bad over the past seven days. Here are three observations from the week:
Another dominant outing in the books for Shelby Miller. Another squandered opportunity for a Braves team looking to make a midseason push.
Miller was excellent in the Phillies series finale, pitching 6 1/3 scoreless innings with eight strikeouts. While he allowed a few too many hits for his own liking, he still walked away with his third game posting a sub-2.00 fielding-independent pitching. As good as the young star has been, he improved his numbers across the board on Sunday.
He now owns a 2.07 ERA, the fifth-best mark in the majors.
"From my perspective, even when he pitched in St. Louis I thought he was pretty good, pretty dominant guy. He's just finishing being polished here by Roger (McDowell)," Braves manager Fredi Gonzalez said. "Here's a guy that commands his fastball -- today wasn't as sharp as we've seen him command his fastball -- but he competes. This guy competes. He gave us every opportunity to win the ballgame today."
Shelby Miller is almost guaranteed to be Atlanta's representative in the MLB All-Star game after becoming a 2015 poster child for the preposterous nature of pitcher wins and losses. For the fourth straight game -- and eighth time in his 17 starts in a Braves uniform -- Miller left the mound without a single run in support. He entered Sunday's game with the eighth-worst run support in the majors for that precise reason.
(As if we needed another reason to disparage, or dismiss, pitching records.)
"Whether we win 1-0 or 8-0, I just hope we win at the end of the day," Miller said. "It doesn't matter who's pitching, who's in the offense, you know, who's in the lineup. At the end of the day as long as we win the game that's all that matters. … I've said it the whole year: We're talented. There's no doubt about it. We're still right here in this, chasing the Nationals. We've got the team to do it."
Miller likely will not receive much sympathy from opposing starter Cole Hamels, who ranks second-lowest on that unfortunate list, but he is the latest Braves pitcher to be dealt this type of hand. In 2014, it was Alex Wood receiving 3.15 runs of support per nine innings.
The rotation's biggest offseason addition is experiencing even worse luck to start his Braves career.
"There's always one guy on the staff that doesn't get any run support," Gonzalez said. "And then there's always another guy that may have a 4.00 ERA, but his record is 10-1."
Still, the outing did not undermine what was a strong week overall for Atlanta's young rotation.
Rookie Manny Banuelos dazzled in his MLB debut, hanging around with Cy Young frontrunner Max Scherzer before being pulled early due to cramping and dehydration, while fellow rookie Matt Wisler bounced back for a shutout outing against Washington. Julio Teheran continued to dominant in the friendly confines of Turner Field. Alex Wood gave up some late garbage runs in a blowout win over the Phillies, but he was excellent in his previous start.
In total, the Braves starters have combined for five shutout in the past seven games.
With two series wins in the books, the Braves will look to enter the All-Star break on a roll. The Braves final three opponents to close out the first half sit in last place of their respective divisions -- Phillies, Rockies and the streaking Brewers -- and should give Gonzalez & Co. an opportunity to continue to shrink the gap in the NL East race. Prior to Sunday's loss, Atlanta sat five games behind Washington for the division lead.
"We want to be above .500, for sure. We're still not that far from first place -- it's still not as close as we want, we're not there," Braves shortstop Andrelton Simmons said. "But we still feel like we're within reach. It's a long season."
Braves third baseman Juan Uribe could not come through with a game-winning hit in the ninth on Sunday, swinging wildly at three pitches, but it didn't diminish his overall contributions over the past week. The three-pitch strikeout notwithstanding, he's been excellent for Gonzalez's club.
Uribe received a well-deserved rest day in the Phillies series finale. When Gonzalez reached out to Bruce Bochy (Giants) and Don Mattingly (Dodgers), Uribe's former managers, after the Braves acquired the veteran infielder in May he was told to keep an eye on Uribe's legs -- hence the off day -- but he was also told that he had something left in the tank. Plenty, to be exact.
Along with Braves center fielder Cameron Maybin, another 2015 addition to the roster, Uribe helped carry a struggling Braves offense in series wins over the Nationals and Phillies.
The 36-year-old has provided instant offense for Atlanta's lineup. After struggling with the Dodgers, he's looked every bit like the high-impact veteran he was in 2013 and 2014, posting a .304/.366/.509 slash line with six home runs before Sunday's lone plate appearance. Against the Braves' two division rivals, he belted three home runs in five games -- must-have offense for a team that was held under five runs in all but one game during the week.
(Uribe's hot bat was certainly missed as the Braves struggled to figure out Phillies starter Cole Hamels.)
Maybin boasts an even larger sample size of strong play with Atlanta. He's posted a team-high nine hits and five runs since the Pirates series finale, another step forward in what has been a career renaissance through the season's first half. He owns a career-high .364 on-base percentage and ranks in the top-10 among MLB center fielders in offensive production (120 weighted runs created plus). There's also his base-running prowess:
It's a far cry from his injury-riddled conclusion to his stint with the Padres. There are rumblings that Maybin could be involved in the trade market -- either at the deadline or down the road -- but regardless he's been an excellent "throw-in" piece to the Craig Kimbrel blockbuster.
For his part, Maybin is on record saying he wants to be in Atlanta long-term, referencing his proximity to his home state of North Carolina as a major contributing factor to his improvement. Via AJC:
Either way, the Braves are going to reap the benefits of buying low on the one-time top-10 pick.
The bullpen coughed up the lead on Sunday, allowing four runs without putting up much of a fight in the 10th inning, but it's difficult to blame a relief corps that posted 2 2/3 innings of shutout baseball just waiting on a single Atlanta run. The wheels fell off, but Gonzalez's relievers are showing some positive signs -- even as the bullpen continues to juggle new names. 
"Again, the bottom of the ninth was the key to the whole game there," Gonzalez said. "We punch one through the infield or get one a little deeper than where it was (on Pedro Ciriaco's pop-up) we would've won the game. Then the 10th inning doesn't even come to exist."
Throwing in the team's win in the Pirates series finale, the bullpen has allowed eight earned runs over the past 21 1/3 innings pitched (seven games), good enough for a 3.38 ERA. That's a far cry from where this unit was a few weeks prior. Rookie Jake Brigham, following an extensive minor-league career, provided a boost with four shutout innings before Sunday's forgettable outing, while David Aardsma has helped turn things around gradually. The back-end of the reliefs corps -- Jason Grilli, Jim Johnson and Luis Avilan -- have each improved upon their 2014 numbers and are providing more consistency at the end of games.
Those three held the door open for the offense before extra innings.
As for the more problematic portions of the unit, the Braves made immediate moves after the final pitch. Atlanta called up relievers David Carpenter and Arodys Vizcaino, coming off his suspension for performance-enhancing drugs, to replace Nick Masset and Dana Eveland, two relievers in the middle of the 10th-inning meltdown.
More decisions are coming, too. The PED suspension for left-hander Andrew McKirahan ends on July 20. Then there's the question of what happens when rookie Williams Perez, who posted a 2.31 ERA as a starter before heading to the disabled list with a foot contusion, returns to full health. Fellow rookies Matt Wisler and Manny Banuelos have pitched well in his absence -- so would the team think of putting one in a relief role or simply demote them for more minor-league polish? Mike Foltynewicz is another hard-throwing rookie that's been tossed around in the reliever conversation.
With the team playing in so many low-scoring games since Freeman's injury, the bullpen has been operating with a smaller margin for error. On days like Sunday, one mistake is all it takes. It isn't without its flaws, but the coaching staff isn't exactly operating to try and avoid pulling starters at all costs. The group has been somewhat respectable. Since the team's low point of posting a 4.71 ERA and 4.60 FIP in May, things are looking up.
---
---