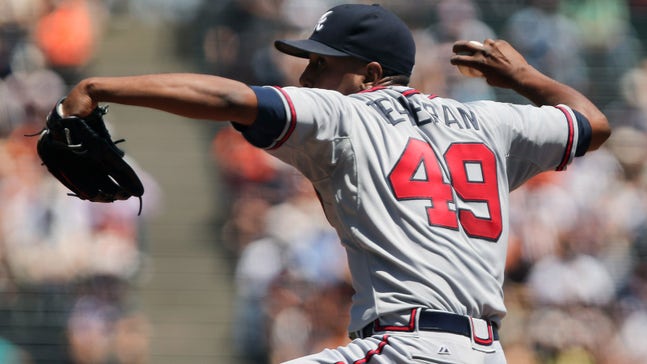 Three Cuts: Giants take advantage of Teheran's rough start, dump Braves
Published
May. 14, 2014 7:26 p.m. ET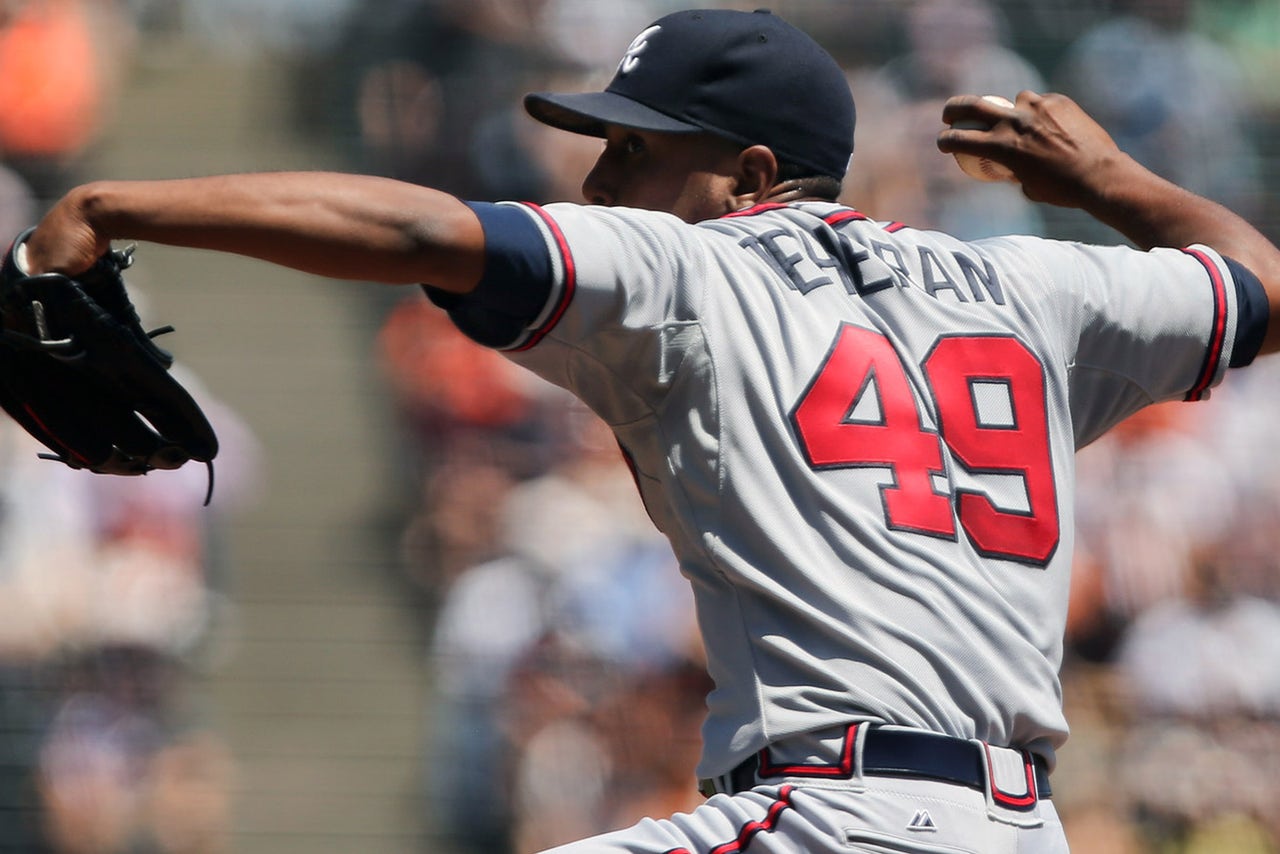 Taking three cuts as the Braves altered the narrative, with their offense delivering and the pitching struggling in a 10-4 road loss to the Giants on Wednesday.
Allowing home runs isn't anything out of the ordinary for Julio Teheran especially of late, as he came in allowing four in his last two starts. But those were all solo shots and Hunter Pence's two-run HR in the bottom of the first was the first of the multi-run variety Teheran had yielded since April 20 as the Giants scored three runs in the frame.
All in all it was a inning out of character for Teheran (2-3) has he faced more batters (nine) than he had in any of his previous 58 2/3 innings and threw 41 pitches.
On multiple occasions, Teheran looked at his pitching hand. But after the game he said it wasn't a cut or blister on his hand; he simply had difficulty griping the ball, something he said he dealt with during his National League Division Series start against the Dodgers in Los Angeles.
Teheran would last just 3 1/3 innings innings against the Giants -- the shortest start of his career -- and gave up four runs, seven hits and five walks over 84 pitches. The five earned runs marked the most Teheran had allowed since the '13 regular-season finale and the five walks his highest total in 14 starts going back to Aug. 24.
It was a rough day overall for the Braves arms as Alex Wood stepped in for Teheran and proceeded to allow five hits and three earned runs -- his first since shifting from the rotation to the bullpen -- in 2 2/3 innings, then David Carpenter gave up a two-run homer to Brandon Crawford one pitch after Tyler Colvin got to him for a double.
But the troubles were that much more magnified with Teheran on a team where run support has been hard to come by -- the Braves have just two pitches at or above the MLB average of 4.0 in Ervin Santana (5.5) and Aaron Harang (4.0) and Teheran has been supplied with an average of just 2.8 runs and just one in three of his previous five outings -- being backed by four runs and seven would typically be all he'd need to work with.
Teheran never looked sharp as he gave up a leadoff walk to Gregor Blanco, followed by a home run to Hunter Pence. They were struggles underscored by Teheran's issues with his slider.
The pitch has been his second-most effective over the last two seasons, with an accumulated 3.1 runs above average this season, compared to 3.7 with his fastball. He threw the slider 16 times Wednesday, resulting in five balls, just two swinging strikes and it was put in play four times.
Initially, switching Wood from starter to reliever was a decision that was two fold. First, it allowed Braves brass to get a better sense of Gavin Floyd, who is making his return from Tommy John surgery, and it gave them a chance to hold back on the innings of the 23-year-old Wood, who was on pace for over 220 innings in this, his second major-league season.
The move was only going to be for a week, with Wood initially slated to make a start Saturday vs. the Cardinals. After that, manager Fred Gonzalez said, they would re-evaluate things.
That evaluation came sooner than expected, with Wood being taken off of that start and he'll remain an option out of the bullpen -- a decision where the Braves' hands were somewhat forced.
With lefty specialist Jordan Walden going to the disabled list with a hamstring strain, and the bullpen's only other left-handers prompting concerns of their own -- Luis Avilan has a 5.73 ERA and Ian Thomas is inexperienced (7 2/3 innings) -- Wood and his 1.90 career ERA as a reliever made him dependable.
Wednesday's work didn't necessarily back up that assessment as those three earned runs were the first Wood had allowed in a relief role since July 6 and the five hits as many as he gave up in his previous five appearances out of the bullpen dating back to last season.
Walden is eligible to be activated May 20 and until he returns, but a bigger question is, if Floyd continues to look strong (2.70 ERA in 13 1/3 innings), is there any way he makes a full-time return to the rotation until after the All-Star break?
The elder Upton's April 11 meeting with Chipper Jones, a talk in which the former Braves third baseman and future Hall of Famer broke down a hitch in Upton's swing.
The results were undeniable as over the next 17 games, he went 16 for 65 (.246) with two home runs, five RBI, 11 walks and 17 strikeouts. That 26.1 strikeout rate was still elevated, but that's simply a part of Upton's game, and it was much lower than the 33.9 rate he posted last season.
But after all that progress came a home series against the Giants on May 2-4 in which Upton proceeded to get two hits in 13 plate appearances. He's had five hits since that set and fanned 21 times in his last 38 at-bats, a 55.2 percent rate, with Wednesday's three-strikeout day his second in a row. To put it into perspective, Upton struck out 151 times last season and never had two three-K days in 126 games played.
His frustration boiled over in the sixth inning as Upton was ejected by home plate umpire Lance Barrett for arguing a called third strike, the sixth charged to the Braves outfielder in in his last eight trips to the plate. Upton became the first Braves, manager or player, to be tossed this season.
If there's a positive for Upton, it's that the Braves' next three games are at St. Louis' Busch Stadium, a place where he's hitting .333/.391/.476 in 21 at-bats. That's tied for Upton's best career average at any venue and the highest of any National League park.
---