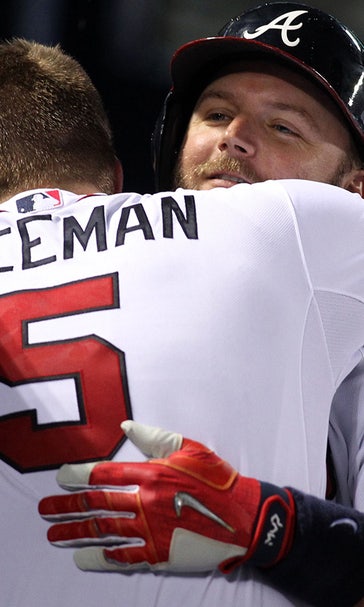 Three Cuts: Cahill's sinker misses, Braves flash power in loss to Marlins
April 14, 2015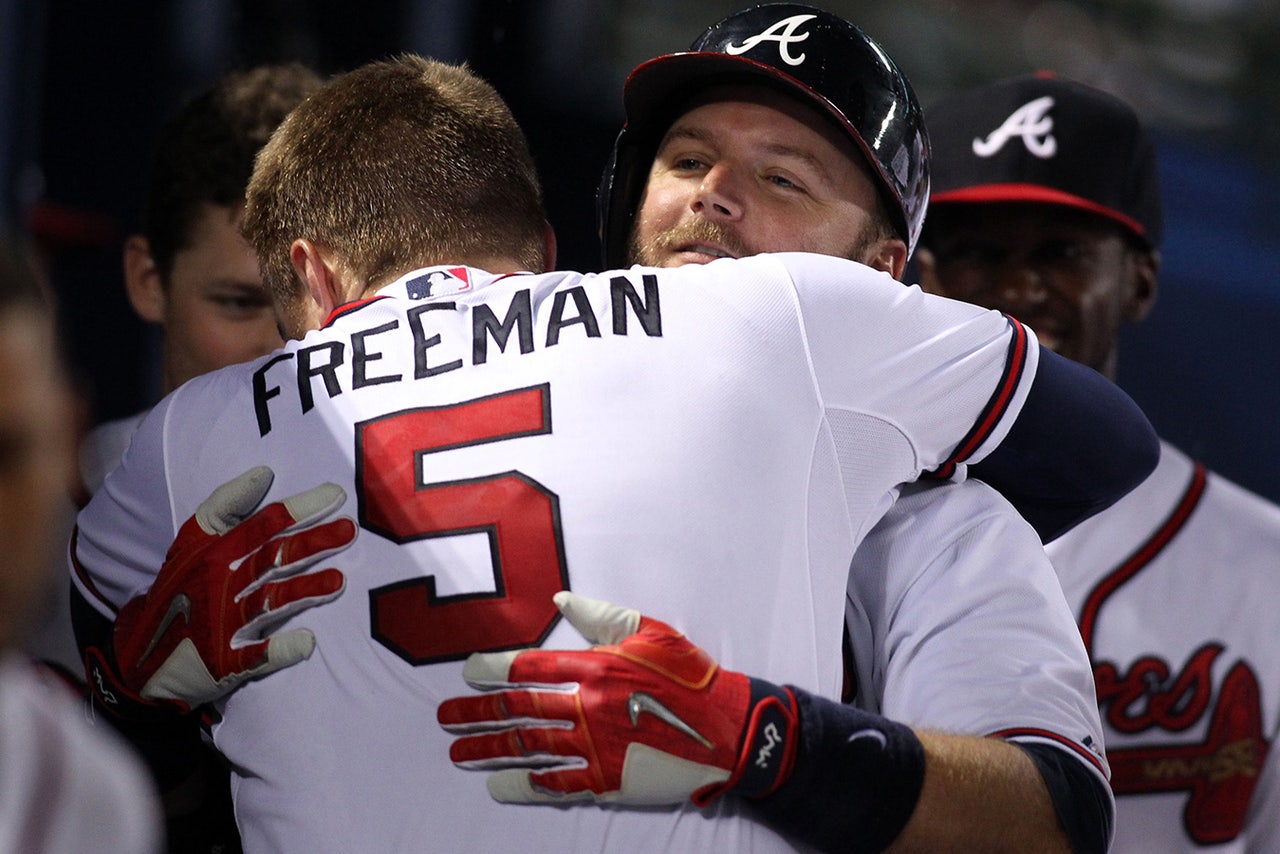 ATLANTA -- Taking three cuts as the Braves fell to the Marlins 8-2 on Tuesday night at Turner Field.
With Mike Minor's rehab timetable slowed by shoulder discomfort, the Braves are seeking some kind of consistency out of the bottom of its rotation. It didn't come entirely via Eric Stults, who struggled late in giving up three runs and seven hits over five innings vs. the Mets, and it didn't come from Trevor Cahill, who in his Atlanta debut looks to still be trying to rediscover his sinker.
The right-hander No. 5 starter lasted just 2 1/3 innings, giving up five hits and four earned runs with three walks and two strikeouts and it was rocky from the get-go.
"It felt good, just a couple of pitches up. The biggest thing is the walks ... I thought I had (Michael) Morse and then I ended up hitting him," Cahill said. "I felt good, I just couldn't get the ball down. A team like that is trying to see me up and I left too many up."
Cahill allowed four of the first five Marlins batters to reach as they took a 3-0 lead on a single by Giancarlo Stanton, a sacrifice fly via Martin Prado and Morse's double.
He settled down a bit in the second inning, striking out pitcher Tom Koehler and forced Dee Gordon into an inning-ending double play, but issued two talks, allowed a Prado single and hit Morse with a pitch before he was replaced by Sugar Ray Marimon.
"I'm going to chalk it up to he hasn't pitched in a while," manager Fredi Gonzalez said of Cahill, who was acquired April 2 and never pitched for the Braves in spring training. "He hasn't seen live hitters. When a sinker baller is giving up fly balls, that's not a good sign."
Acquired from the Diamondbacks in exchange for minor league outfielder Josh Elander, Cahill's sinker was devastating. He had a 27.2 sinker runs above average in his All-Star season of 2010 with the A's, but in the four years since, that figure has been at minus-4.0, minus-0.3, minus-1.2 and minus-9.7 in '14.
It's one start, but Cahill struggled with the pitch Tuesday, with Miami jumping on it for four hits, including Morse's double. That he's thrown the sinker more than 51.8 percent of the time in each of the last five seasons makes it even more alarming.
Also alarming, in his last seven regular-season starts, Cahill is 0-5 with a 9.40 ERA and lasted less than six innings in each of them.
Stults will get his chance at a stronger follow up on Wednesday opposite the Marlins' Dan Haren, while Cahill's number would come up next on April 21 at the Mets.
With no indication on when Minor will return, it will be worth watching to see if pitching coach Roger McDowell can work his magic (especially on Cahill) or if the Braves will look to reliever Cody Martin or one of the arms in Triple-A Gwinnett (Matt Wisler, Mike Foltynewicz) for the fifth spot in the rotation.
"That's just one of those days today," Gonzalez said of Cahill. "Now he goes out to prepare for his next start. Hopefully that start today, those couple of innings, will help get him going."
A year ago -- with the inclusion of the heavy lumber swung by Evan Gattis and Justin Upton -- the Braves hit a combined six home runs over the first eight games of the season, with three of those homers came in one game.
With back-to-back blasts from Freddie Freeman and A.J. Pierzynski (the second of the season for both), an Atlanta roster that was billed as being low on power now has six homers of its own through eight games.
Granted, last year's group finished 22nd with 123 homers, which was 17 below the league average, but that was the same collection of players who hit 185 (fourth) in 2013.
This current roster, which is devoid of a player who hit 20 homers in '14, isn't going to make a run at that total. But for those who worried about the power numbers or whether anyone would throw to Freeman (ahem) who has one walk so far, those fears have been soothed, if not alleviated.
Just 24 hours after being promoted, Sugar Ray Marimon had a night of firsts: his first appearance, his first strikeout (against his first batter) and his first hit.
Marimon entered in the third and struck out Jarrod Saltalamacchia on six pitches, retiring him on a 94-mph four-seam fastball. He allowed three hits and an earned run in four innings, fanning three with one walk.
"Marimon really did a nice job for our bullpen," Gonzalez said. "He gave us four solid innings, got his first hit as a major leaguer and really helped."
Given the issues that got Juan Jaime designated for assignment -- which opened a roster spot for Marimon -- the small number of walks is crucial.
In moving Cody Martin away form the long relief role, Gonzalez said Monday "We felt like he could throw the ball over the plate and kind of be a long guy, and then use Cody in more significant innings. "Maybe we can use [Martin] in that bridge to the seventh and not have to worry about burning a long guy."
Marimon did his part, throwing 43 strikes to 15 balls, along with collecting an infield single on a soft grounder to Prado.
"He threw the ball over the plate, threw a couple nice changeups; secondary pitches were good," Gonzalez said. "Nice going for his first outing."
Follow Cory McCartney on Twitter @coryjmccartney
---