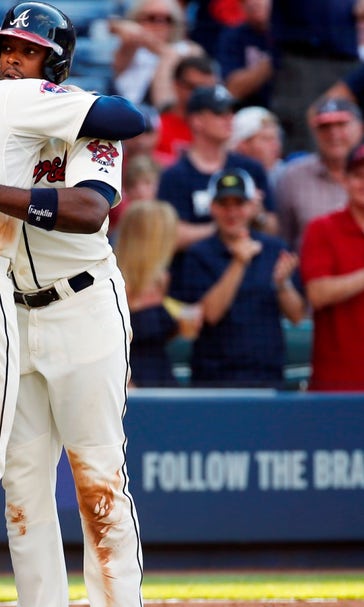 Three Cuts: Braves' bats help extend win streak to 9
BY Zach Dillard • July 5, 2014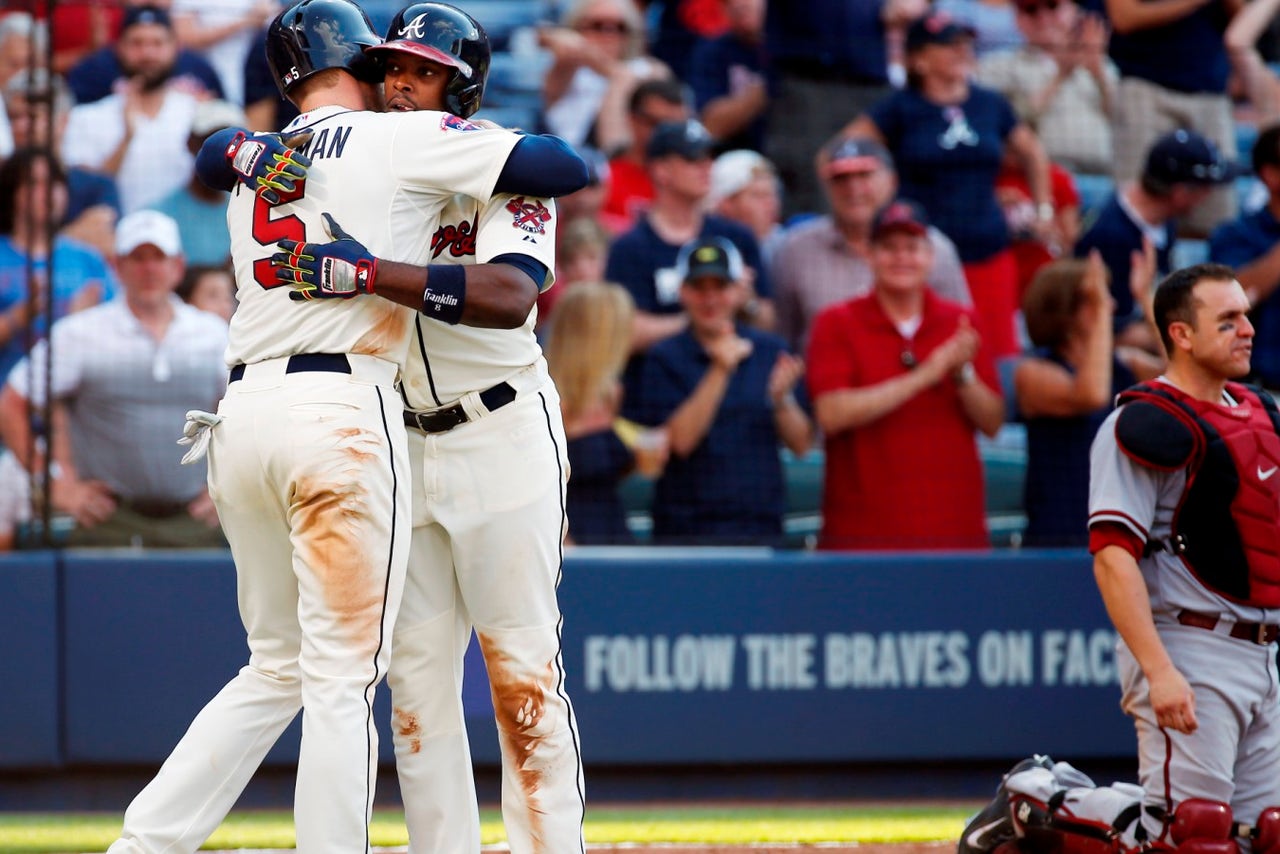 ATLANTA -- The Atlanta Braves' offense erased a shaky start to roll through the Arizona Diamondbacks on Saturday, providing some rare offensive fireworks in a 10-4 rout. The win extended Atlanta's winning streak to a season-best nine straight games. Here are three observations from the game:
With starting pitcher Aaron Harang going eight innings after giving up three first-inning runs, not all of which were of his own doing, it was pretty clear that the term "veteran leadership" was going to be tossed around at some point during manager Fredi Gonzalez's press conference. These are the types of performances the organization has enjoyed from Harang when he's not bringing his best stuff, and his resiliency certainly kept the Braves' heads above water in this one.
"Aaron was outstanding, really," Gonzalez said. "We got him behind the 8-ball there, the first time we've had an inning like that in a long, long time. You keep playing this game you're gonna have another one like that, but the way we bounced back -- we didn't tie it or go ahead that next (half of the first) inning but we scored a run. That was big to put a number up there. Harang kept us in the game and gave us eight strong innings and three double plays behind him. I mean, he did a terrific job."
Still, Harang was far from sharp -- he finished eight innings with just one strikeout while scattering nine hits and one walk -- and there have been plenty of games this season when a 3-0 hole would have buried this Braves offense. Not this time. As Gonzalez mentioned, the immediate one-run response in the bottom of the first frame was pivotal, and the batting carousel just kept on spinning against Diamondbacks starter Mike Bolsinger.
The Braves finished with 14 hits and five walks in the 10-run spree. They struck out 10 times, but they also came up with six hits with runners in scoring position.
Seven different players -- excluding only Harang and third baseman Chris Johnson -- reached base at least twice, including each of the top four hitters in the lineup. Rookies Tommy La Stella and Christian Bethancourt combined for five hits and two walks alone.
It was just the fourth time this season the Braves have hit double figures in runs scored.
"It's coming together," center fielder B.J. Upton said of the lineup. "I don't know, that's about all I can say about it. It's starting to roll a little bit and hopefully we can keep it up."
The win comes as yet another crucial display of dominance against some of the bottom-tier teams in the National League.
In addition to the nine-game winning streak, the Braves have also taken 11 of the past 12 games.
Much of the Braves' recent winning streak has been linked to the timing of B.J. Upton's move into the leadoff spot, which sparked a career-best hitting streak that was extended to 11 games on Saturday, and for good reason. Upton's improvement has been substantial and timely, giving Gonzalez a consistent playmaking presence at the top over the past two weeks. Were it not for a borderline strike call that would have drawn a walk had it gone the other way, Upton would have reached base safely three times in Saturday's win.
That being said, Andrelton Simmons -- and his marked improvement -- has been another key component to the present winning formula. Moving into the No. 2 spot for 11 total games this season, including eight of the past nine outings, Simmons has pieced together his own six-game hitting streak. He turned out to be the key cog in Atlanta's run production against the Diamondbacks, finishing 2 for 5 with a double and a career-high four RBI.
"I think it has something to do with B.J. getting on base, me getting more fastballs since they don't want him to get on second base (by stealing). It has something to do with Freddie (Freeman) hitting behind me," Simmons said of his improved numbers before echoing Johnson's interjection from a few lockers down, "and some luck, yeah. And some luck.
"But I'm seeing the ball well. I'm just trying to square the ball up and it's finding holes. ... Felt really good and strong at the beginning of the season, but it went away. It's coming back these last couple games. Feeling really, really comfortable."
In many ways, Gonzalez's move of Simmons into the No. 2 spot was just as strange as moving Upton into the leadoff spot -- at least judging purely by production. Entering this stretch, Simmons looked like he had taken a couple steps back offensively this year. (It should be noted that he battled a right ankle injury earlier in the year; he also tweaked his left ankle in the sixth inning.) In fact, along with Upton, he claimed one of the worst offensive lines on the team, according to weighted runs created (wRC+). Both players sat around 75 wRC+ before the lineup tweak, far below league average.
Moving such production into the two spots that are guaranteed the most plate appearances in the lineup typically does not spark winning streaks. And yet, the Braves are 10-1 with Upton at leadoff. They are now 7-0 this season with the Upton-Simmons 1-2 combination at the top (8-0 if you include when Simmons led off and Upton hit No. 2).
Go figure.
After the game, Gonzalez was as impressed with the way Simmons bounced back from two first-inning errors as he was with the offensive performance overall.
"I told him when I went out to check on him there in the (sixth) inning on that one play at second base, I said, 'You keep hanging on this game long enough it won't be the last time you make two errors in one inning. It just happens. How you bounce back from those is what's important,'" Gonzalez said. "And I thought he bounced back terrifically. Made some great plays defensively after that inning and also swung the bat."
After Saturday's standout performance, Simmons now has four straight multi-hit games. That has not quite pulled his offensive numbers back up to 2013 levels, which leaves him a good distance behind anything that could be considered improvement, but it looks like the defensive whiz is coming around again. He's now hitting .261/.301/.366 with 18 extra-base hits for 85 weighted runs created.
Of course, the go-to script for any Simmons evaluation starts with the anything-you-get-with-the-bat-is-gravy sentiment. But after he posted 17 home runs and cemented his place as a contact machine last season, expectations -- mine, specifically -- were raised for Simmons. He has the potential to be this exact type of player moving forward for Atlanta, a two-way star that can handle a top spot in the lineup while still vying for Gold Gloves annually. Looking back at general manager Frank Wren's talking points after he signed the Platinum Glove winner to a contract extension during spring training, it's clear the organization expects Simmons to keep taking steps forward, at least through the early portions of the deal.
"Even a seven-year deal, (Simmons is) going to come out of that deal at 30 years of age. And so that was one of our criteria," Wren said of Simmons at the time. "The other was just being a top performer at the major-league level, which he clearly is. I mean, winning the Platinum Glove (given to the preeminent defensive player at any position in each league) this past year for his outstanding defense and we think he's just going to keep getting better offensively."
This stretch is showing just how vital Simmons can be when he's on.
Consistency, like the one found in a seven-game hitting streak that includes 11 hits, is the next step.
In the early going on Saturday, it looked like Atlanta's demolition of an unimpressive 19-game slate against sub-.500 teams was going to hit a speed bump. Aaron Harang gave up three first-inning runs, and if anything has spurned this recent streak, despite the Braves' 10-run breakout against Bolsinger and a middle-of-the-pack bullpen, it's been the resurgence of this Atlanta pitching staff. Braves pitchers had posted a 2.53 ERA and 2.65 FIP for the second-best WAR mark in baseball over the 14 days prior to their ninth straight win.
In many ways, it's a streak that is mirroring the famed 14-game winning streak from the 2013 season which coincided with the opening of a Waffle House inside Turner Field. (These are simply the facts.)
As should come as no surprise given the organization's signature strengths, pitching keyed both stretches. The Braves allowed 2.42 runs per game in the '13 streak. They are allowing 2.44 runs per game this time around. And yes, the offense has picked it up, scoring 5.5 runs per game during the streak -- or, in other words, nearly two runs per game more than its season average -- but the arms have kept the team in every game.
There are two ways to look the streaks overall. On one hand, this streak comes with less surprise. These are, simply put, bad opponents. There's not a single winning record among the Astros, Phillies, Mets and Cubs, and with more games against the D-backs, Mets and Cubs before the All-Star break, a good stretch was expected out of Gonzalez's club. Last season, the 14-game streak at least required Atlanta to go through six games against teams above .500, including a quality Cardinals team at home. This slate? Not nearly as daunting.
However, it could be argued that this streak was needed more.
The Braves entered June 27 one game back in the NL East behind the Washington Nationals, who also happen to be playing pretty good baseball right now in their own right. Last year, they entered their best win streak already up 8 1/2 games ahead in the division ... all it did was further cement the division crown. That isn't the case here. Even with the nine straight wins, their lead in the NL East is just 1 1/2 games. They've needed it not to pull away, but just to stay ahead of the pack.
They've got five games to go to match the '13 mark, but given the schedule and the way they are playing, it's not an impossible task. They might just need it, too.
---